September 30, 2019 • Issue 5
"Dear God, thank you for giving me life and the things I need like food, water, and shelter. I am especially thankful for my family and friends. Thank you for keeping us safe and for always being with us. During this season of storms, please help those in Puerto Rico, the Bahamas, Florida, and the Carolinas who lost so much. Please watch over the poor, the hungry, the thirsty, and those without homes. Be with us so that we can help them too. God, you are the reason we are all here. We give thanks each day for you and our many blessings. Let there be peace on Earth Lord. In your name we pray. Amen."
Robbie, grade four
Dear Parents,
It is hard to believe that we have been in school for a month! That said, everyone has settled into school and routines beautifully and the students are hard at work learning.

It was a pleasure to see so many of you at Back to School Night last week. One of the many things that makes St. Joe's such a special place is that we have such wonderful parents working hand in hand with our faculty and staff for the benefit of the children.
STUDENT COUNCIL
Congratulations to all the students who ran for Student Council this year. It is lovely to see how many students are willing to serve our school community. Our Student Council members this year are Jack Brown, Keira Welsh, Gavin Martin, Grace Nichols, James Murphy, and Violet Krawiecki in grade two. Grade three representatives are Caroline Stowell, Wesley Friedman, Michael Scalia, Bridget Fernandez, Jake Fiumara, and Brielle Riedl. For grade four our members are Marco Petrino, Maeve Friedman, Aidan Pelosi, Emerson Reeves, Cameron Barry, and Alexandra Ruggeri. Finally, our grade five representatives are Will Fradette, Lucy Donovan, Ryan Connolly, Norah Simmons, Lily Simpson, and John Joyce.
We will have a Student Council Induction and Breakfast on Tuesday, October 1st at 7:30 a.m.
BAND
Band will start on Thursday, October 3rd. Students should report directly to Miss Murphy's classroom (1A) and she will walk the students over to the MHMS dining room where she will monitor them while they do their homework and/or read. She will dismiss the students to where they need to go from there. Just an FYI, you may access the dining room through the outside patio near the playground.
SCHOOL STORE
The School Store opens on Friday, October 4th at 8:00 a.m. The School Store is in the Art Room and is run by Ms. Harris and the fifth grade Student Council members. The store is open to students in grades 1-5 and they may purchase items for a few dollars or less. The kiddos love it!
FACULTY RETREAT
We are looking forward to the seventh annual Faculty Retreat to be held at the Connors Center on Friday, October 11th. It is one of our favorite days at school as the faculty and staff of both schools gather for prayer and reflection led by the fabulous Susan Horne.

OPEN HOUSE
We will be holding our Open House for prospective students for the 2020-2021 school year on October 16th at 8:30 a.m. We find that the best advertising is word of mouth, so please share with your family and friends all of the great things that are going on at St. Joe's!
If your child has a sibling that you would like to enroll for next September, please submit an application online before October 16th. We do want to give our current families the first opportunity to sign up for the 2020 school year ahead of the Open House.
Here is an outline of important dates ahead:
October 1st
Student Council Breakfast 7:30 a.m. in the HUB
Student Council Meeting 2:45-3:15 p.m.
MWRA presentations to
pre-k and grade five
October 2nd
Kindergarten field trip to Ward's Berry Farm
October 3rd
Band starts directly after school
Prayer and Pick Up with 4A
October 4th
9:00 a.m. Mass – grade five hosts
The School Store opens
October 6th
CAP/VIRTUS session at
7:00 p.m.
Meteorologist Cindy Fitzgibbons working with grade five
October 10th
Progress Reports for grades 2-5
Booster Run Kickoff
Prayer and Pick Up with 4B
October 11th
Faculty Retreat – No school for students
October 14th
Columbus Day – No school
October 16th
Open House for prospective families –
8:30 a.m.
Early Release Day at 12:15 p.m.
Pare and Share
Cradles to Crayons
October 17th
Pre-k field trip to Needham Police and Fire Departments
Prayer and Pick Up
with 4C
October 18th
School Store
Rosary in the church at
1:45 p.m.
Mrs. Paulino's parent/teacher conferences
Street Hockey Tournament
October 21st
Bubbleology
October 22nd
9:00 a.m. Tour
October 23rd
Booster Run
October 24th
Visit Franciscan Children's Hospital with Student Council
Prayer and Pick Up
with 3A
October 25th
Trunk or Treat
October 28th
Lunch Bunch for grade three, A Boy Called Bat by Elana K. Arnold
October 30th
Picture re-takes
Lunch Bunch for grade five, Ungifted by Gordon Korman
October 31st
Happy Halloween! Wear orange and black
8:30 a.m. Halloween Parade
Lunch Bunch for grade four, Schooled by Jordan Korman
November 1st
9:00 a.m.
All Saints Day Mass
Winter uniforms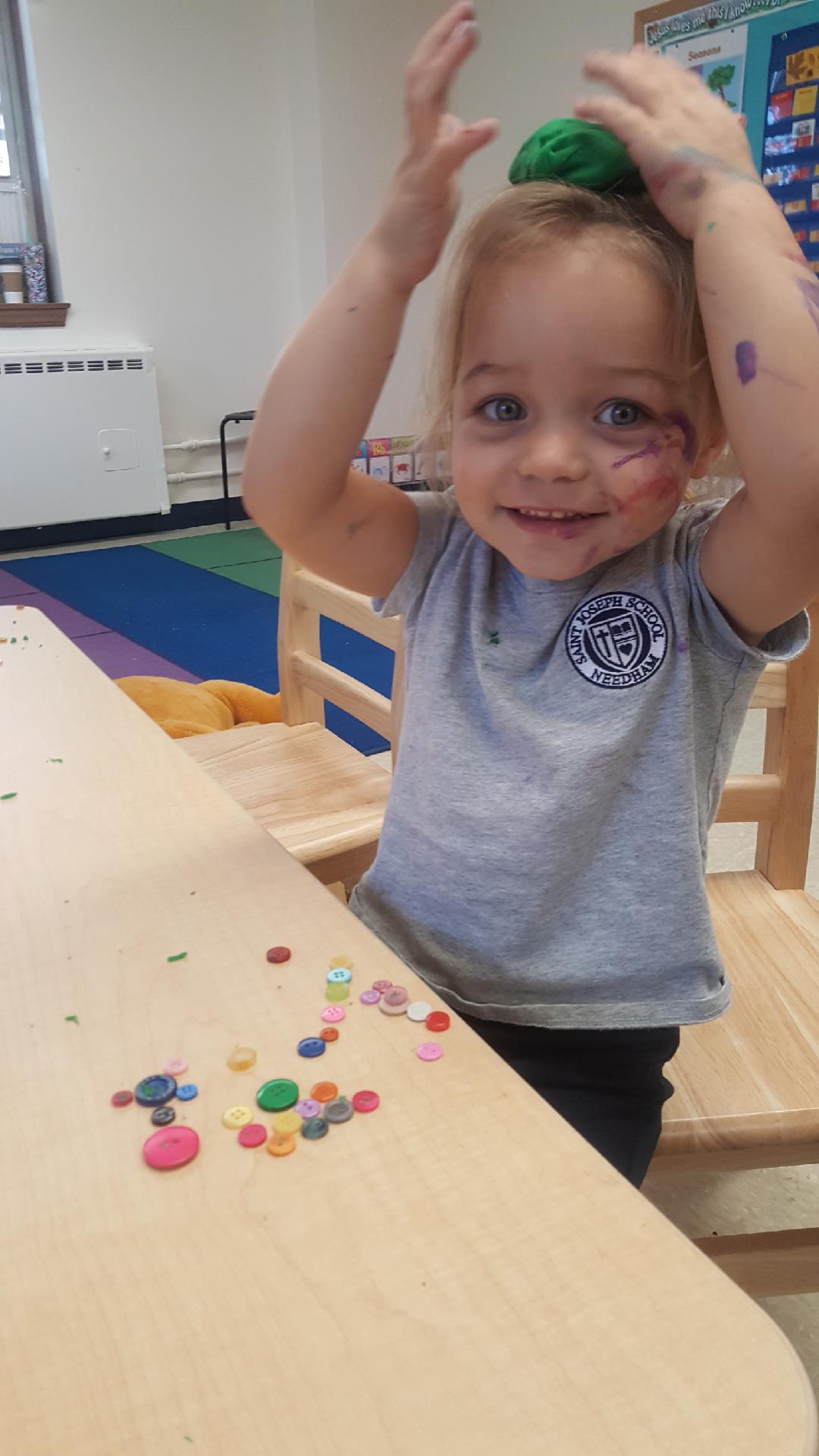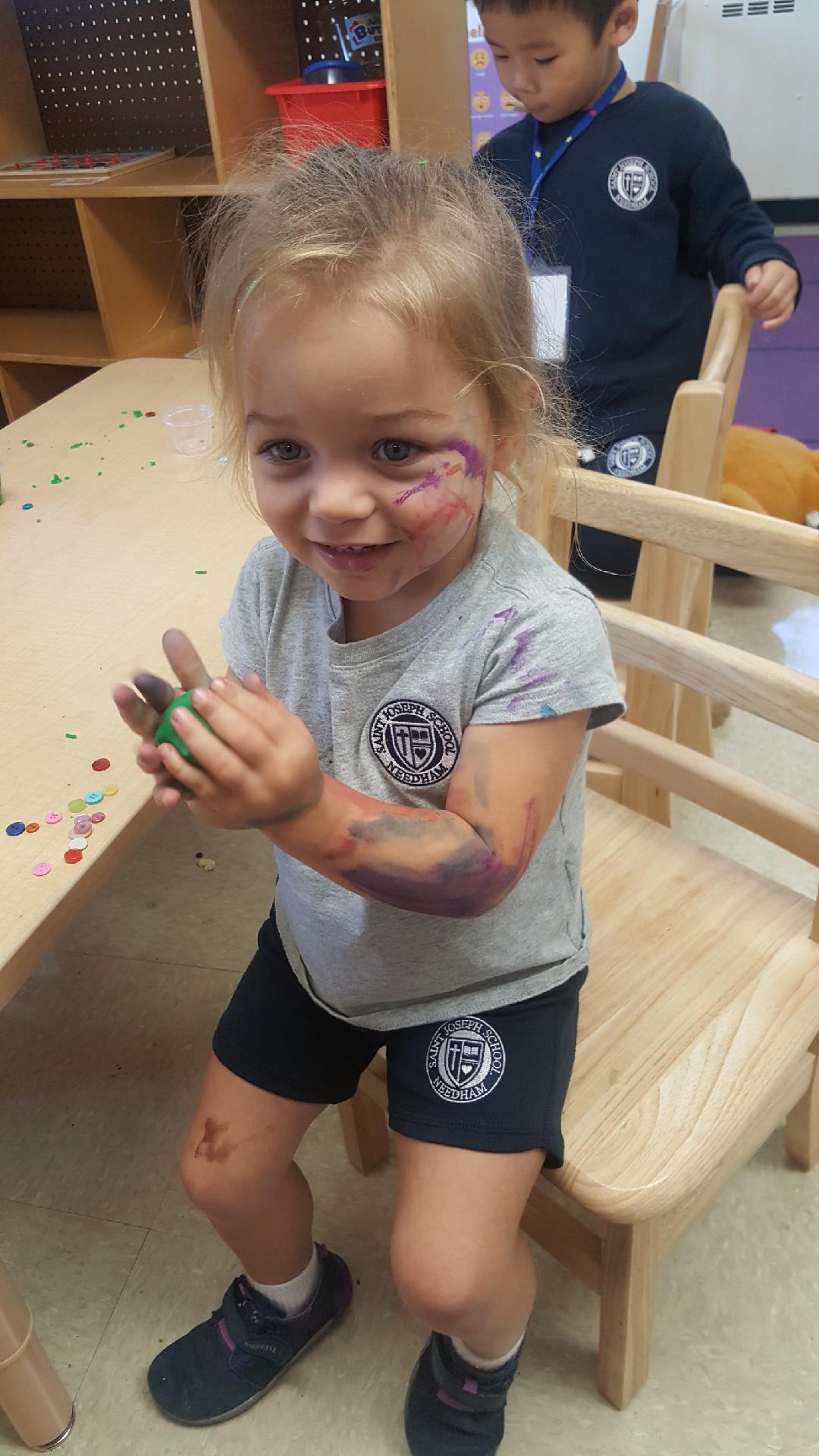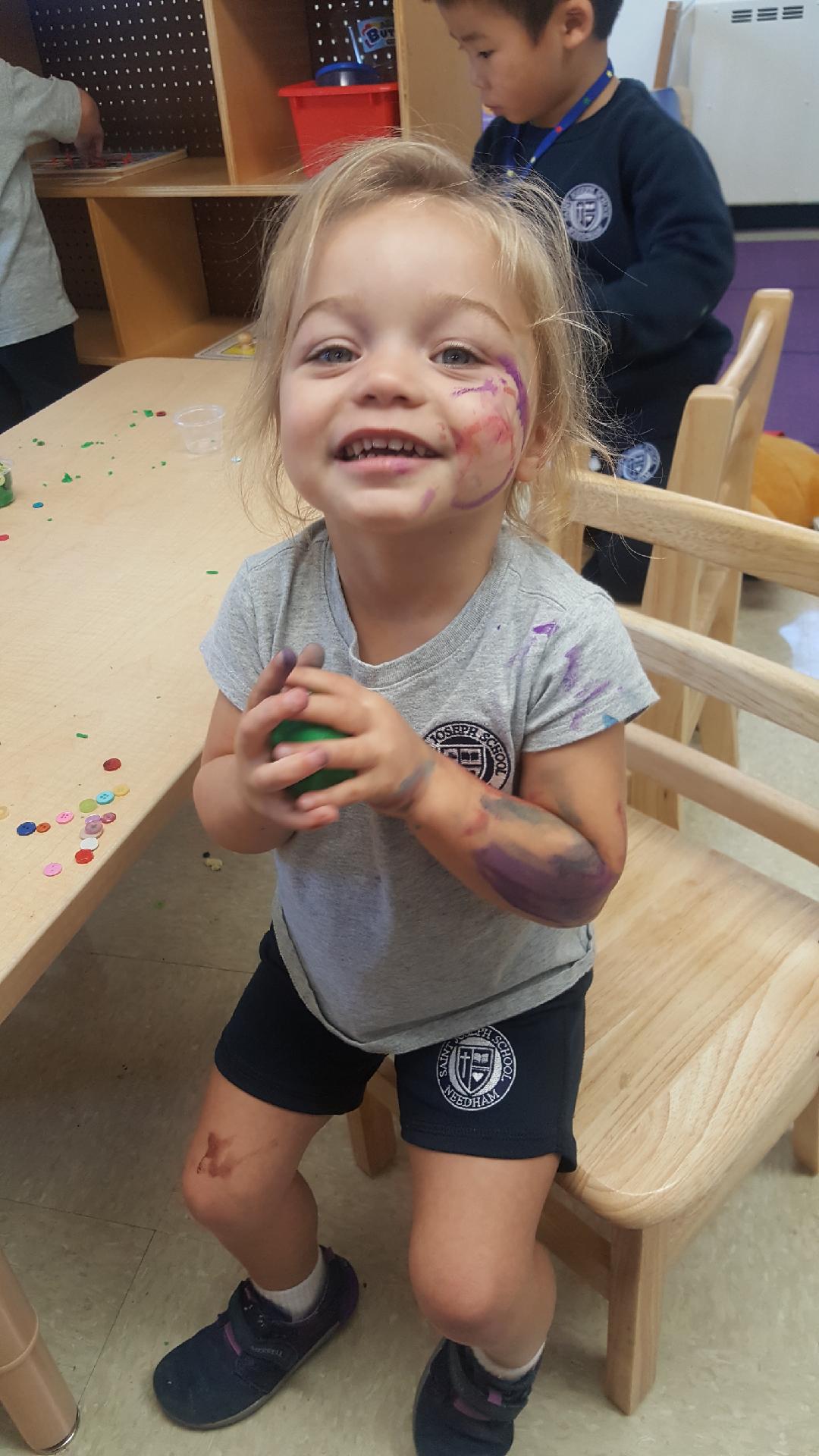 PRESCHOOL ARTIST
I did want to share an adorable picture from the preschool. One of our students painted a lovely picture and then decided to paint herself☺. We love when our children are creative and think outside the box!
VOLUNTEER OPPORTUNITIES
We do have two volunteer opportunities for the early release day this month. Please keep a look out for fliers regarding Pare and Share and Cradles to Crayons.
SCHOOL ROSARY
Please join us if you are available to pray the Rosary as a school community on October 18th. We have a lot of special prayers and intentions to pray for and October is the month of the Rosary.
STREET HOCKEY TOURNAMENT
As you have heard, the Street Hockey Tournament has been postponed to October 18th because of the threat of EEE. We are hopeful that the first frost will have occurred by that date and felt that this was the responsible thing to do.
LUNCH BUNCH
Please note the book titles in the calendar dates for Lunch Bunch. Students in grades three, four, and five may choose to have lunch in the library and discuss the book choices. I have all three books on my nightstand and look forward to reading them and then meeting with the children.
TRUNK OR TREAT/HALLOWEEN
Trunk or Treat is certainly one of the highlights of the school year, so mark your calendars! More information will follow.
Students may dress down in Halloween colors, orange and black on Halloween and just a reminder that winter uniforms begin the next day on November 1st.
STAFF LUNCH
We want to thank all of you for lunch on our early release days. Because of your donation through fixed fees, we are treated to lunch every half-day and we sincerely appreciate the treat! Thank you to Anne Scola and her Hospitality team for organizing our lunches.
At our lunch this month we celebrated Mrs. Paulino, as she and her husband Chris get ready to welcome their baby boy at the end of October.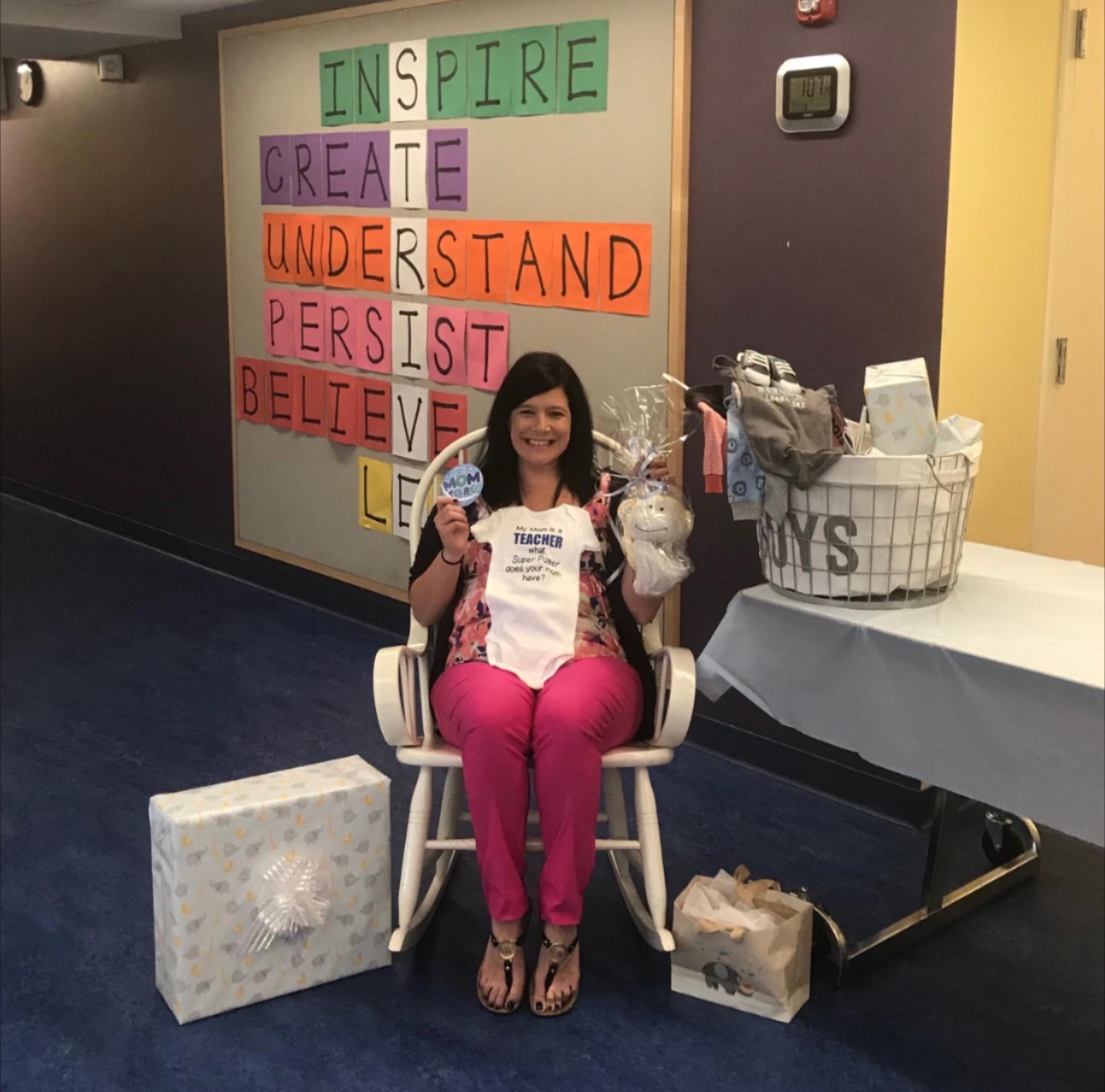 NOTE FROM NURSE BRETT
Parents,
Returning to school from summer vacation is a time when parents need to be especially vigilant in checking their children's head for lice. School breaks generally involve different exposures such as travel and camps. Also, families often visit friends and relatives. Most schools note an increase in the incidence of head lice in the fall following summer vacation. So please remember to examine your children thoroughly at this time. As a general rule, during the school year, head checks should be performed on your children at least weekly.
Kathy Brett
BLESSING OF THE PETS
In celebration of the Feast of St. Francis, we invite you to our annual Blessing of the Pets. Please join us as we celebrate the gift God has given us in all his creatures, especially those who are our companions.
When: Saturday, October 5, 2019 @ 2:30 p.m.
Where: St. Joseph School Parking Lot (off Highland Ave.)
For the safety and comfort of all attending, animals should be leashed or contained in a safe carrier.
ALUMNI NEWS
The kids enjoyed meeting and skating with Bruins player and SJES/MHMS Alumni Chris Wagner.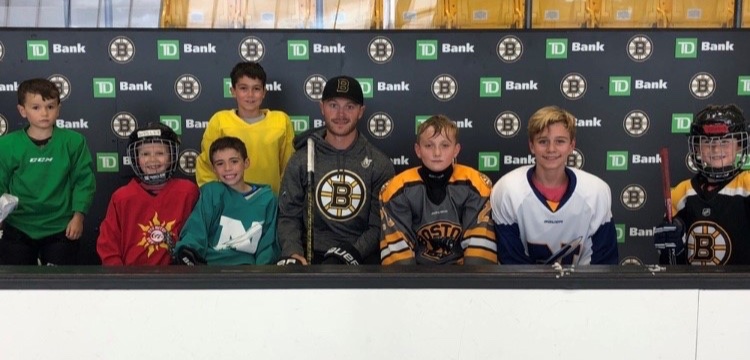 CROSSING GUARD REMINDER
One of our crossing guards, Mary Parker has asked me to remind you that for the safety of the students, you should not be dropping the students off on the side of the street. Please park your car and let the crossing guards cross the children.
STAFF NEWS
Your children may have said that they saw Mrs. Vaughan at school this week and they were correct. Mrs. Vaughan is helping us out as a substitute teacher and working Aftercare as well, so we are thrilled to see her smiling face again at St. Joe's!
BEFORE CARE
Just a reminder that Before Care begins at 7:30 a.m. Teachers are not on duty until then, so please do not leave your child in the HUB unattended.
ANTON COAT DRIVE
We will once again be collecting coats for the Anton Coats for Kids Drive. More information will follow.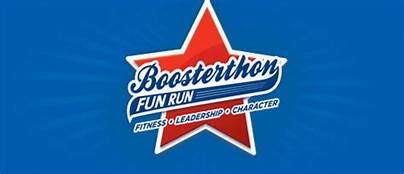 BOOSTERTHON
We are looking forward to the Boosterthon! Registration for the Wild West FunRun is now open for those families who want to get a head start on registering their student(s) and start getting pledges. Families can register their student(s) at FunRun.com. Note: The School Code is: 724-262
All students will be receiving a Fun Run packet at the Kick Off Pep Rally on October 10, 2019. Students will be getting pledges for the number of laps they will complete, (30-35 laps) at the indoor Fun Run on October 23, 2019. A pledge of $1 per lap will come out to $30 - $35. Students can also receive flat donations for the Wild West Fun Run. All pledges will be entered online at Funrun.com.
Our goal is to raise $20,000 for our schools with pledges from family, friends, and relatives. We want to thank Mrs. Cox for her hard work getting us ready for this event.
ST. JOE'S BASKETBALL
Online registration for the 2019-2020 season of St. Joseph's in town basketball program (boys and girls grades 5-8) can be found at www.stjoesbasketballneedham.com. Sign-ups for this year close on October 27th. Call program director Steve Bloomberg at 781-444-7782, if you have any questions.
Finally, I want to let you know that I will be out of school from October 2nd through October 7th as our daughter Colleen is getting married to a wonderful young man, Christopher Smith in Ireland. If you have any questions or concerns during that time, please contact Mrs. Solomon or Mrs. Walsh, as they will be able to assist you and I will not be checking emails at all.
Warm regards,
Charlotte Kelly
Principal