October 16, 2019 • Issue 6
"Dear God, thank you for giving us families and friends who care for us. We also thank you for giving us a nice home for the cold winters and hot summers. You give us so much and we appreciate it. Lastly, wewant to thank you for all the teachers and staff members at Saint Joe's. We ask that you please look over those who don't have a shoulder to lean on when they are feeling sad or depressed. We also ask you tohelp those who don't have food, water, or a home available to them. Finally, we would like you to watch over those who have lost a loved one so that they will find joy in their hearts. In Jesus' name we pray. Amen."
Reese P. – grade five
Dear Parents,
I hope you were able to enjoy the long weekend with your families. We always say that making it to Columbus Day is a milestone for the faculty and staff, students, and parents.
The Faculty Retreat on Friday was spectacular as usual. Susan Horne is an amazing speaker and facilitator and we thoroughly enjoy the opportunity to gather in prayer and fellowship with both schools. One of the highlights of the Retreat is reading the letters from the students as they are heartfelt, thoughtful, and funny.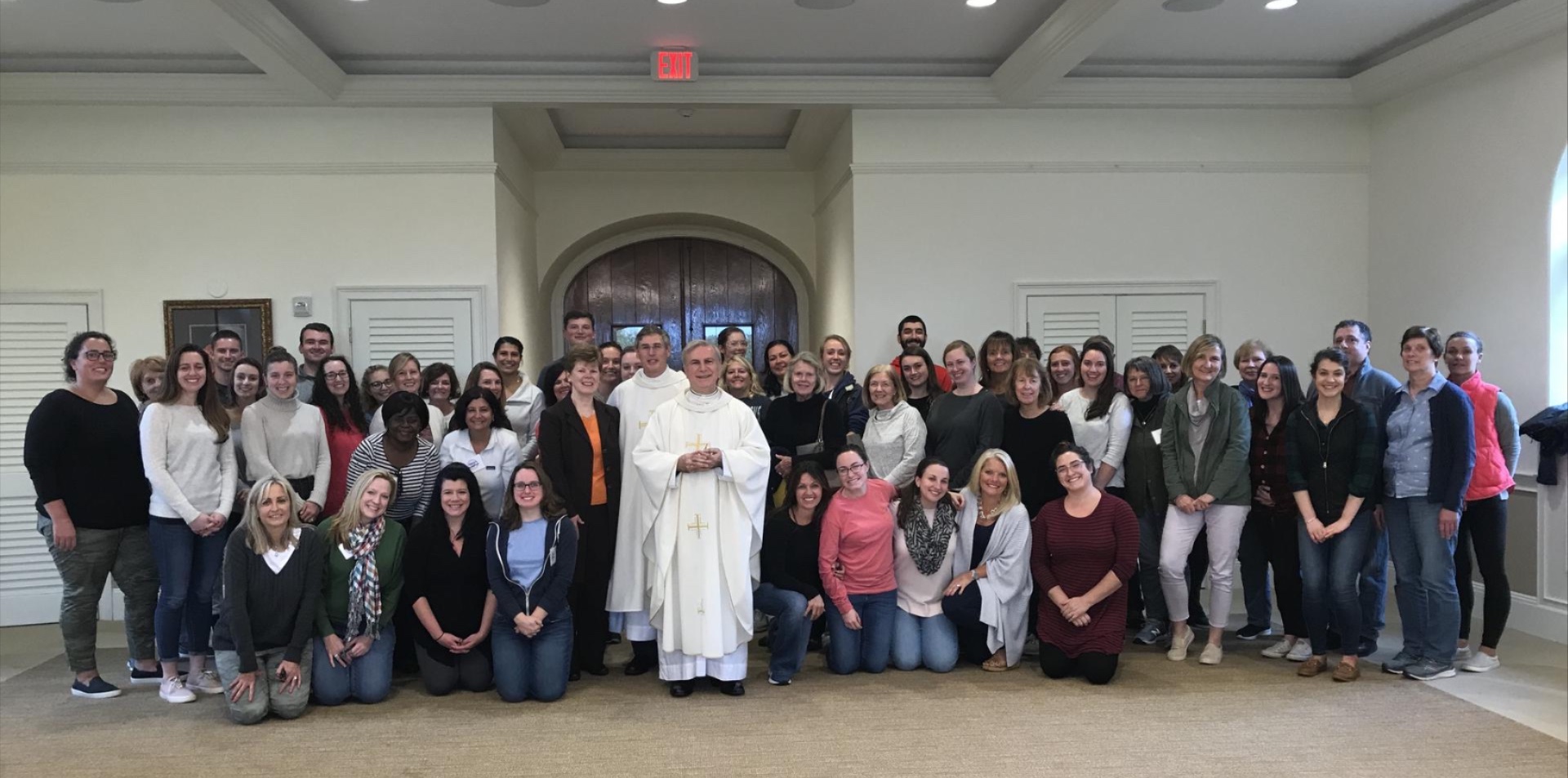 FIFTH GRADE MASS
The fifth-grade students enjoyed hosting the Mass on Friday, October 4th. It is always wonderful when the students can share their gifts and talents praying and singing at Mass. Thank you to Mrs. Pratt, Mrs. Fiumara, Mrs. Howard, Mr. Rodis, and Mrs. Nedder for preparing the children so well.
EMERGENCY ALERTS
We will be testing our emergency system this Thursday at 7:30 p.m. You should receive a text from the school at that time. If you DO NOT receive a text, please let Mrs. Posada know so that she may investigate why you did not receive a notification. You may reach her at iposada@saintjoes.com
PROGRESS REPORTS
You should have received or been able to open Progress Reports beginning on Thursday at 3:00 p.m. They will close this Friday at 3:00 p.m. as well.
MAP TESTING
Students have completed their fall MAP testing. You will receive the results at Parent/Teacher Conferences in December.
2A UPDATES
Mrs. Paulino will be meeting with parents this Friday for conferences before she has her baby. Please plan to meet her in the Spanish room on the first floor of the main building.
Mrs. Beth Croke will be filling in for Mrs. Paulino. She has been in school several days, has had the opportunity to meet the 2A parents, and will begin full-time this Thursday as they transition from one teacher to the other. The 2A parents have received a separate letter from me. Please keep Mr. and Mrs. Paulino and their baby boy in your prayers over the next couple of weeks.
Here is an outline of important dates ahead:
October 16th
8:30 a.m. Open House for prospective families
12:15 p.m. Early release for a faculty meeting
Pare and Share
Cradles to Crayons
7:00 p.m. Joint Board meeting with MHMS
October 17th
Pre-k students visit the Needham Police and Fire Departments
2:10 p.m. Prayer and Pick Up with 4B and 4C
October 18th
8:00 a.m. School Store is open
8:30 a.m. Susan Horne, Leadership Speaker Series - empathy
1:45 p.m. Rosary in the church
Street Hockey Tournament
Free tag day for Joey Meter success!
October 20th
11:00 a.m. Farewell Mass for Father Michael
October 21st
Bubbleology program for student's pre-k through grade five
October 23rd
Boosterthon Fun Run – wear gym uniforms
October 24th
Visit Franciscan Children's Hospital with grade five Student Council members 1:45 p.m. Preschool Fun Run
2:10 p.m. Prayer and Pick Up with 3A
October 25th
8:30 a.m. Jay MacDonald, Leadership Speaker Series – decision making
Trunk or Treat
October 28th
Grade three Lunch Bunch – A Boy Called Bat by Elana K. Arnold
October 30th
Picture re-take
Grade five Lunch Bunch – Ungifted by Gordon Korman
October 31st
Happy Halloween! $3.00 donation to Franciscan Children's Hospital
8:30 a.m. Early Childhood Building Halloween Parade
Grade four Lunch Bunch – Schooled by Gordon Korman
November 1st
9:00 a.m. Mass
Winter uniforms
OPEN HOUSES
We are hosting our annual Open House today and look forward to welcoming new families into our school community. If you have a child who has a sibling interested in attending St. Joe's in the fall of 2020, please make sure to apply online. We want to make sure that our current families are accepted before we accept other students.
MHMS is hosting their Open House this Sunday from noon until 2:00 p.m.
FAREWELL MASS FOR FATHER MICHAEL
The middle school Open House coincides perfectly with the final Mass for Father Michael which will be held this Sunday at 11:00 a.m. There will be a reception following the Mass.
PRE-K AND KINDERGARTEN BUDDIES
The pre-k students recently met their fifth-grade buddies and the kindergarten students met their eighth-grade buddies as well. I often wonder who is more excited, the younger or the older students? Everyone seemed delighted with their new friends.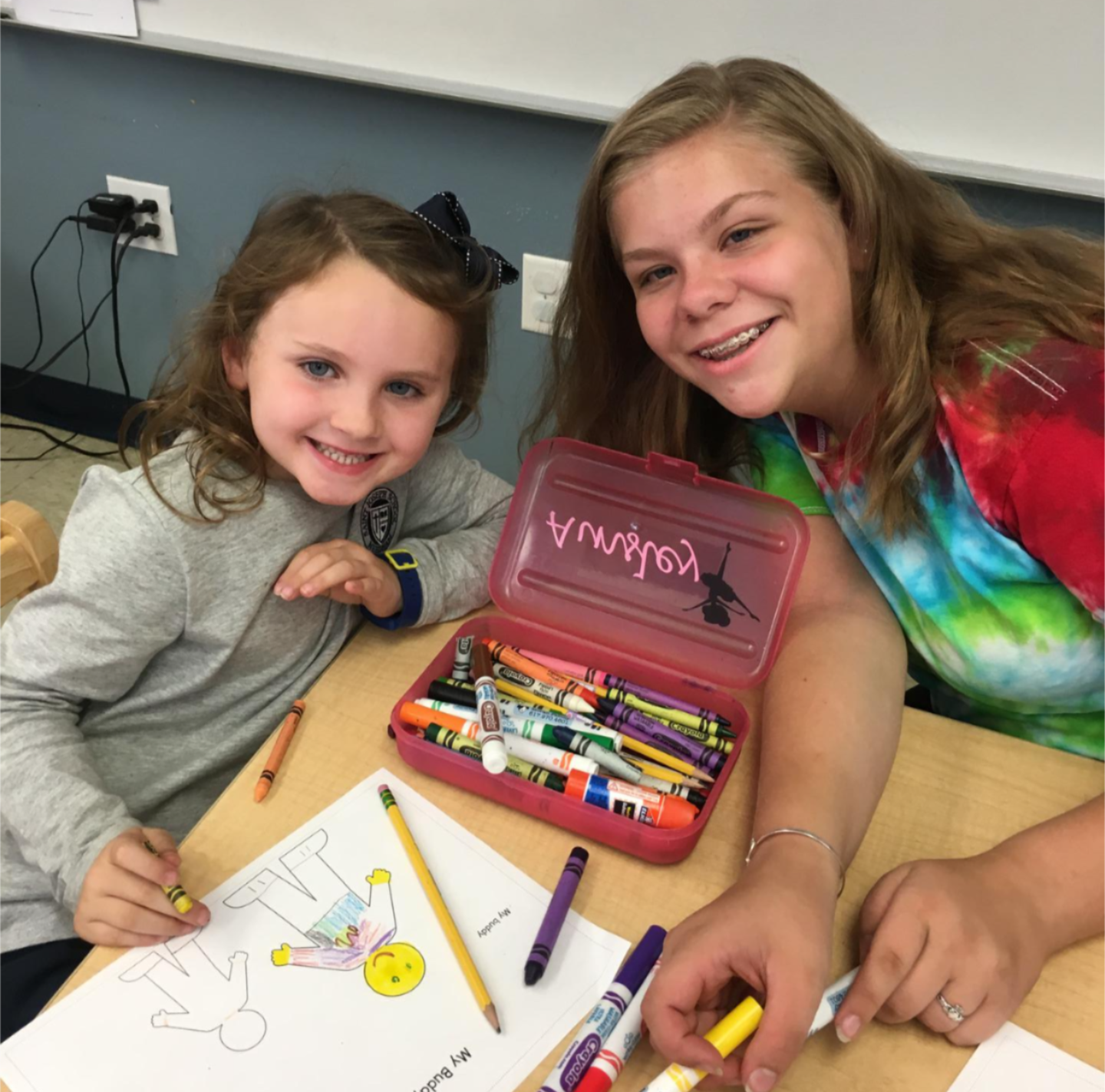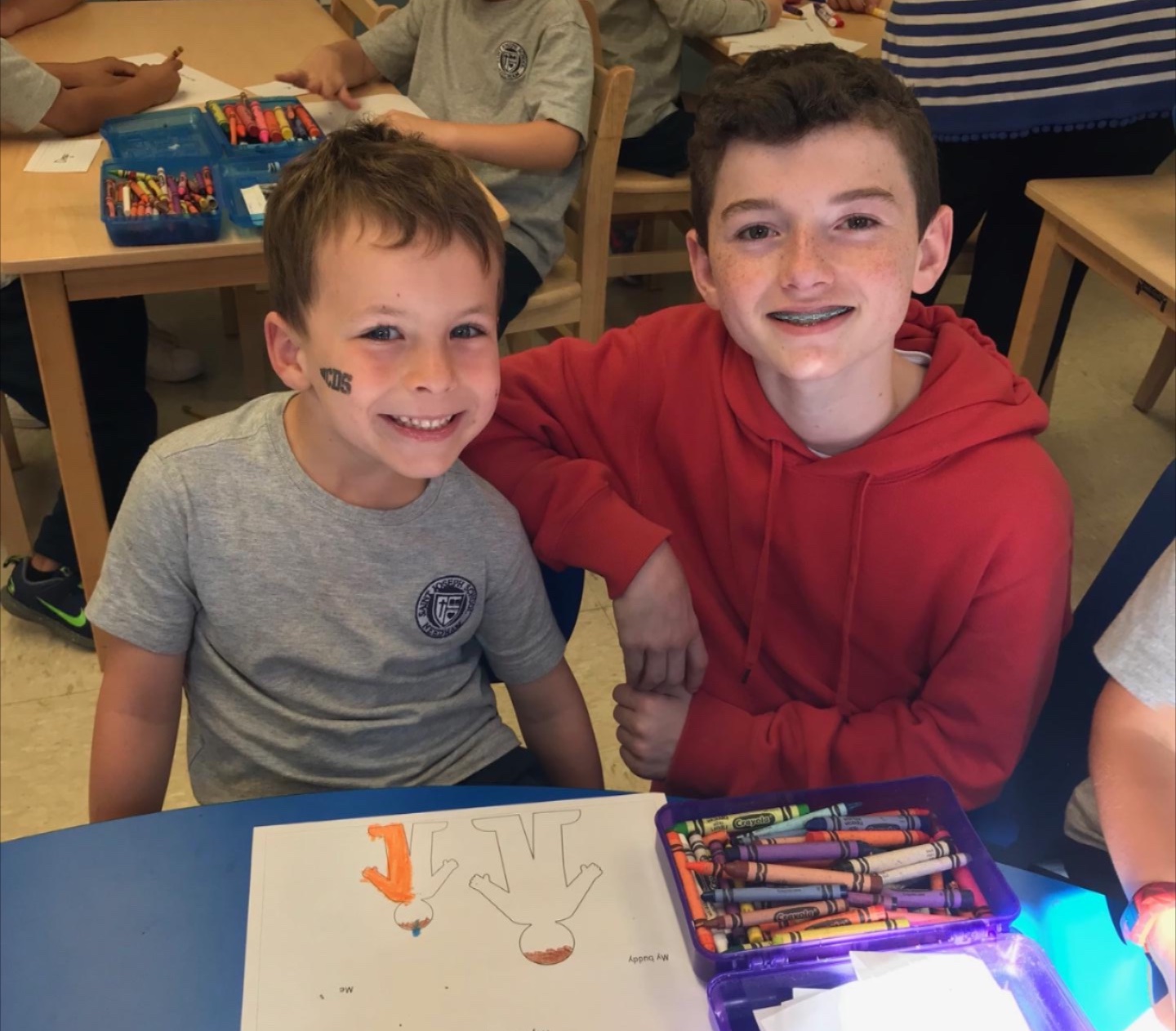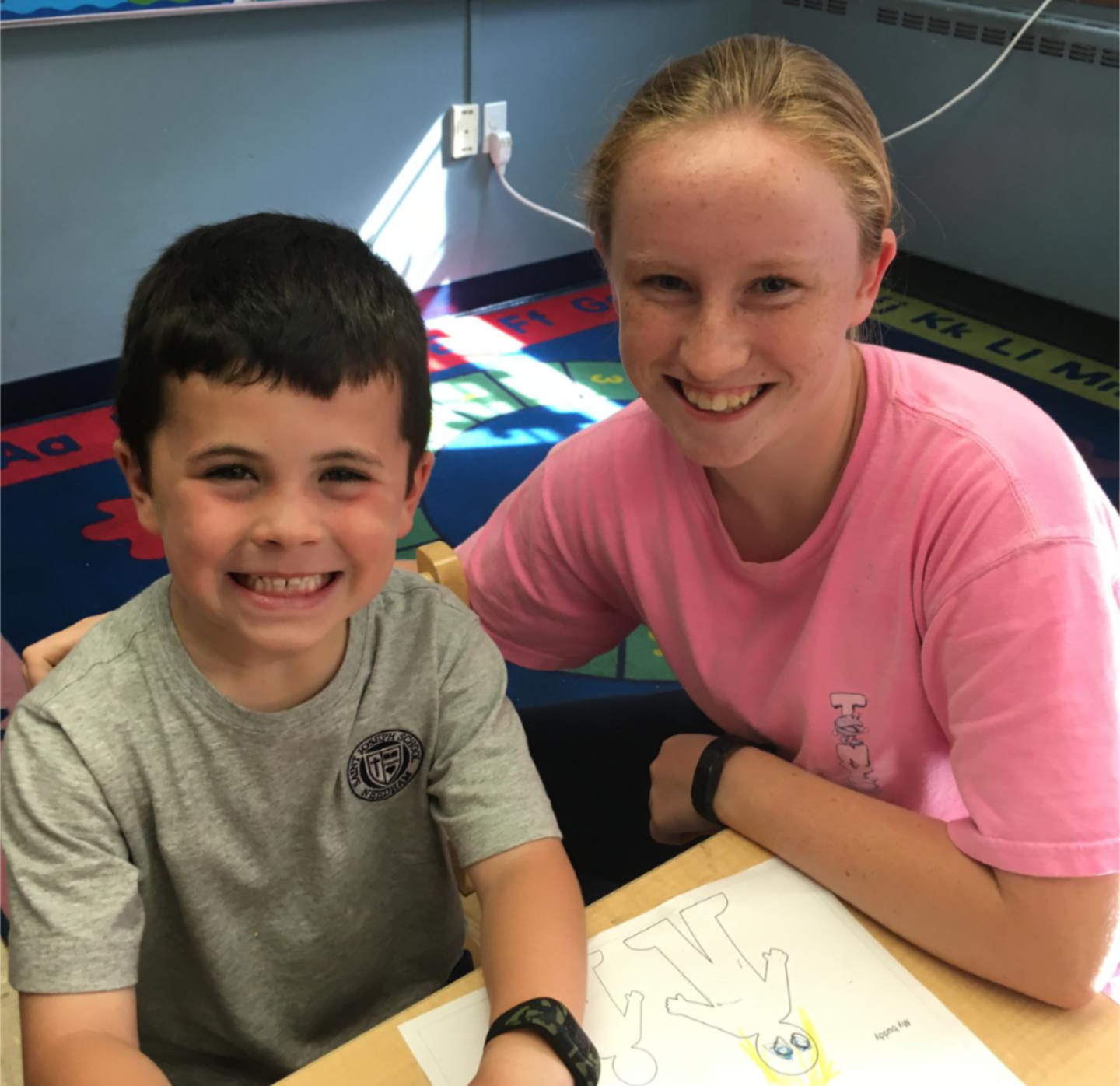 STUDENT COUNCIL
We enjoyed our Student Council Induction Ceremony recently and appreciate all the families who came out to support their children. We had our first meeting that afternoon and the students have some excellent ideas to share during the school year ahead. Thank you to Mrs. Howard and Miss Scott for being the Student Council moderators.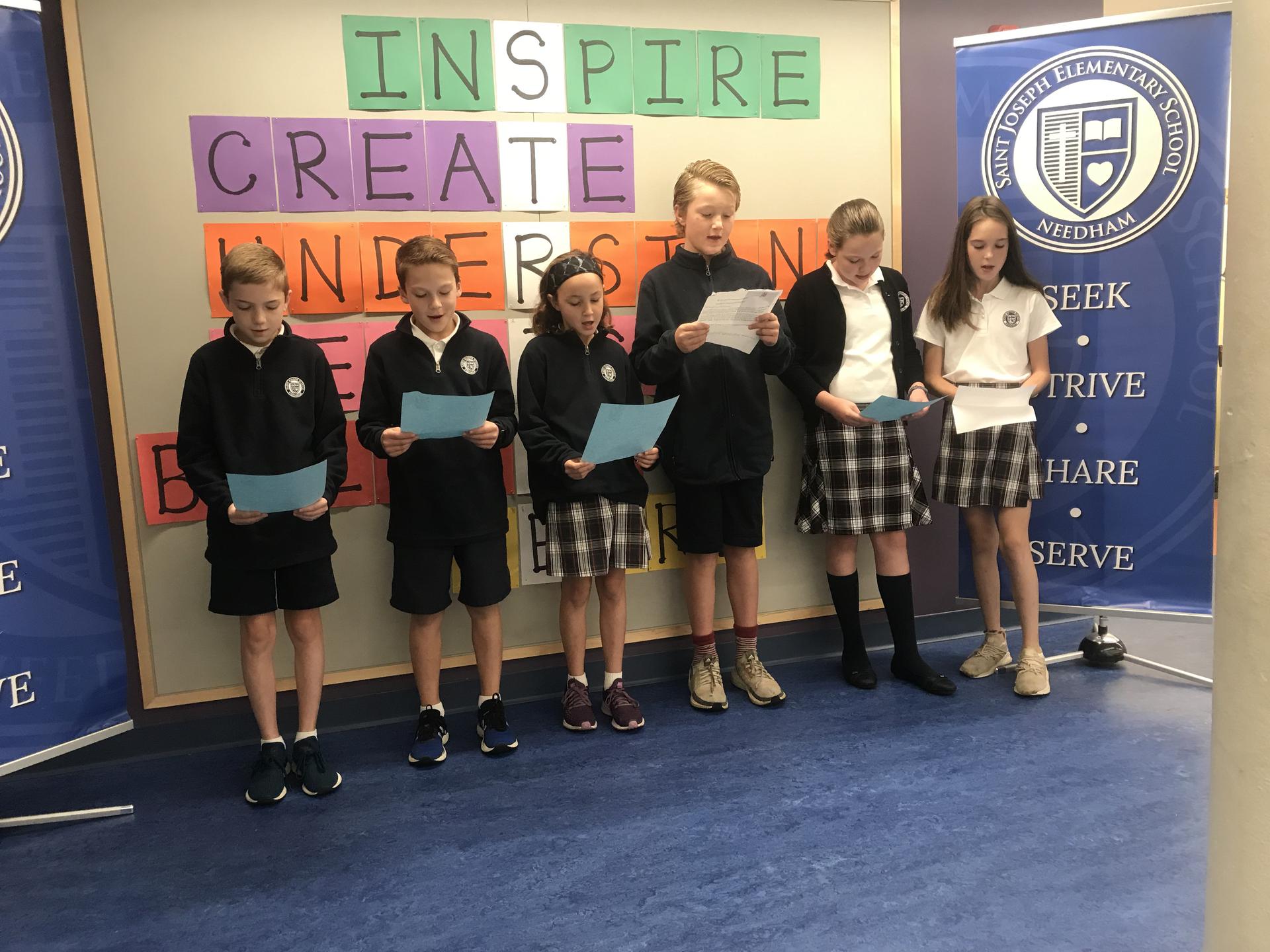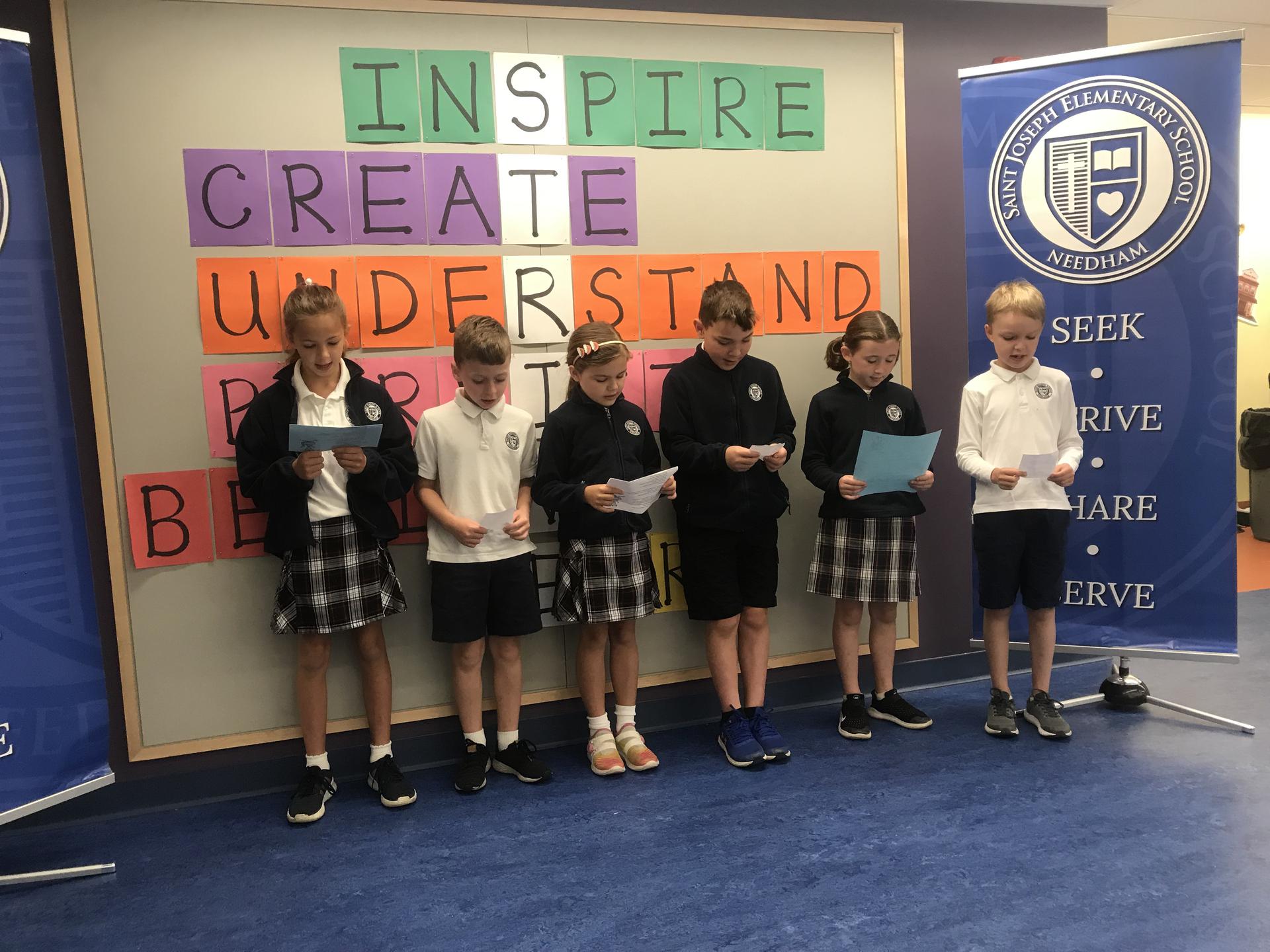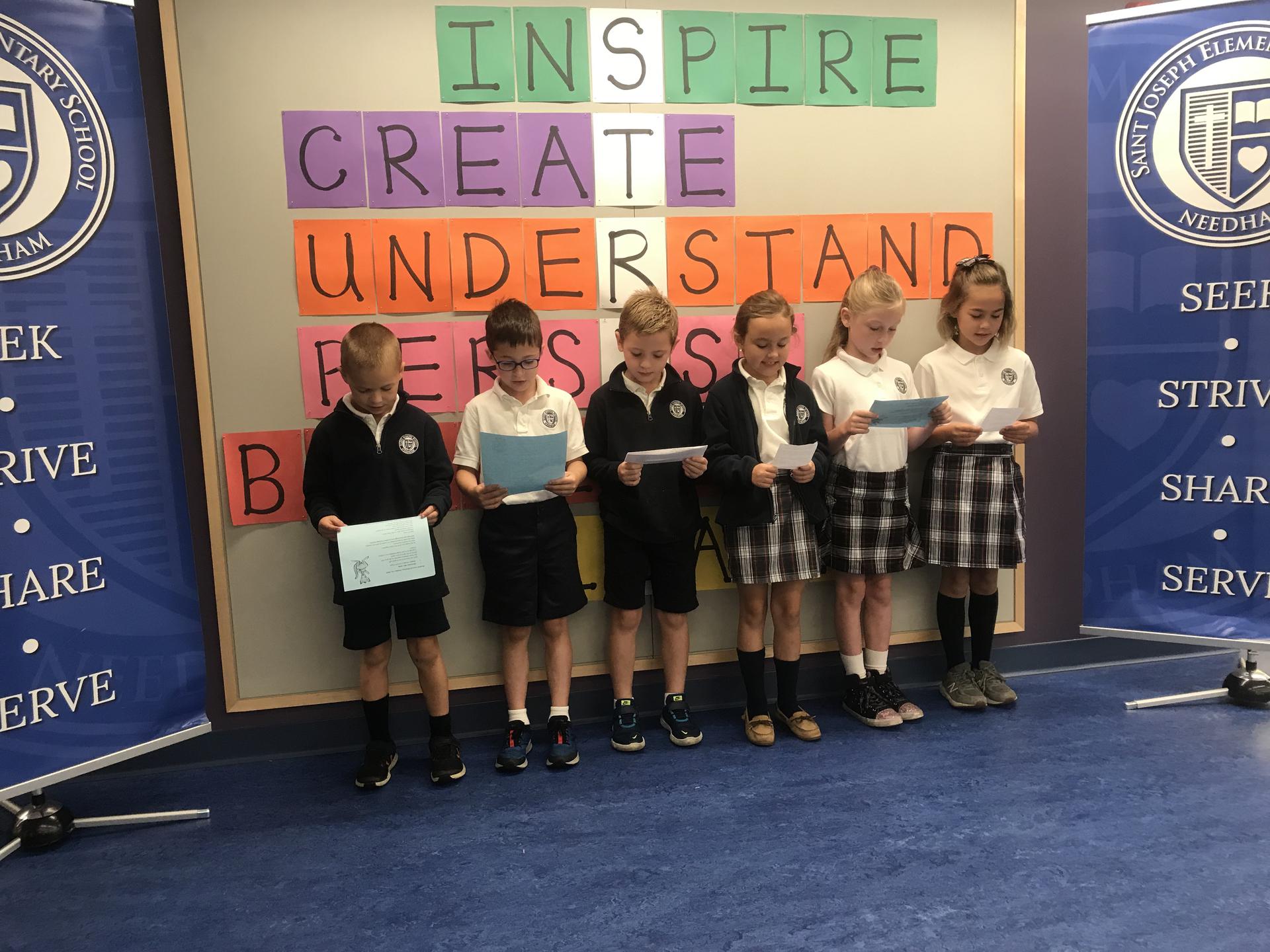 FRANCISCAN CHILDREN'S HOSPITAL
The first decision the Student Council made was to support Franciscan Children's Hospital and the children there by having our students pay $3.00 to wear orange and black or costumes on Halloween. Target has designed costumes for children with handicaps and wheelchairs. For example, children could dress up as a firefighter and the cover for the wheelchair would be a fire engine or if a child wanted to be a princess, the cover would be the castle. If you have time, you should look them up as they are fantastic! Our students will be purchasing the costumes for the students.
LEADERSHIP SERIES
The Fifth-grade Leadership Speaker Series kicked off September 27th with Mr. Brendan Walsh, golf professional from The Country Club in Brookline. He spoke to students about the qualities of leadership and provided some key acronyms to help remember. One acronym was PALT- Pride, Attitude, Lead, and Treat people the way you want to be treated. He encouraged the students to embrace the idea that good leaders do not give excuses, rather they find and seek solutions and maintain a positive attitude for success. He spoke to the students about recognizing what they cannot control and explained there is no sense getting upset about things that are out of our control. Finally, he met with many students to demonstrate 9 points of contact- strong handshake with all five fingers, make eye contact with both eyes, smile, and listen. Our Leadership Speaker Series will continue next month on October 18th, please join us.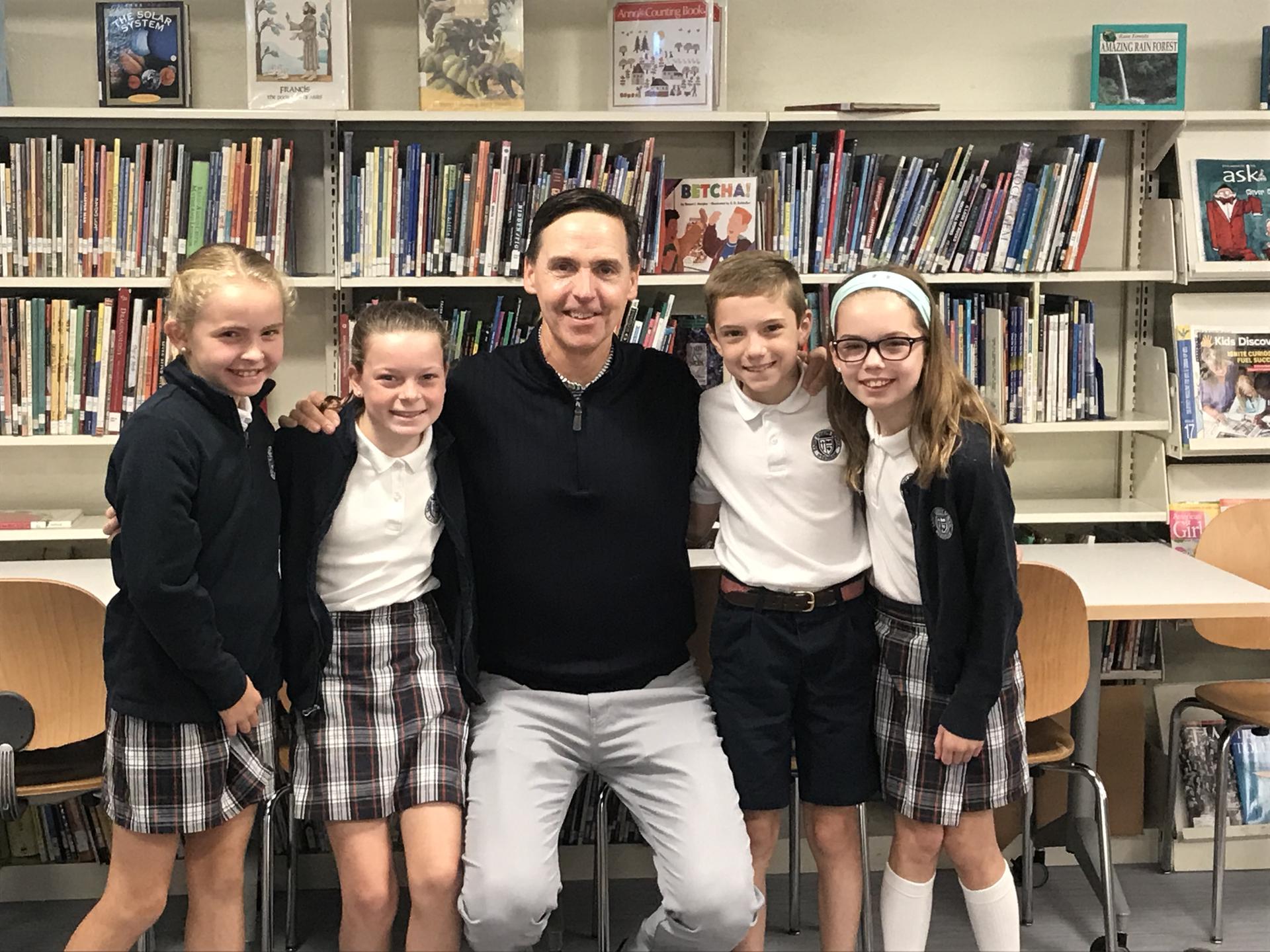 ALICE DRILL
The students completed the ALICE drill and bus evacuation drills successfully. We do have one more fire drill to complete this fall to meet the state requirements. This final one was scheduled for this past week but because of the rain we will need to reschedule it.
LUNCH BOXES
The students seem to be enjoying their Lunch Boxes. We are pleased to announce that the Lunch Boxes ordering for November is open and ready for you with some new menu choices. The process is the same as usual, but as we are starting to get into a rhythm, we will likely be able to give you more time to order than the one-week window we had previously allotted. The system will close on Monday, October 28.

Lunch boxes are charged to your FACTS accounts on the 15th of the month.
It's so important that you keep track of what days you ordered lunch for your children, as we do not have extra lunches to give away. You may review your orders at any time via RenWeb. When you look at the calendar menu, if the item is in blue, you ordered it. If it is in gray, you did not order it.

The folks at Lunch Boxes are always looking for new lunch ideas, so if you have any requests, please pass them along to Mrs. Horrigan.
A NOTE FROM MISS POWERS
On Wednesday, I was invited to share a STREAM lesson to other STEM educators at WPI's STEM share-a-thon. I was able to speak about our program to other teachers and administrators from private and public-school districts across Massachusetts.
Additionally, I am looking for paper towel and toilet paper rolls, egg cartons, and empty soda bottles for the STREAM lab, so if you could send them in from home, that would be much appreciated.
PRESENTATION ON EXECUTIVE FUNCTIONING
Needham Youth and Family Services is offering an informational presentation on Executive Functioning on Thursday, October 24th at 6:30 p.m. The workshop will cover strategies to help your child get "unstuck" when he/she has trouble initiating tasks, organizational strategies to help your child keep track of their belongings and schoolwork, and self-monitoring strategies to help your child set goals, stay on track, and follow-through. For more information, please contact Needhamyouth@needhamma.gov
FUN RUN PEP RALLY
The Pep Rally was fun last week! The kiddos seemed excited and we look forward to the Fun Run on October 23rd. Thank you to Mary Beth Cox for organizing the event. ALL students should come to school in their gym uniforms on that day and the teachers will hand out their Wild West t-shirts that they can slip over their gym uniform t-shirts.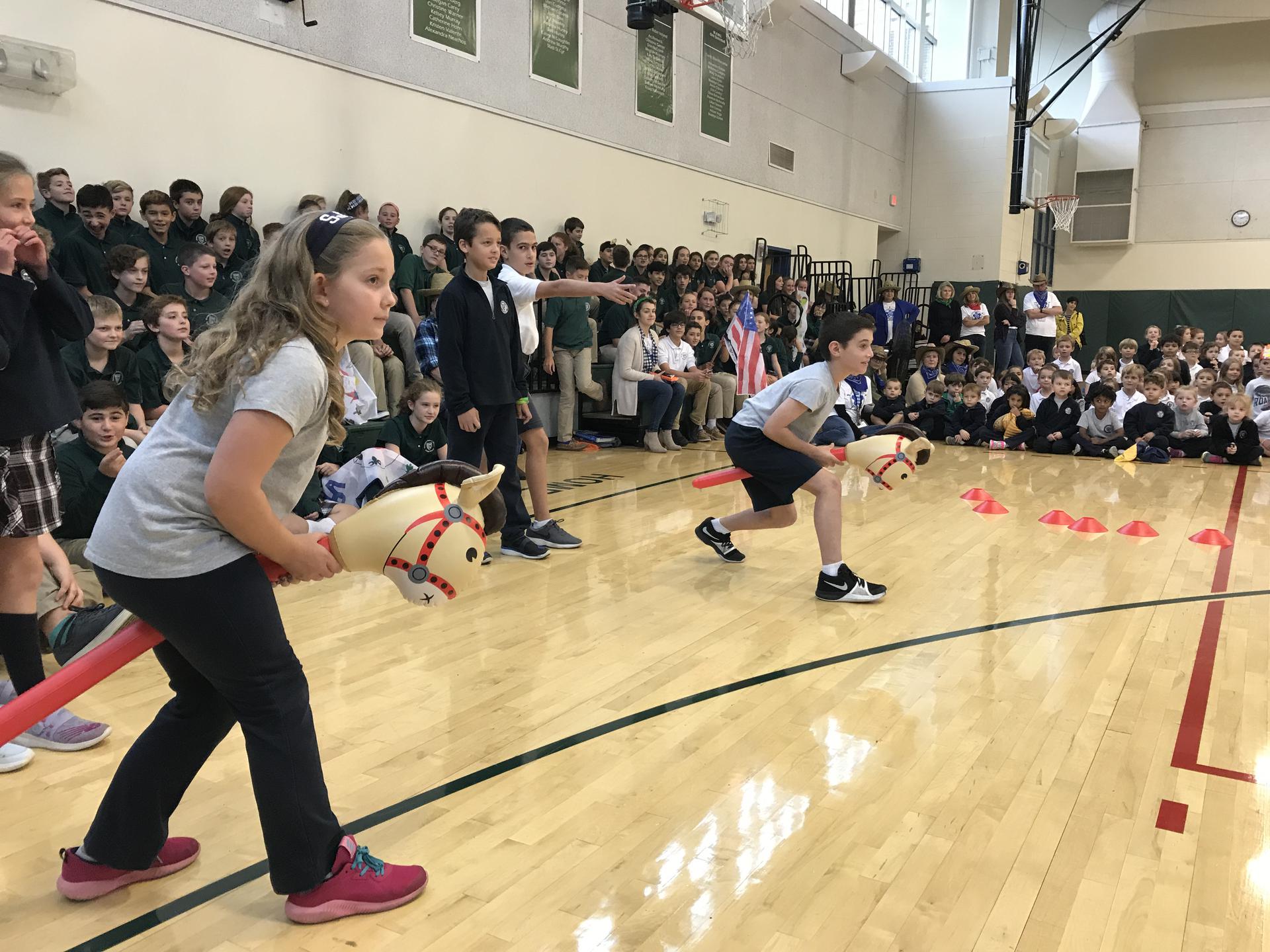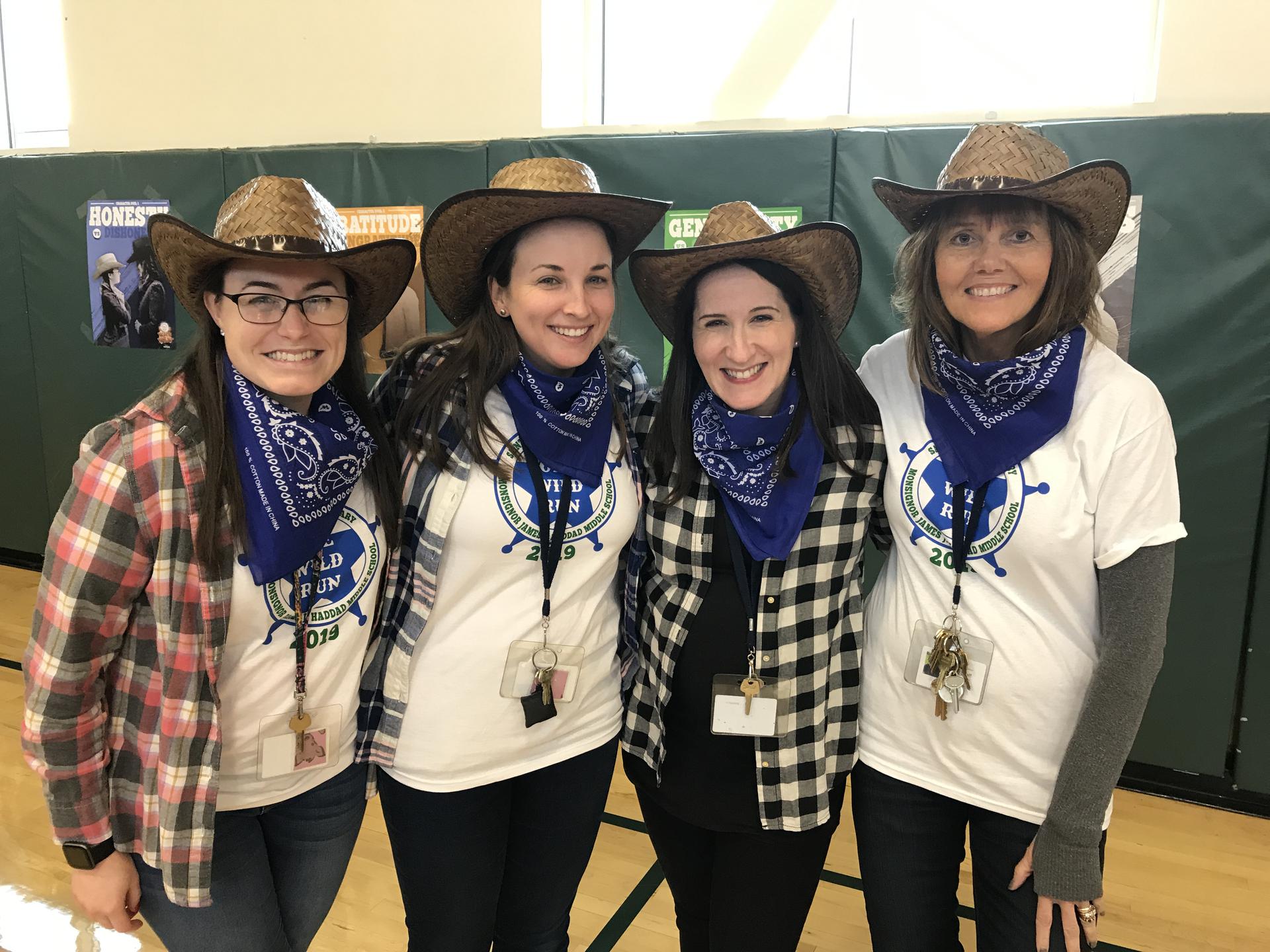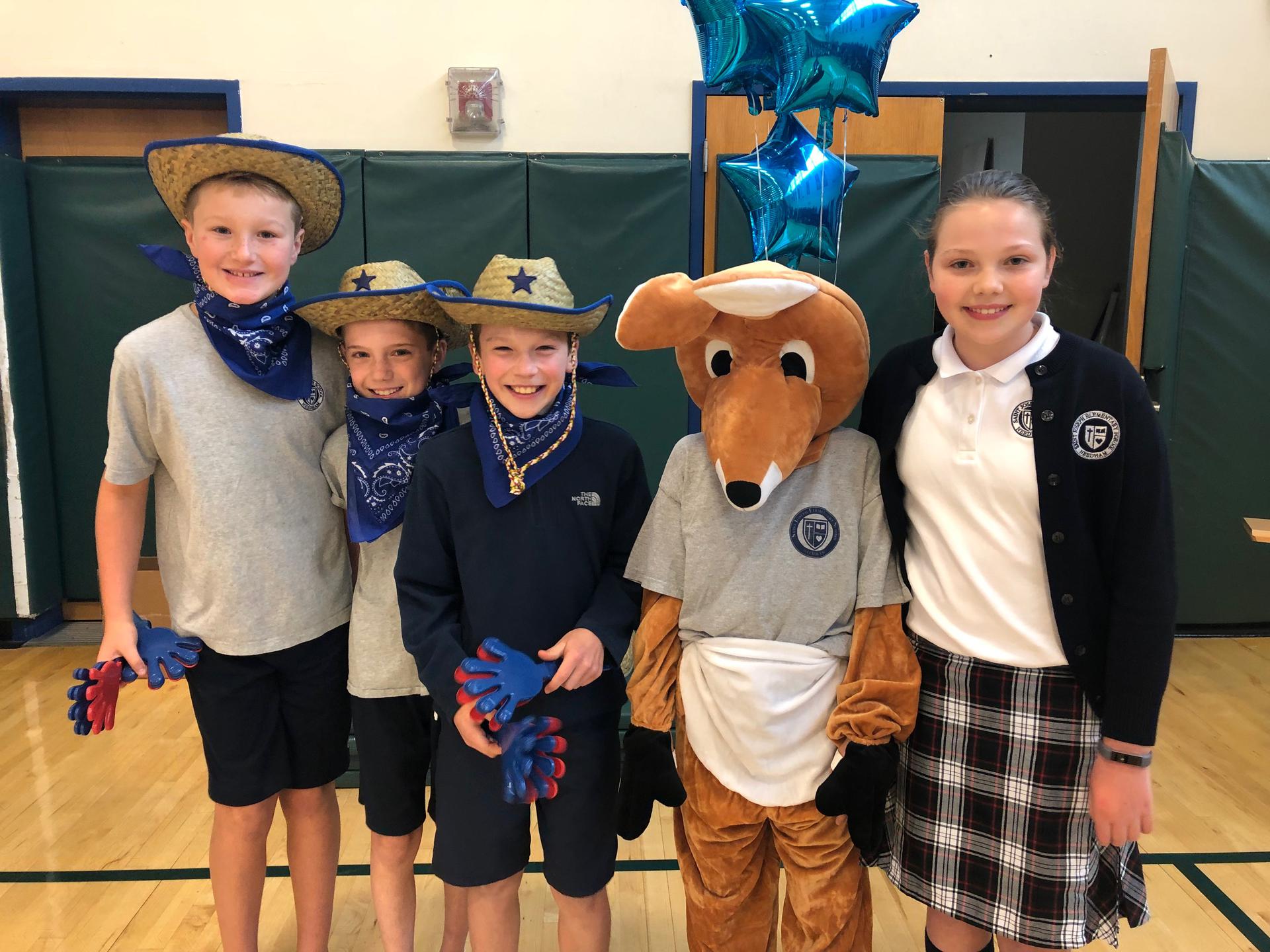 SCHOOL STORE
The School Store opened to rave reviews under the leadership of Ms. Harris and the fifth grade Student Council members.
BAND
There are 41 students who have signed up for Band this year! WOW!
AFTER SCHOOL DISMISSAL
Mrs. Schell (from the Learning Center) coordinates the children who get picked up from the YMCA, the Tobin afterschool program, and the NCC program. If your child has different arrangements on any given day, she would appreciate it if you let her know. You may reach her at mschell@saintjoes.com

Please label all your children's clothes.

The Street Hockey Tournament is this Friday. We ask that students wear long pants and long sleeve shirts and then put their hockey t-shirts over them. Participants should also use insect repellent. I just read that the risk of EEE is lower because it is not as warm, but we do still want to be vigilant.

Grade five students who want to participate in the Jack O Lantern Contest should bring their pumpkins to school with them the morning of October 23rd.

Trunk or Treat is on October 25th. We are always looking for more families to trick out their trunks.
BOOK CLUBS
The fourth-grade book clubs were a big success! The next round of book clubs for students in the evening in grades four, five, and seven will be on Thursday, November 14th.
VISIT FROM CHANNEL 5 METEOROLOGIST
Cindy Fitzgibbons was here last week to talk to the fifth-grade students about being a meteorologist and share her knowledge about the weather. The students were recorded for the channel 5 Eye Opener which will air on 10/21. It will be on the 5:00 am and 6:00 am newscasts. She said it takes place around 5:10 and 6:10 a.m.
JOEY METER
Congratulations to all the students for working hard to get to the top of the Joey Meter! It collectively takes receiving 100 Joey cards in all the grades to get to the top. Miss McShane has declared this Friday, October 18th, a free tag day for students as their reward.

Courtney Stowers for organizing the Wish Tree lists for the classrooms.

Karen Calton for organizing the Uniform Closet.

Mike Pohlman for visiting the preschool and talking about fire safety with the students.

Sue O'Malley for working on the garden this past week.
Finally, I want to thank you for your warm wishes and kind thoughts for our daughter Colleen's wedding to Christopher Smith. It was a wonderful five days!
Warm regards,
Charlotte Kelly
Principal