October 22, 2019 • Issue 7
"Dear Most Heavenly Father, we thank you for helping us through tough times. WE ask you to help us to remember to choose kindness even when it can be hard. Give us strength to take care of our beautiful planet Earth, as people litter and destroy the world around us. May I ask you to watch over those who are sick or have special needs, that they will feel better and life will be easier. In Jesus' name we pray. Amen."
-Katie, grade five
Dear Parents,
You know it has been a busy week if I need to send two newsletters within a week! I just came back from Father Michael's last Mass at St. Joseph Parish. On behalf of all of us, we thank him for his service to the parish and to the schools and wish him well in his new assignment. Father Peter Stamm has been appointed the Temporary Administrator for the parish until a permanent administrator or pastor is named. This is good news for all of us because the parish and schools will not miss a beat under the leadership of Father Peter. Please keep him in your prayers as he assumes this new leadership position.
OPEN HOUSE
Our Open House for prospective families on Wednesday was a success, as we welcomed eighteen families to St. Joe's. They were extremely complimentary when walking around the school, meeting the students and teachers. A reminder that if your child has a sibling who you are planning to enroll for next year, you should go to our website and fill out an application ASAP. Our preschool is already half full!
LEADERSHIP SERIES
Last week ended on an inspirational note as Susan Horne joined us on Friday as a speaker for the Leadership Series. Her positive energy penetrated the room, as her calming voice guided students through a discussion about empathy. She is truly amazing as she grabbed the students' attention by discussing empathetic characters from the book/movie, "Wonder," which most students have seen or
read. They were very much able to verbalize which characters demonstrated empathy and which did not. Jesus wants us to show empathy and Mrs. Horne shared stories and examples of empathy that she has witnessed and easy ways the students can show empathy. She reminded us that Mother Theresa
said, "Do small things, with great love." This is an important message for the students to hear. They do not have to perform grand gestures, but simply be kind to one another; offer a smile, pick something up for someone, include someone in a game, visit a grandparent, etc. Ask your child about the video she shared about the basketball game. It truly defines what empathy is. What a lovely way to end a busy week.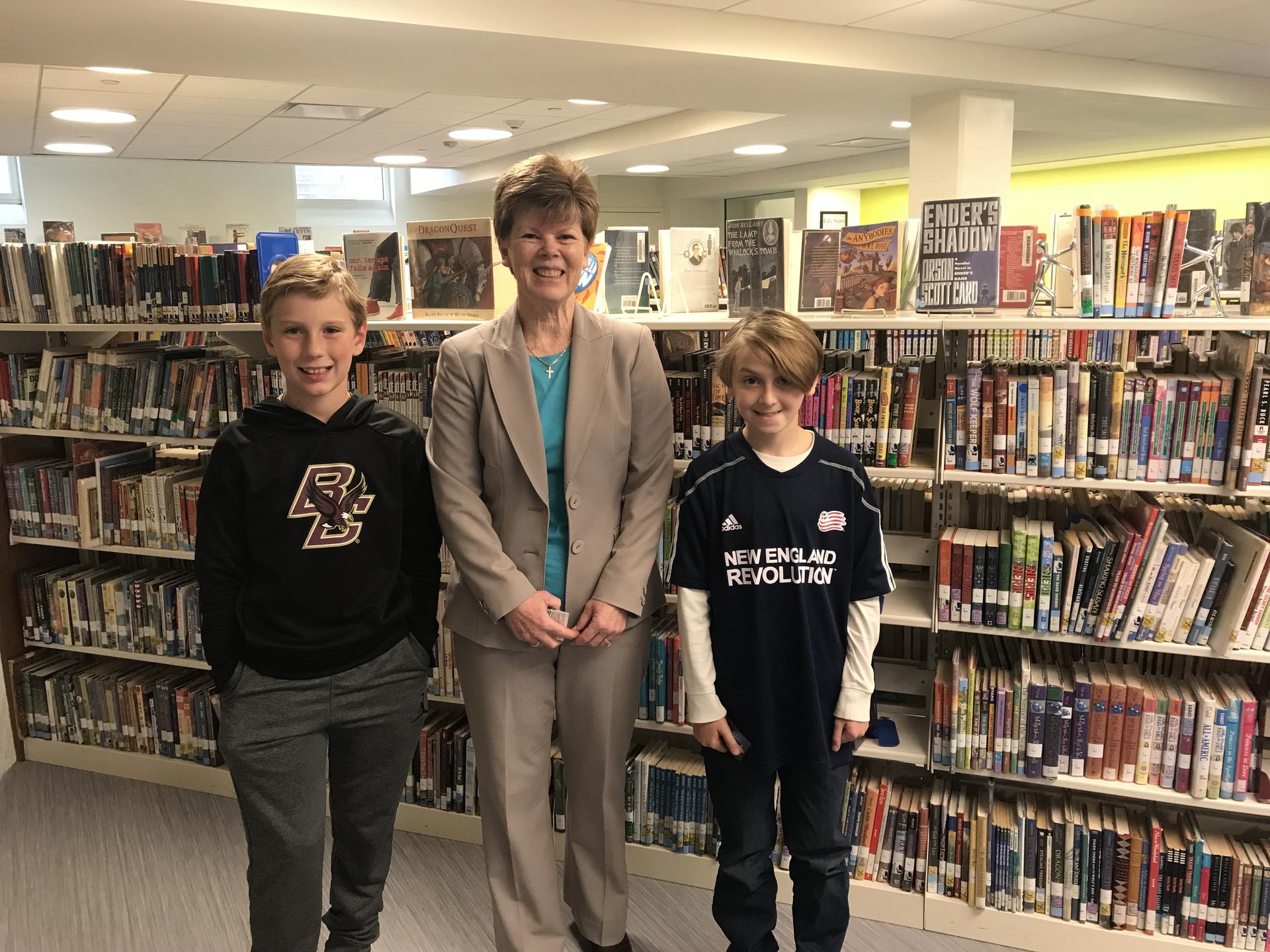 PARE & SHARE EVENT
A note from Caroline Maloney:
We are proud to report another successful Pare & Share event! More than 75 students and volunteers gathered to bag and chop fresh veggies for the Pine Street Inn. From this fantastic power hour, we were able to donate close to 100 gallon-size bags of mushrooms, green beans, zucchini, summer squash, celery, and peppers. Thank you to the parents and grandparents who came to help.
Thanks especially to Luli Martinez for making the delivery to the Pine Street Inn.
Luli Martinez took her children Luli and Alvaro along with Bridget Fernandez to drop off the vegetables and Bridget came to me with the following note about her experience:
"When I went to go to drop off the vegetables in Boston, we unloaded the car with the vegetables. There was a person who helped us, and he was super nice. Another man came up to us and Luli asked if we could have a tour and the man said yes. He showed us around the place and told us that the vegetables that we cut up will be made into soup and other foods for the people at the Inn."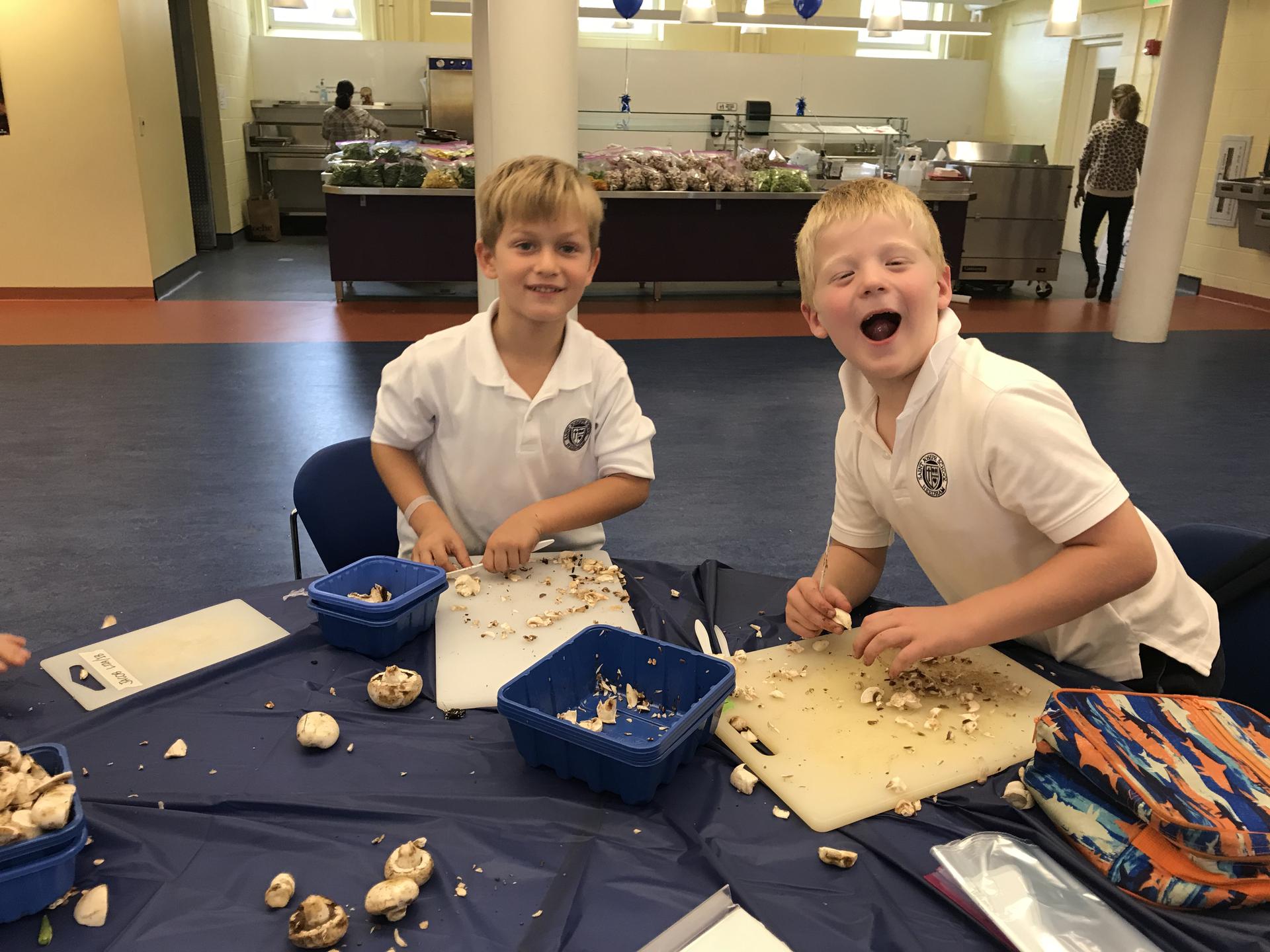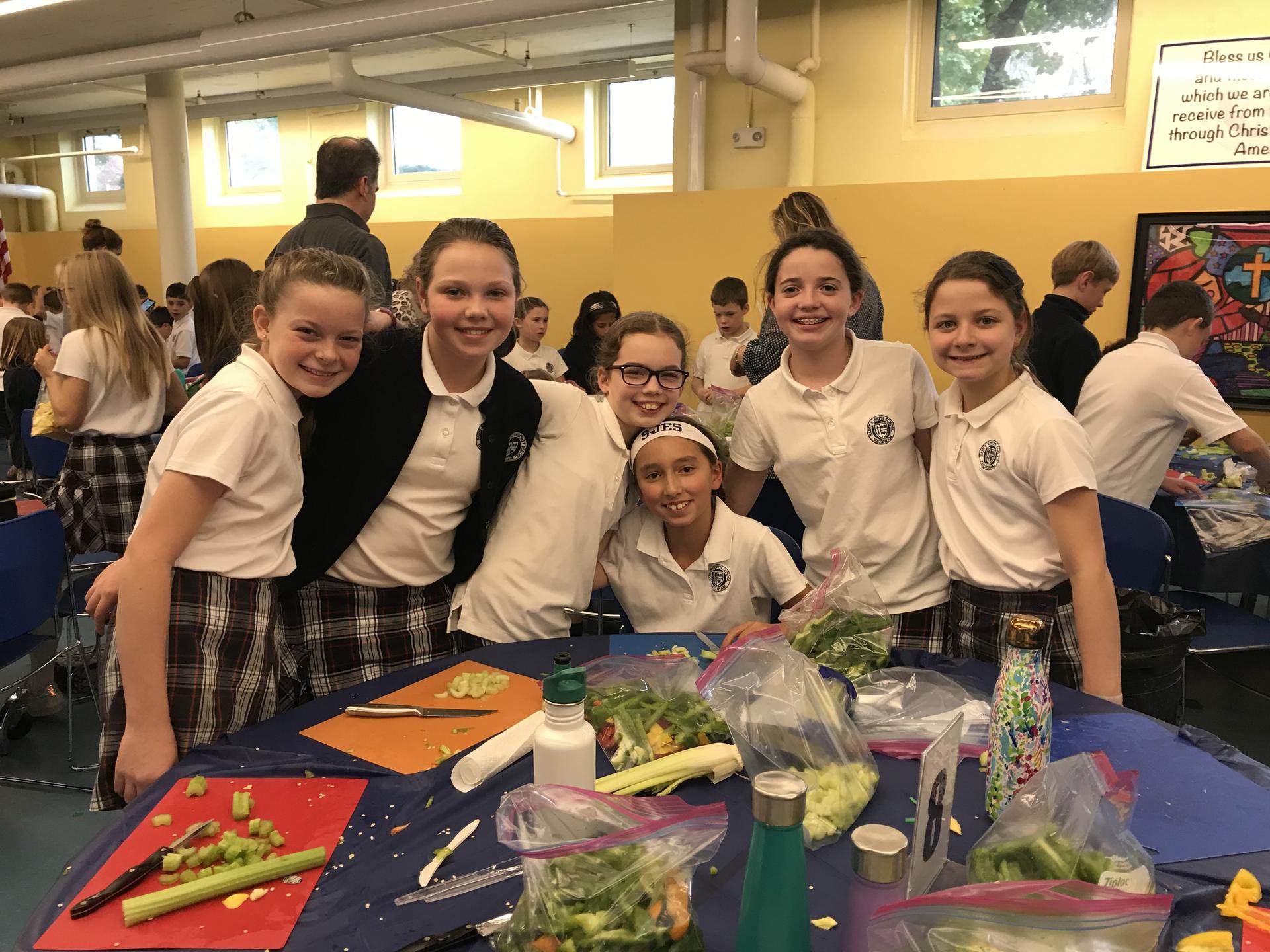 CRADLES TO CRAYON EVENT
There was also a group of students and parents who went to Cradles to Crayons to donate their time and gently used goods. Thank you to Lori Ann Young for coordinating this event. There will be another opportunity later in the year if you are interested in participating in this worthy cause.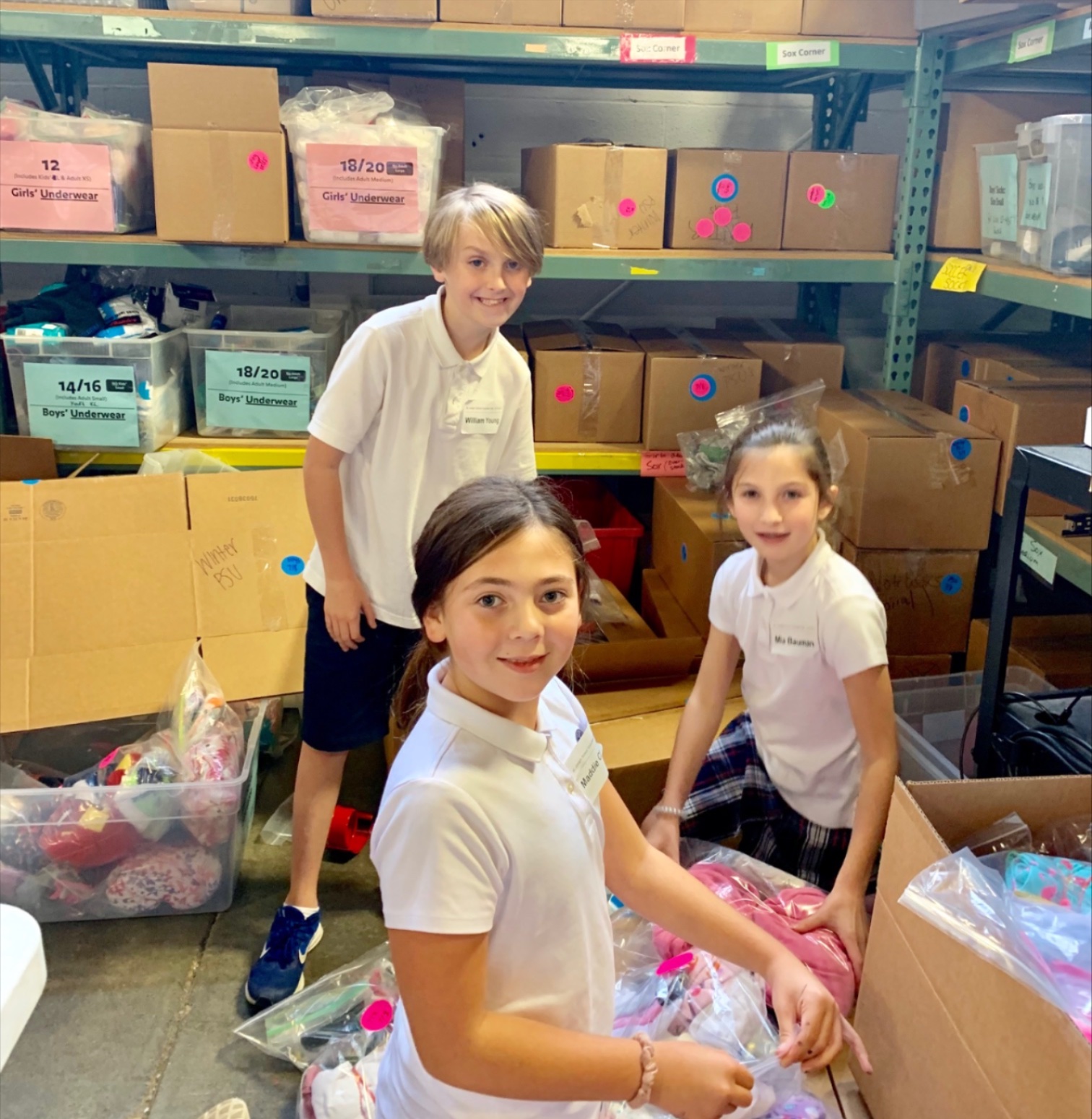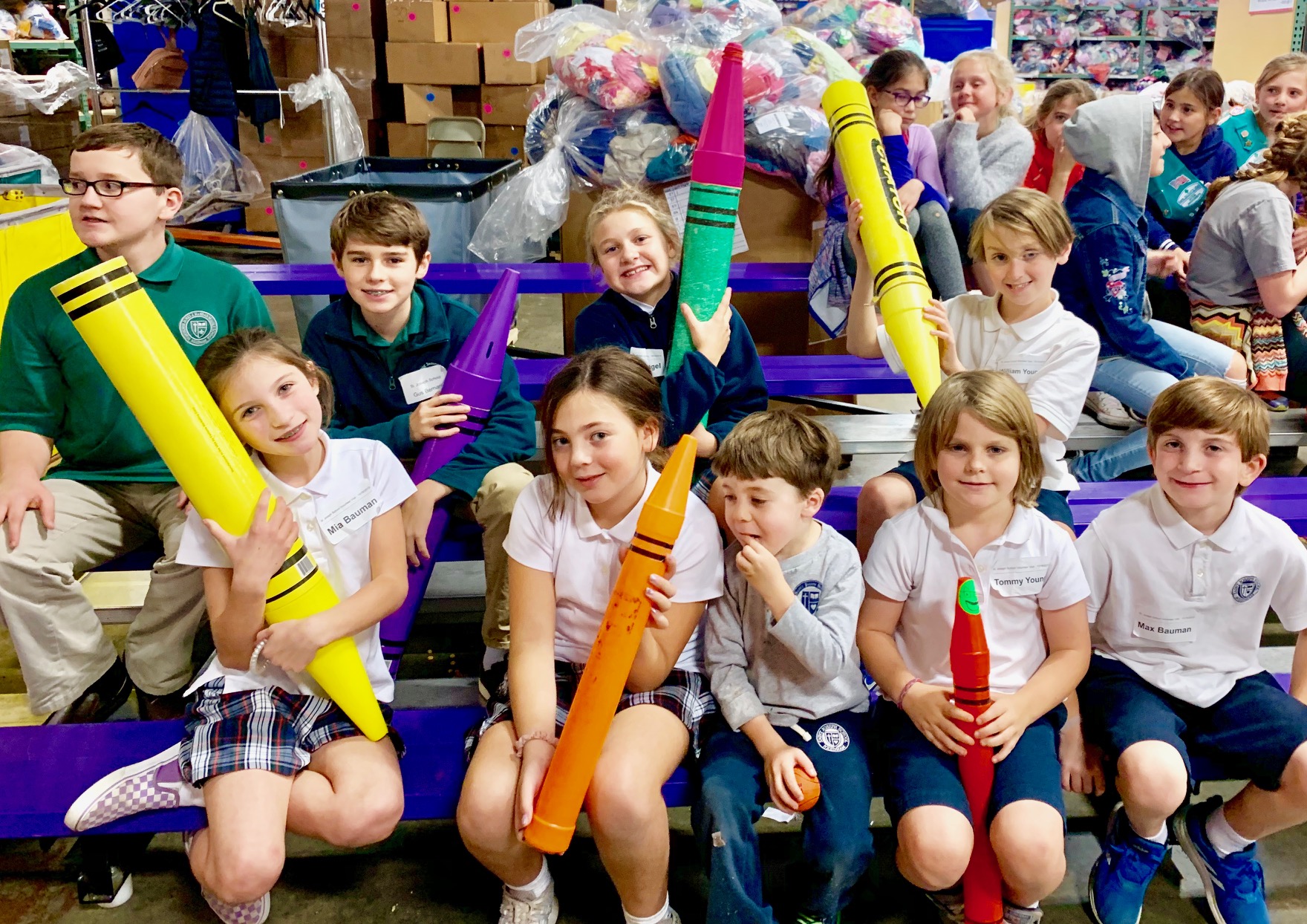 ROSARY
Thank you to Mrs. Topham and the fifth-grade students who led the school community in the Rosary on Friday. There are so many people we are praying for, so it is always a nice opportunity to gather in prayer.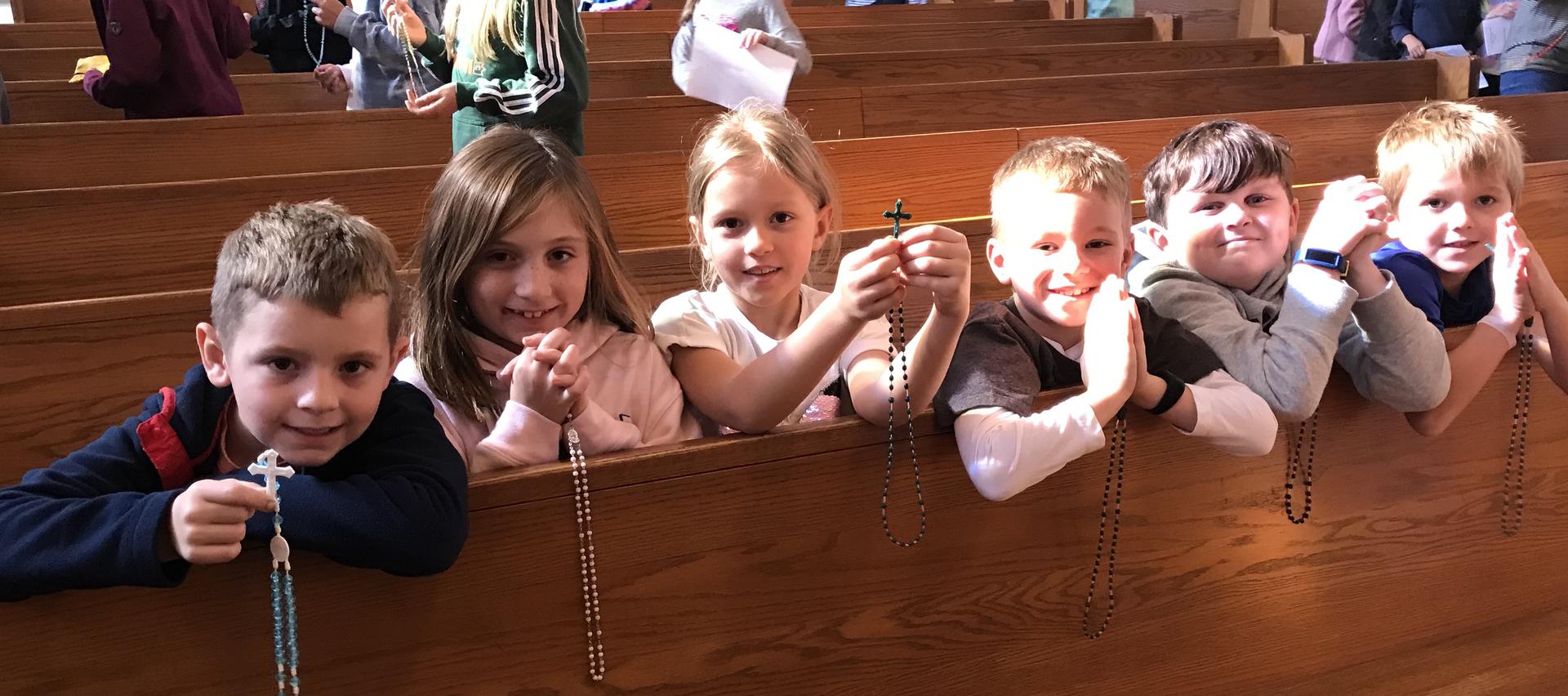 STREET HOCKEY TOURNAMENT
The fourth annual Street Hockey Tournament was a huge success on Friday night. Everyone had a lot of fun and although chilly, the weather cooperated. Thank you to Lauren Fryberger, Alison Pelosi, Jessica Converse, and Susie Mitchell for organizing the event.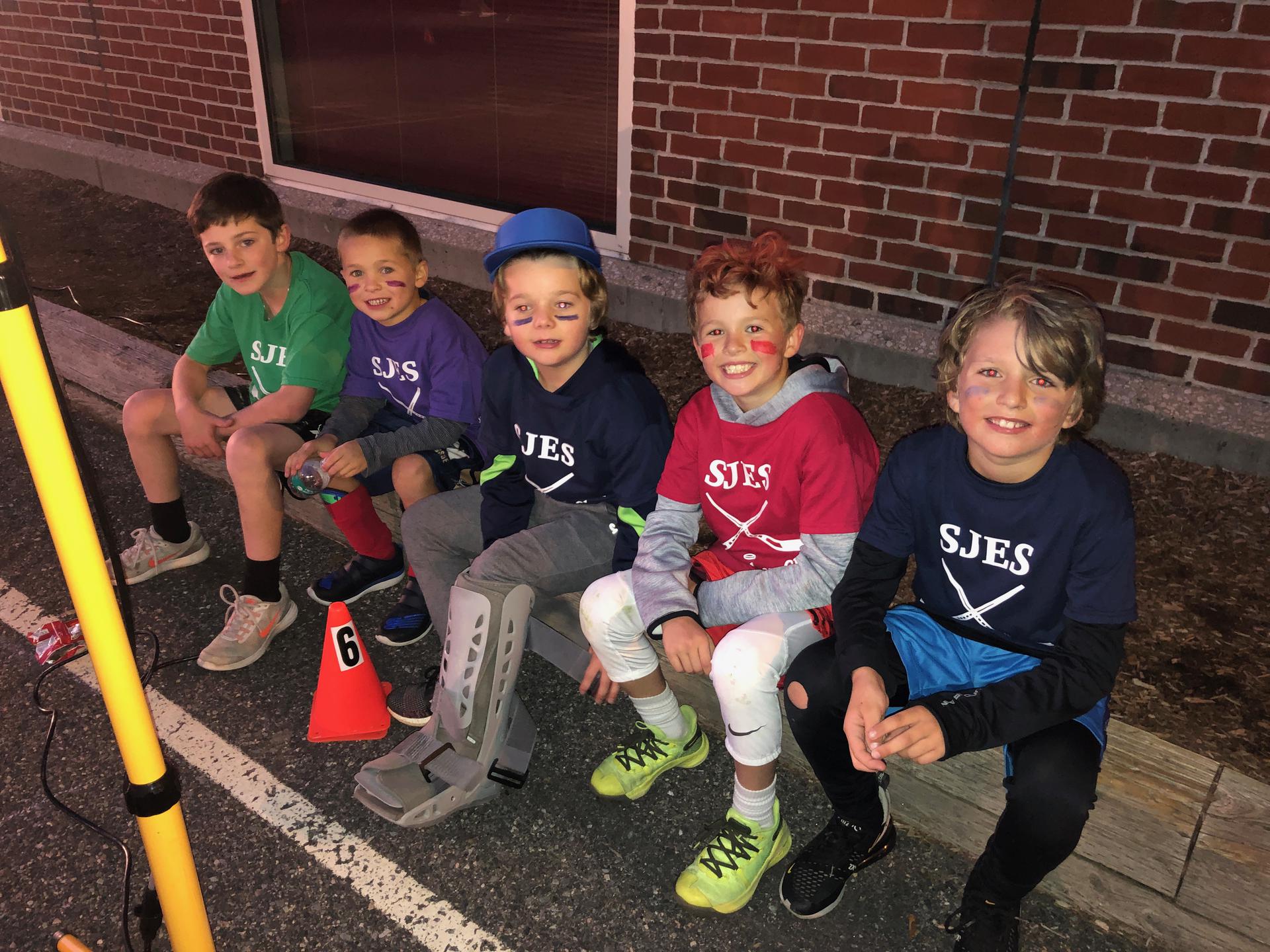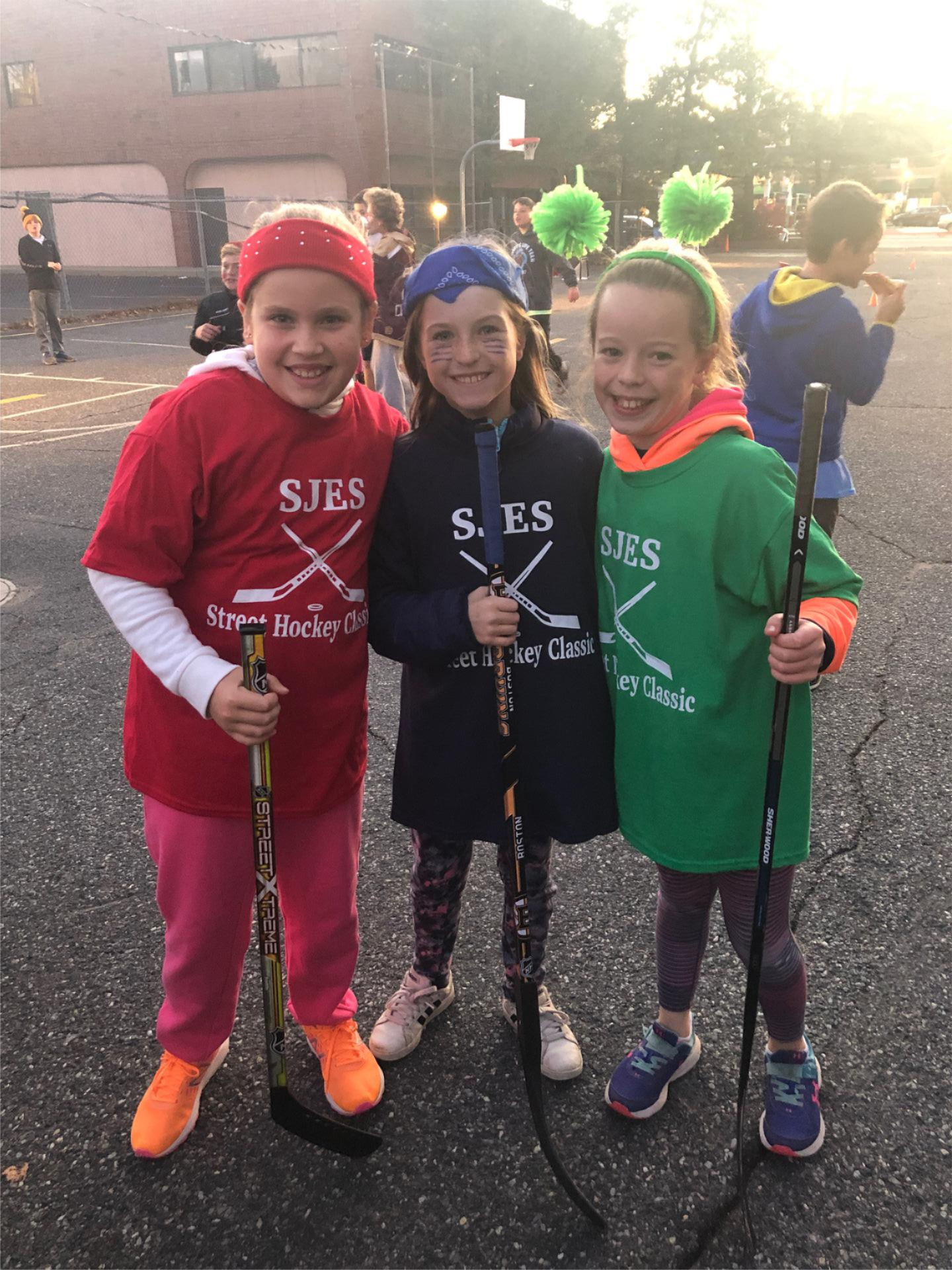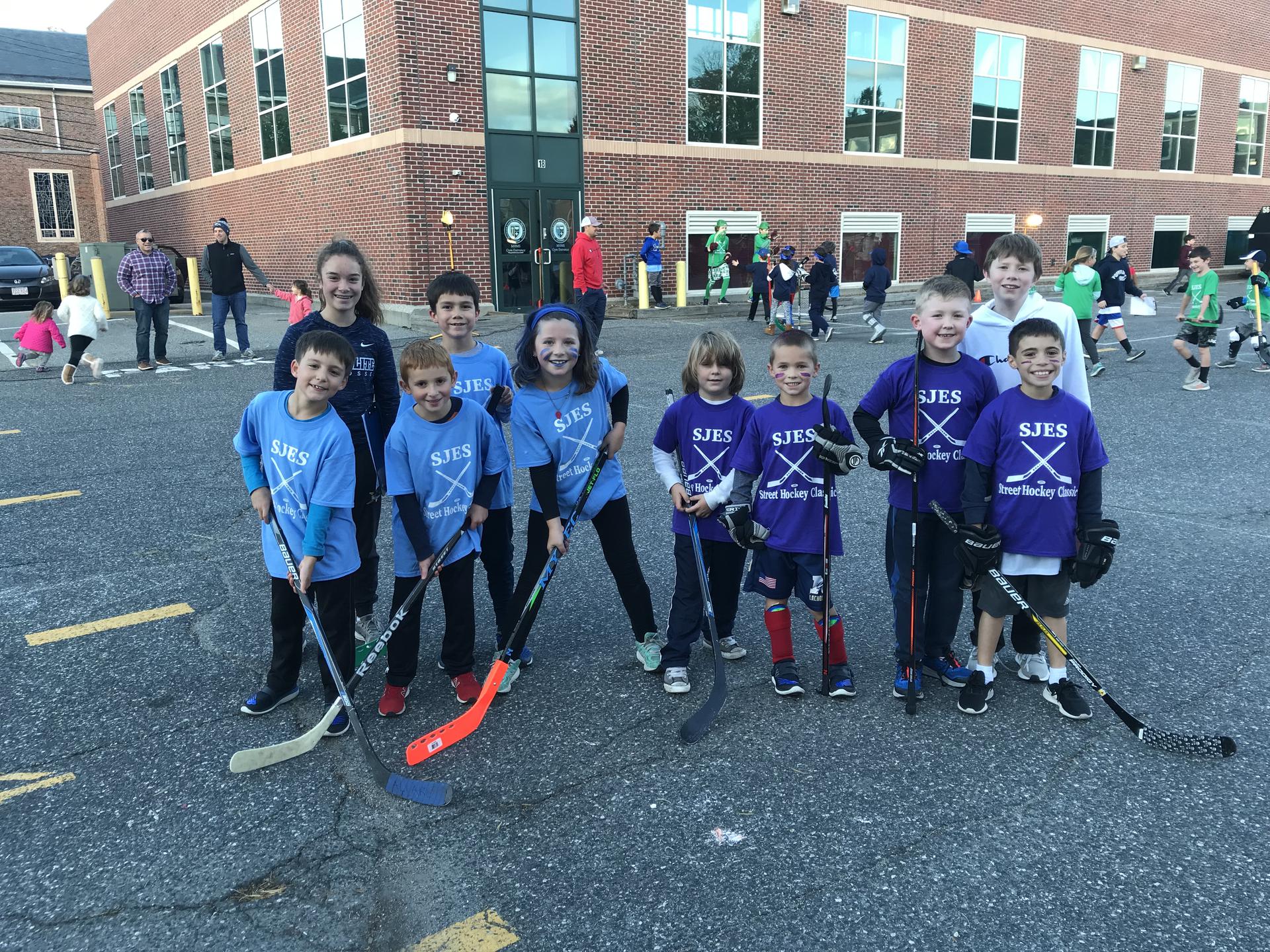 TRUNK OR TREAT
We are looking forward to Trunk or Treat this Friday night. As you know, one of the big parts of the evening is the reveal of what the faculty and staff dressed up as. Top secret, but look for us around 6:00 p.m. As you saw in the PSA blast, we are still in need of trunks, so please consider helping. Trunk or Treat runs from 5:30-7:30 p.m. and the weather looks good! Thank you to Liz Nichols and Marcia Murphy for organizing this event.
LIBRARY NEWS
We want to thank the following families for donating to our Birthday Book Club. Here are the Birthday Book recipients for September and October:
Olivia Towles, Ryan Lovett, Kaitlin Lovett, Jacob Liza, Annmarie Shea, Hannah Dahn, Ella Spadazzi, Ryan Connolly, Ally Winig, Patrick Mitchell, Elizabeth Haynes, Elizabeth Swartz, Timmy Hegarty.
ROTARY CLUB THANK YOU
Thank you to Andy Wining and the Rotary Club for once again donating new dictionaries to all of the third-grade students in Needham. Members of the Rotary Club came to hand out the dictionaries and teach the students a few things about using them easily and correctly.
ARCHDIOCESE CHRISTMAS CARD DESIGN FINALIST
The Missionary Childhood Association (MCA) of the Archdiocese of Boston offered a Christmas card design contest for all students throughout the area. There were 24 finalists, and one of them was a SJES 5th grade student, Kelly Ladino! This past Sunday Kelly, her family, and Ms. Harris attended a Mass at the Cathedral of the Holy Cross in Boston, where all the artwork is on display for the entire month of October. Congratulations to Kelly!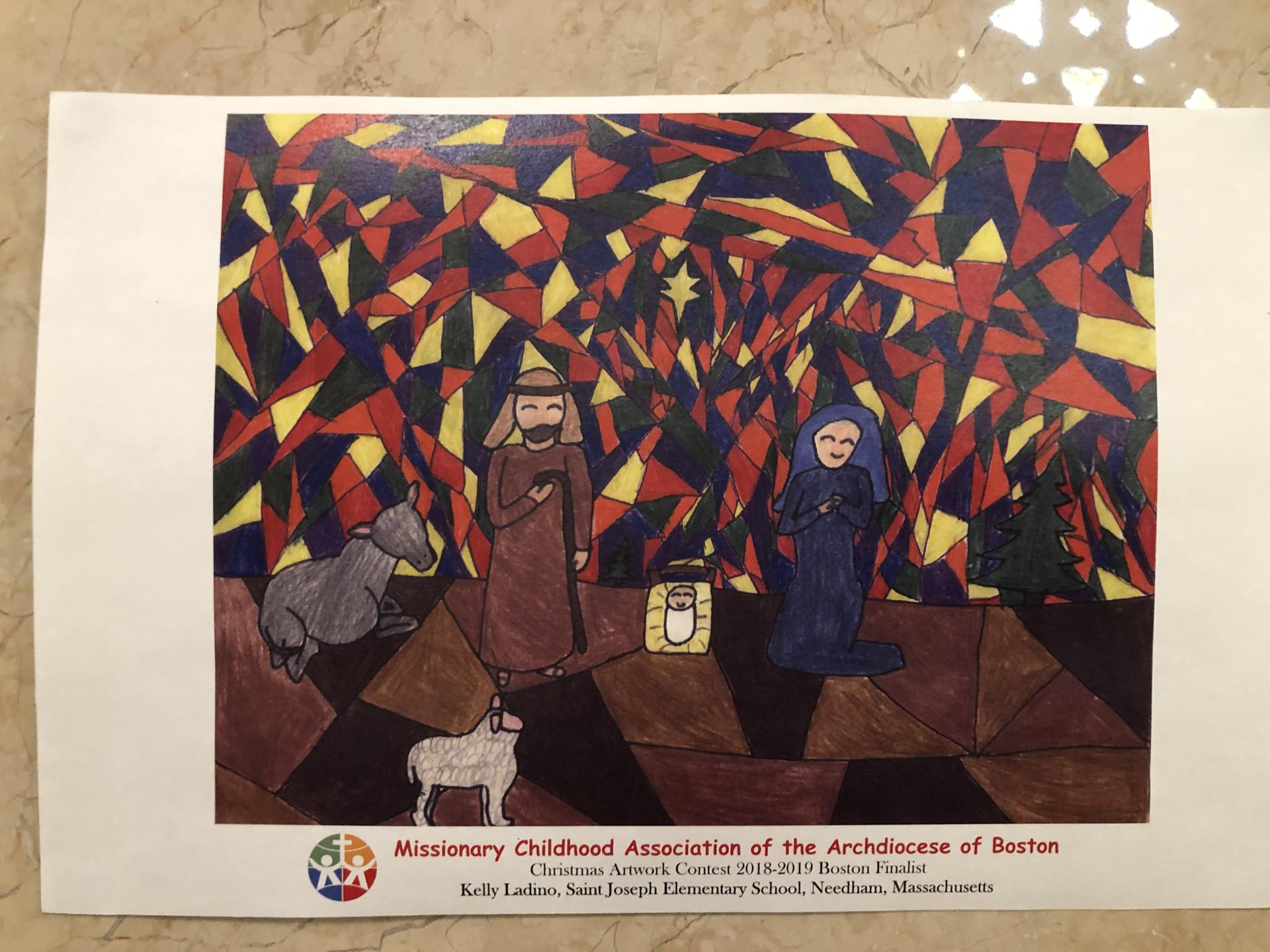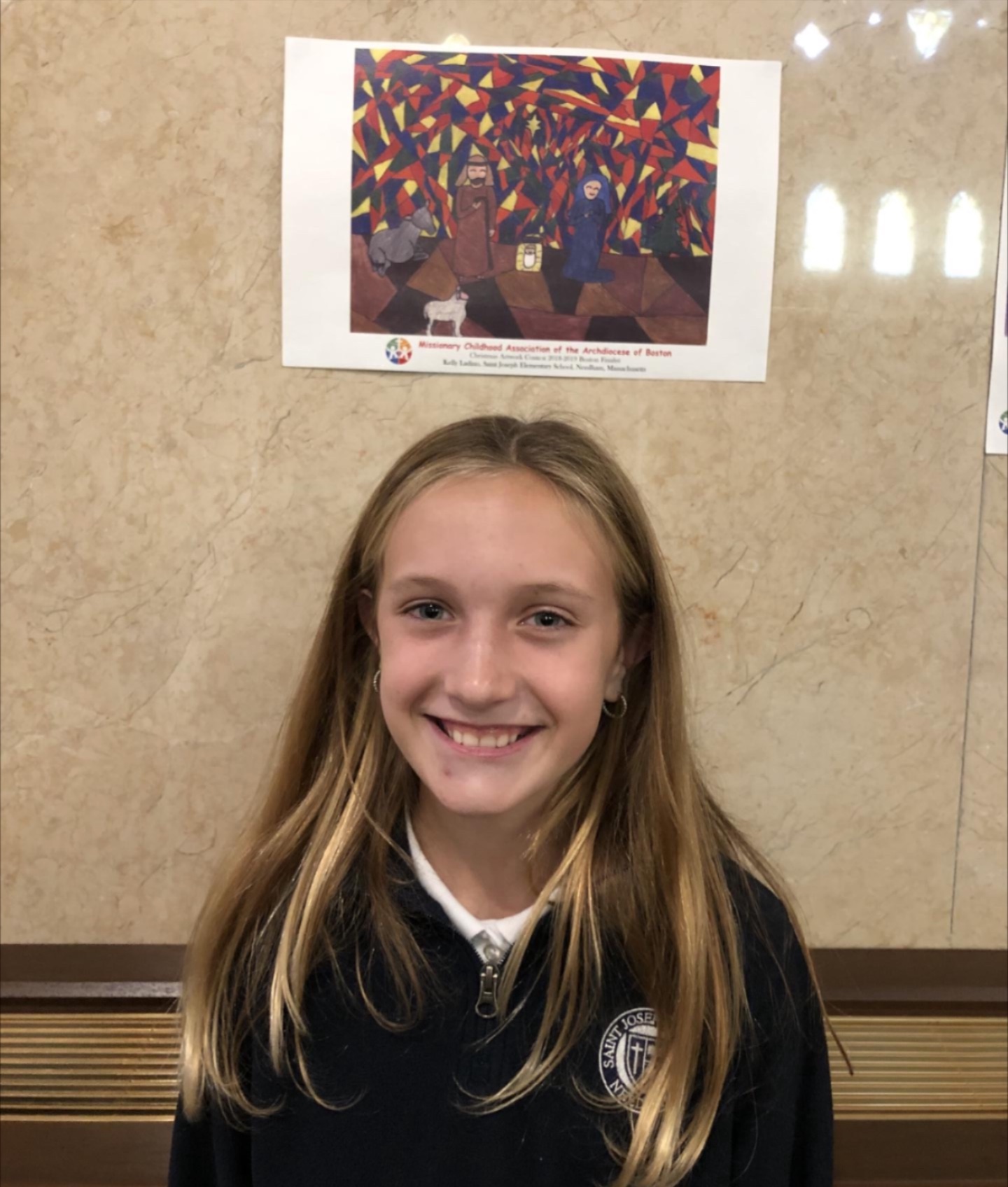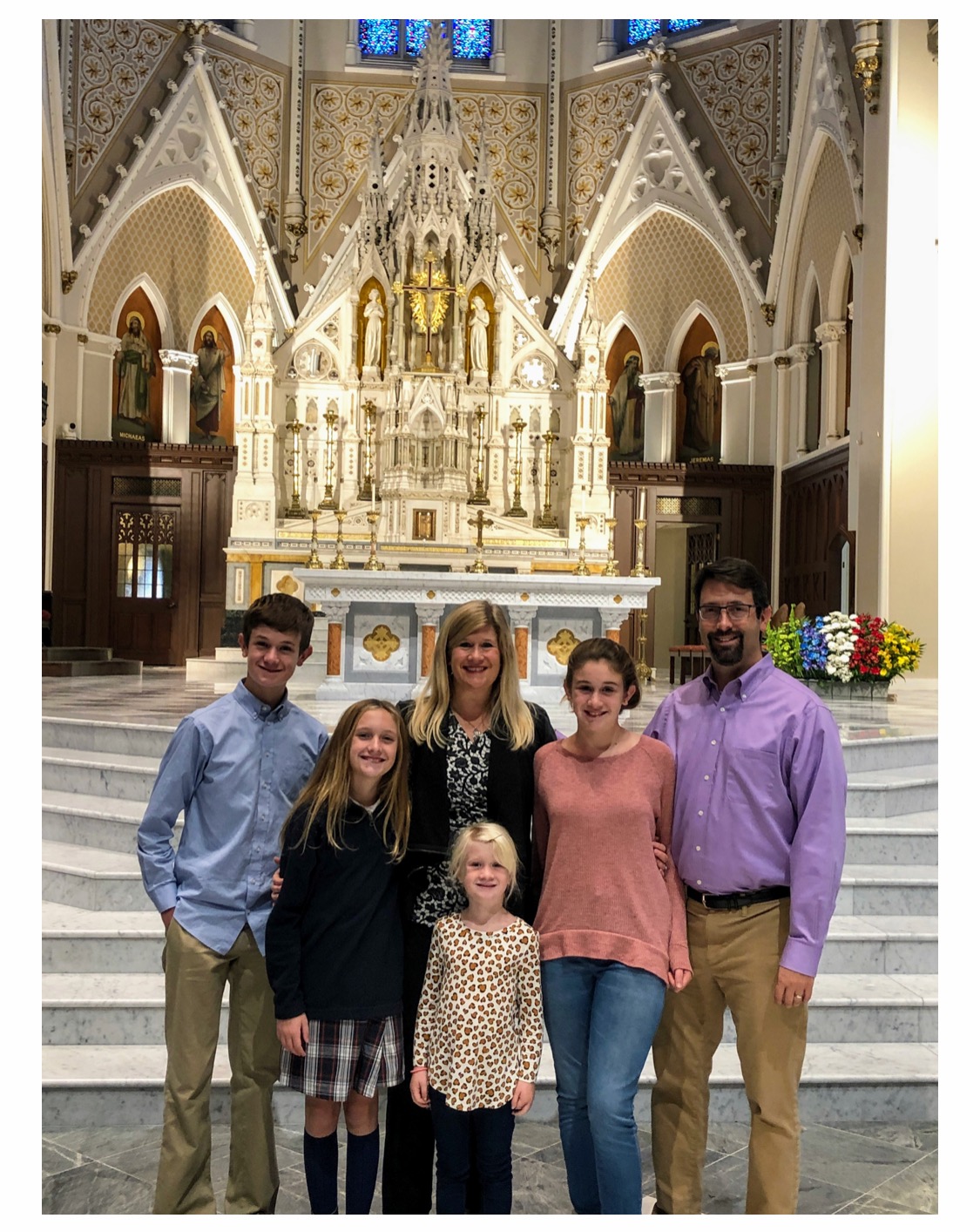 A few quick notes:
1. You should have received a text from St. Joe's on Thursday evening as we tested our emergencysystem. If you did not, please contact Mrs. Posada at iposada@saintjoes.com

2. We welcome Mrs. Julie Cedrone to the Health Office two days a week. Mrs. Cedrone is a nurse practitioner who lives in Walpole with her husband and two sons, who attend XBHS. This allows us to honor Mrs. Ratto's request for a three-day work week.

3. Students who attend any afterschool program should not be using their phones or headphones, as they are still at a school activity. This issue seemed to come up this week at Band practice, so if you could speak to your children, we would appreciate it.

4. We welcome Mr. Mark Fairweather to the band program this week. Mr. Fairweather is going to assist Mrs. Zevos as we have so many participants!
5. Thank you to all the preschool, pre-k, and kindergarten parents who contributed to the faculty/staff potluck lunch this past week. You spoiled us! Thank you to Anne Scola and her team for organizing it.

6. You may have heard that there was a mix-up with the buses at pick-up on the early release day. Apparently, the transportation company had the early release day listed on one calendar but not the others. It all worked out but I just wanted to let you know the reason for the delay.

7. We will welcome our writing coach on Tuesday.
8. The kindergarten students will have their vision and hearing screenings on Tuesday as well.

9. The Jack O Lantern Contest for fifth graders begins Wednesday when the pumpkins are due. The students always enjoy looking at how creative our fifth graders are!

10. Because of the weather last week, the pre-k field trip to the police and fire departments was postponed. The students will have their visit this Thursday.
GRADE 5 ON THE EYE OPENER
As part of the visit from Channel 5 meteorologist Cindy Fitzgibbons last week, our 5th graders were on the Eye Opener news wishing everyone a good morning.
Finally, we are very much looking forward to our FUN RUN on Wednesday! Thank you for supporting our schools!
Have a great week!
Warm regards,
Charlotte Kelly
Principal