October 29, 2019 • Issue 8
"Dear God, we appreciate all the blessings we have. Thank you for our homes, our school, our family, and our friends. You have given us everything, so please help us have a great day today. We ask that you look over everyone who needs our prayers. Also, please help us strive to be the best people we can be and work together to create a strong community. Give us strength to get through tough times and help us to work hard at school. In Jesus' name we pray. Amen."
Ryan, grade five
Dear Parents,
We had another wonderful and busy week at school and with November arriving on Friday, I write to bring you up to date and to preview what we have coming up next month.
FRANCISCAN CHILDREN'S
Our fifth grade Student Council members were fantastic representatives of St. Joes' when we visited Franciscan Children's on Thursday. We learned that they have rebranded and dropped the hospital in their name, as they are so much more than that. We had a wonderful tour and met terrific kids as well as energetic staff members. The slogan at Franciscan Children's is "Every Kid Can" and our students truly understood that we are all much more alike than different. We were able to preview the adaptive Halloween costumes that we have purchased for the children and we discussed how this idea was to allow children to feel fully participatory in their Halloween events. A reminder that we are asking for a $3.00 donation from every child on Halloween to pay for the adaptive and able-bodied costumes that they have purchased.
BUBBLEOLOGY
On October 21st, we were excited to welcome a fun presentation called "Bubbleology: The Secret World of Bubbles. Our bubble artist made sculptural bubble creations both large and small to explain liquids, solids, gases, geometry, tension, and pressure. The children in all grades, pre-k through grade five enjoyed this presentation and learned a lot as well. Many thanks to Robin Horrigan as she does all the research and work for our cultural programs.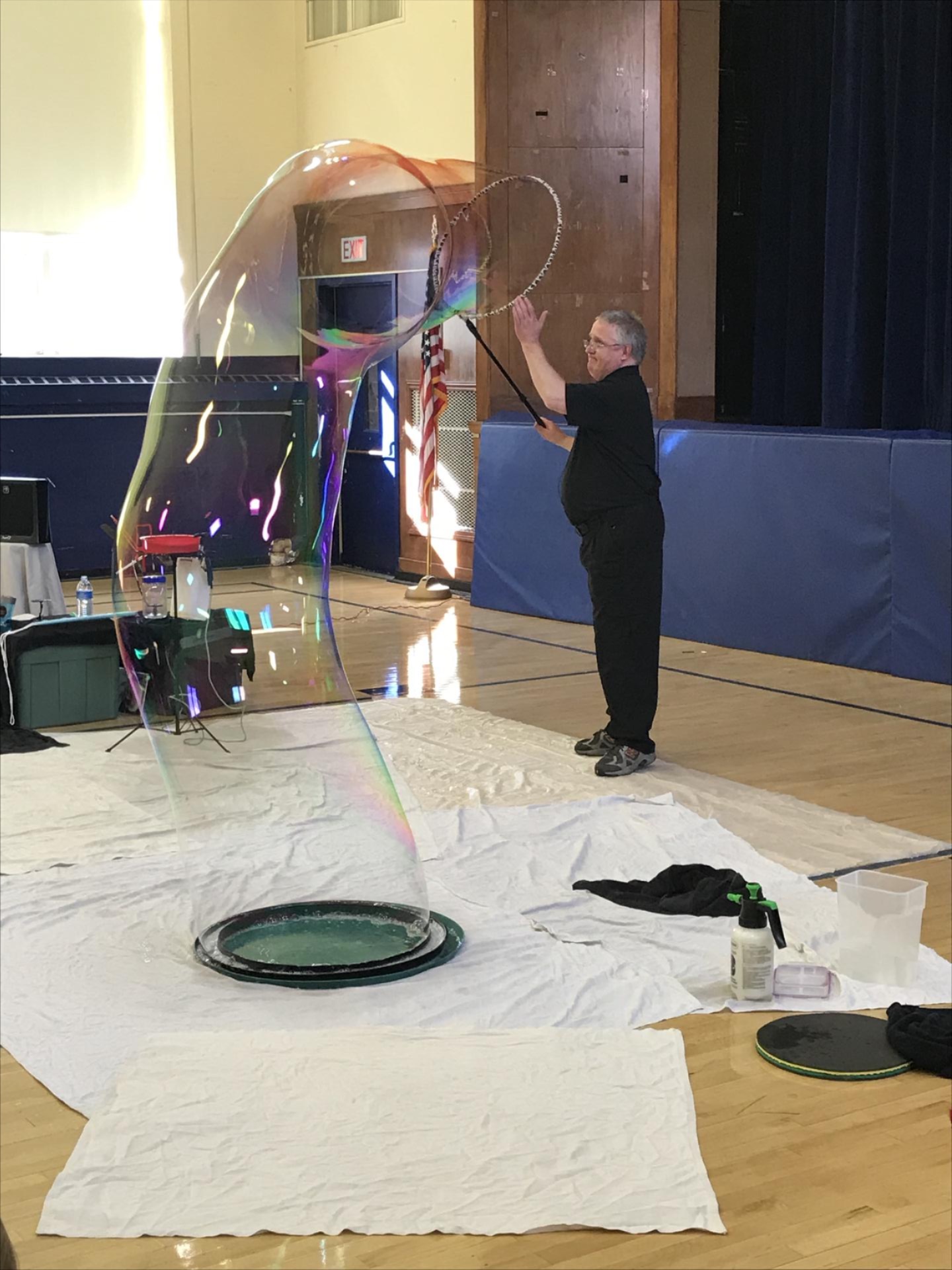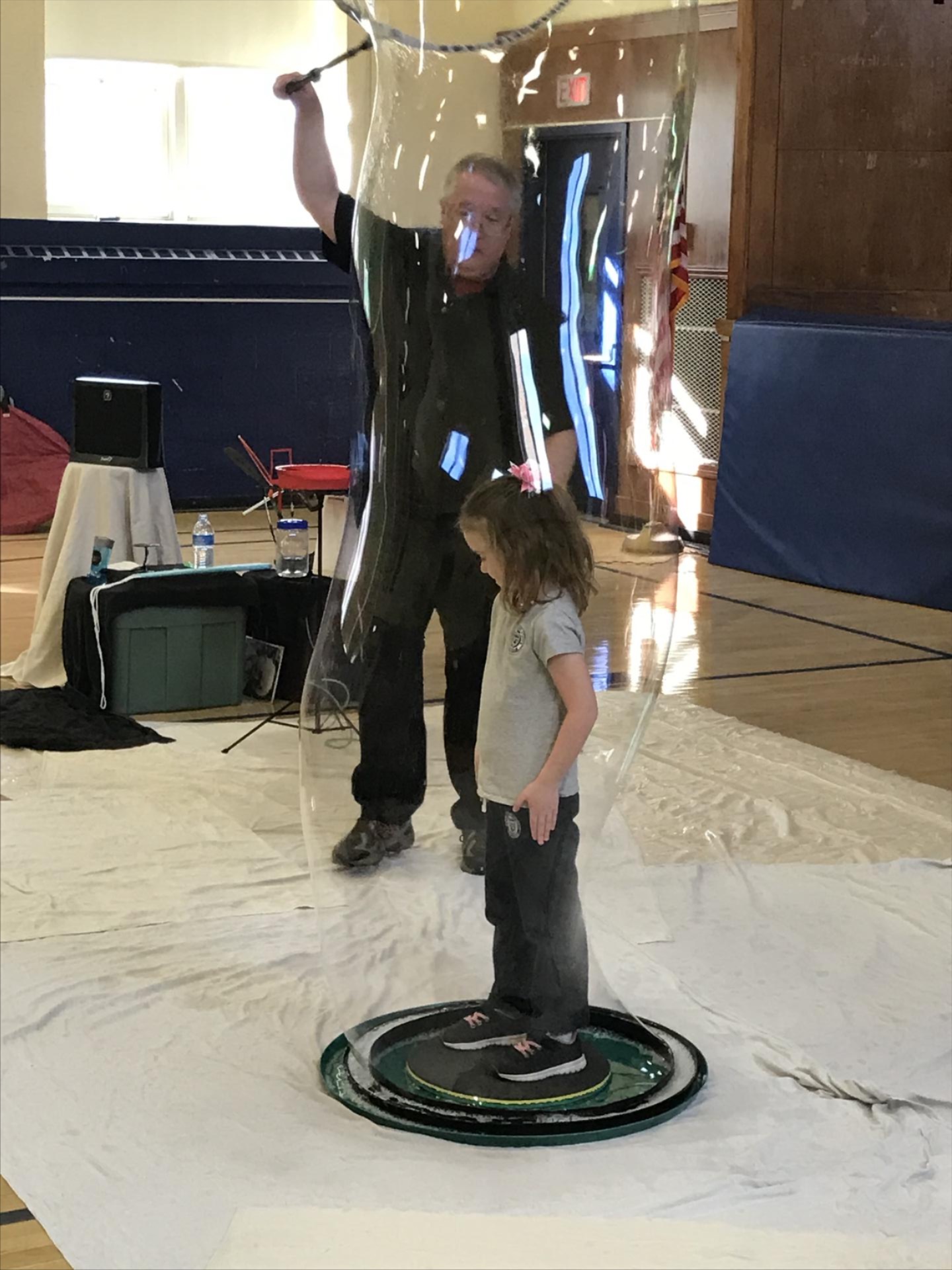 Here is an outline of important dates ahead:
November 1st
9:00 a.m. Mass for All Saints Day

November 5th
Student Council Meeting 2:45-3:15 p.m.
First Reconciliation meeting for grade two parents at 7:00 p.m. in the lower church
November 6th
Grade three travels to Plymouth Plantation
November 7th
Saints Parade for grade two classes
2:10 p.m. Prayer and Pick Up with 3B

November 8th
Professional Day for teachers – no school for students
November 9th
Pick A Time opens for parent/teacher conferences
November 11th
Veterans Day – no school
November 13th
Math's Amazing cultural program
PSA meeting at 8:15 a.m.
November 14th
Prayer and Pick Up with 3C
Evening book clubs for grades four, five, and seven at 6:00 p.m.
November 15th
School Store is open
8:15 a.m. Coffee and Conversation for preschool, pre-k, and k parents
8:30 a.m. Eric Calton – Leadership Speaker Series - service
$3.00 due for turkeys for Thanksgiving Food Baskets
Fifth grade fleece blankets project
November 18th
Trimester closes
7:00 p.m. Joint Board meeting with MHMS
November 21st
2:10 p.m. Prayer and Pick Up with 2A
7:00 p.m. Frozen Jr.
November 22nd
7:00 p.m. Frozen Jr.
November 25th
Food donations are due for the Thanksgiving baskets
November 26th
Thanksgiving Mass at 9:00 a.m.
November 27th-29th
Thanksgiving break
November 28th
Happy Thanksgiving!
FUN RUN
The Fun Run was indeed a LOT OF FUN! The children really enjoyed the running and participating in the event on Wednesday. I know that the teachers sent pictures in their blasts and thanked you for your support, but I too want to show my appreciation for your extremely generous support of this FUNdraiser. Thank you to Mary Beth Cox for organizing it and to cousin Mirabelle for her enthusiastic daily updates. I know that Mrs. Cox has sent out communication with all the details, so you are well aware of the success. We cannot thank our parent volunteers enough! You are always there to help!
Here is the list of volunteers that helped with the Fun Run: Sign Up Genius: Mia Rizzo, Decorating: Patricia Petruziello, Lori Ann Young, Caroline Maloney and Carol Palmer Winig
Day of Event: Patricia Petruzziello, Carol Palmer Winig, Caitlin Moran, Daniella Jennison, Anne Scola, Jennifer Polak, Kristen Vacanti, Lori Ann Young, Jen Crocker, Kate Hinman, Elizabeth Murphy, Megan Laporte, Christine Mattacchione, Zinma Camelio, Ame Furey, and Eileen Cataldo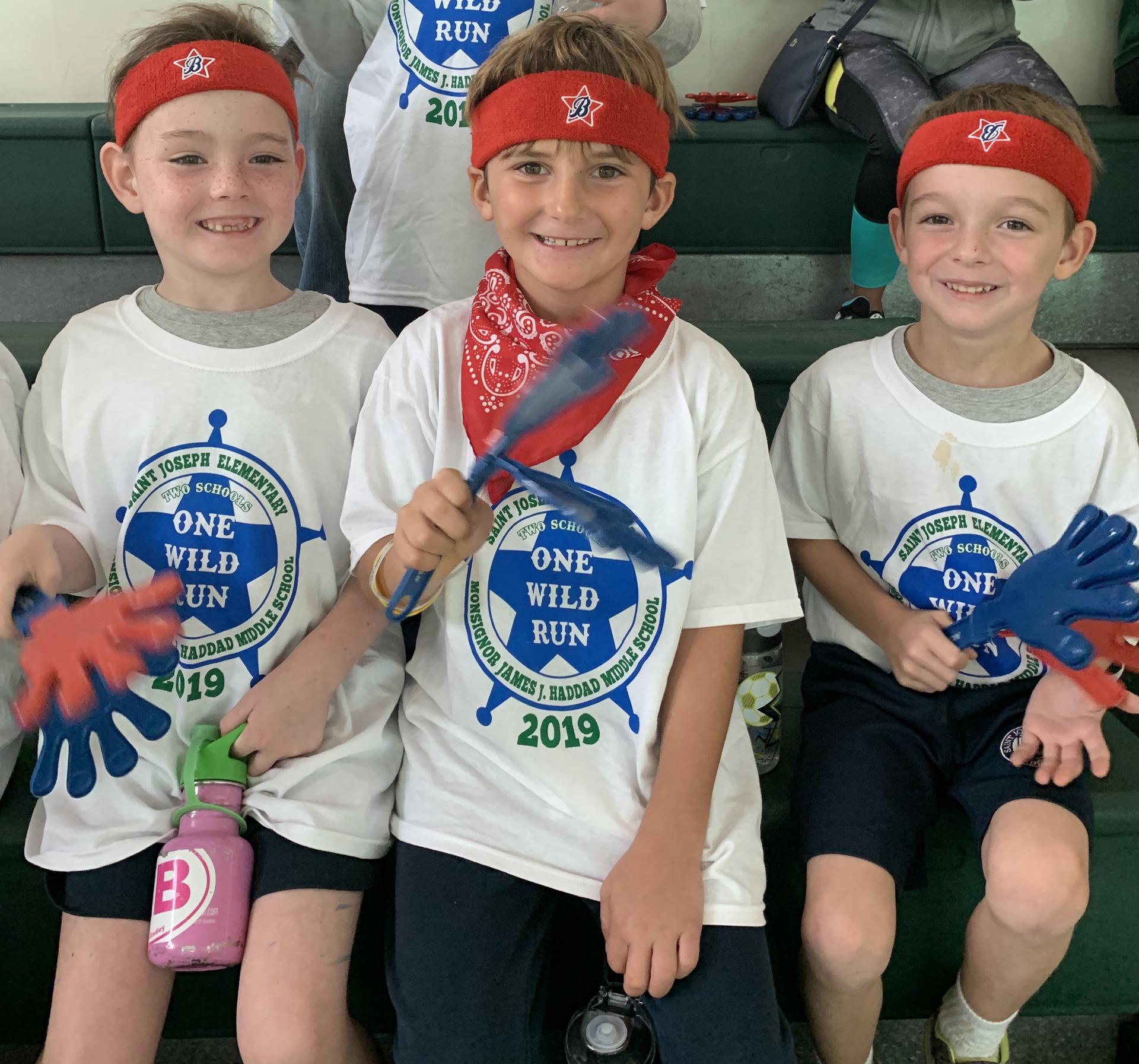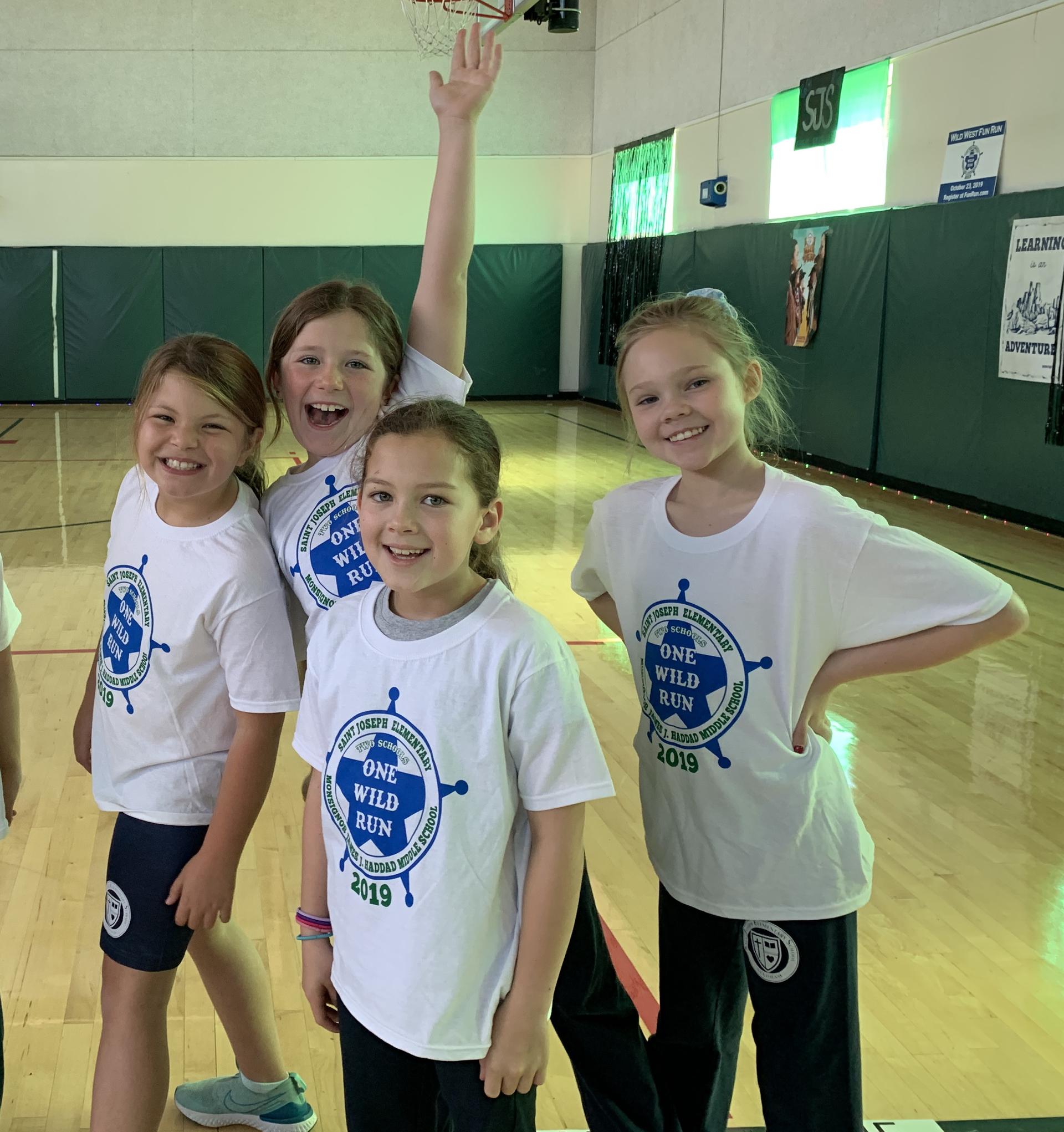 TRUNK OR TREAT
Trunk or Treat was great fun for everyone! Many thanks to Liz Nichols, Marcia Murphy, and the team of volunteers who worked for weeks before the event and to all who were at school on Friday from 8:00 a.m. until we finished cleaning up at 8:30 p.m. The weather cooperated beautifully, and everyone looked spooky and/or magical. Thank you to the teachers for their idea of promoting teamwork and dressing up like the GOAT, the Patriots!
A note from Liz Nichols and Marcia Murphy:
Trunk or Treat this year was a success! Everyone had a blast! I just wanted to pass along the winners for the Guess How Many contests.
Pumpkin Weight - Brooke Ryan in 5C won with a guess of 15.21 pounds, Candy Corns - Michael Fennell in 1C won with a guess of 510, Lollipops - Claire Chan in 4C won with a guess of 135.
A recap of the trunks that won this year (we announced at TOT and gave gift cards to the families already): 3rd Place-LaPorte Family with the Animated Halloween, 2nd Place-Corn maze, 1st Place-Spooky Ambulance Ride.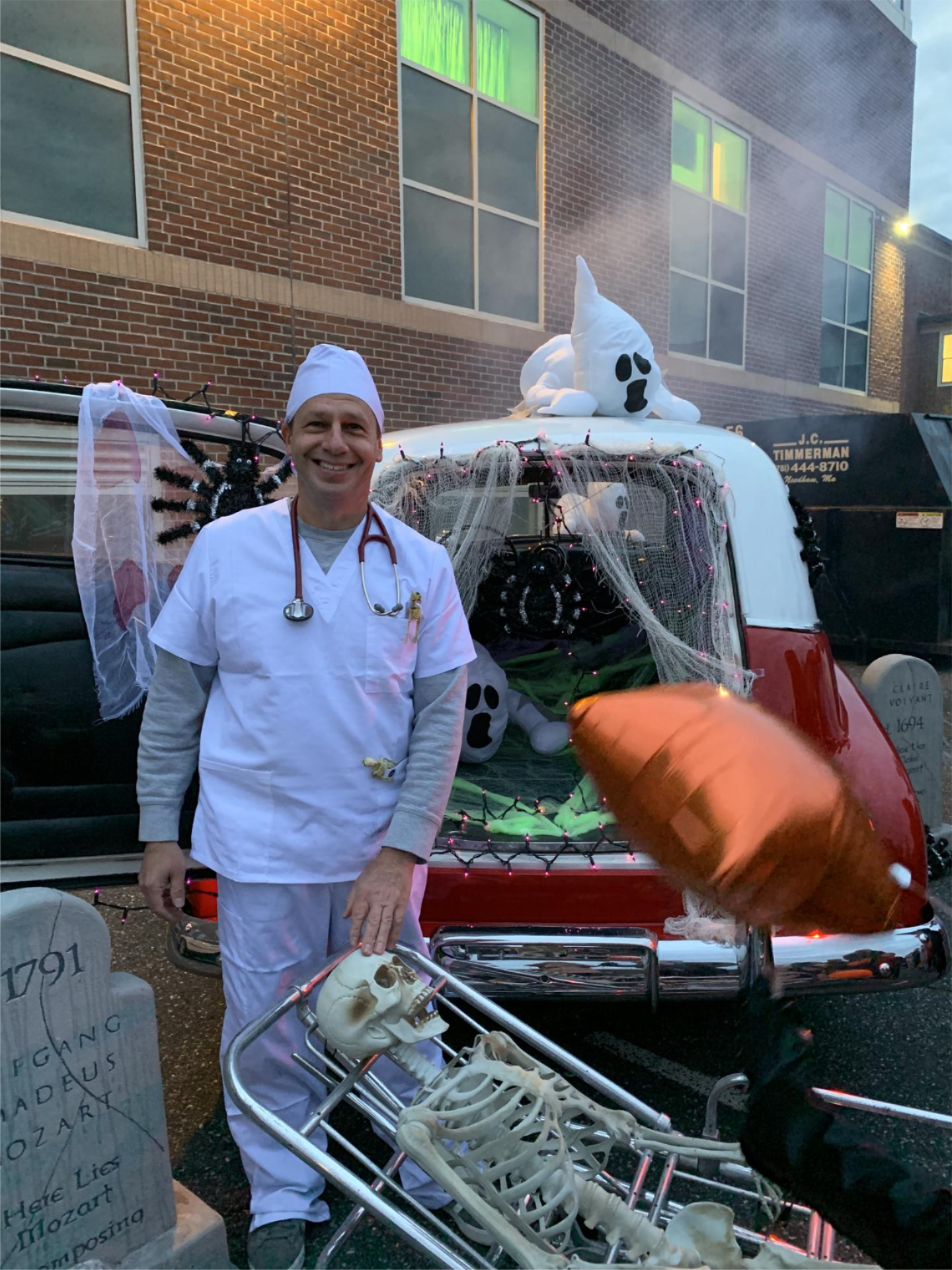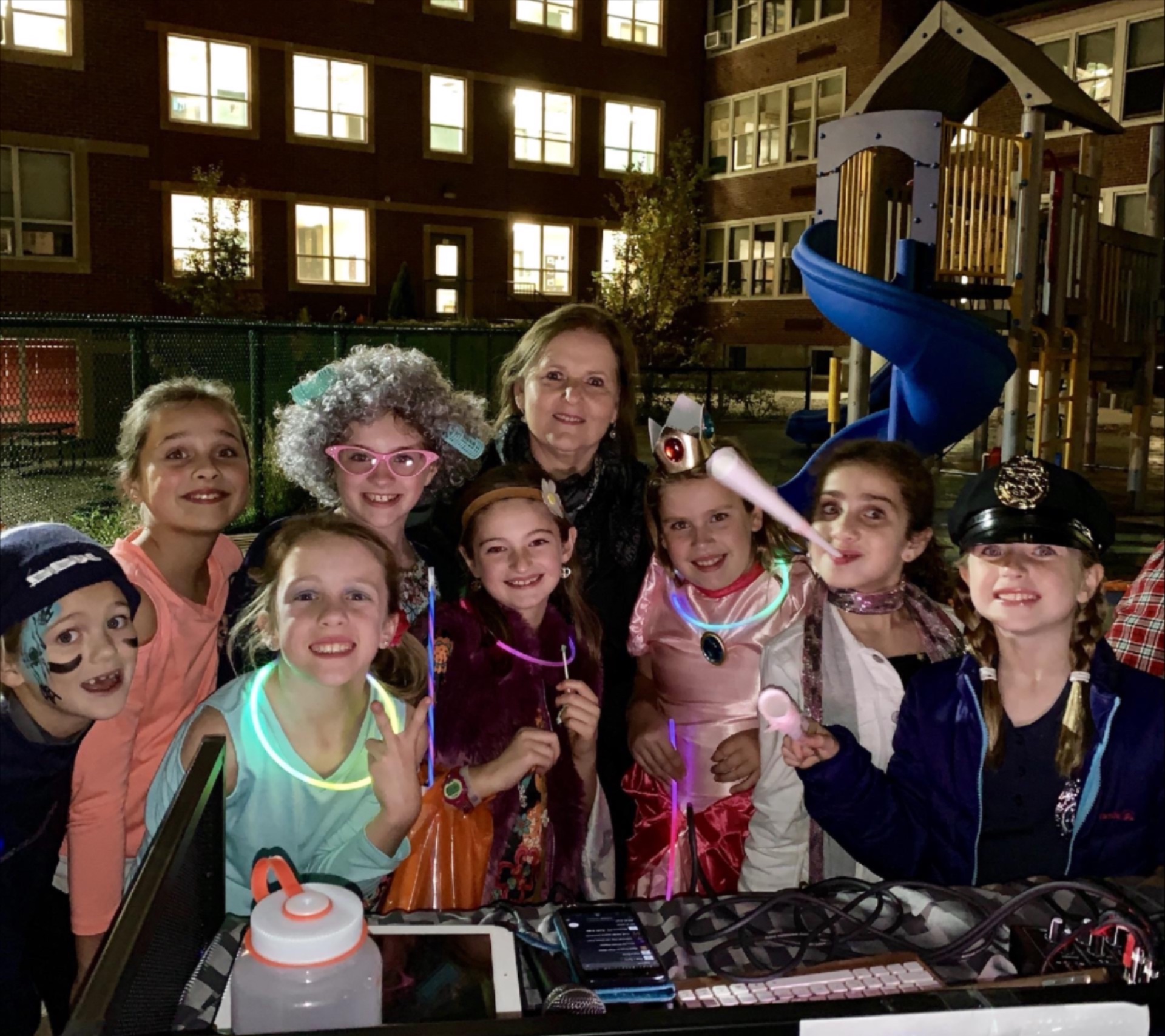 JACK O LANTERN CONTEST
The annual fifth-grade Jack O Lantern Contest was fantastic. A lot of our fifth graders participated and the students enjoyed looking at them for a few days in the hallways. This is surely an example of our Mission Statement, sharing our gifts and talents. Congratulations to the top winners: Sienna Viti, Norah Simmons, and Nora Horton.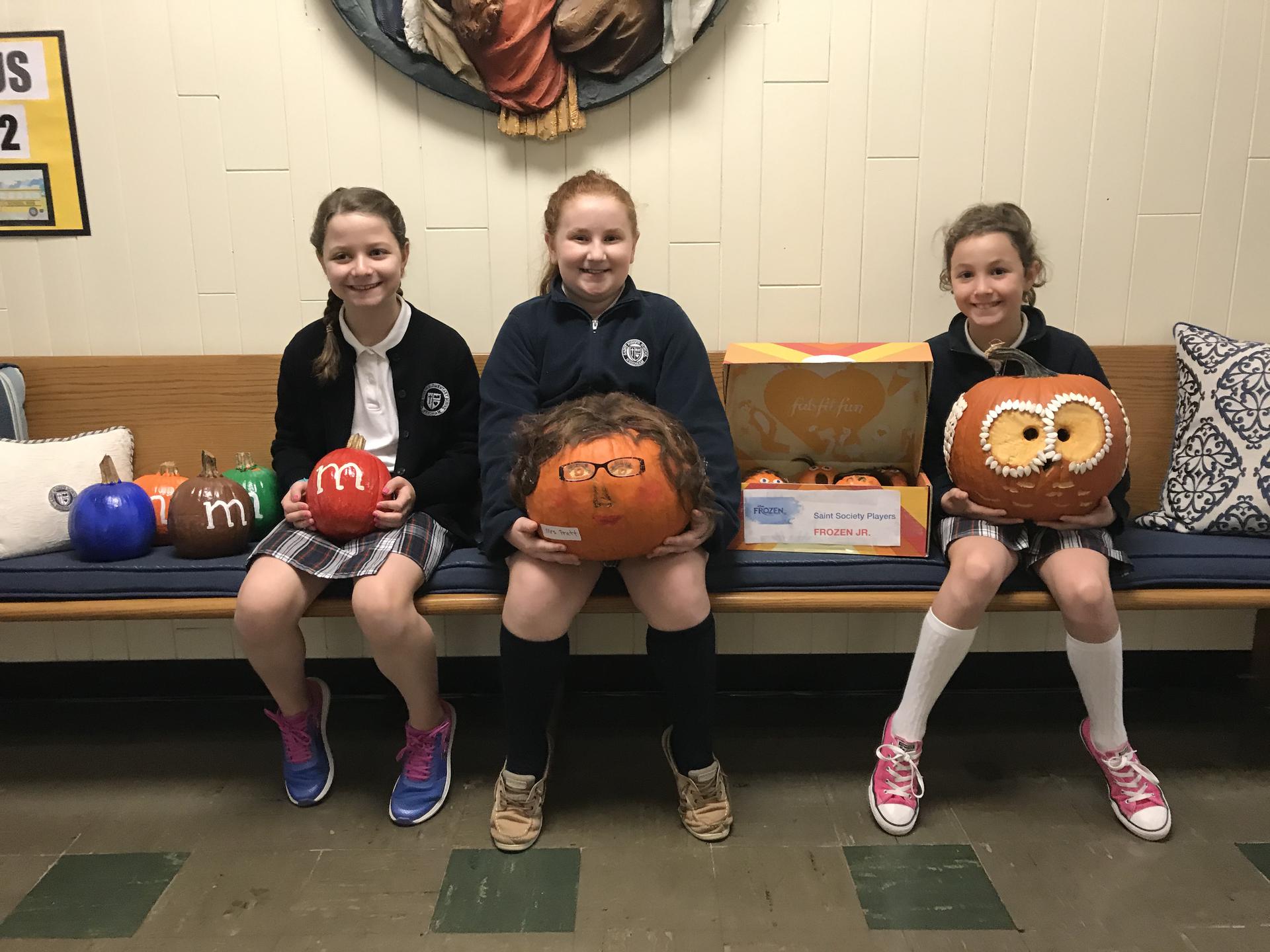 CROSSING GUARD REMINDERS
Our crossing guard Mary asked if we could remind the students they must cross in the crosswalk when crossing the street. Some parents are having their kids cross nowhere near the crosswalk or some kids cross near Miss McShane (taking out walkers) and Mary, but don't walk in the crosswalk. We have made this announcement to the children so we would appreciate your support.
PARKING
Also, we had a call from someone from the Palmer Building across the way asking that we remind parents not to use the parking lot across the street from the main entrance of the school (beside Greene's Field). Thank you for your cooperation.
LOST AND FOUND
Karen Calton has kindly taken on the work of the uniform closet and found this jacket that someone might recognize. We know that athletes are often partial to their numbers, so if this belongs to your child, we have it in the office.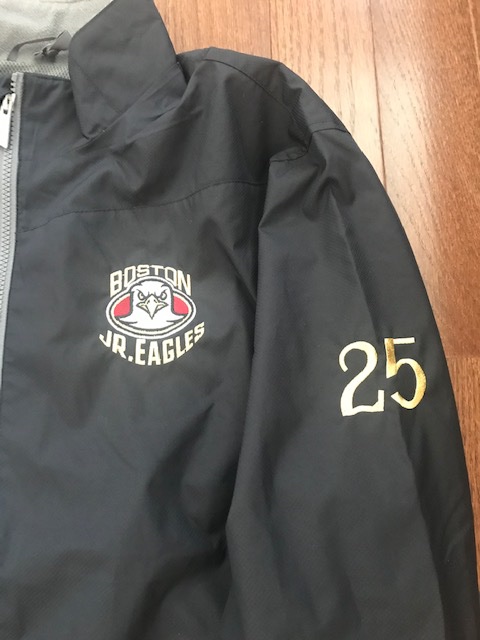 ANTON COAT DRIVE
A reminder that we have begun collecting coats for the Anton Coats for Kids Drive that will continue until January. As the weather gets colder, please remember to send in any coats that your children may have grown out of. This is truly meaningful to those who are without warm coats.
ROTARY CLUB OF NEEDHAM
The Rotary Club of Needham is excited to announce that this year's Pancake Breakfast Festival will be held on Saturday, November 2nd from 7:00 AM to 11:00 AM at Needham High School.
"Get your tickets today! November 2nd is this year's Rotary Club of Needham Pancake Breakfast at Needham High School 7am to 11am. Come for all you can eat pancakes and tons of kid's games. There is even a cake walk!
SOCIAL MEDIA
We are looking for volunteers who would like to join our Social Media Committee to help us spread the word about SJES. Please contact our Marketing Director, Jennifer Carroll, at jcarroll@saintjoes.com for more information.
NOTE FROM MRS. HOWARD REGARDING HER STUDENT TEACHER
I just met with Miss Guarnieri's supervisor from Emmanuel and she indicated that the program would like her to gain exposure in teaching lessons in both math and social studies. I think I came up with a solution. October 28th-November 1st, she will observe and work in small groups with Miss Boland for math in grade 3. She will also begin a section of social studies with Mrs. Fiumara. November 12th- November 28th, she will teach lessons with Miss Boland for math and with Mrs. Fiumara for a section of social studies. She is well planned and eager to learn, and I think both Mrs. Fiumara and Miss Boland will help provide a well-rounded experience, as they are both happy to help provide these experiences.
ALL SAINTS DAY MASS
Please join us at Mass in honor of All Saints Day at 9:00 a.m. on Friday, November 1st. A reminder that students should wear their winter uniforms beginning on this day as well.
THANKSGIVING FOOD DRIVE
Mrs. Mary Ann Brady (new librarian) is working with Mrs. Sue Brady and Mrs. Alice Owens to coordinate the Thanksgiving Food Drive as usual. Mrs. Bello left the paperwork and contact information, so things are moving right along. You will be receiving the details in the Friday folders this week.
PARENT/TEACHER CONFERENCES
Parent/Teacher Conferences are not until December, but we will be opening Pick A Time on Saturday, November 9th at 6:00 a.m. This will allow you to register for a convenient time to meet with the teachers on December 5th (evening) and December 6th (morning).
FIRST RECONCILIATION MEETING
There will be a First Reconciliation meeting for parents on November 5th at 7:00 p.m. in the lower church.
PSA MEETING CHANGE
Calendar change to note: We are changing the PSA meeting for November from November 14th to November 13th at 8:15 a.m. in the HUB. Please join us.
COFFEE AND CONVERSATION MEETING
We are looking forward to our annual Coffee and Conversation for our parents in the Early Childhood Building. You will receive an evite from Mrs. O'Brien on November 4th. We look forward to hearing from parents regarding your experience so far at St. Joe's. We will meet right after dropping off your children until about 9:00 a.m. on Friday, November 15th in the Hub. We welcome new and veteran families and younger siblings as well.
PICTURE RETAKES
Students who were absent or unhappy with pictures may have pictures taken on Wednesday of this week. If you are having a retake, you must bring the first pictures back to school on that day.
FROZEN JR.
The fifth-grade thespians have been hard at work on their play, Frozen Jr. and we expect a fabulous show! Please mark your calendars for November 21st and 22nd for the show at 7:00 p.m. in the Kennedy Center (gym).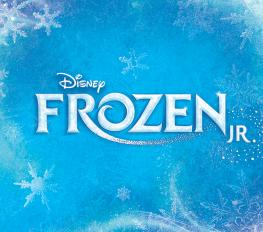 Have a great week everyone!
Charlotte Kelly
Principal