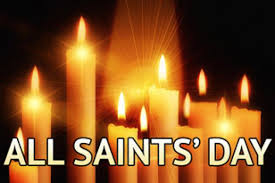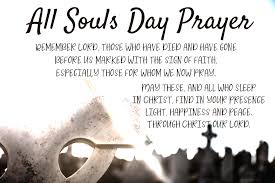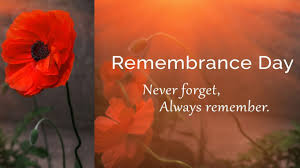 Dear Friends and Members of the MHMS Community,
A Month of Thanks and Remembrance
As we begin the month of November, we anticipate offering "thanks" at the end of the month when we celebrate Thanksgiving, our national holiday. It is most appropriate as a nation and school that we call to mind the many gifts we have received, especially the abundance of food, and offer our thanks to God for this bounty and share as much as we can with others, especially those in need.
Remembering all holy men and women who now dwell in God's loving presence is how we begin the month with the celebration of the Feast of All Saints followed by the Feast of All Souls. We believe that those who dwell in Heaven still have a profound effect in our lives, and we communicate with them through prayer. We must never forget our loved ones for they certainly do not forget us.
We will be inviting families to submit the names of deceased loved ones to be placed in a prominent spot on the altar of remembrance in school. Every day during the month of November, as a school community, we will pray to and for all those listed so that they will always be loved and never forgotten.
Veterans' Day Observances
We also remember in a very special way the Veterans of our country who have served us by protecting the causes of freedom and security here and around the world, especially during times of war and conflict. As you will read below, once again, we will be hosting the "white table" in honor of all veterans, particularly those who are still missing.
Mr. Matt Ching, a life-long parishioner, former Marine, devoted catechist (CCD Teacher), family man and member of the Knights of Columbus will be our Veteran's Day speaker this year.
Boosterthon / Fun Run Fundraiser
Many thank to all the parents, students, teachers and supporters who made our fall fundraiser such a success. Last year we netted just over $12,000 with the traditional wrapping paper and gift sale. This year we netted over $50,000.!!!!! Special thanks to Mary Beth Cox, Development Director, for spearheading this drive to support the St. Joseph Schools.
New Boiler Update
Recalling the words from a song on the soundtrack from the movie Beverly Hills Cop, THE HEAT IS ON! I am happy to report that our new boiler was fired up this afternoon. Our single boiler was replaced with a dual energy efficient boiler that will save energy and money. Now that the boiler is in, we will be installing new thermostats and regulators to keep the temperature even and comfortable. The new boiler is vented on the front of the building according to code, and there may be an occasional odor of gas. We have been told that this is normal and to be expected.
Cultural Survey
All families will be receiving a "Cultural Survey" from the Catholic Schools Office of the Archdiocese of Boston. This survey will help to assess the strengths and weaknesses, opportunities and challenges of our schools as we continue to plan for the future. Some of you completed a similar survey in the past, but experiences, attitudes and situations can change from year-to-year, so your participation is vital to assess the present and chart a course for the future. Thanks in advance for your input.
This is a fitting time of the year to remember and be grateful as the seasons change, and we gather in gratitude with family and friends. We at MHMS are grateful to God for all of you.
Sincerely,
Jay MacDonald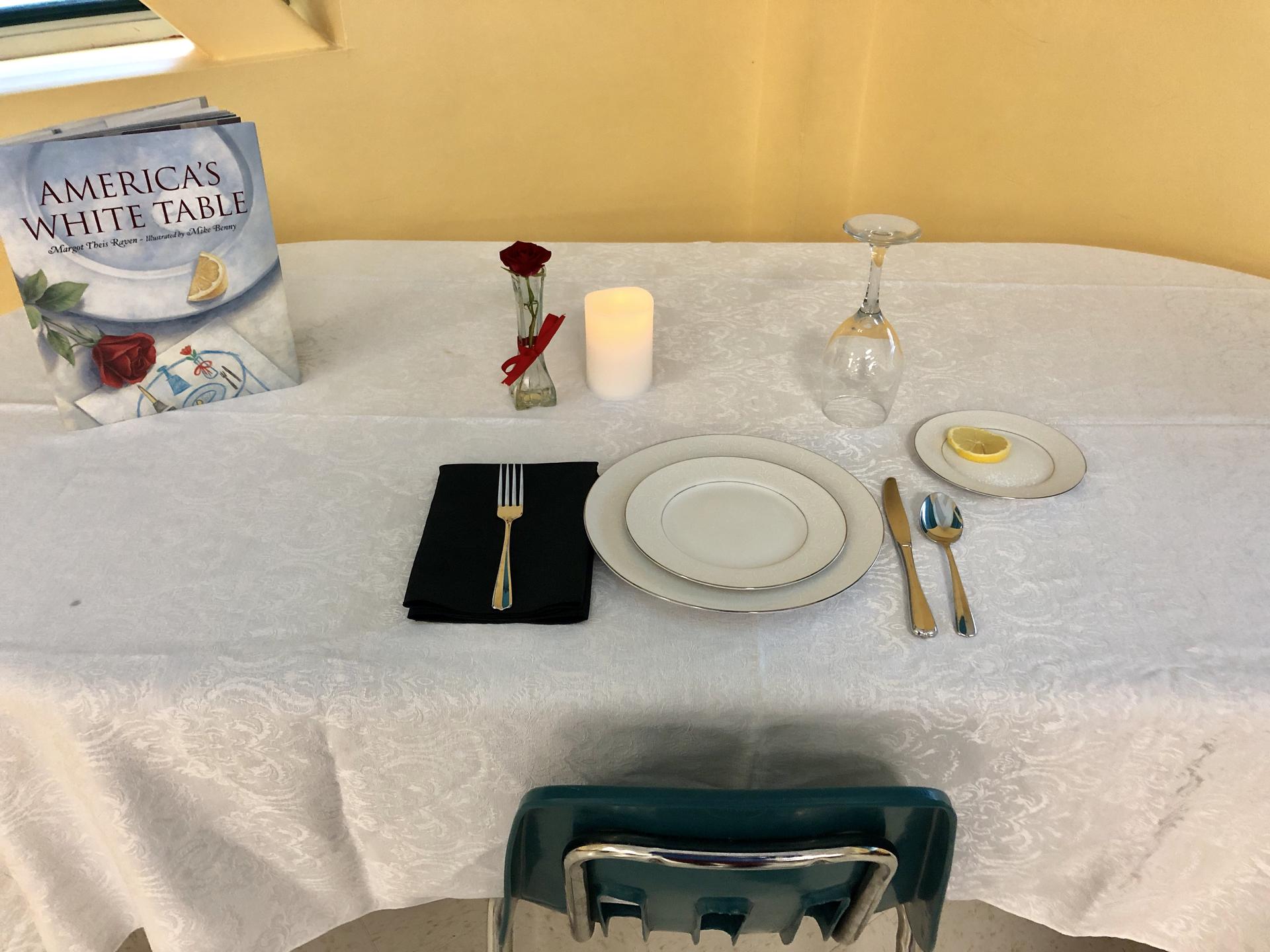 HONORING OUR VETERANS
This November we will be honoring our country's veterans as a school. For the entire month America's White Table will be set up in the Dining Room.
A WHITE TABLECLOTH for purity of motive
A BLACK NAPKIN for prisoners of war
A LIT CANDLE to remind us that America is a light in a world of darkness
A RED ROSE for the hopes and prayers of those awaiting their loved one's return
A RED RIBBON TIED TO THE VASE for our determination in finding them
AN INVERTED GLASS for the missed meal
A SLICE OF LEMON for the bitter fate of the missing
A PINCH OF SALT for the tears of their families
Also, on Wednesday, November 6 at 1:45 pm our student body will hear from a local veteran, Mr. Matthew Ching. Mr. Ching is a parishioner who received both his Holy First Communion and Confirmation at St. Joseph's Parish. He attended Religious Education at St. Joseph's Parish, and now is a Catechist for his son's 4th grade class. Mr. Ching also has an older son who attends a 6th Grade CCD class.

Mr. Ching served in the United States Marine Corps, and is a Veteran of Operation Desert Shield and Desert Storm. He is a Past Commander of the Needham VFW Post # 2498, and currently the Jr. Vice Commander. Mr. Ching is also member of the Needham Knights of Columbus Coucil # 1611.

"My experience has taught me that people who practice other religions take the religion seriously,
and they can be very committed in doing so. I firmly believe that we, as Catholics, should also
take our faith seriously, as well." - Mr. Ching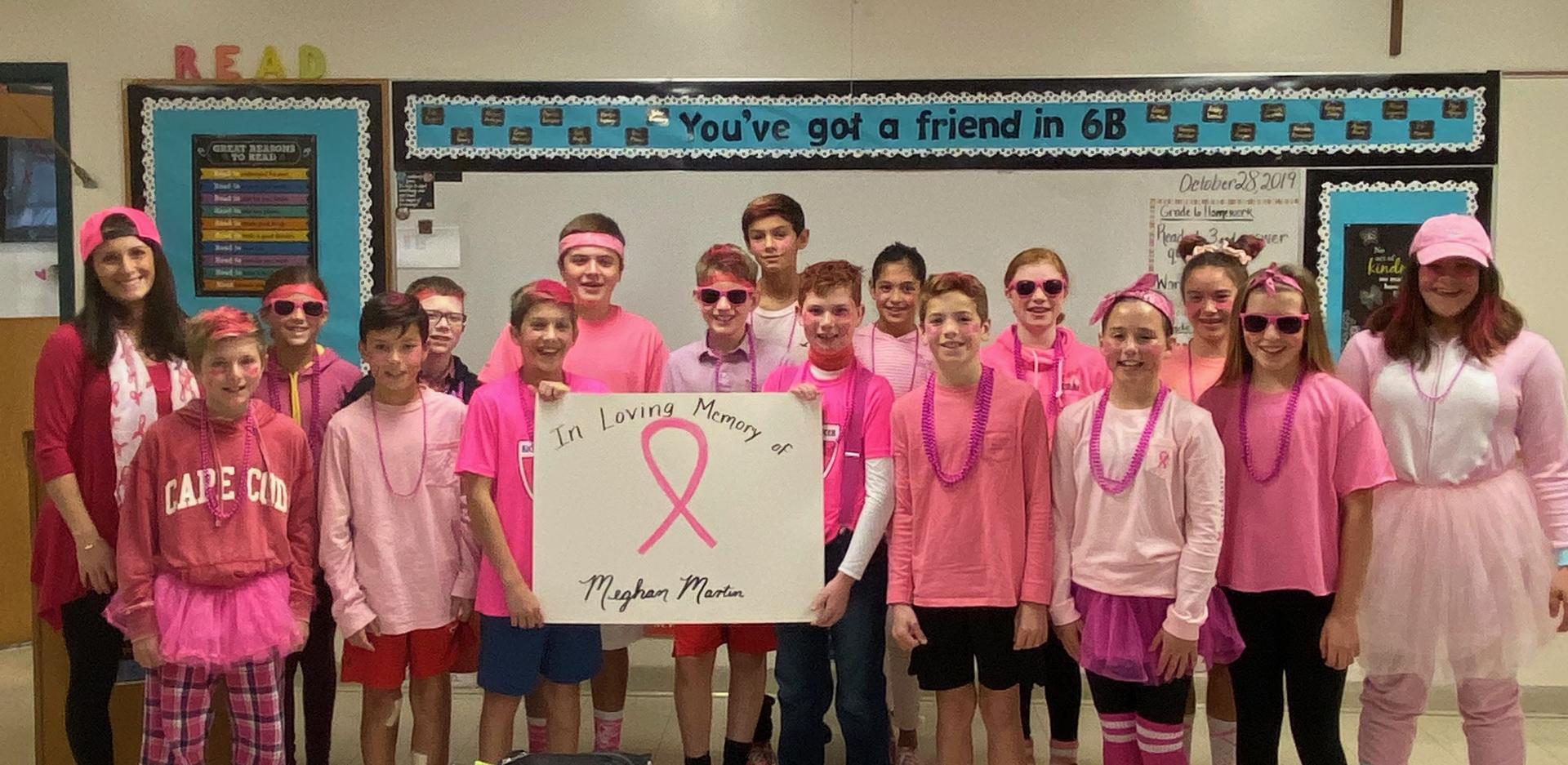 6B RAISES $640 FOR YOUNG & STRONG
Thank you to all for supporting 6B's October service project of Paint the School Pink. Together we raised $640 which will be donated to Dana Farber's Young & Strong Program in the name of Mrs. Meghan Martin, mother of JP Martin.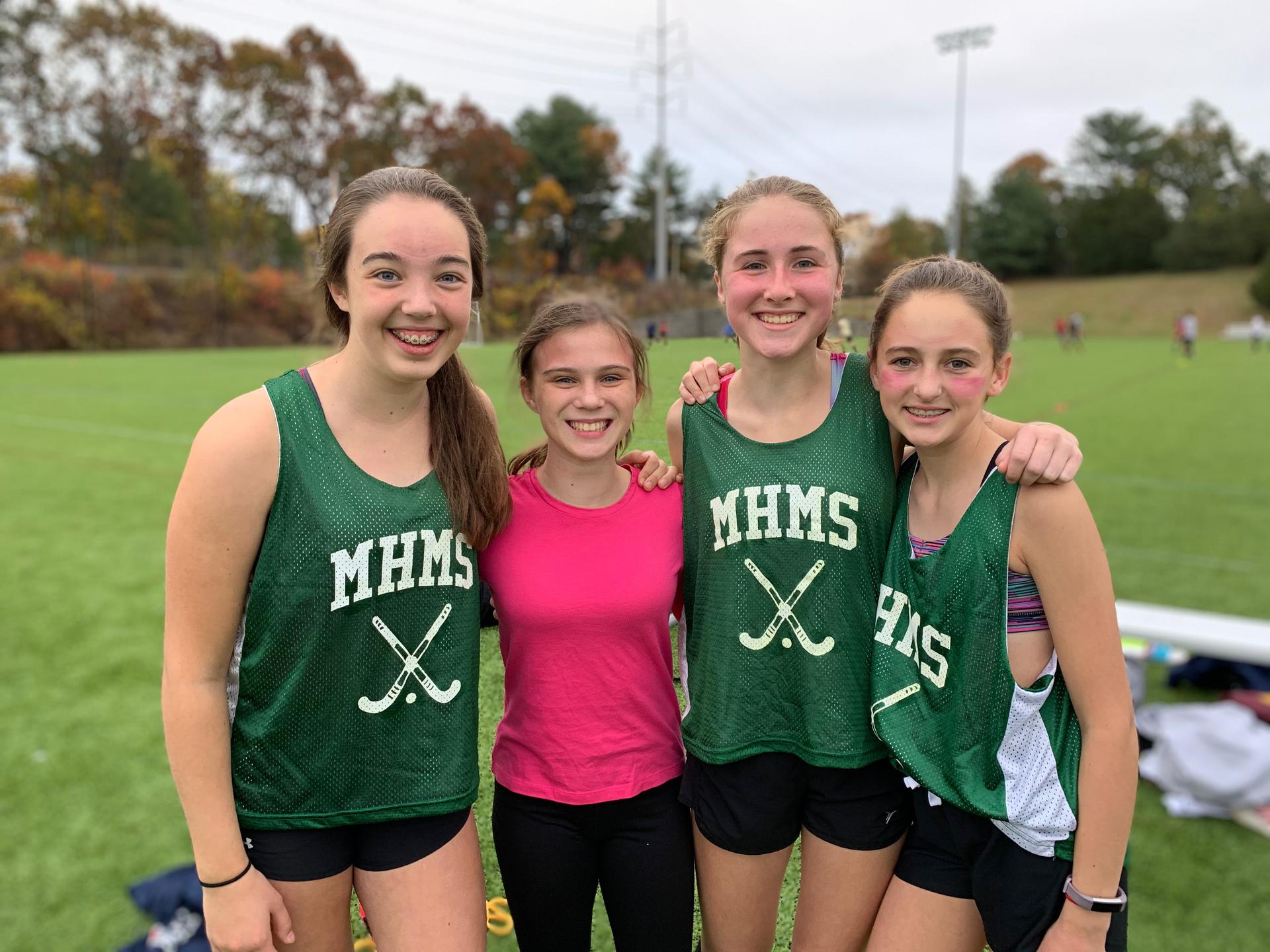 FIELD HOCKEY FINISHES SUCCESSFUL SEASON
Field hockey scored early and often this week on their way to a 3 - 0 shut out of Needham's Pollard Middle School. Riley Rizzo got the scoring going less than 3 minutes in taking the ball from midfield all the way to the cage for the score. She finishes the season as the team's leading scorer with 3 goals in 6 games. Later in the first half Abby Coyle se up Parker Fryberger with a great feed and Parker knocked it home to make the score 2-0. Nina Strapps finished the scoring in the sceond half, notching her first goal of the season. Marie Mulroy was once again strong in the net, earning the shut out. The team finished the season with a record of 2-2-2.
November 2
HSPT Language Arts Prep
8:30 - 10:30
November 4
Soccer Intramurals
2:40 - 3:40 pm
November 5
Breakfast 'N Books
7:30 am
Library
Future Problem Solvers
2:45 - 3:40 pm
Yoga
3- 4:15 pm
November 6
Veteran's Day Speaker
1:45 pm
Kickball Intramurals
2:40 - 3:40 pm
HSPT Math Prep
2:45 - 4:45 pm
Robotics
3 - 4:15 pm
November 7
Forensics
2:50 - 4:05 pm
November 8
Professional Development - No School
November 9
HSPT Language Arts Prep
8:30 - 10:30 am
November 11
Veteran's Day - No School
November 12
Future Problems Solvers
Yoga
3 - 4:15 pm
November 13
PSA Meeting
8:15 am
The Hub
Flag Football Intramurals
2:40 - 3:40 pm
HSPT Math Prep
2:45 - 4:45 pm
Robotics
3 - 4:15 pm
November 14
Forensics
2:50 - 4:05 pm
November 18
Basketball Intramurals
2:40 - 3:40 pm
November 19
X Block
1:45 pm
Yoga
3 - 4:15 pm
November 20
Open Gym Intramurals
2:40 - 3:40 pm
Robotics
3 - 4:15 pm
November 21
6h Girls Bball Try Outs
2:45 - 3:30 pm
7/8th Girls BBall Try Outs
3:30 - 4:15
Forensics 2:50 - 4:05 pm
November 23
Forensics Competition
November 25
6th Boys Bball Try Outs
2:45 - 3:30 pm
7/8th Bball Try Outs
3:30 - 4:15 pm
November 26
End of First Trimester
Thanksgiving Day Mass
Hosted by grade 7
9 am
November 27 - December 1
Thanksgiving Holiday
OPEN HOUSE THANK YOU!
Thank you to everyone who helped spread the word about our fall Open House. We had a great turn out so the news is spreading that MHMS is a great choice for middle school and that our students are THRIVING!

Please help keep the conversation going and encourage people to consider MHMS first when they are looking at middle schools. We welcome families to contact the office to schedule a private tour, and our Winter Open House is scheduled for Sunday, January 26, 12 - 2 pm.
NOVEMBER PRAYERS OF REMEMBRANCE
You are invited to send with your sons and daughters the name or names of anyone who has passed away and whom you would like to be remembered during this season of thanks and remembrance. We will keep this bundle of intentions in a revered space and remember those names each day during our morning prayer.
Please submit those names to the office.
NOVEMBER STUDY HALL SIGN UPS
Registration is open for the month of November for Study Hall.
MHMS BASKETBALL READY TO TIP OFF
The MHMS basketball teams are getting ready to start their seasons. Students of all ability levels welcome!
Try Outs
Girls - Nov. 21
6th: 2:45 - 3:30 pm
7/8th: 3:30 - 4:15 pm
Boys - Nov. 25
6th: 2:45 - 3:30 pm
7/8 3:30 - 4:15 pm

Please register online and pay the $170 activity fee prior to your try out date.
Students who do not yet have one of the green and while reversible uniform jerseys may order one here:
THE 2019 MHMS FALL INTRAMURAL SCHEDULE - HAPPENING NOW!
Intramurals: The Basics
· Sports and Games played in Intramurals promote physical fitness, sportsmanship, and teamwork.
· Students can attend the days that best fit their schedules.
· Intramurals run from 2:40 to 3:40 and are free!
· All students in grades 6-8 are eligible to participate.
· Students must change into appropriate athletic attire with sneakers.
· The same rules as PE class apply to the gym and the locker room for intramurals.
· For Open Gym on Wednesday 11/20, students will be able to do multiple different activities in the gym
For more information and to sign up please print and complete this flyer: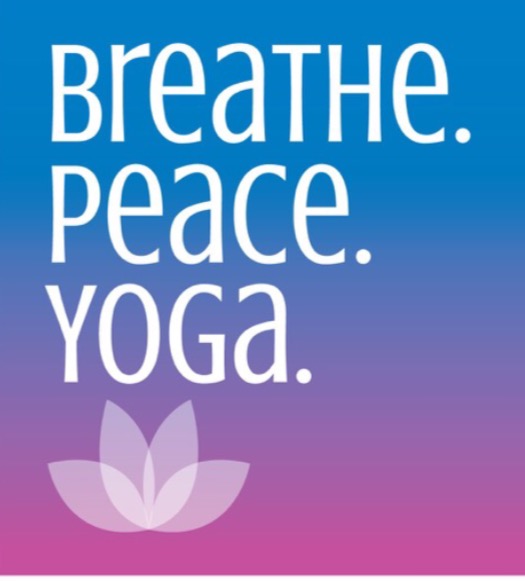 MHMS YOGA STARTS NOV. 5
Six week session focusing on mindfulness, breath, movement and stretching. No experience necessary! Boys and girls welcome! Space is limited.
Dates: 11/5, 11/12, 11/19, 12/3, 12/10, 12/17
Time: 3:00-4:15 pm
Location: MHMS Dining Room
Cost: $50 for six week session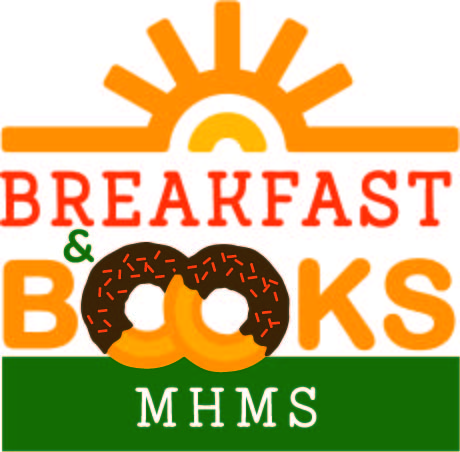 BREAKFAST 'N BOOKS
On Tuesday 11/5 morning all middle school students are welcome to stop by the library to learn about Breakfast and Books and vote for the first book of the year. There will be several book options of all genres; donuts and hot chocolate will be provided. - Ms. Owens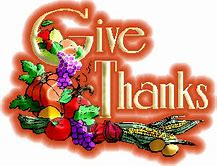 THANKSGIVING FOOD DRIVE
All students will be signing up in their homerooms to bring a certain item for our joint schools' Thanksgiving Food Drive. The $3 to support the drive is due November 15 and food items are due November 25. No perishable items please. Thank you to our librarian Mrs. Mary Ann Brady for coordinating this important service tradition for our schools!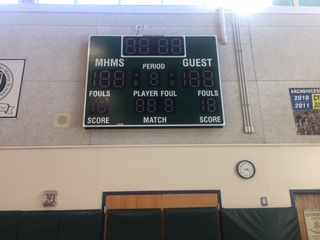 NEW SCOREBOARD
The MHMS Community announces the long-awaited new scoreboard has been installed in the gym! This is due to the support of Steve Blomberg, the Director of the St. Joe's League Basketball Program. Also a new water cooler, courtesy of the St. Joe's League, was installed today in the gym replacing the one that had been broken for a few (many) years.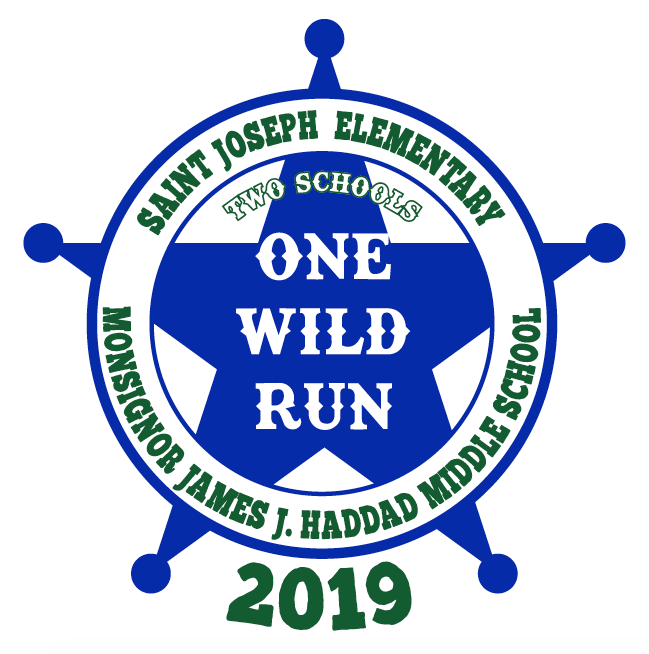 FUN RUN SUCCESS
Thank you for your support!
The Wild West Fun Run was a great success thanks to our parents, grandparents, relatives, and family friends who all supported our students. The students had a great time running their laps and cheering on their classmates.
Together we raised over $50,000 for our schools!
Fun Run Facts:
90% of our students registered.
92% of all registered students received a pledge.
Pledges came from 33 states and 2 foreign countries, Belgium and Denmark.
We had 2 days, October 21st and 22nd, that both surpassed $10,000 in pledges in a single day!
63% of our pledges came from grandparents, relatives, friends, and businesses.
Thank you to our parent volunteers who helped with volunteer sign up, decorations, t shirts, and lap marking the day of the event.
RAPID RESPONSE SYSTEM
If you did not receive a call to your cell phone on Tuesday evening this week as we tested our Rapid Response System please let Mrs. Ross know.
LOST AND FOUND
If your sons and daughters report lost items such as lunch boxes, outwear (sweaters and fleeces), please inquire as to whether or not they have checked the "lost and found" bin in the dining room or the shelves in the dining room. We have already amassed a large collection of items. Every day lunch boxes and containers are left in the dining room.
Please label as much of the students' clothing as possible. We have found expensive coats, outerwear, sweaters, etc. and are puzzled as to why the students do not look in the lost and found bin. If your son or daughter is missing and item, please encourage them to check the lost and found..

3RD ANNUAL ST. JOSEPH PARISH & SCHOOLS WREATH SALE
Please support the St. Joseph Parish & Schools along with the Parish Family Ministry by ordering and purchasing your Volante Farms wreaths this Christmas Season!

Proceeds from the wreath sales will benefit our parish & schools.
Please visit the website below or fill out and submit the order form to pre-order your Christmas wreaths and bows by Monday, November 25th. Quantities are limited.
If you have any questions, please contact:
Liz Nichols - liznichols01@yahoo.com
Betsy Goodband - betsygoodband@gmail.com
Wreaths will be available for pickup at the St. Joseph Schools parking lot on Sunday, December 1 8:00 a.m. - 12:00 p.m., during carline and CCD drop of on Monday, December 2 & Wednesday, December 4 from 2:00 p.m. - 4:00 p.m.
*** ACTUAL WREATH SIZE FOR 14" WREATH MEASURES ABOUT 25" & 18 " WREATH ABOUT 34" ***
Anyone interested in purchasing a yearbook from the 2018-2019 school year please contact Mrs. Ross. A few extra are available for purchase at the same price of $50.
Anton's Coats for Kids Drive - Look for the bin in the dining room to donate your gently used coats for adults and children. Please no coats with rips, tears, broken zippers, or stains.
WINGS is a Wednesday morning faith enrichment group that encourages women to grow in their faith and develop friendships by gathering for speaker presentations, discussion and prayer. All women are very welcome to join us! If you have any questions, please contact Sarah McElroy at smc1021@aol.com or click here.
We are currently looking to expand our substitute teacher list. Any interested parents are asked to contact Mrs. Ross at pross@saintjoes.com.
Grocery shop at earn money for your school! - If you shop at Stop and Shop in Dedham be sure to register here with the A+ School Rewards Program to help Stop and Shop support area school. Register here.
MHMS IS FULLY CONNECTED
Please like us on Facebook, and follow us on Twitter @MHMSGators, Instagram, and LinkedIn to stay abreast of the latest news.
HAVE ALUMNI NEWS TO SHARE?
We are always excited to hear about what our Gator Graduates are up to since leaving MHMS.
If you have alumni news to share, please email Jill Meyers jmeyers@saintjoes.com or use the link below: