November 12, 2019 • Issue 9
"Dear God, today I would like to pray for those who have served and are serving in the Armed Forces. I pray that they are in good health and that they have someone to care for them. God, please let them know that I am praying for them. God, if they have been forgotten, please have someone remember and care for them. Thank you, Veterans, for risking your lives so that we may have our freedom. We live in an amazing country. In Jesus' name we pray. Amen."
Patrick, grade four
Dear Parents,
Life at Saint Joe's continues to be very busy, so I write to bring you up-to-date.
MAP TESTING
Students in kindergarten through grade five will bring home their MAP results in their Friday folders on November 22nd. If you have any questions regarding MAP, please contact Mrs. Solomon at lsolomon@saintjoes.com.
MORNING PRAYERS
The fifth grade students have all had the opportunity to share their extremely well written prayers during morning prayer each day and so the fourth graders have now begun reading their prayers to us in the morning. We are so blessed to be able to start our days with prayer here at St. Joe's!
CAP SESSION
If you missed the CAP sessions in September and October, the parish is offering another training on November 17th at 6:00 p.m. in the library.
VETERANS DAY
The students wrote cards to the veterans this past week as they have served our country so well. Thank you to Mrs. Fiumara and Mrs. Topham for organizing the project and delivering the cards to the veterans. It is nice for the students to know that they are brightening the days of those who have served our country.
A note from the Needham Police Department:
The Needham Police would like to thank the 1st Grade students in 1C at St. Joseph's Elementary School. In honor of Veteran's Day, the students created a photo book for Crossing Guard, John Holt, recognizing that he is a former Marine. His heart was touched by their letters thanking him for serving our country and remembering all those that have and still are. Thank you!
Please remember in prayer and thank any veteran that you know or see for their service.
"This nation will remain the land of the free only so long
as it is the home of the brave."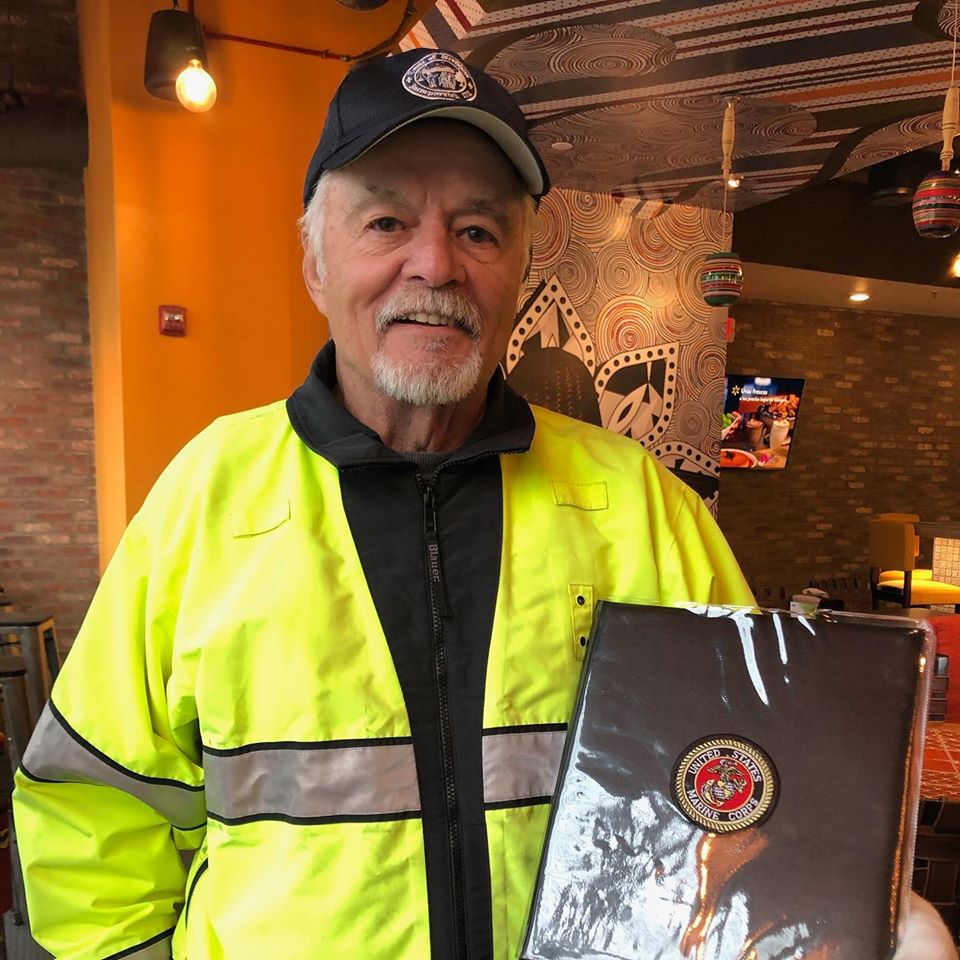 SAINTS PARADE
On Thursday afternoon, the second graders hosted their Saints Parade. The students were dressed as their favorite Saints and many children read their research reports. If we could just freeze them during this special and holy year:). Thank you to Mrs. Mannion, Mrs. Paulino, Mrs. Wescott, Mrs. Croke, and Mrs. Pratt for preparing the students so well.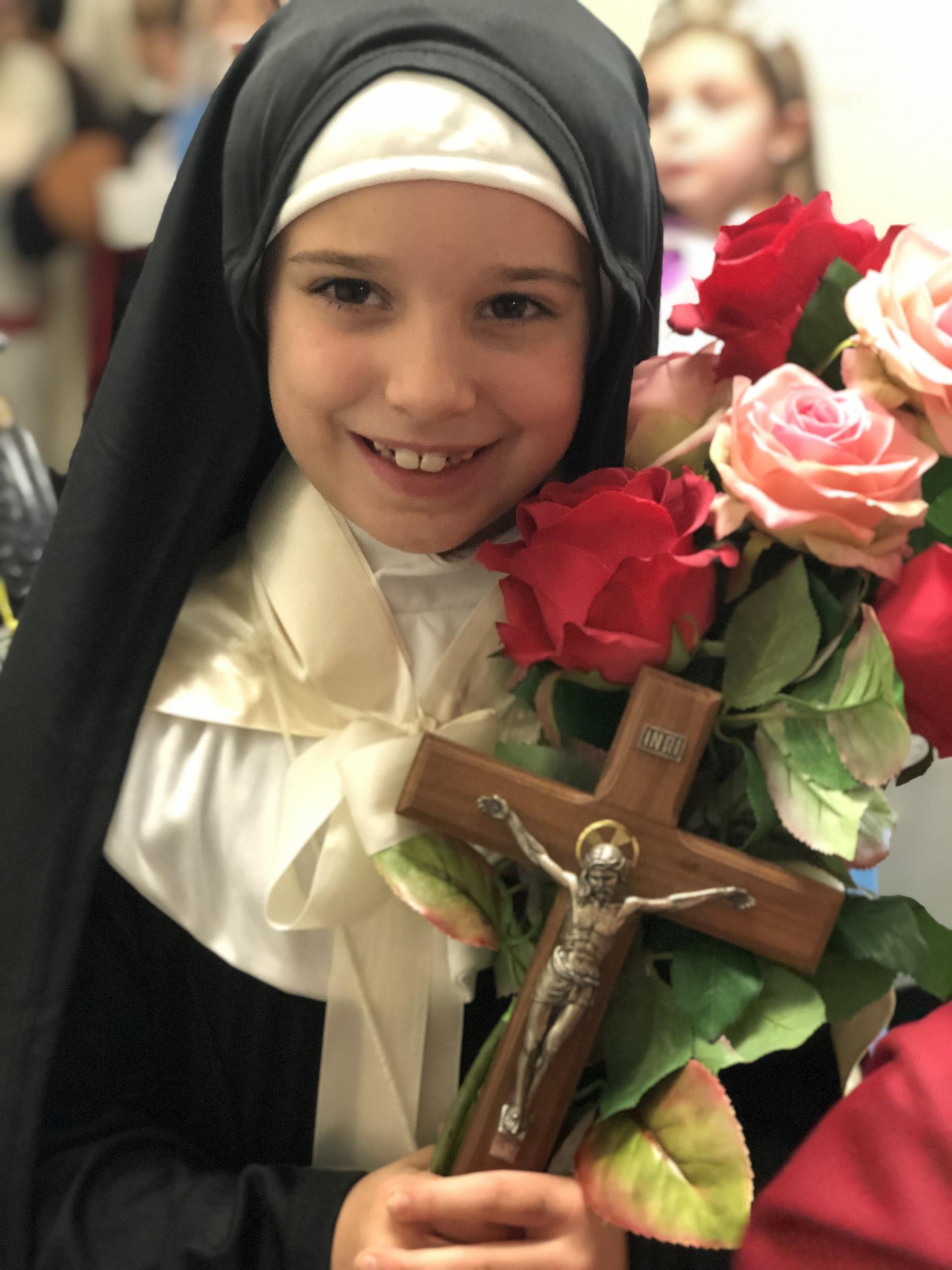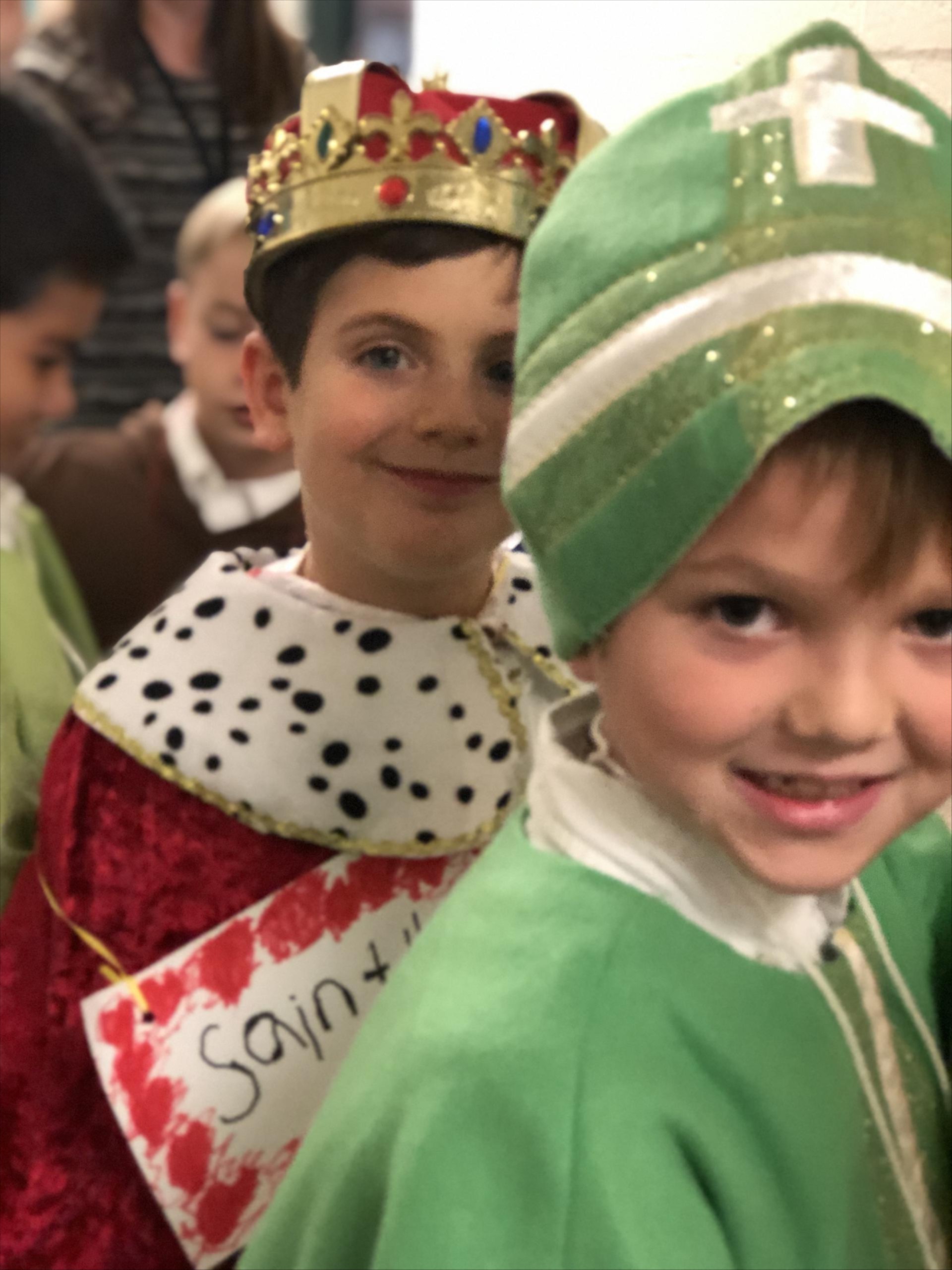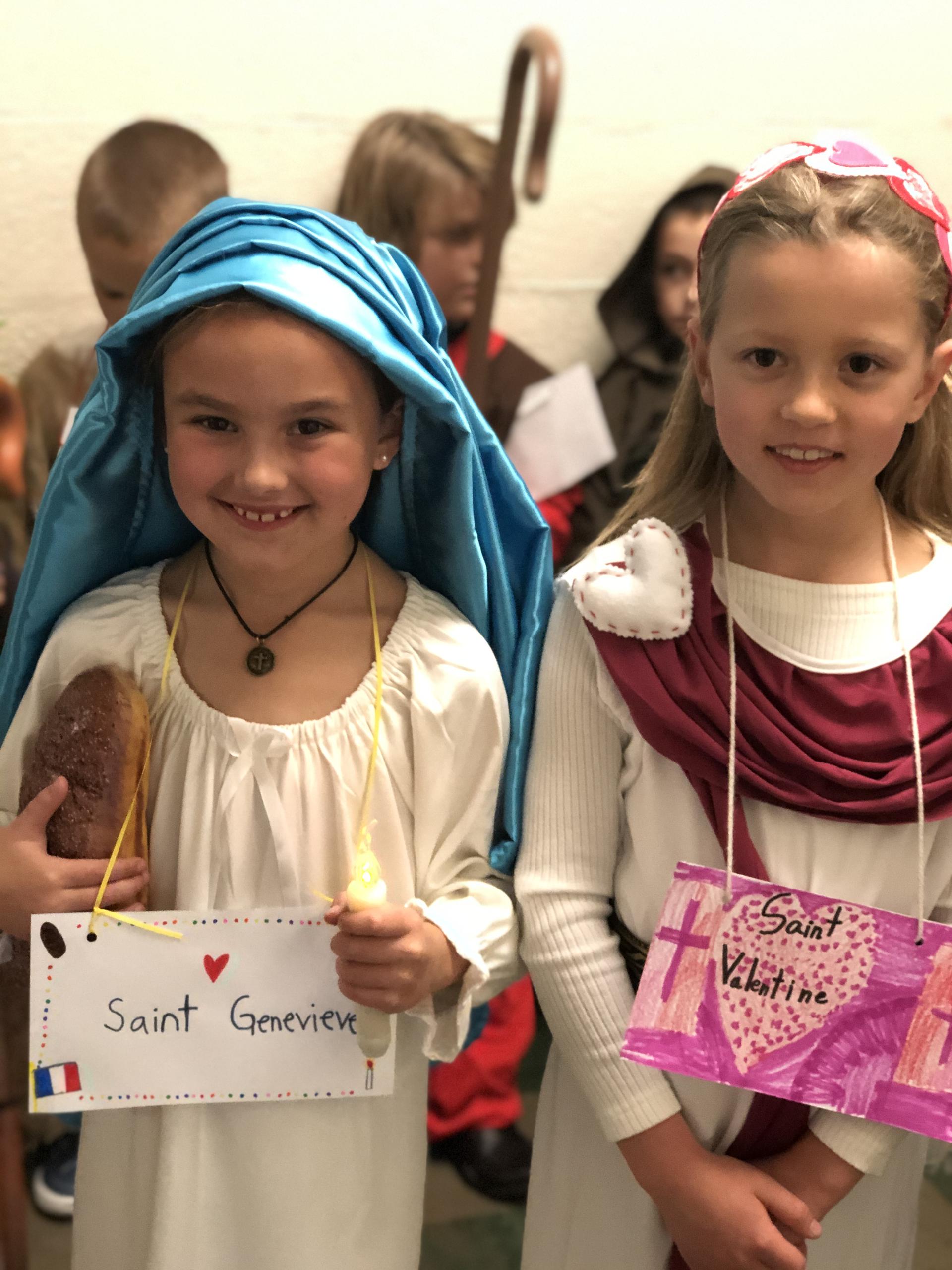 FOURTH GRADE SAINT PROJECTS
On Tuesday afternoon, we were able to enjoy a Litany of Saints with our fourth grade students, as each child researched a Saint and created a banner to show their classmates what was important about their Saint. They were very well done, and we were delighted that Father Peter was able to join us for the presentations. Thank you to Mrs. Topham, Miss Sullivan, and Miss Balsamo!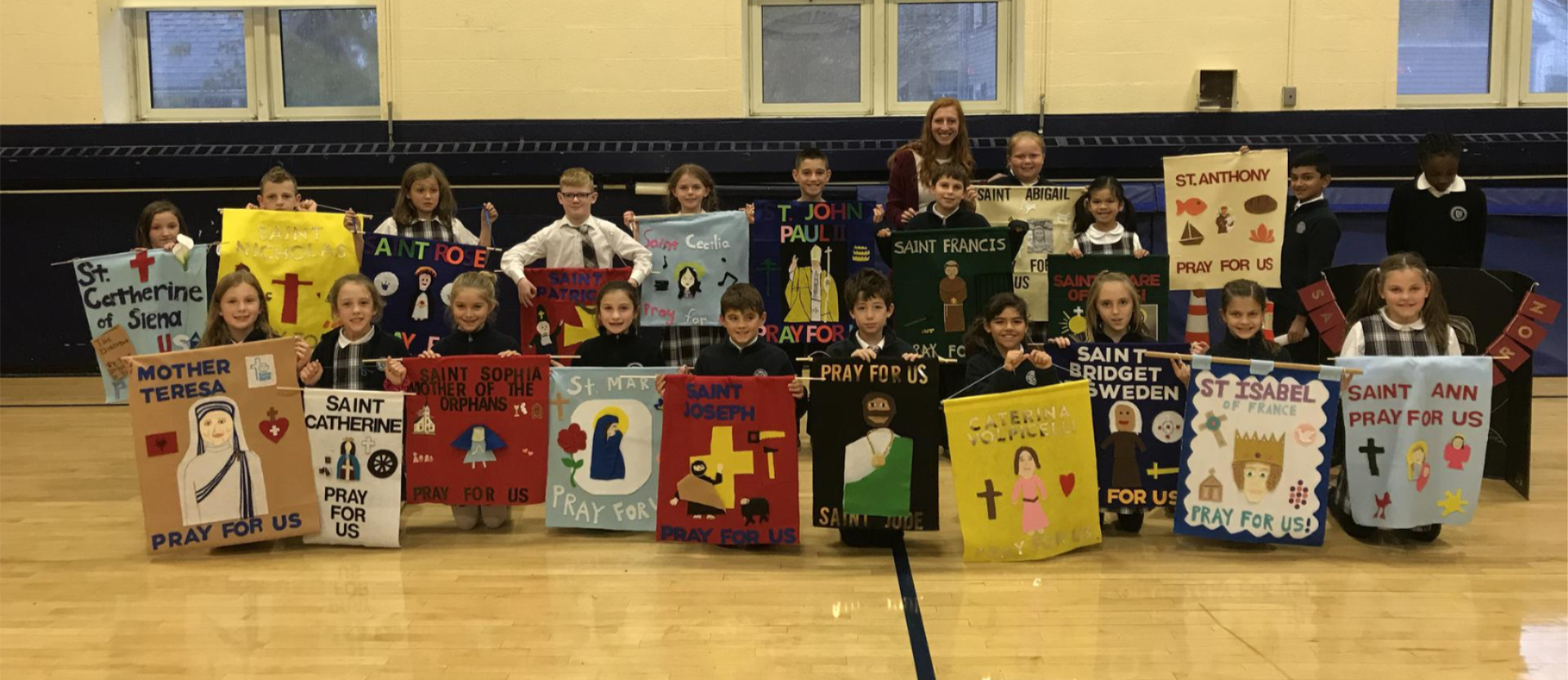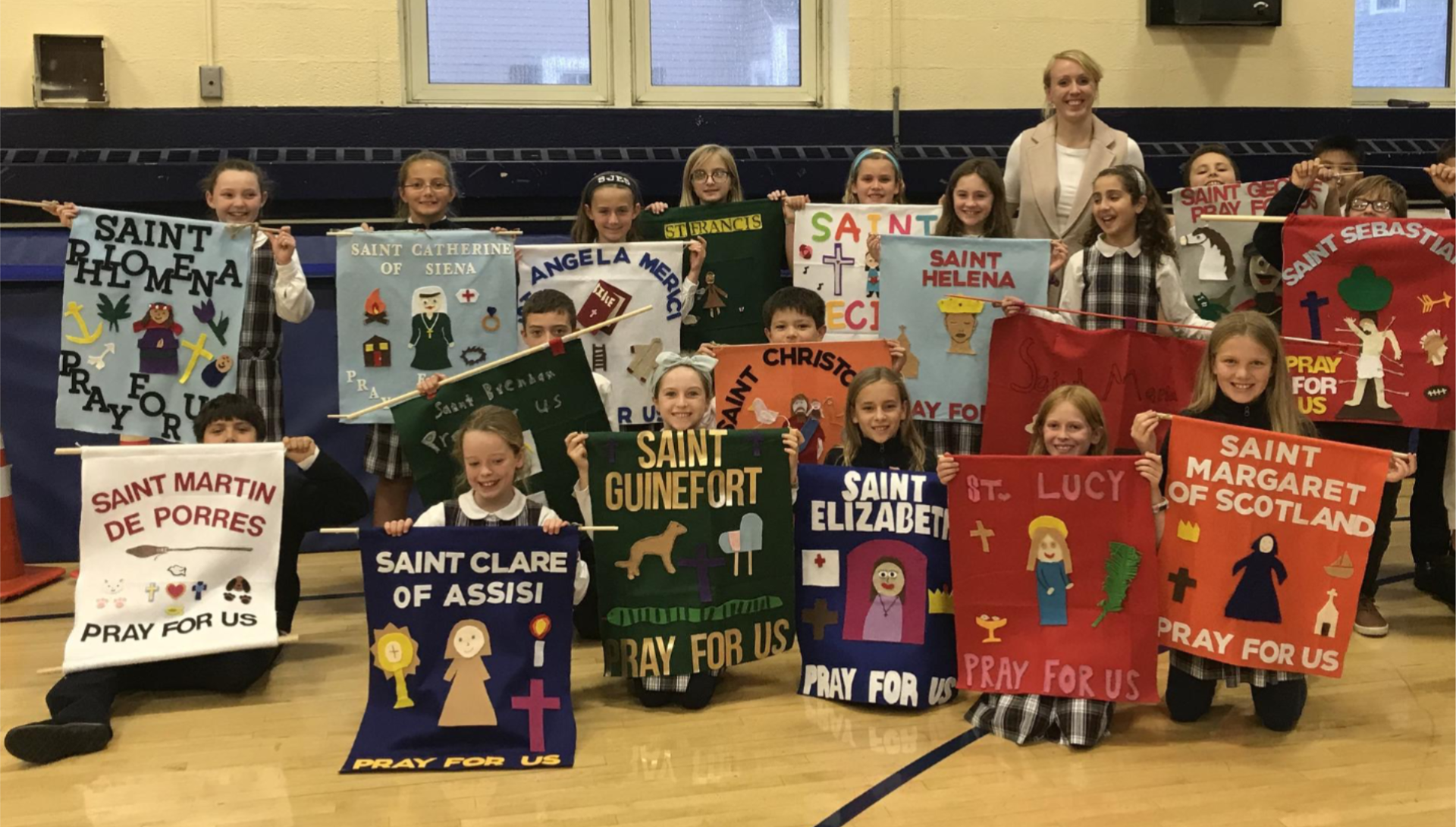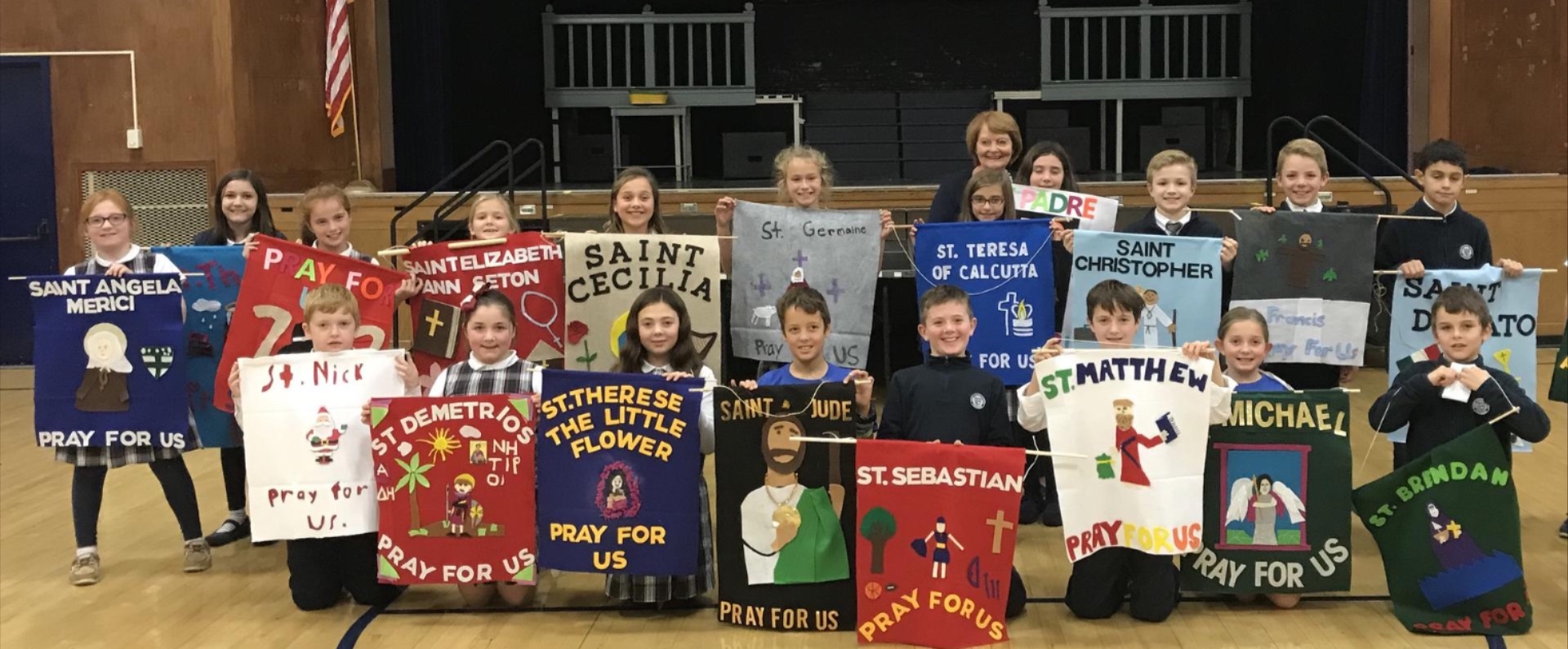 THIRD GRADE FIELD TRIP
The third grade students enjoyed a wonderful trip to Plimouth Plantation on Wednesday. Everyone really enjoyed themselves and the trip ties into their curriculum perfectly.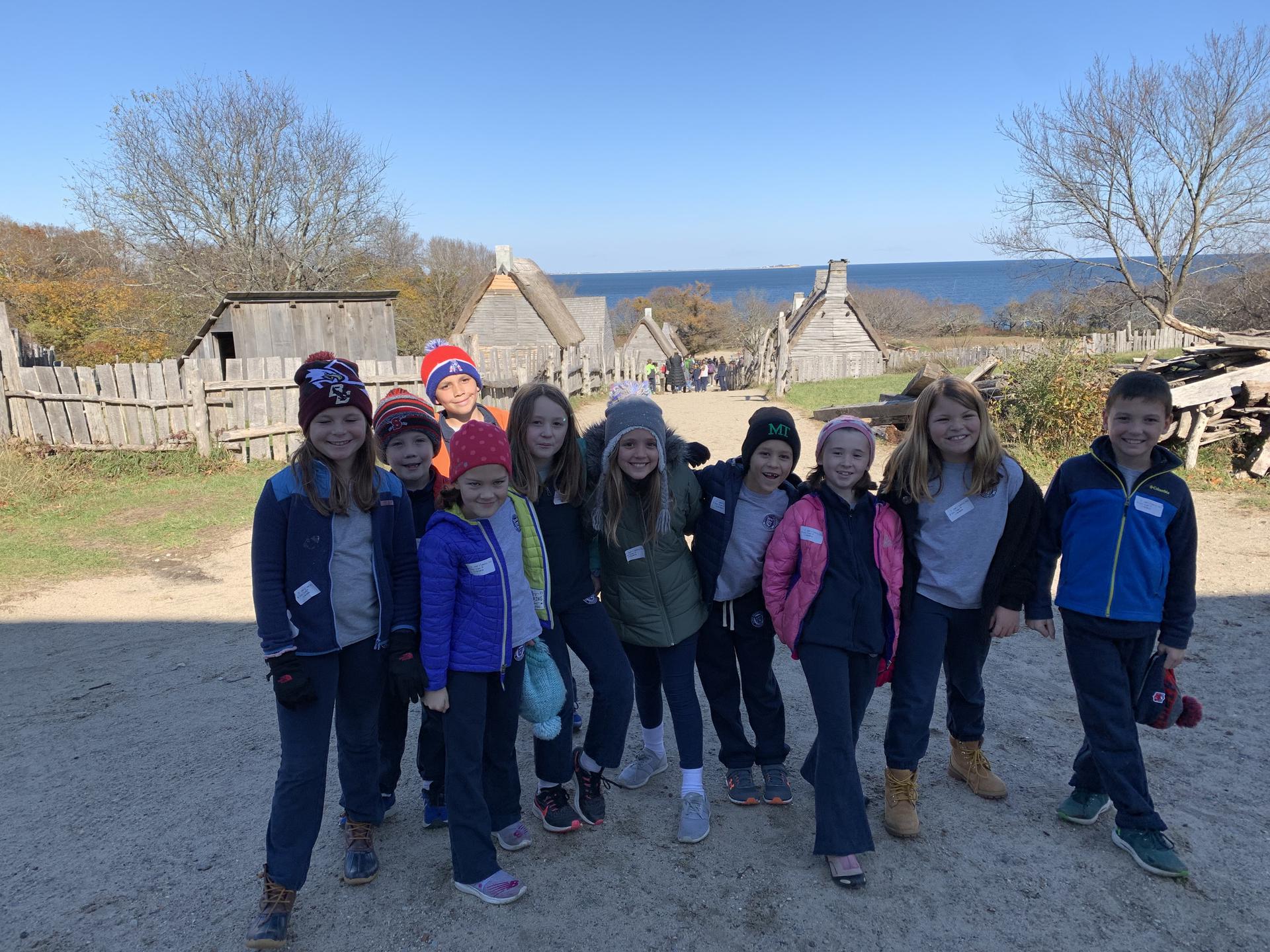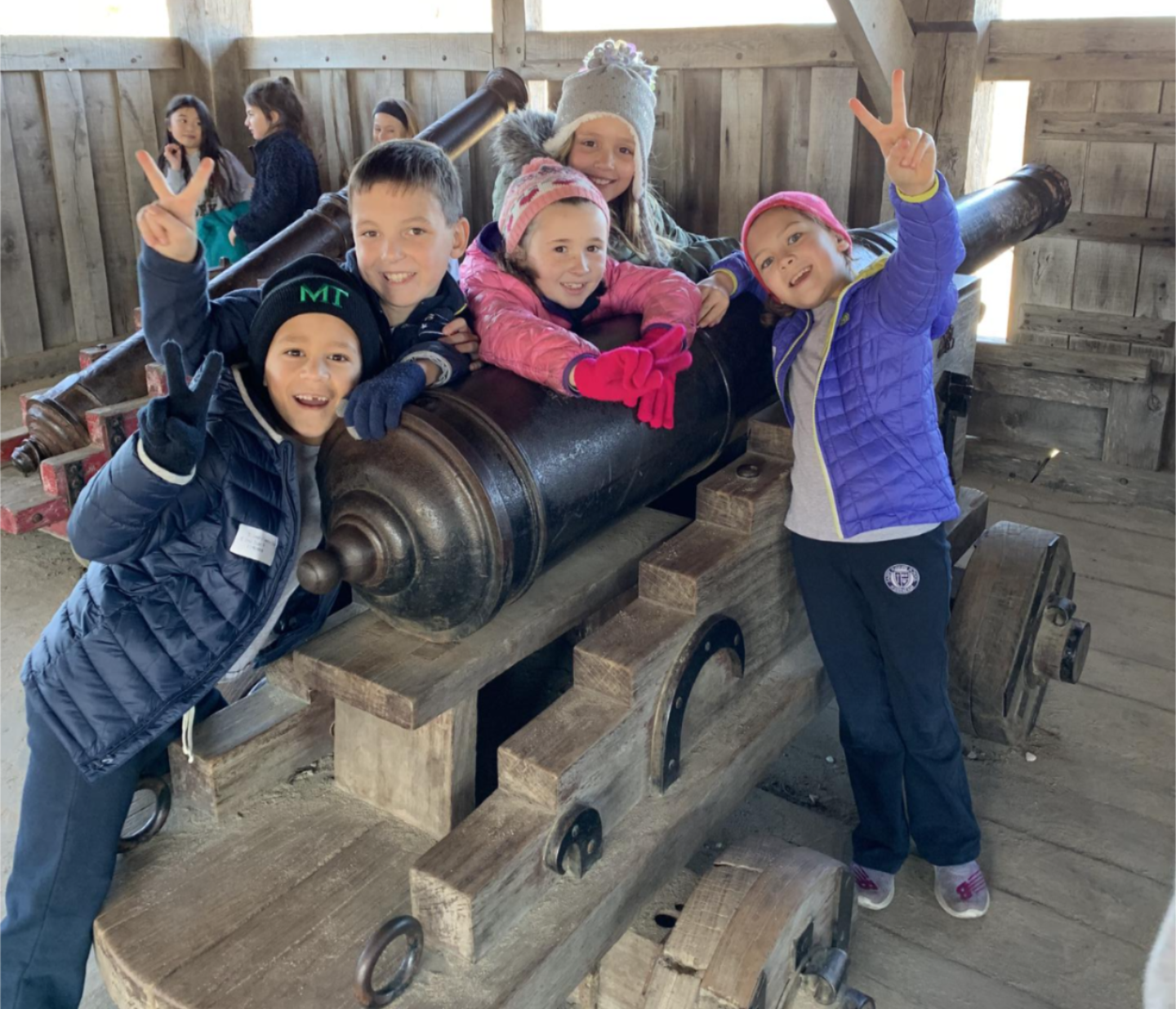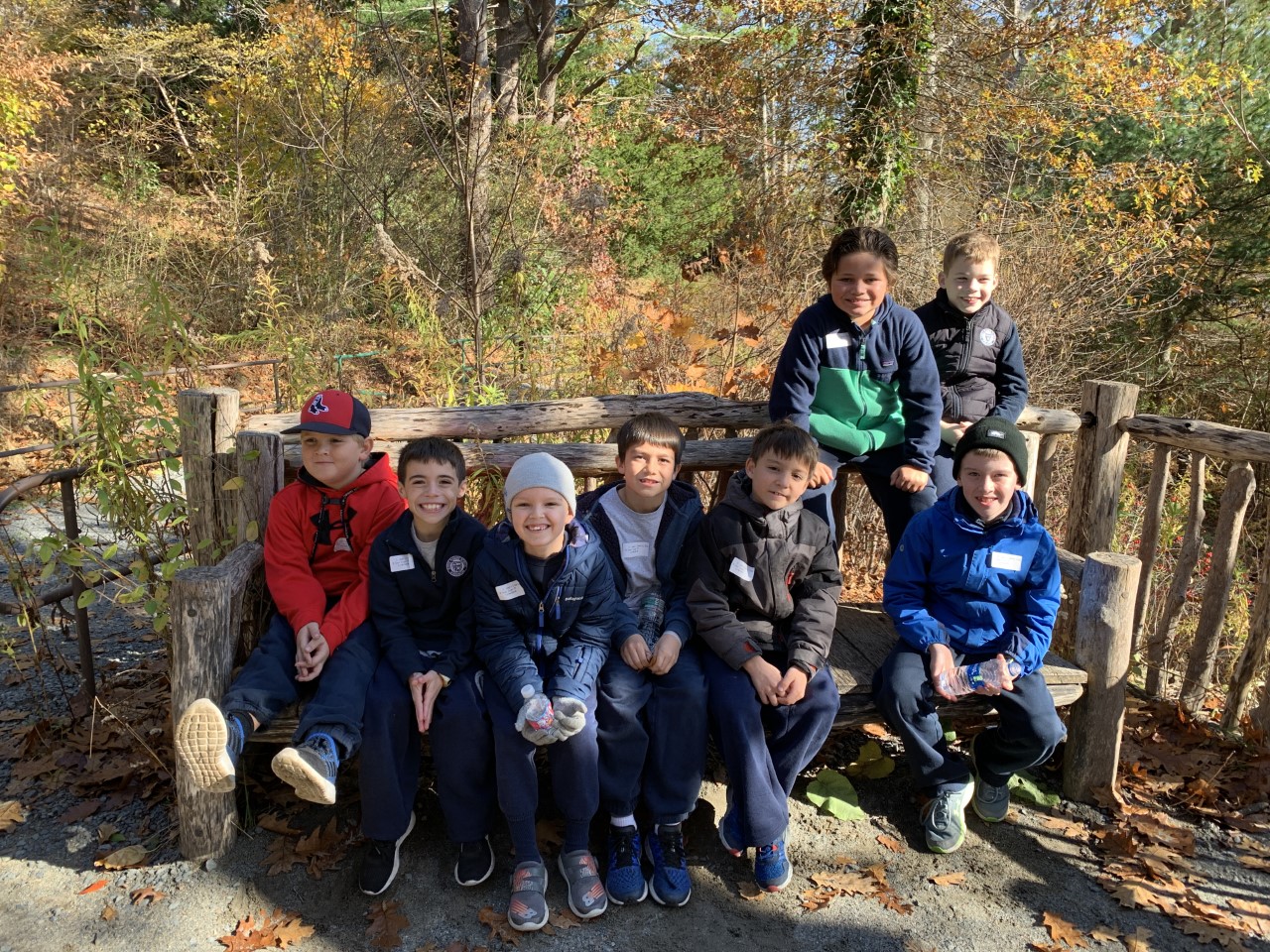 CORI FORMS
A reminder to PLEASE fill out a CORI form if you think you may ever want to go on a field trip or volunteer at school.
VISION & HEALTH SCREENINGS
Mrs. Brett is working hard to get the vision and hearing screenings of all the students done before the holidays. You will hear from her if there are any issues.
FIFTH GRADE PLAY
The practices are getting longer and afterschool I can hearing the thespians singing away. Make sure to mark your calendar for Frozen Jr. on November 21st or 22nd at 7:00 p.m. in the Kennedy Center (gym). Mrs. Pratt expects a big crowd and asked me to share some of her requests with you. The show is almost two hours long, for your planning purposes. We are asking only kindergarten to grade five students to sit on the floor in front of the stage. We need preschool and pre-k children to sit on their parents laps to enjoy the show. If students come to the show and are in grades six and up, we ask that they sit in chairs. She is afraid with the length of the show and all that is going on, children may get squished and that they will be unhappy, which would distract the actors and actresses. We truly appreciate your cooperation!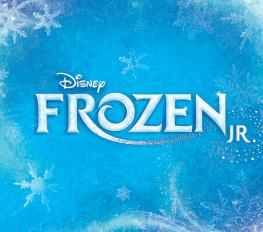 BEATITUDES POSTER
We ordered a beautiful poster for each family that has the Beatitudes on one side and a Beatitudes for Families on the other side. We will send them home in the Friday folders when we receive them.
COLD WEATHER GEAR
With the weather getting colder, please remember to send your children into school dressed in clothing for the cold. Students need jackets, hats, and mittens or gloves as we still want them to get outside to enjoy the fresh air.
FUN RUN TAG DAY
The tag days for students who received certificates from the Fun Run are on November 20th and December 4th. Students should bring in their certificate on the day of the dress down.
BABY NEWS
Congratulations to Mr. and Mrs. Paulino as they welcomed Brody William Paulino into the world on All Saints Day, November 1st. Mom and baby are both home and doing well. Here is a picture of baby Brody:)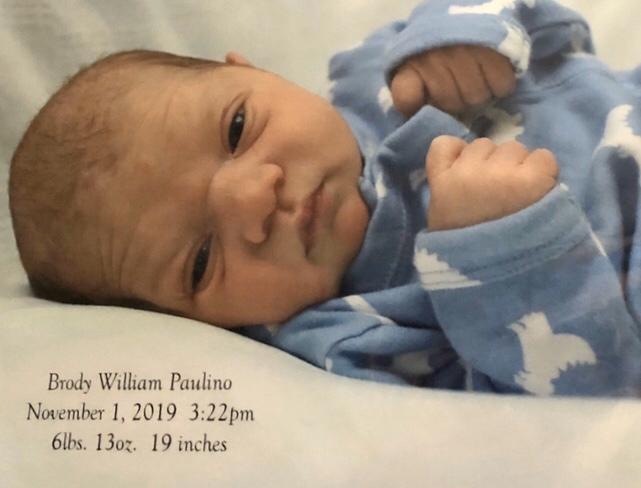 PROFESSIONAL DAY
We had a wonderful and productive professional day on Friday. There is just simply not enough time to gather as a faculty and staff, so we do appreciate that you support the two days we take during the school year to work on curriculum and strategic plans. We are also working on our Five Year Interim Report for NEASC (New England Association of Schools and Colleges) that is due on
April 1, 2020.
STAFF CELEBRATIONS
During our lunch break we celebrated Miss Scott's upcoming nuptials (She is getting married next Saturday!) and Mrs. Curley and her baby girl, who is due on December 6th.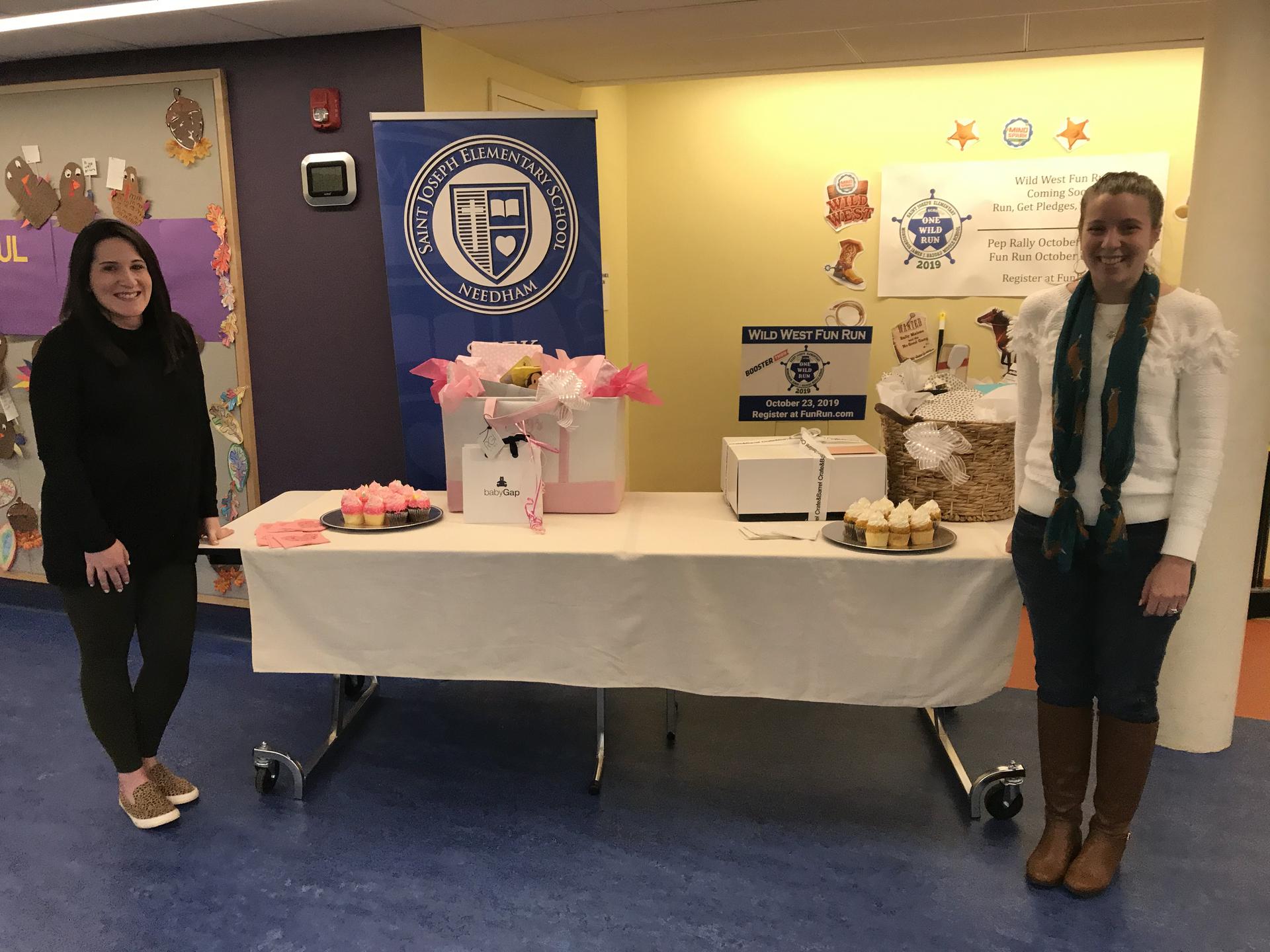 1B SUBSTITUTE TEACHER
We are looking forward to Mrs. Judy Fahey joining our team as she will be the substitute teacher covering Mrs. Curley's family leave. The families of 1B have received a letter from me outlining Mrs. Fahey's credentials and experience.
HUB BULLETIN BOARD
Thank you to Mrs. Toni Simmons for creating another beautiful bulletin board for all of us to enjoy in the HUB. Each butterfly has the name of a student and the artwork brightens up the space for all of us to enjoy.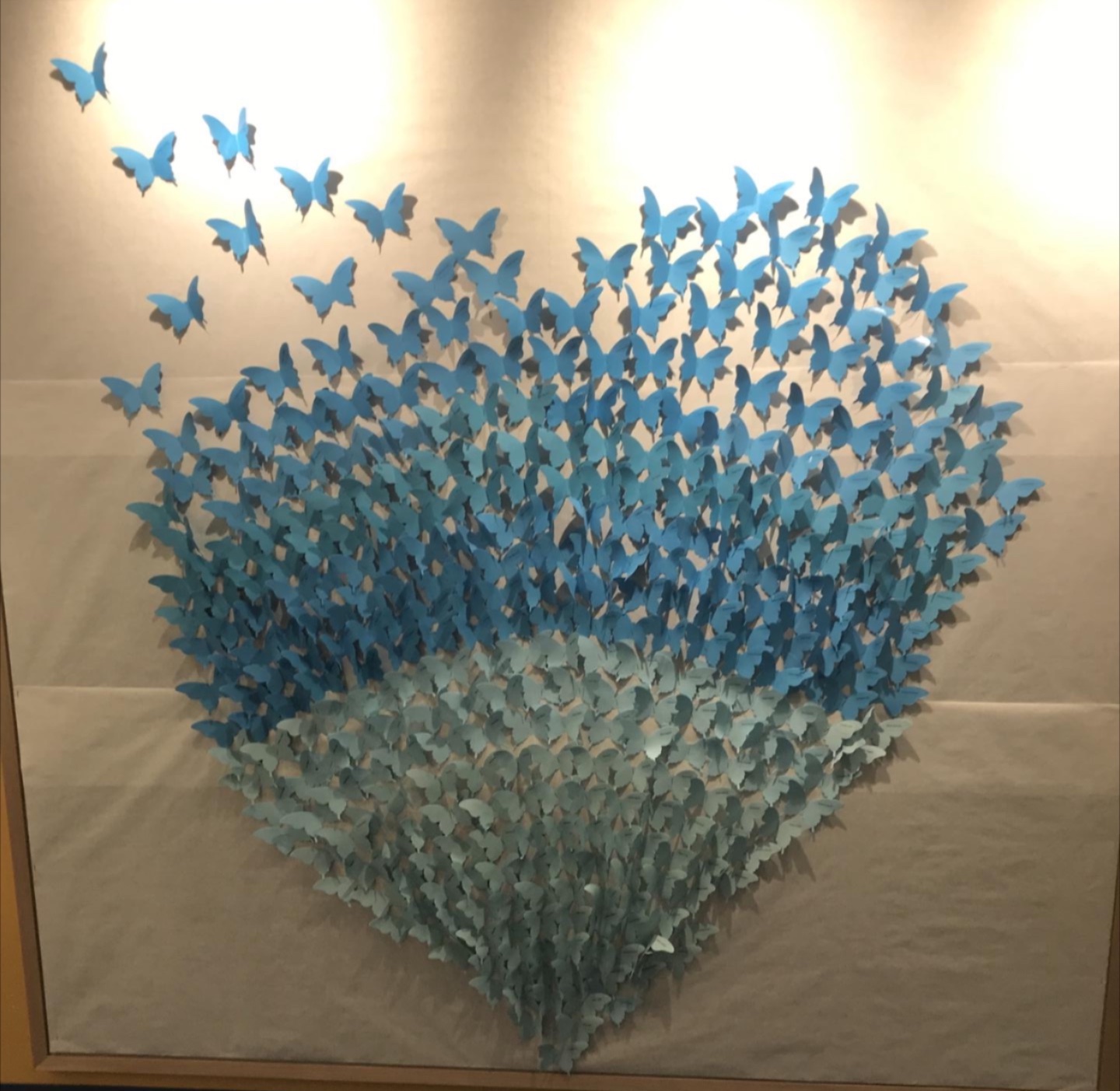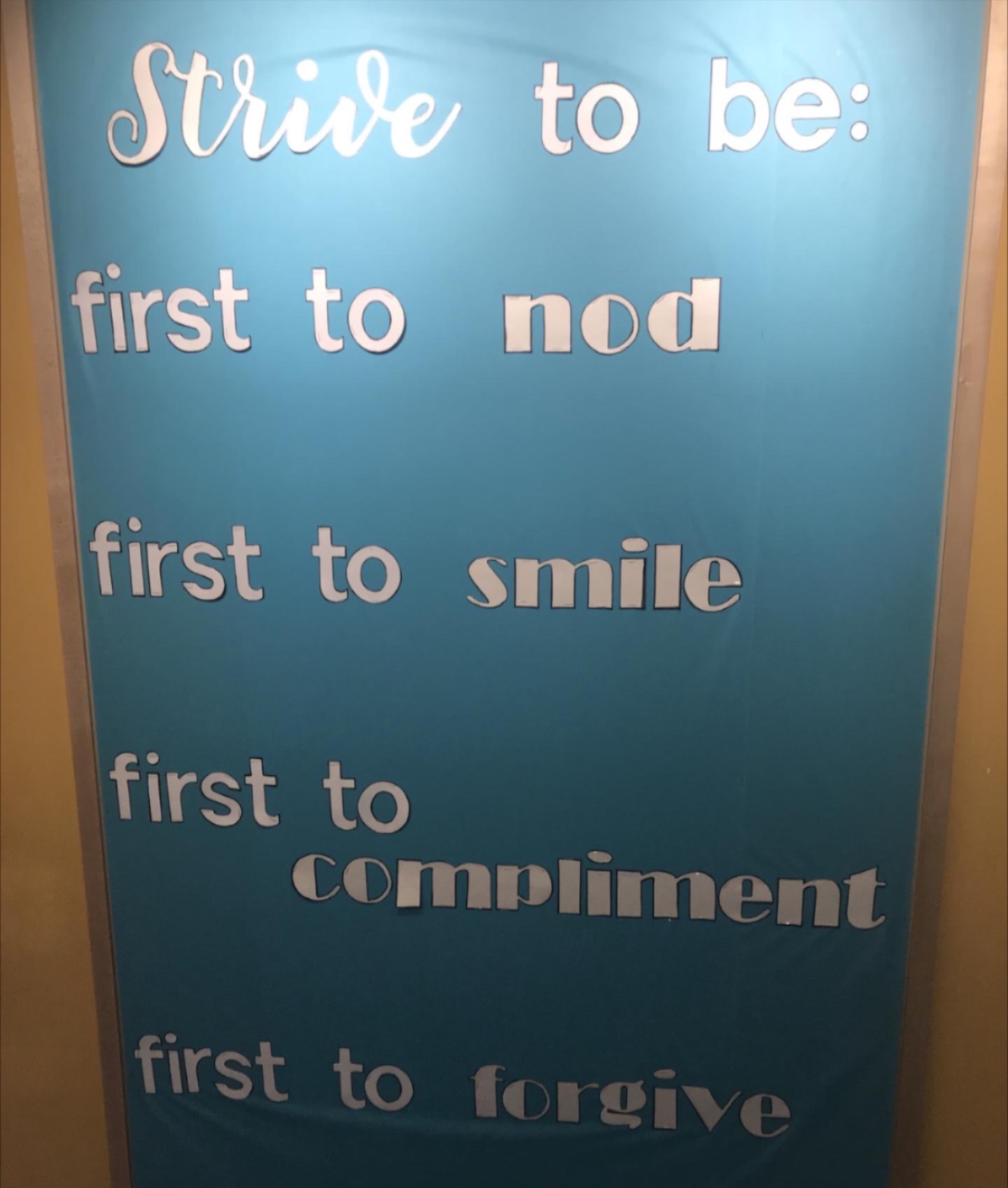 HALLOWEEN
Many thanks to all of you who organized the Halloween parties for the students. Everyone enjoyed the day. I always say we seem to have more parents than students on Halloween and Valentine's Day. The teachers truly appreciated your creativity and work!
I must share the picture of the student who dressed up exactly as Mr. G, for Halloween:).
LUNCH DUTY SOS
SOS – Thank you to all who volunteer for lunch duty. We know that it may not be the most glamorous volunteer opportunity at St. Joe's, but we appreciate your assistance. The pre-k teachers are often not able to have a full lunch break as we need more coverage there. If you are able to help, please let Mrs. O'Brien know. Her email is kobrien@saintjoes.com.
THANKSGIVING DONATIONS
A reminder that we are asking for a $3.00 donation from every student for turkeys for the Thanksgiving baskets. The $3.00 donations are due this Friday, November 15th. Food items are due on Monday, November 25th. Thank you for your generosity and support. As we explained to the students, we purchase 180 turkeys (with help from Roche Brothers) and provide baskets that feed over 1,000 people.
FRANCISCAN CHILDREN'S DONATIONS
Thank you for your donations to Franciscan Children's. We were able to write a check for $1,000 to purchase the adaptive Halloween costumes for the children there.
LUNCH BUNCH
We had great conversations during our grades three, four, and five Lunch Bunches this month! Thank you to Mrs. Brady, Mrs. Owens, and Mrs. Brady for leading our book discussions.
The next Lunch Bunch choices are:
Grade 3 I Was a Third Grade Science Project December 9th
Grade 4 The One and Only Ivan December 12th
Grade 5 The Wild Robot December 11th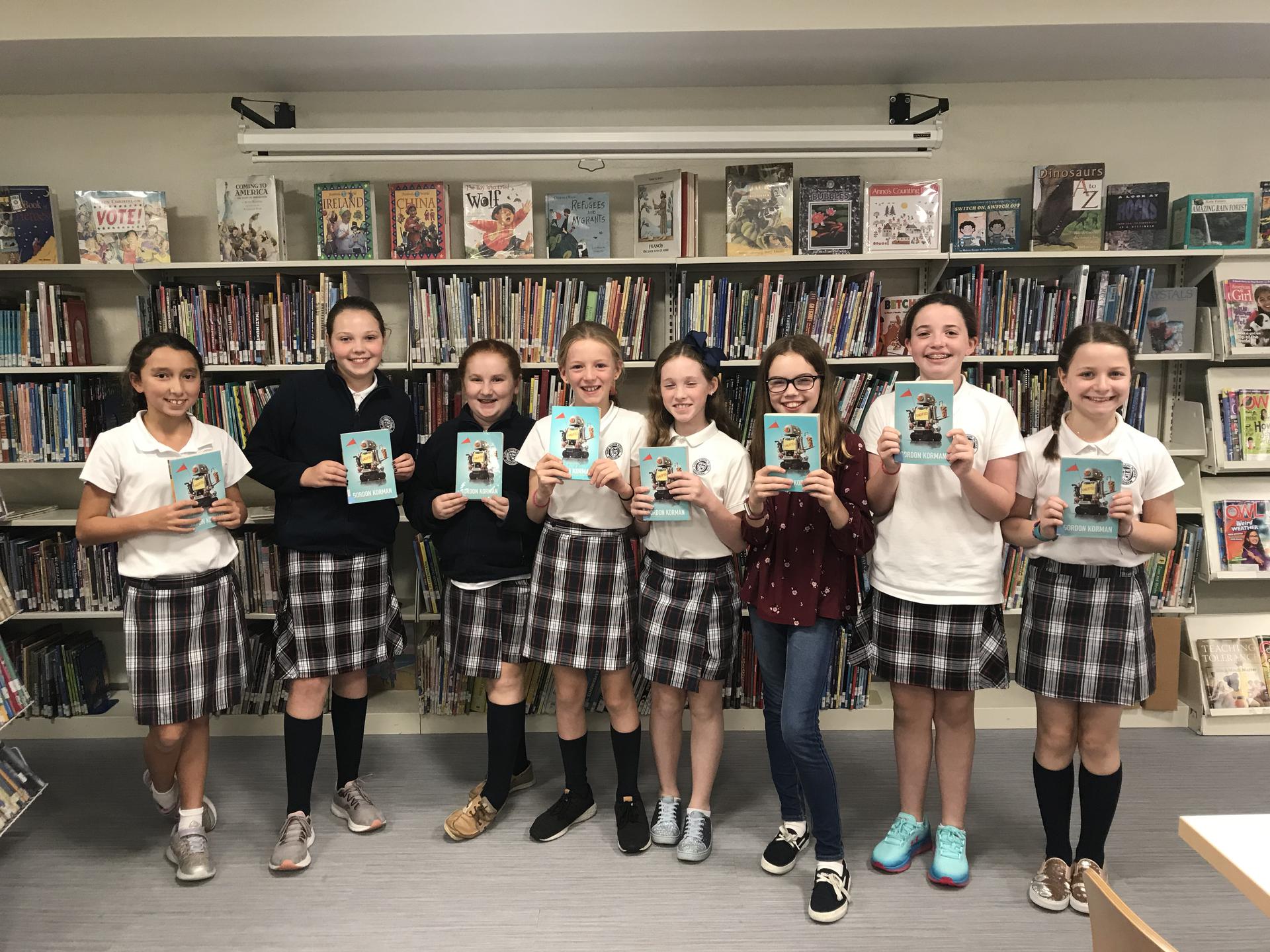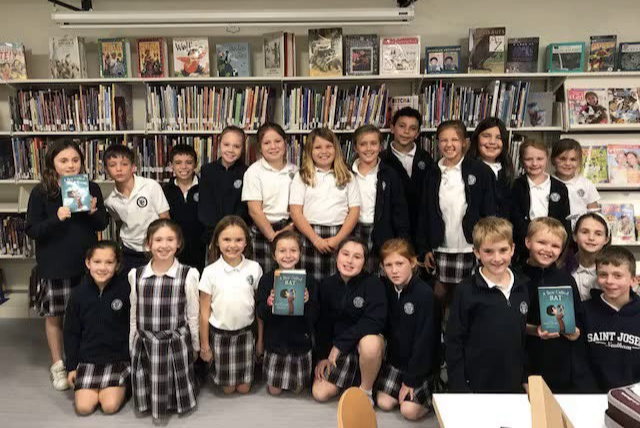 LUNCH BOXES
We want to make sure everyone knows how to confirm their Lunch Box orders. We've had a few instances where students think they are receiving a Lunch Box and Mom and Dad think the lunch was ordered, but the student's name is not on the list and the order is not in the system. When you are ordering, before you log out completely, please look at the full calendar for the month in the grid view. If the item is listed in blue, you ordered it successfully. If it is in grey/black, the order did not process correctly. You can go back in and fix it as long as you do it before the window closes. For students who do not have a lunch, our policy is to give Cheerios and some snacks. We do not have extra Lunch Boxes to give away. Thank you for your understanding.
December and January ordering is combined, and the deadline to order for both months will be Monday, November 25th. Please make sure you are ordering for both months if you want your students to have Lunch Boxes after the holiday break.

November 13th
8:15 a.m. PSA meeting
Math's Amazing program for grades 1-5
World Kindness Day:)
November 14th
Milton Academy Saturday Course test for interested grade four students
Prayer and Pick Up with 3C at 2:10 p.m.
Parent/child book clubs for grades 4, 5, and 7 at 6:30 p.m.
November 15th
School Store
Coffee and Conversation for early childhood parents in the HUB
after drop off
8:30 a.m. Eric Calton, Leadership Speaker Series for grade five, service
Grade five makes fleece blankets
November 16th
Miss Scott's wedding!
November 18th
The trimester closes
7:00 p.m. Joint Board meeting with MHMS
November 19th
8:00 a.m. Coffee with Mrs. Fahey for 1B parents in the HUB
November 20th
Use your tag day certificate from the Fun Run
November 21st
Prayer and Pick Up with 2A at 2:10 p.m.
Frozen Jr. at 7:00 p.m.
November 22nd
MAP results will go home in Friday folders
1B conferences with Mrs. Curley
Frozen Jr. at 7:00 p.m.
November 25th
Thanksgiving basket food items are due today
November 26th
Please join us for a Mass of Thanksgiving at 9:00 a.m.
November 27th-28th
Thanksgiving recess – no school
November 28th
Happy Thanksgiving!
December 1st
The first Sunday of Advent
I know this is long, but as you know, there is always a lot going on at St. Joe's!
Have a great week!
Warm regards,
Charlotte Kelly
Principal