Dear Friends, Families and Students of MHMS,

Happy St, Valentine's Day!

First of all, I want to offer my thanks on behalf of the entire MHMS community to all who helped us to celebrate Catholic Schools Week. So many parents and students contributed to such an enjoyable and appropriate series of prayers, liturgies, service and charitable work and CELEBRATIONS.

Thanks to Jill Meyers and Mr. Kiessling for coordinating the trip to Boston Catholic Television for our 7th graders.
Thanks to Pattie Flynn for coordinating the beautiful retreat.Thanks to Deacon Kelly McCormick for his reflection and leading us in the Eucharistic Adoration, and to the amazing music from Brandon Fitts.

Special thanks to Toni Ann Simmons, Karen Calton, the Ward Family and all who helped make our Ice Cream Sundae Celebration a sweet success. It truly was a celebration of the legacy of our Catholic School system past, present and future.

You will be receiving within the next week a letter from Fr. Peter, me and Mrs. Solomon with updates regarding the merger and the announcement of the tuition and re-registration process for the 2020-2021 academic year. It will also provide an update on the search process for the principal.

Whether you are traveling, doing day or weekend trips or staying home, I hope the February Break gives you a chance to rest and relax and have fun.

Best wishes,
Jay MacDonald
YEAR OF THE EUCHARIST
Cardinal Seán O'Malley has announced that the Archdiocese of Boston will be celebrating a Year of the Eucharist, which will begin on Holy Thursday, April 9, 2020 and continue until the Feast of Corpus Christi, June 3, 2021. This exciting initiative will rely chiefly on the efforts of countless parishes, schools, religious communities, and lay organizations throughout the Archdiocese.
The Year of the Eucharist has two overarching goals – to celebrate the Eucharistic faith of the 31 percent of Catholics who believe in the Real Presence and to encourage the faith of those who do not through witness, example, liturgy, and catechesis.
Each school has been asked to appoint a Year of the Eucharist coordinator. Mr. Michael Kiessling will help to develop and implement a vision for how we will celebrate the Year of the Eucharist.
Look for more information to come on how we can enrich our faith as a school community!
St. Joseph Parish is looking for support for their Friday Eucharistic Adoration program. Please see further details at the end of this newsletter.
BUON VIAGGO!
Buon viaggio to members of our community headed on the Italy Immersion Program trip over February vacation. Please keep the following in your prayers:

Please see the online website calendar for schedule information regarding club meetings and practices.
February 14
5 Friday Tag Day #4
Ski Club
February 15 - 23
Vacation
February 26
Ash Wednesday Parish Mass
9 am
February 28
Tag Day for Selling 10 Fast Cash Calendars
Ski Club Make Up day
March 2
X Block
1:45pm
March 6
5 Friday Tag Day #5
Liturgy - Grade 3 Hosts
9 am
Please join us!

NATIONAL HISTORY DAY - ON TO DISTRICTS!
Congratulations to the following students who are advancing on to the district competition for National History Day on March 8.
Luca Faggiano

Nick Fiumara

Kate Ladino

Nina Strapps
Well done to all our 7th graders for their very impressive projects!
SSPSL BASKETBALL ALL-STARS
Congratulations to the following Gators who have been selected as South Shore Parochial School League All- Stars.
Andrew Schwerdt
Andrew Savage
Ben Palli
John Condakes
Lauren Meyers
Katie Reale
Aine Flynn
Lianna Petruzziello
The All-Star Game is on Saturday March 7th at St. Joe's Holbrook. They will get to play in some games and skill competitions, as well as get a shirt and some other items.
HEALTH OFFICE MEMO
Parents please report flu cases when you are calling in your sons/daughters absence.
- Nurse Brett
MIDTERM GRADES
As we are now more than halfway through Term 2 please be sure to check your student's grades in the portal to determine if there are any improvements to be made or work to be made up.
PARKING LOT PROCEDURES AND SAFETY
A reminder for parking lot pick up for after school activities - please be sure to stay within the dotted lanes and leave the center lane open for cars to travel through. Ideally MHMS parents should use stay closer to the left side of the lot. As always, please be vigilant and watch for children of all ages to be walking though the lot.
UPCOMING TAG DAYS
There have been many tag days announced and we know it may be confusing. Here is a summary of the recent days announced:
Fri. 2/7 Paid Tag Day - Five Friday Pass
Tue. 2/11 Half Court Shot Tag Day
Wed. 2/12 Fast Cash First Tag Day 5 or More Calendars Sold
Fri. 2/14 Paid Tag Day - Five Friday Pass
Fri. 2/28 Fast Cash Second Tag Day 10 or More Calendars Sold
Fri. 3/6 Make up Paid Tag Day - Five Friday Pass
TBD Tag Day for Students Who wore their uniform to Mass on 1/26
These days have all been posted to the online calendar.
UNIFORM REMINDER - TIES AND BLOUSES
Just a reminder that just as all boys should be wearing ties all girls should be wearing white oxford blouses underneath their fleeces or sweaters. Wearing a polo or other shirt and zipping up a fleece to hide it is considered out of uniform and may be subject to consequences.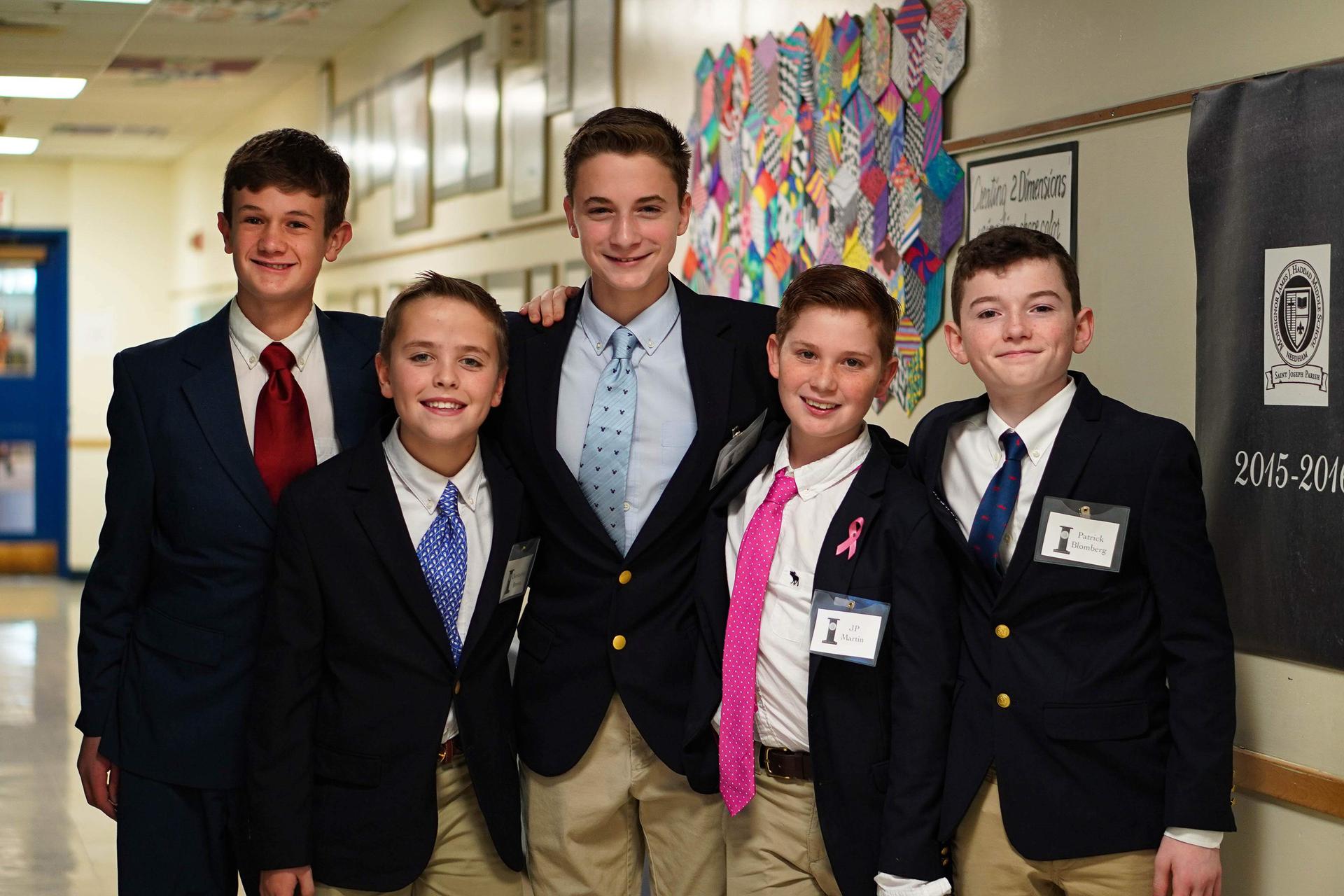 MHMS FORENSICS AT HARVARD SQUARE INVITATIONAL TOURNAMENT
We are proud to announce our second annual Harvard Square Invitational Tournament, hosted by St. Paul's Choir School!

Date: Saturday, March 7th, 2020.
Time: 7:30 AM (check-in) to 5:30 PM (dismissal)
Place: St. Paul's Choir School, 29 Mt Auburn St, Cambridge, MA 02138.
At tournaments, students have the unique opportunity to practice the skills they have been learning in their club meetings in a safe, competitive and fun environment.
Below are some details regarding the speech and debate tournament. Students from participating schools are invited to select two of six events: Persuasive, Interpretive Monologue, Duo Interpretation, Impromptu, and Panel Debate. We attach the speech parameters and judging guidelines for each of these events.

Food
We will supply lunch! Additionally, there will be snacks available throughout the day.

Awards
At 5:00PM there will be an awards ceremony complete with certificates, trophies, and medals.
- Rose Debate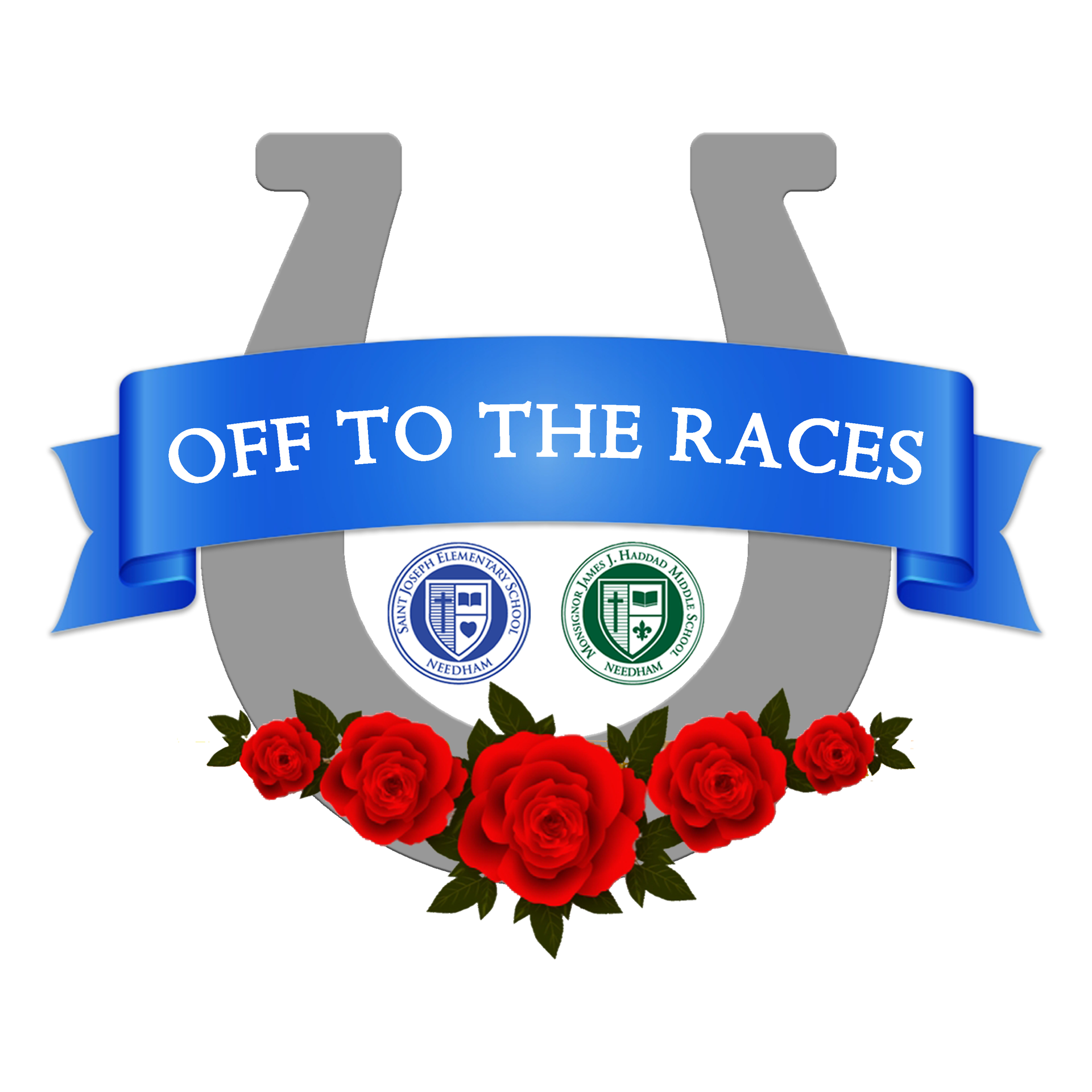 OFF TO THE RACES - AUCTION APRIL 4
2020 "Off to the Races" Auction Gala is Just 2 Months Away!
Mark your calendars for Saturday, April 4, 2020
Saint Joseph Parish Schools Auction Gala.
Join the Saint Joseph community for a special evening that will include a cocktail reception, silent and live auctions, dinner, dancing, and more.
The night is a chance for parents, alumni, and friends to come together for an evening of fun, support, and to honor
Mrs. Susan Horne
for her time and dedication to our Schools and Parish.

Click the button below for tickets, sponsorship, donate an item, advertising. treat a teacher, and much more!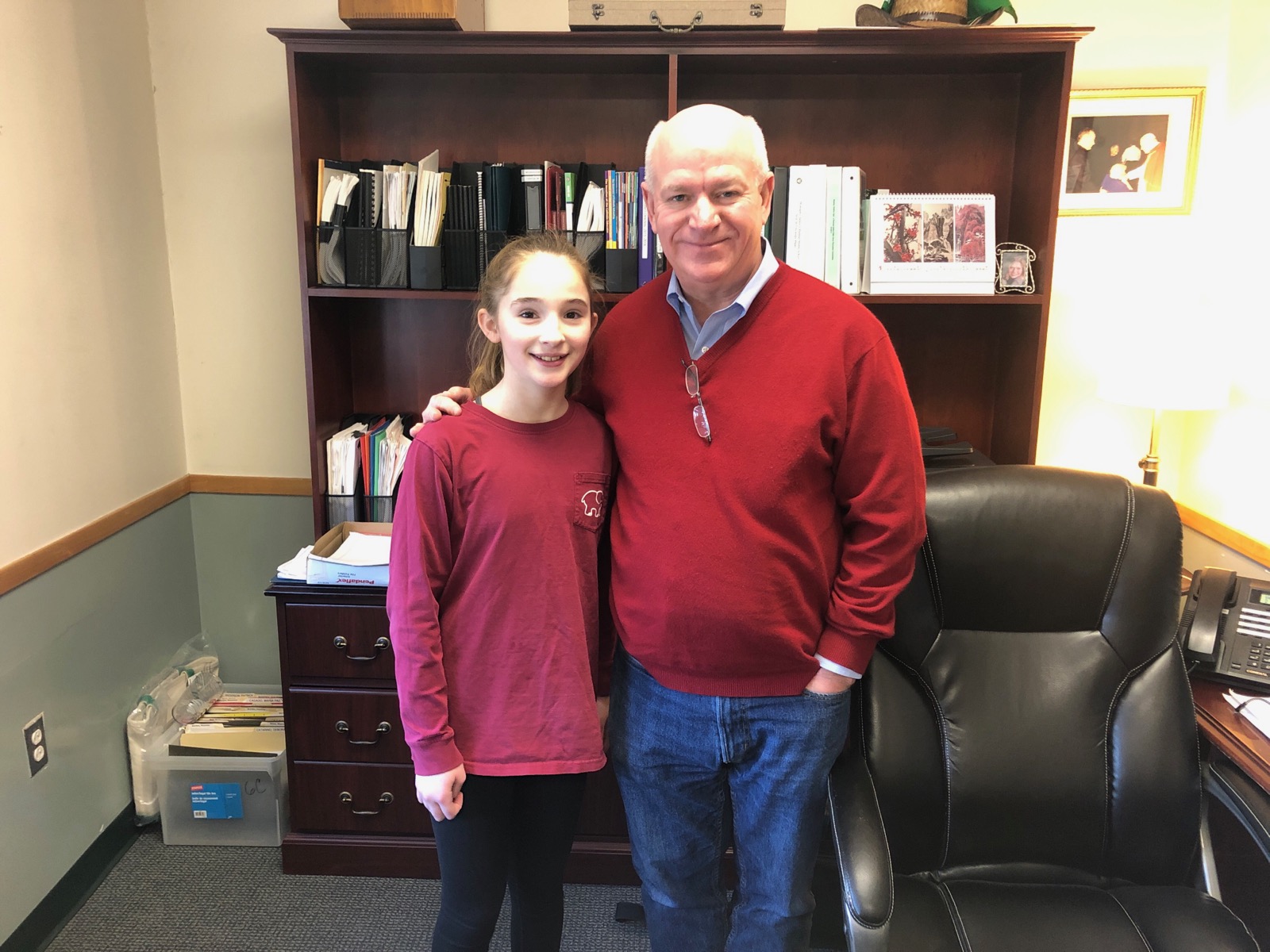 FAST CASH MHMS TOP SELLER
Congratulations to Lauren Meyers for winning $100 as the Top Seller for MHMS in our February Fast Cash Calendar sales. Thank you yo all who supported our schools. Fast cash winners are posted daily on our website.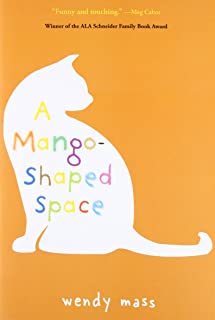 BREAKFAST 'N BOOKS - MARCH 10
Looking for something to read over vacation? How about A Mango Shaped Space by Wendy Mass so you can join our librarians for the next Breakfast 'N Books on March 10.
SAINT JOSEPH PARISH FAMILY MINISTRY
Please join us for a family dinner on the first Friday of Lent, February 28th. It will be held in the MHMS dining room from 6-7 p.m. RSVP for this event by email to betsygoodband@gmail.com or sign up on the board in the front of the church at all masses. Lenten Stations of the Cross take place every Friday during Lent at 7 pm. All are welcome to participate.
EUCHARISTIC ADORATION

Eucharistic Adoration is all about spending quiet time with Jesus as you gaze at His Eucharistic Presence. We need adorers every Friday from 9:30 a.m. to 5:00 p.m. Adoration ends at 5:00 p.m. with Benediction during the school year. What we are hoping to get from the school community is a group of parents, teachers, students etc. together to commit to one hour (or perhaps a half hour) such as 1:00-2:00 or 2:00-3:00 or 3:00-4:00 on a rotating basis.
What is Eucharistic Adoration?
Eucharistic Adoration is spending time in prayer before Jesus Christ, truly present, Body, Blood, Soul and Divinity, in the Holy Eucharist. At Mass transubstantiation occurs wherein the bread and wine become the actual Body and Blood of Christ. Although the appearance has not changed, the actual substance has changed. Jesus is truly present in the Eucharist. We adore Christ when we bow before receiving Holy Communion at Mass and when we genuflect before the tabernacle. The Eucharist is usually displayed in a special holder called a monstrance.
What to do in Adoration?
Sometimes we can be intimidated to go to Adoration (Exposition of the Blessed Sacrament) because we have never been taught what to do. Upon entering the Church or Chapel where The Blessed Sacrament is exposed we should enter in silence and genuflect (traditionally on both knees) before the monstrance before entering a pew. Then we can pray in a variety of different ways. Here are some suggestions:
-Meditate using Scripture
-Pray the Rosary
-Recite the Jesus Prayer or the Chaplet of Divine Mercy
-Pray the Psalms or the Liturgy of the Hours
-Read the life of a Saint and pray with him or her
-Pour out your heart to Christ and adore Him
-Ask for forgiveness and intercede for others
-Sit quietly and just be in the presence of God
How long should I stay?
There is no set amount of time that one must stay at adoration. If you have only a minute or two, please feel welcome to just drop in to say a quick hello to Jesus. Do not underestimate the graces that will come from even a short visit! It is ok to start with just a few minutes and then increase the time each week. We need to practice things to become good at them and prayer is no exception. There are a number of Bibles and spiritual and prayer books available in the Linse Room for you to use during Adoration.
How many adorers are needed?
Ideally there should be two adorers scheduled for each hour. In addition, there are substitute adorers, volunteers who are willing to cover for people who are unable to make their hour.
To volunteer for Adoration, please email Michelle Ardini ardini@comcast.net or drop off this form in the collection basket or in the Rectory.
Here is the link for the professional Nativity photographs taken by Alison Borrelli. Families may download them at no charge or order professional quality prints at a discount.
Please join us and families from Needham's Catholic Schools and Parishes on Thursday, February 27th for a delicious family dinner of pasta and meatballs with all the fixin's and spend some time with a room full of adoptable puppies from Shultz's Guest House, a wonderful dog rescue organization in Dedham! What could be more fun than getting to know other families in the community and then watch the kids romp around with a big bunch of bouncy happy puppies? You'll learn about this wonderful shelter and have a chance to win some fun prizes too! The evening starts at 6:30 and admission is $25 for adults and $10 for children under 12. Net proceeds will go to Shultz's Guest House. Needham Knights of Columbus Fr. Daniel J. Kennedy Council #1611 is located at 1211 Highland Ave., Needham, MA. Hope to see you there!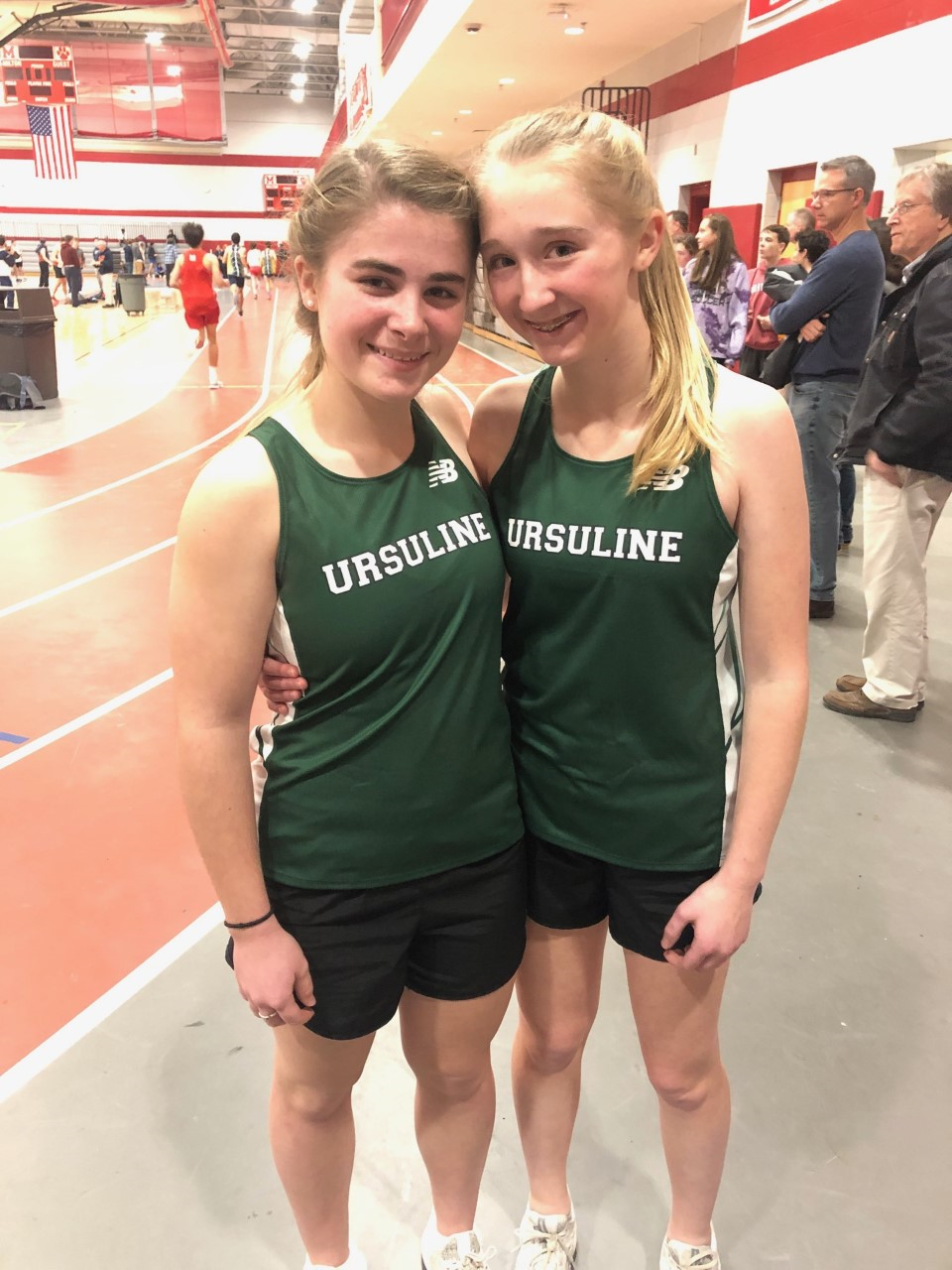 DAOUST, MEYERS TO COMPETE IN DIVISIONAL CHAMPIONSHIPS
Congratulations to Mia Daoust '19 UA'23 and Kirsten Meyers '19 UA'23 who qualified for Divisional Championships running winter track for Ursuline Academy. Daoust will run the 600M and both Daoust and Meyers are part of the 4x400M relay team. While at MHMS both girls were active members of the basketball and field hockey teams. Good luck!
MHMS IS FULLY CONNECTED
Please like us on Facebook, and follow us on Twitter @MHMSGators, Instagram, and LinkedIn to stay abreast of the latest news.