August 20, 2018   •   Issue 2
Gracious God, as the summer begins to fade, new possibilities lie on the horizon. Bless all of those who are beginning or returning to their roles as teachers or catechists as well as those who lead and support them in their efforts. May this school year be a time of grace and potential as they teach, share, and challenge others to grow in faith, knowledge, and wisdom. Bless children and youth, along with their parents, as they begin a new school year. May their minds be open to learning, and to the wonder of discovery and insight. Be with us all as we embark on this new school year. Amen.
Dear Parents,

I am writing this newsletter on Sunday evening as I usually do, and it is so good to have the windows open and feel the cool breeze. Let's hope this cooler weather continues as we head into September.

PLAYGROUND RENOVATION UPDATE
I am excited to report that the playground equipment is due to arrive to school tomorrow. It will be housed in the container in the back-parking lot until it is ready to be put into place.
Unfortunately, the playground will not be complete when the children arrive for the first day of school. I have been told it was highly unusual that the lower level renovation last year was completed on schedule. Luckily, we are only about a week to ten days behind schedule at this point. Of course, a project this size has lots of things that come up, but our biggest challenge was discovering a pipe that needed to be removed. We needed to do our due diligence by having three companies come out and price the job, and then line them up to complete the work. In addition to the additional $31K price tag, this delay put us behind schedule. Also, besides the playground being put in, we need the outdoor classroom benches, the fencing, and the plantings to be installed, so there is still much to be done. The good news is that a lot of it will happen before the children arrive. They keep telling me, "It will move fast." Let's hope so!
So how does this impact you and the children? Other than the parking lot being a bit tighter because of materials and the cars of the workers, the drop off and pick up will be the same, with someone greeting the children as they enter. We are going to set up the fencing to mirror a "playpen" if you will, so that the workers stay in their area and the children will be able to get outside for recess. We will have additional staff out there including me, Mrs. Solomon, and Miss McShane when the kiddos are out. All the workers on-site will have filled out CORI forms as well. The first day of school for the elementary school building in the morning will present the biggest challenge in the back, so you may want to be creative finding a place to park. You may also have to loop around the school picking up in the afternoon as well. All in all, we are close to getting the playground done, and we will work hard to make it work. We must remember that in the end the students will have a wonderful playground and outdoor classroom!

FACULTY/ STAFF NEWS
Mr. Kevin Rodis is joining our school community as the 5B classroom teacher and the math teacher to all the fifth-grade students. A detailed letter has been sent to the fifth-grade parents, but I wanted to let you know that Mr. Rodis has an undergraduate degree in business, a master's degree in Sports Management, and a master's degree in elementary education. He will be a great addition and is truly looking forward to being part of our school community.

Miss Surette told us last week that she is moving to Leominster and so will not be able to commute to St. Joe's in Needham.

Thanks to Mrs. Solomon, Miss Scott, and Miss Lalicata, we have hired a very enthusiastic kindergarten teacher, Miss Alessia Viscomi. The K2 parents have also received a detailed letter. Miss Viscomi played soccer at Wheaton College where she majored in neuroscience and is also has a master's degree in elementary education from UMass, Boston.

We would like to welcome Mrs. Mary Beth Cox as our new Development Director. We are excited that Mrs. Cox has been working in development and is sharing her gifts and talents with the St. Joe's community. Mr. MacDonald and I met with Mrs. Cox on Friday and she has some wonderful ideas.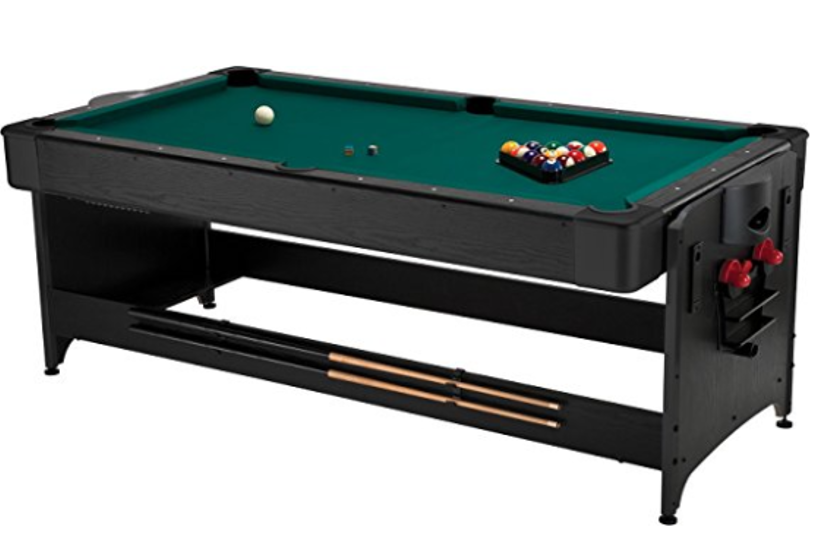 NEW AIR HOCKEY/ BILLIARDS/ TABLE TENNIS TABLE
Thanks to the Villalba family for gifting the afterschool program with an air hockey/billiards/table tennis table. It is of high quality and we know the children are going to be excited to use it on those rainy or snowy days.
LEARNING CENTER & TEACHING ASSISTANTS
We are changing the name of the Resource Room to the Learning Center as we feel it more accurately describes the work that is being done there.
Also, we are changing the title of teacher aides to Teaching Assistants because at St. Joe's the Teaching Assistants do in fact work with students and assist in the teaching as opposed to other schools where they might be aiding with children but also do administrative tasks.
FORMS
Please make sure you have all your 2018-2019 school forms completed. You can find them on our website under School Life and they can be done online. We need to have the mandatory forms filled out BEFORE the first day of school as they provide information needed by the teachers and the office.
KNIGHTS OF COLUMBUS
The Knights of Columbus are looking to partner and work with us at St. Joe's. I met with Paul Deeley and Ken Gustin in the Spring and they have added the SJES and MHMS newsletters to their website to share the good work we are doing in the schools, so we want to do the same with you. The Knights do a lot of good work in Needham whether a float in the July 4th Parade, working with the Needham Community Council, or organizing prayer groups. We want to work together for the benefit of all in Needham and I encourage you to visit their website. The first meeting of the year is on September 5th at 6:30 p.m., right in the heart of Needham center.
DAILY MASS
Finally, I myself have been able to go to daily Mass often during the summer as my parish, St. Agatha in Milton has a 7:00 a.m. and a 9:00 a.m. Mass. I went often to the 7:00 a.m. Mass and it was such a wonderful way to start my day. I want to let you know that St. Joseph Parish has a 6:50 a.m. and a 9:00 a.m. Mass each weekday so if you have the time and/or can carve out the time, I encourage you to try it.
POPSICLE PLAYDATES
Popsicle Playdates are scheduled for this Wednesday, August 22nd for the pre-k and kindergarten students. If we need to postpone them until Thursday because of weather, we will send you an email on Tuesday.
There are lots of events happening next week and I am looking forward to seeing many of you then.
Warm regards,
Charlotte Kelly