September 3, 2018   •   Issue 4 
"God of wisdom and might, we praise you for the wonder of our being, for mind, body, and spirit. Be with our children as they begin a new school year. Bless them and their teachers and staff. Give them strength and grace as their bodies grow; wisdom and knowledge to their minds as they search for understanding; and peace and zeal to their hearts. We ask this through Jesus Christ our Lord. Amen."
Dear Parents,
I hope that you are enjoying the long Labor Day weekend. The classrooms are ready, the school is clean, and the faculty are looking forward to meeting their students. All we need is your children to arrive and we look forward to seeing everyone tomorrow.
Watching the weather, we know it is going to be warm. I'm hoping we don't talk about it too much😊. That said, I do want you to know that all the pre-k and kindergarten classrooms have window air conditioners. All the classrooms in the "big building" have ceiling fans and through the generosity of parents over the years, all the classrooms have additional floor fans. The lower level is air conditioned so that the children will get a reprieve from the heat during lunch. The "specials" such as music, library, etc. do not start until Wednesday, so the STREAM lab, library, HUB, and music room are available for the teachers to take the students to if they feel it is too warm in the classroom. We are hearty New Englanders and will make the best of it. Please plan on sending some extra water bottles with your child this week.

PLAYGROUND UPDATE
I am glad to report that there is visible progress with the playground. At the end of last week, we saw sidewalks being poured and the structure starting to look like a playground. Alleluia! That said, as I have mentioned before, there are still a lot of steps left to complete. They include finishing the playground, installing the benches, the irrigation system, the rest of the sidewalks, and the plantings. The construction crew told me last week we may need to wait a few more weeks.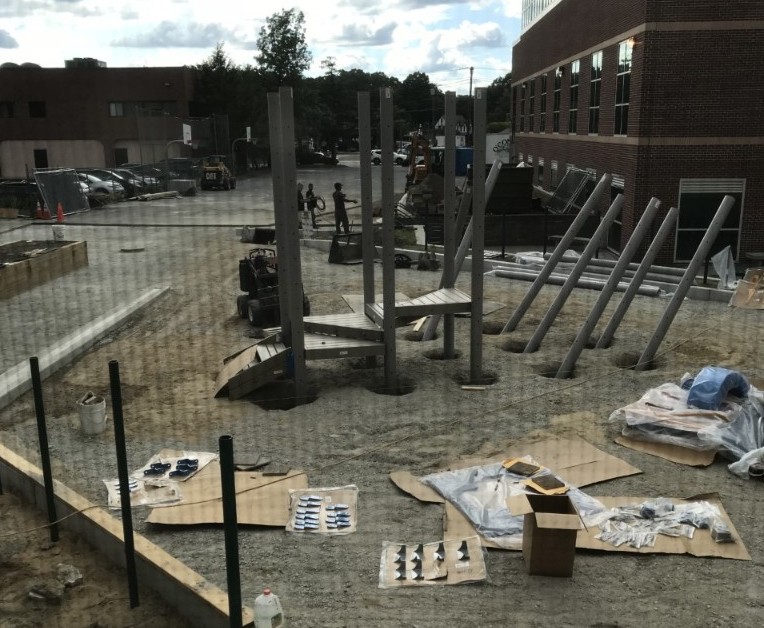 RECESS AT GREENE'S FIELD
The good news is, we reached out to the Needham Recreation Department and they have generously agreed to let us use Greene's Field which is directly across from the school. Students in grades 1-5 will be going across the street for recess. Because we have so much paperwork at this time of year, we will not be sending permission slips. IF you do NOT want your child to go to Greene's Field, please let me know ASAP. This has been approved by Mrs. Brett and she will be sending teachers over with epi-pens, walkie talkies, and a first aid kit, so that everyone will be safe. We have also hired Mrs. Karen Hegarty (one of our fabulous substitute teachers) to assist with recess duty this week as an extra set of hands. I think the kiddos will be thrilled. I am really trying to make lemonade out of lemons😊.
MAP ASSESSMENTS
MAP assessments will begin this Friday with the fifth graders. MAP assessments are computer adaptive achievement tests in mathematics, reading, and language mechanics. The window for testing throughout the Archdiocese is September 4th through October 4th. All students, kindergarten through grade five, will participate in the MAP testing. Teachers will let you know when your children will be taking MAP.
I received an email a few weeks ago and the subject said, NWEA Top Teachers. When I opened the email it said, "Congratulations! One of your classes showed high achievement and improvement on NWEA's Measure for Academic Progress (MAP) in 2017-2018!" The teacher was Mrs. Ginny Topham and the subject was reading. Congratulations to Mrs. Topham!

I want to thank the teachers for their energy and enthusiasm this week as we gathered for meetings and workshops. Over the course of last week, the faculty and staff participated in:
CPR/AED training, all elementary faculty and staff are trained.
Epi-pen training, all elementary faculty and staff are trained.
Stop the Bleed training, which Eddie Sullivan from the Needham Fire Department gave us. As he told us, this national program has been effective in saving victims in a school setting. After the training, we watched a video that the Fire Chief and the Needham Police and Fire Departments put together, which showed what they are trained to do if God forbid we needed them.  It reminded me that these first responders are always going in when everyone else is running out, so we applaud their bravery and thank them for their service.
New faculty/staff orientation.
On Tuesday, we had a full day of teacher's meetings.
The TECH team shared expectations regarding what is required this year for each grade level.
The STREAM team shared what they learned and worked on during their professional development days in August. They also created STREAM books outlining the work and expectations of STREAM at St. Joe's. It was truly impressive what they created and shared.
Ren Web training was given by Senora Posada.
Mrs. Mary Beth Cox, our new Development Director, came to introduce herself.
Mrs. Melissa Harrigan, the Faith Formation Director, came to speak to the faculty and staff as well.
Our Collins Writing Coach worked with the teachers for four hours on Wednesday morning preparing for the school year. The teachers really do enjoy being the students!
We also had many parent meetings, small group meetings, and curriculum meetings by grade level.
Thank you to Lauren Fryberger and Karrin Plotner for hosting our New Parent Reception on Tuesday night. It was a great opportunity to answer any last-minute questions for the new parents and it was also nice to welcome the parents to our community.
Thank you to Susie Mitchell and Meghan Sutherland for hosting our grade one Ice Cream Social. It was great to see the children and parents! It was a wonderful opportunity for the first-grade students to meet their teachers and see their classrooms before tomorrow.
We also hosted new transfer students on Wednesday. All students new to St. Joe's in grades 1-5 came to have pizza and meet a buddy or two before their first day of school.
3RD GRADE LOCKERS
The new lockers for grade three are finally in. Thanks to Desiree Walsh for all her work researching and ordering the lockers and to Sean Dempsey and his son Matt for installing them. In the nothing is easy world; the lockers came on Tuesday and they were all damaged. In order to inspect them, the delivery man had me up on the fork lift and in the truck opening the boxes. We refused the order with some trepidation for delivery before school, but they came in on Thursday and they are upstairs ready for students.
EMERGENCY PREPAREDNESS SPEAKER
Please mark your calendar for Friday, September 21st at 8:30 a.m. as Rebecca Ping, the Emergency Management Program Coordinator for the Town of Needham is going to come and speak for thirty minutes in the HUB.  Rebecca's presentation focuses on emergency preparedness, more specifically the three points she will cover are preparing an emergency to-go kit, making a plan, and being informed (in and out of state communication and phone numbers). I have heard Rebecca speak and this is something that is quite useful for your home and your car, so I strongly encourage you to attend.
Cub Scouts, Pack 23 is accepting both girls and boys into the troop this year. If you are interested, the first pack meeting is on Sunday, September 16th. Students will receive a flier in their Friday folders on September 14th with more information.
The first pizza lunch is on Friday, September 14th so please pack a lunch this Friday, September 7th.
We are in desperate need of lunch parents. Thanks to Liz Sheehan for working to put a schedule together. As of today, we only have 53% of lunches covered.
Have you submitted all your forms?
Have you logged on to your Ren Web accounts?
You will receive a GREEN emergency form on Tuesday. Please make sure to fill that out and return it to school on Wednesday.
A reminder that tomorrow is also Election Day!
I want to thank Eric McInerney, a new parent and owner of McGolf in Dedham, for hosting the two pre-k classes for rounds of golf and ice cream last week.
I want to thank Nicole MacLaughlan for planting the flowers at the entrance of the school.

Before Care and Aftercare begin
PSA meeting in the HUB at 8:15 a.m.
Prayer and Pick Up begins with 5A in Mary's Garden
Opening School Mass at 9:00 a.m– – All are welcome!
CAP session 7:00 p.m. in the library
Join Us for an Encounter with Christ through the Gospel of John.
Brought to you by The Knights of Columbus and St. Bartholomew and St. Joseph Parishes.

The Turning Point won't just teach you how to better understand the Bible. Through engaging videos, a thought-provoking workbook, and an edition of the Gospel of John that reads like your favorite chapter book, this unique nine-week study will help you develop a meaningful relationship with Jesus.

When:    
Consecutive Tuesday evenings, September 18, 2018-November 13, 2018

Time:      
7:00 p.m. to 8:15 p.m. (we will start and end on time)

Where:   
Knights of Columbus Hall 1211 Highland Ave, Needham

Cost is $16 to cover the cost of the participant workbook, DVD set, and the Gospel paperback. (payable at the first session) It is not necessary to attend all 9 sessions.  Come to as many as you can!

To REGISTER contact: Kathy Bird Zajonc @ 781-449-2692 or email kbzajonc@gmail.com or Chris Kenney @ 781-444-7303 or email pckenney@hotmail.com
See you bright and early tomorrow morning!

Warm regards,
Charlotte Kelly
Principal