October 15, 2018   •   Issue 10 
"Dear Heavenly Father, you have given us the world, our lives, animals, nature, and people, who with your grace, have created astonishing things, and dug into history to explore the wonders of the world. We pray for the scientists and teachers with brilliant minds. I especially pray for the teachers who work in areas with limited funds and still bring education to the youth, may they have money for food, water, and a place to live. Please hear our prayers for the homeless, that people will treat them with dignity and that they will eventually have a home, secure meals, and fresh water. Today we pray for Pope Francis, that he can live a long life and for Father David Michael that he continues to teach us the ways of God. I also ask for prayers for those who are sick, in a hospital or mentally ill. Last, I ask to pray for my family, that they are kept safe in your hands and that nothing bad ever happens and that we live a happy life with your help. Amen."
~ Acadia, Grade 5 ~
Dear Parents,
We had another busy week at St. Joe's. The highlight of the week was our monthly Mass hosted by our grade five students. The children prayed and sang beautifully. Whether the students were greeting us as we entered the church or reading the Welcome, the Prayers of the Faithful, the Readings, being a lector, a cantor, an altar server, or singing the class song at the end of Mass, it was wonderful. I love when our students host our school Masses. It was great to see that so many parents were able to join us as well. Thank you to Mrs. Fiumara, Mrs. Howard, Mr. Rodis, and Mrs. Pratt for preparing the students so well.
Our school Rosary is this Friday at 1:45 p.m. in the lower church
Please register for our program Kids Healthy Mind Initiative on October 25th at 7:00 p.m.
Please send in a candy bar for Monsignor McGann's gift from all of us at SJES by tomorrow.
The reception for Monsignor McGann is on Sunday, October 21st from 2:00-5:00 p.m. in the Kennedy Center (gym)
The Pre-K and kindergarten Halloween Parade will be held on October 31st at 8:30 a.m.
We have an early release day this Wednesday, October 17th. This is also a Tag Day for Franciscan Hospital, with a $2.00 donation. Students may wear "comfy clothes."
The Box Tops contest is this week so please send in your Box Tops.
Winter uniforms are coming on November 1st so please have your children try on his/her uniform and/or visit our uniform closet, so that the students are ready on the first.
A few parents have mentioned to Mary Parker, our crossing guard, that they are concerned about parents not having their children use the crosswalks and running across the street in front of their cars, so if you could please help with this we would appreciate it!
Bus evacuation has been rescheduled to October 23rd because of the weather.
SCIENCE TELLERS ASSEMBLY
Our Science Tellers school assembly for all students, Pre-K through grade five, will be on Thursday. As the brochure says, "Grab your spurs and journey with us to the Wild West, where a legendary bank-robbing outlaw is back in town, about to strike again! After the Sheriff mysteriously vanishes, two young kids saddle up to foil the great heist and put a rotten cowboy back behind bars. Throughout this absolutely wild adventure story, volunteers from the audience will explore the science behind chemical reaction, acids and bases, combustion, air pressure, inertia, and more!" Sounds like the kiddos will love this program!
MEADOW FARMS FUNDRAISER
Many thanks to all of you for your support of the Meadow Farms Fundraiser and to Mary Beth Cox for organizing it. Congratulations to Lilianne Polak for being the top seller! She is the winner of the Apple Air Pods Wireless Headphones. Miss Doran's class was the winning homeroom for the Greene's Field picnic lunch. The other drawings will be next week. Everyone that sold $50 or more will receive a free Tag Day certificate to be used on November 14th.
SCHOOL STORE
Our School Store opened on Friday and there was a mad dash to get in line to shop! It looked like Black Friday here at school. The school store is open twice a month and will be open again this Friday, October 19th. Thanks to Ms. Harris and the fifth grade Student Council members for "running" the store. One of our fifth graders was at the door letting shoppers in and thanking them for coming on their way out.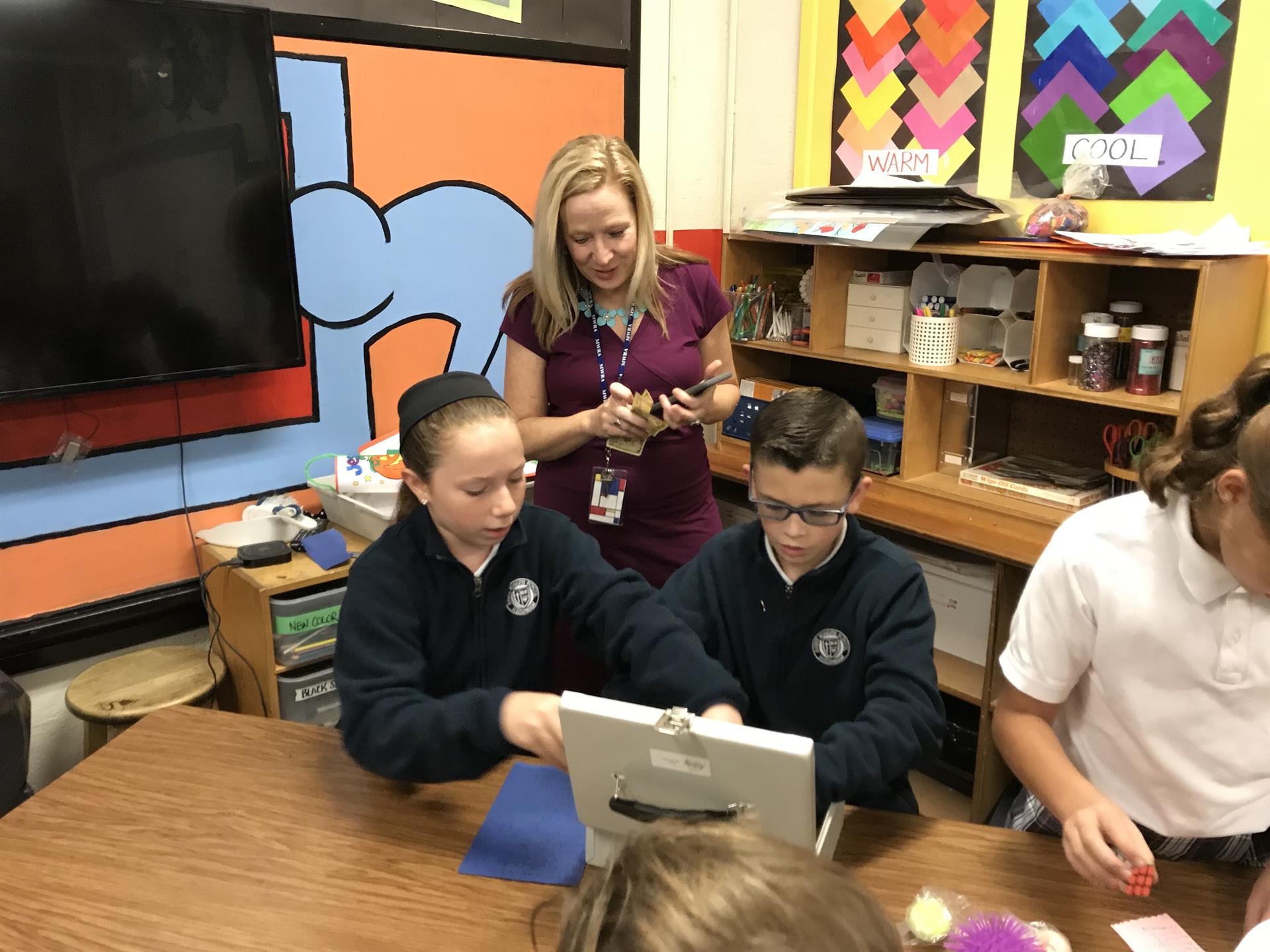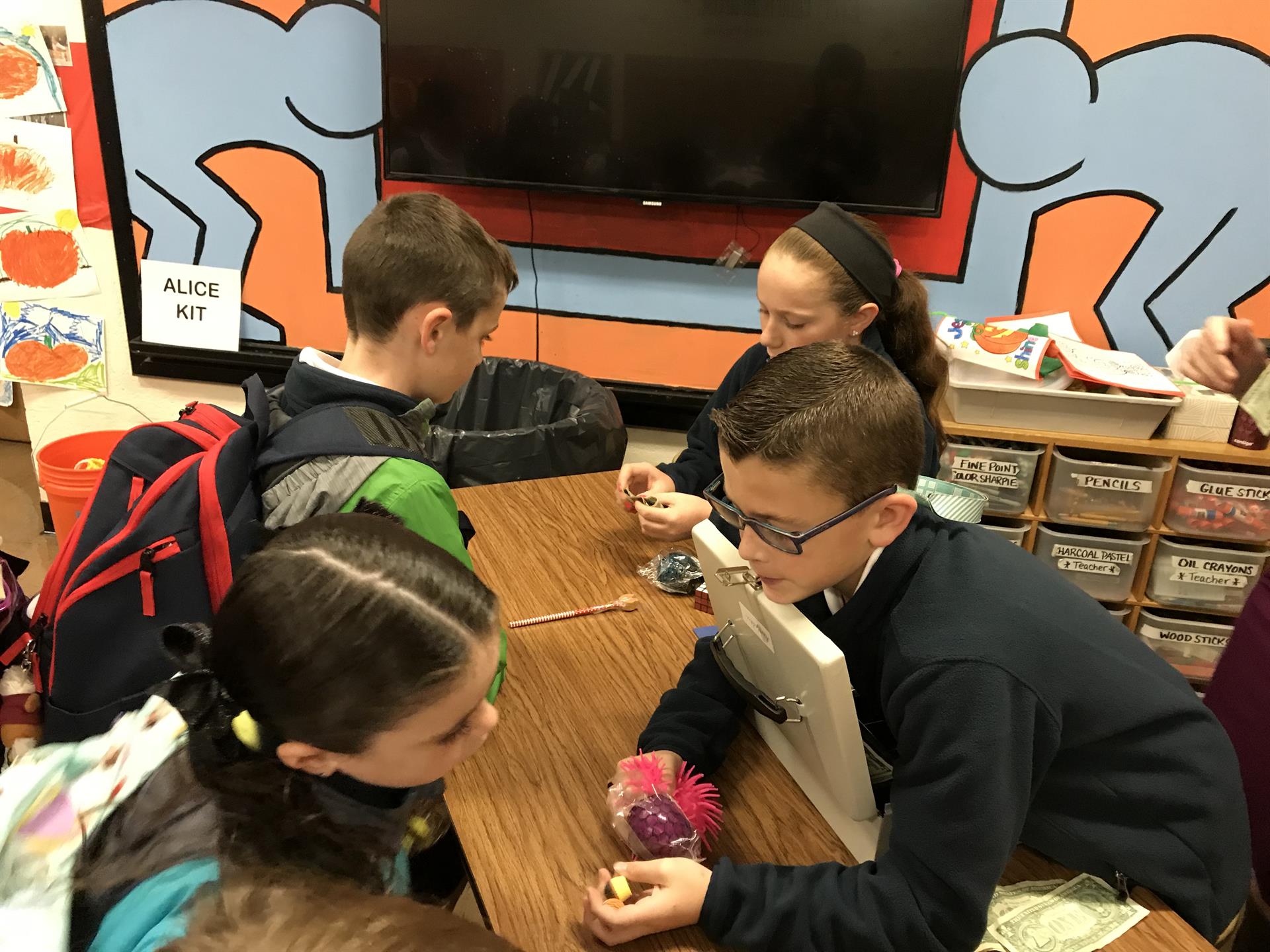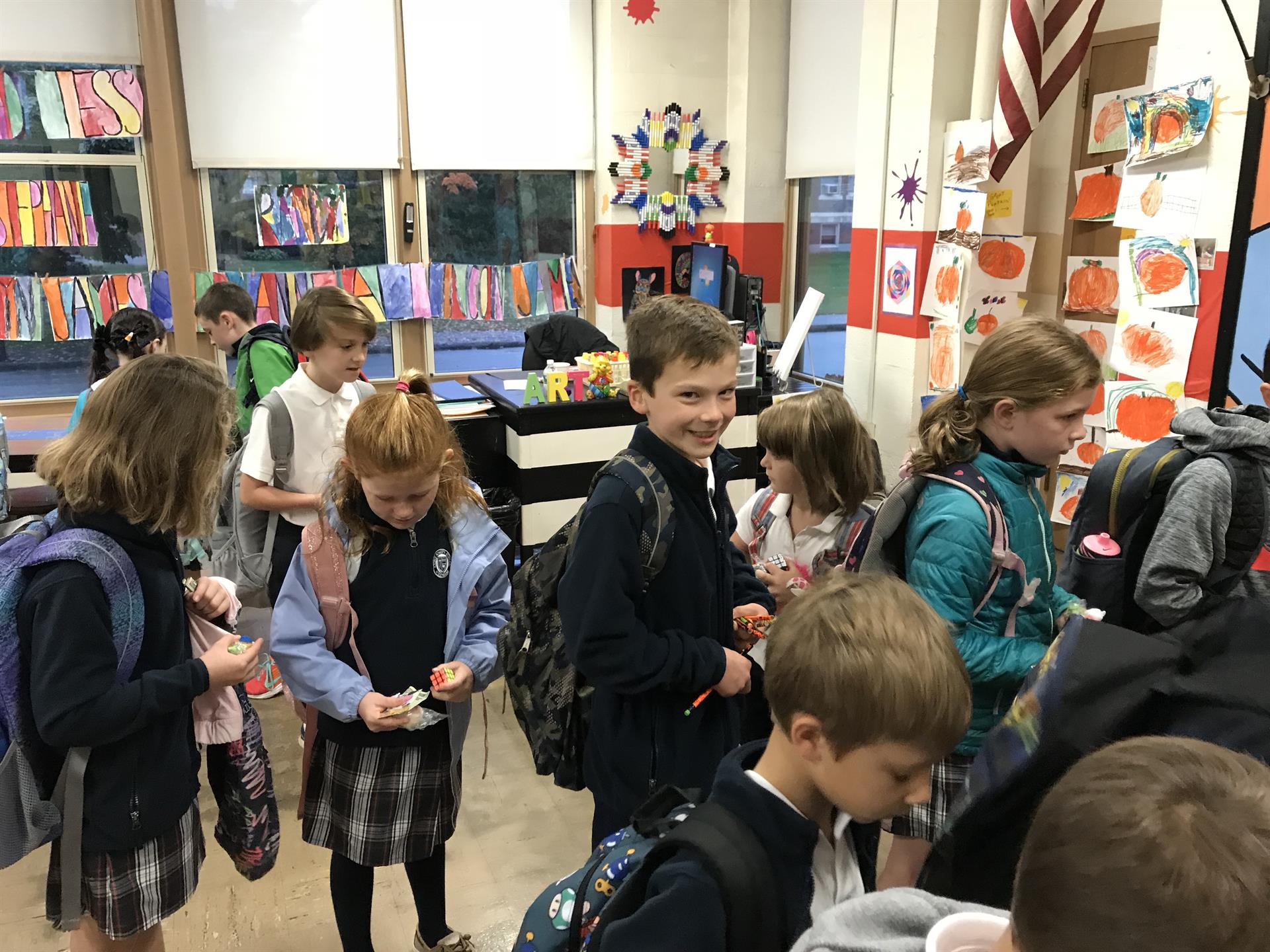 Nice surprise part two! Someone donated tickets to the Boston College vs. Louisville football game, so the teachers put their names in a hat again and were thrilled to have the opportunity to go to the game. We really do have the most thoughtful community!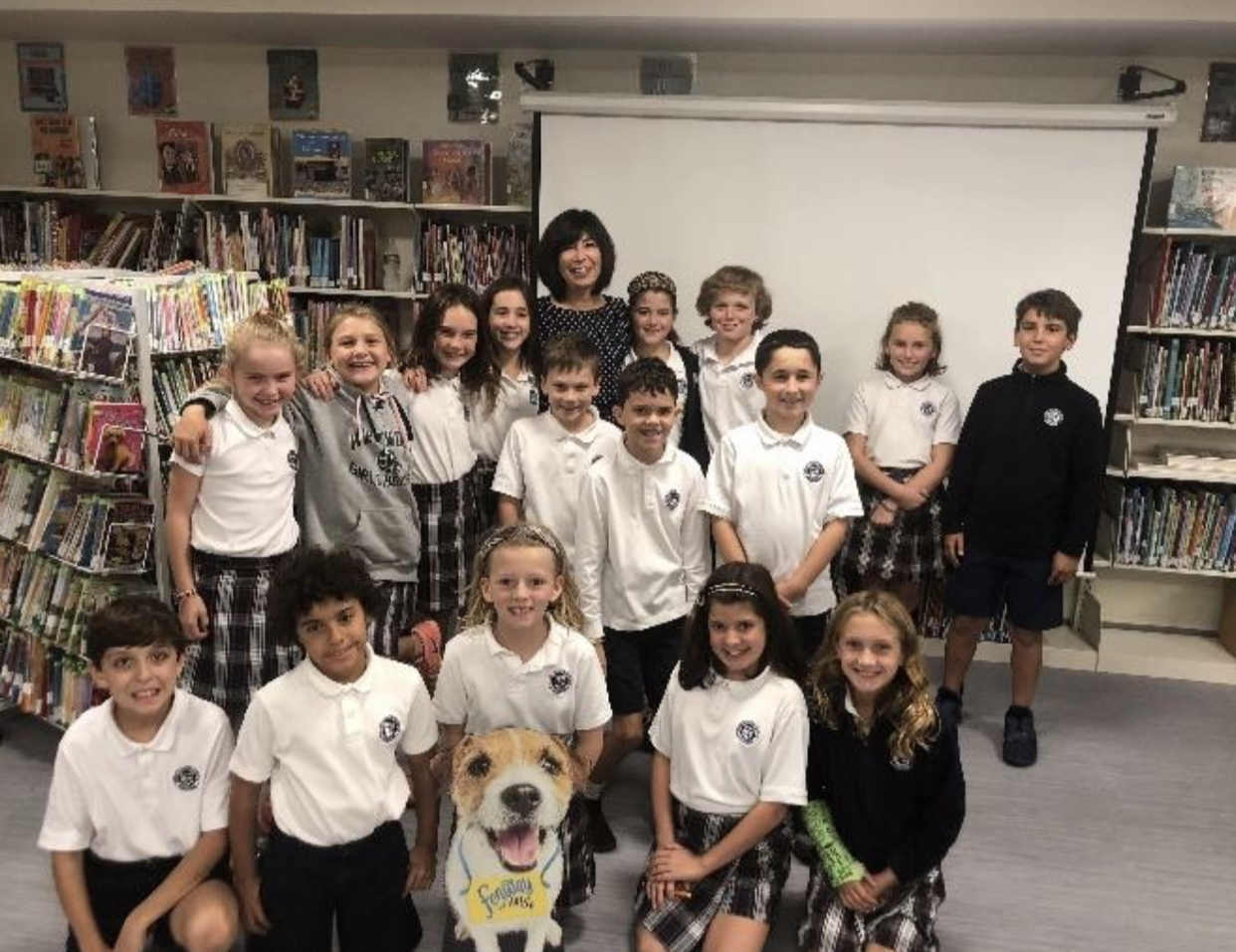 4TH GRADE AUTHOR VISIT
The fourth graders were treated to an author visit this week from Victoria Coe, author of the Fenway and Hattie books. It is so exciting to hear from an author how to take an idea and get it to print. She also gave the students a "sneak peek" at her next book by showing them her manuscript.
BOSTON VS. BULLIES
A Note from Ms. McShane:
I had the opportunity to attend a training on Boston vs. Bullies, a bullying prevention program created by the Boston Sports Museum in collaboration with professional athletes from the various Boston teams. Thanks to the many sponsors of this program, all learning materials are free. I will be developing lessons to implement this curriculum in the 5th grade in the coming weeks. To learn more about the program, click below:  
ROTARY CLUB PANCAKE BREAKFAST
The Rotary Club is very good to us at school, so I wanted to share with you that they are holding their 27th annual Pancake Breakfast on Saturday, November 3, from 7:00-11:00 a.m. at Needham High School.
 "Get your tickets today! November 3rd is this year's Rotary Club of Needham Pancake Breakfast at Needham High School 7 a.m. to 11 a.m. Come for all you can eat pancakes and tons of kid's games. There is even a cake walk! Get your tickets today by clicking below: 
NEEDHAM JUNIOR FOOTBALL HOMECOMING COMPETITION
Have a skilled junior footballer in your house? Bring them down to compete in the Needham Junior Football Homecoming Competition. At our Saturday, October 20th, homecoming games at Memorial Park, we'll have halftime skills competitions where you can win great prizes. Plus all participants get a free giveaway and refreshment for participating.
Schedule
3rd/4th Grade – 12 p.m.
5th Grade – 1:30 p.m.
6th Grade – 3:15 p.m.
7th Grade – 6:45 p.m.
As you read this, you are probably pretty tired after staying up late watching the Red Sox and Patriots last night. We are so spoiled living in Boston!
Have a great week!
Warm regards,
Charlotte Kelly
Principal