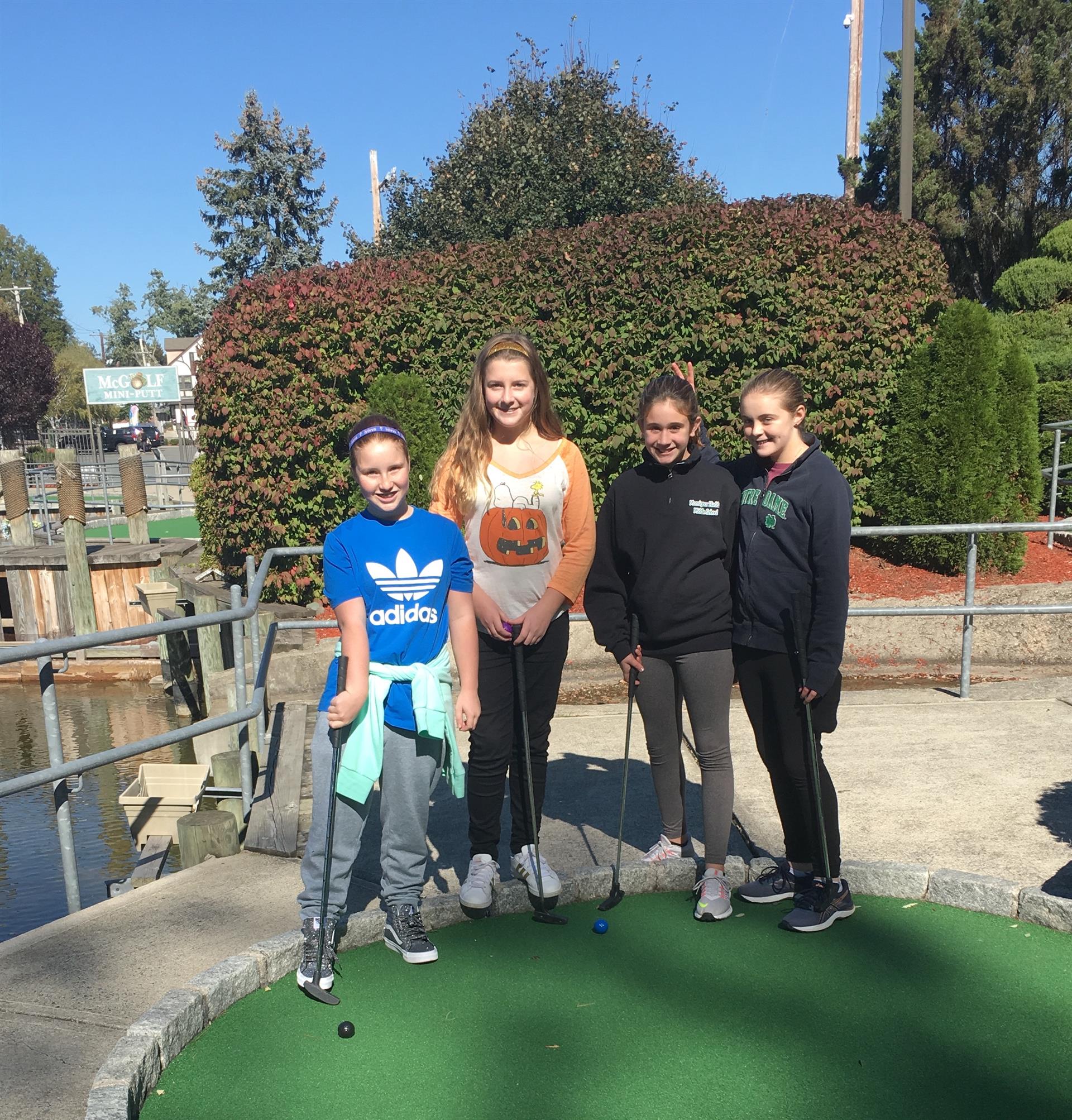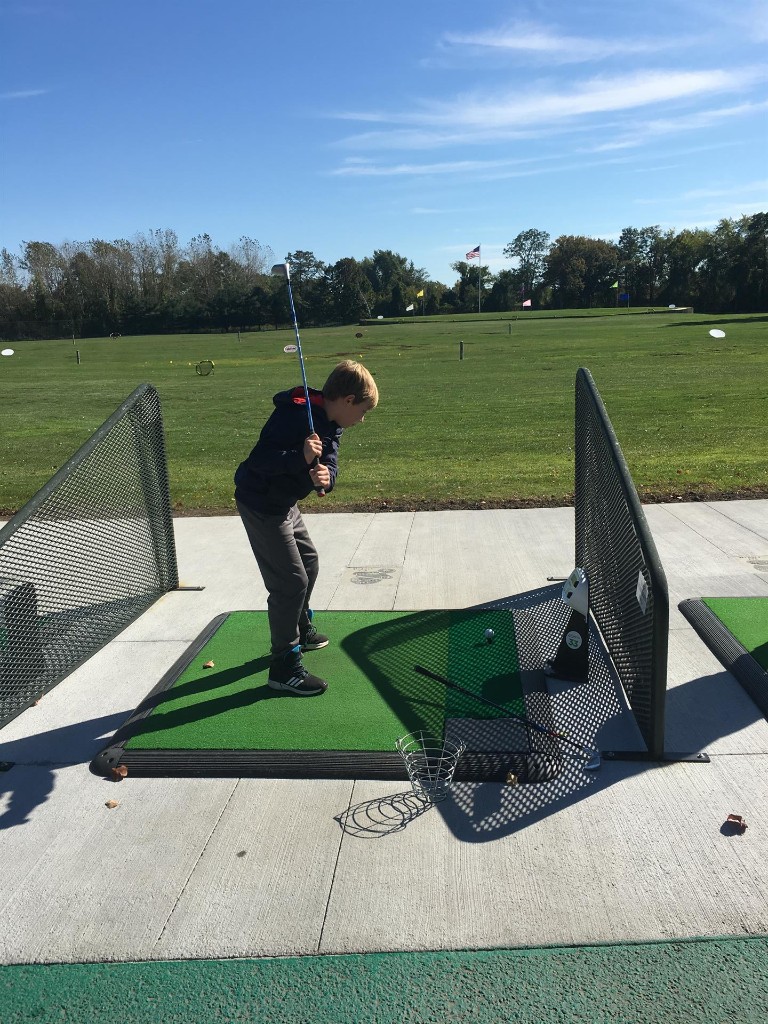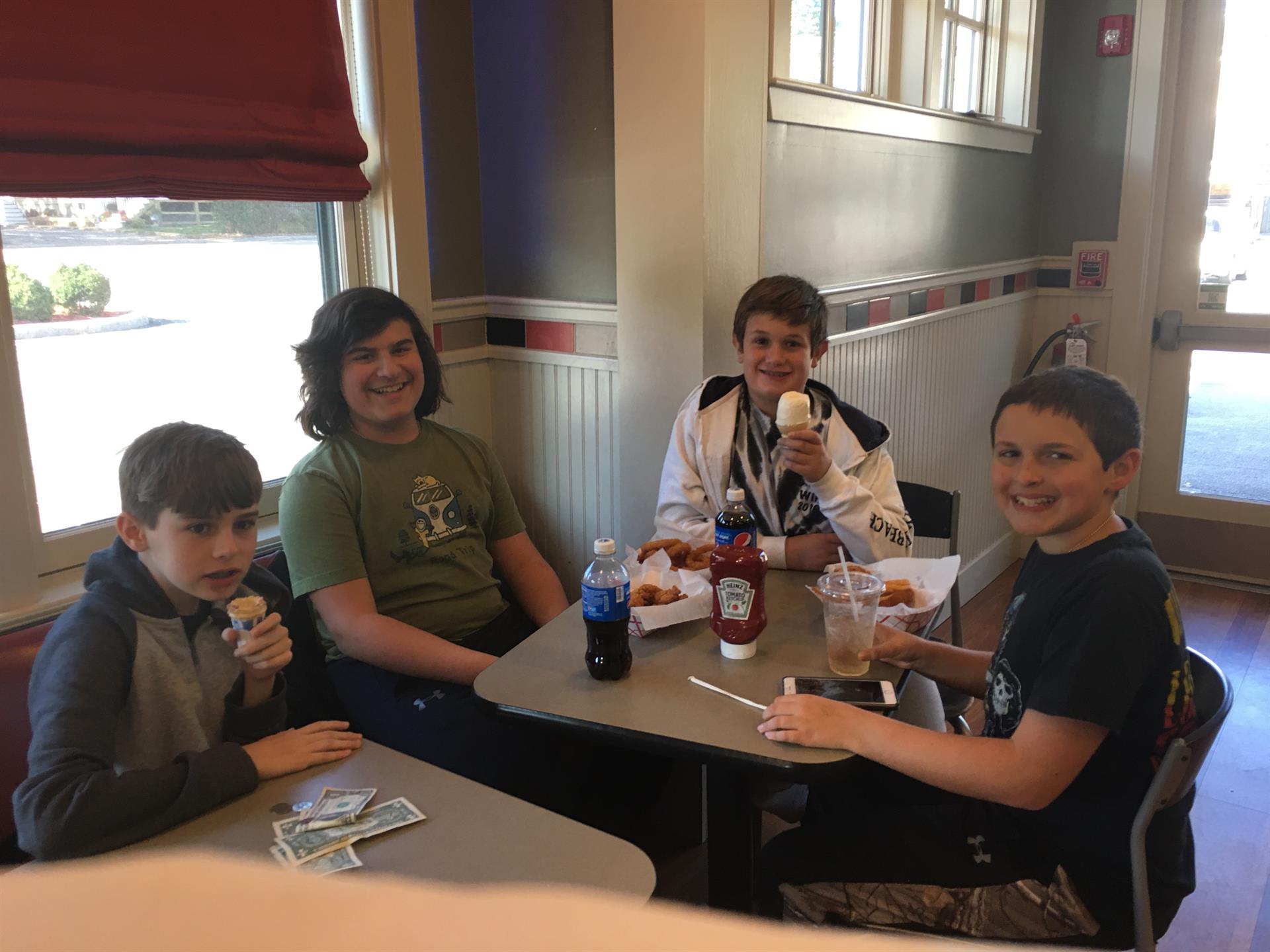 Thank you to Caroline Maloney and the MHMS PSA for organizing the McGolf outing!
Dear Parents, Guardians, Students and Friends,
The big news in today's newsletter is the preparation for our "Open House" which will occur on Sunday from 12-2 pm.  Please encourage friends, family and neighbors to
come see what Catholic Middle School Education at MHMS is all about.
The beautiful fall season reminds us of the cycle of life and as we celebrate the Eve of All Saints, Halloween, and enter into the month of Thanksgiving and remembrance for all those who have gone before us, please know that we, as a school community will pray each day during the month of November in gratitude to God  for the blessings received and especially  for the repose of the souls of those all family members who are now with God in Heaven.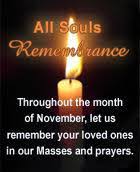 You are invited to send with your sons and daughters the name or names of anyone who has passed away and whom you would like to be remembered during this season of thanks and remembrance. Please write, type or print the name(s) on a half sheet of paper (half of a regular white sheet of copy paper) and ask your son or daughter to give it to their homeroom teacher by this coming Wednesday, October 31. We will keep this bundle of intentions in a revered space and remember those names each day during our morning prayer.
Also, 6th grade parents, please be sure to read about the invitation to join me in a conversation about your family's MHMS experience to date.
Happy Halloween!
Jay MacDonald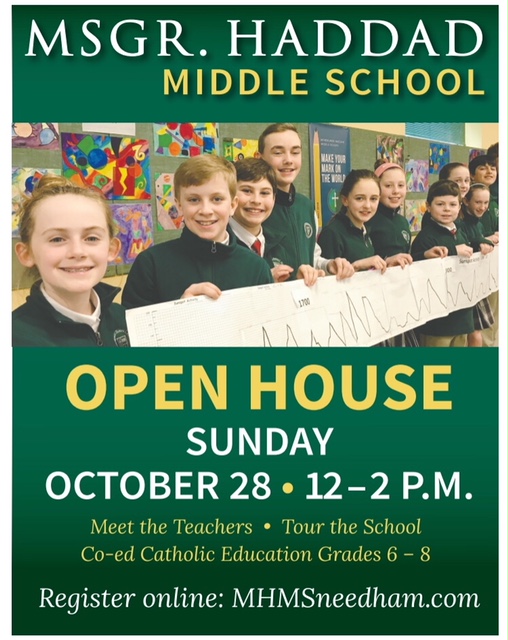 PROSPECTIVE STUDENT OPEN HOUSE
OCTOBER 28, 12 - 2 PM
Our fall Open House for prospective students will be Sunday, October 28, 12 - 2 pm. We are already fielding inquiries for the 2019-20 school year. Please help spread the word among your friends in the elementary school, work colleagues, neighbors, sports teams, and parish as personal referrals are our most powerful marketing tool.
How can you help?
Save the photo above (on mobile devices hold your finger on it) and email it to a friend or share on your social media.
Share our social media promos and posts with others. Great things are happening here at MHMS and we want to get the word out! Give our posts a Like, a Share, or add a positive comment.
Thank you to the following MHMS/SJES families for assisting with our yard sign placements:  Conner, Culver, Delaney, Dixon, Hegarty, Keough, Kochenbach, Maloney, Meyers, Molinsky, Pender, Rooney, Schwerdt and Ward.

Online registration for MHMS Open House is available on the website right now at www.mhmsneedham.com
October 28
Fall Open House
12 - 2 pm
October 29
XC
2:40 - 3:40 pm
October 31
Halloween Tag Day ($3) and Bake Sale
November 1
All Saints Day
Yearbook Party for 2018 Graduates
5 - 6 pm
Dining Room
November 5
Auction Committee Planning Meeting
8:15 am
The Hub
November 6
Yoga
2:45 - 4 pm
Dining Room
November 7
Early Release Day
Living Legacies
1:30 - 2:30 pm
North Hill
November 8
MHMS Forensics
2:50 - 4:05
November 12
Veteran's Day - No School
November 13
7/8th Boys Bball Tryouts
2:45 - 3:45 pm
Yoga
2:45 - 4pm
Dining Room
6th Boys Bball Tryouts
3:45 - 4:45 pm
November 14
Wrapping Paper Sales
Tag Day 
7/8 Girls BBall Tryouts
3 - 4:30 pm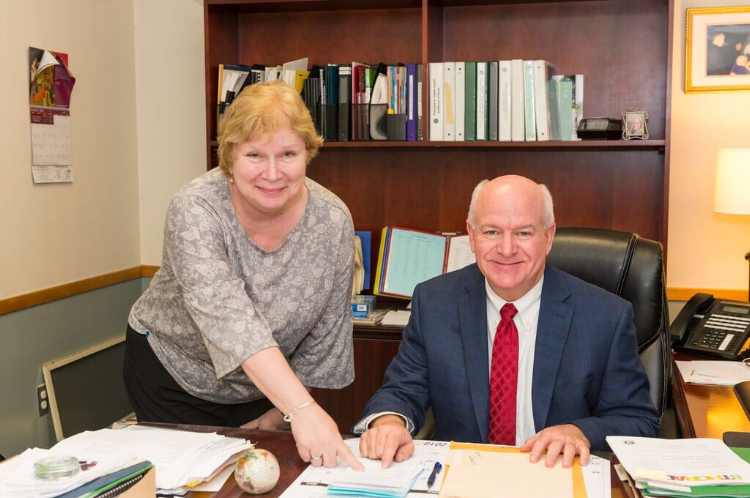 AN INVITATION TO 6TH GRADE PARENTS FROM MR. MACDONALD
In an effort to further improve the educational experiences of our students and families, I am inviting parents to meet with me to discuss your family's middle school experience to date.
Hearing directly from parents will help me to help the school community provide the best Middle School Experience possible for you, your son and / or daughter and future generations. Meeting times are for 30 minutes as I hope to meet with as many parents as possible over the next 5 weeks.

I have scheduled the meeting blocks at various times to provide options that will, hopefully, meet your work and family schedules. I hope you will be able to schedule a time as your input is welcome and needed.
Thanks!
Please click on the link below to "Pick-A-Time" to schedule.
HALLOWEEN TAG DAY AND BAKE SALE
Homeroom 6B will be hosting a tag day and bake sale on Wednesday, October 31 to benefit Breast Cancer Awareness. For $3, students may wear an appropriate costume or clothing that is black, purple, or orange in the spirit of Halloween. No masks or costumes promoting violence, please! At lunch, 6B will be selling a variety of baked goods and candy. If you would like to donate a baked item for this day or for any other information, please contact Mrs. Jensen at ejensen@saintjoes.com.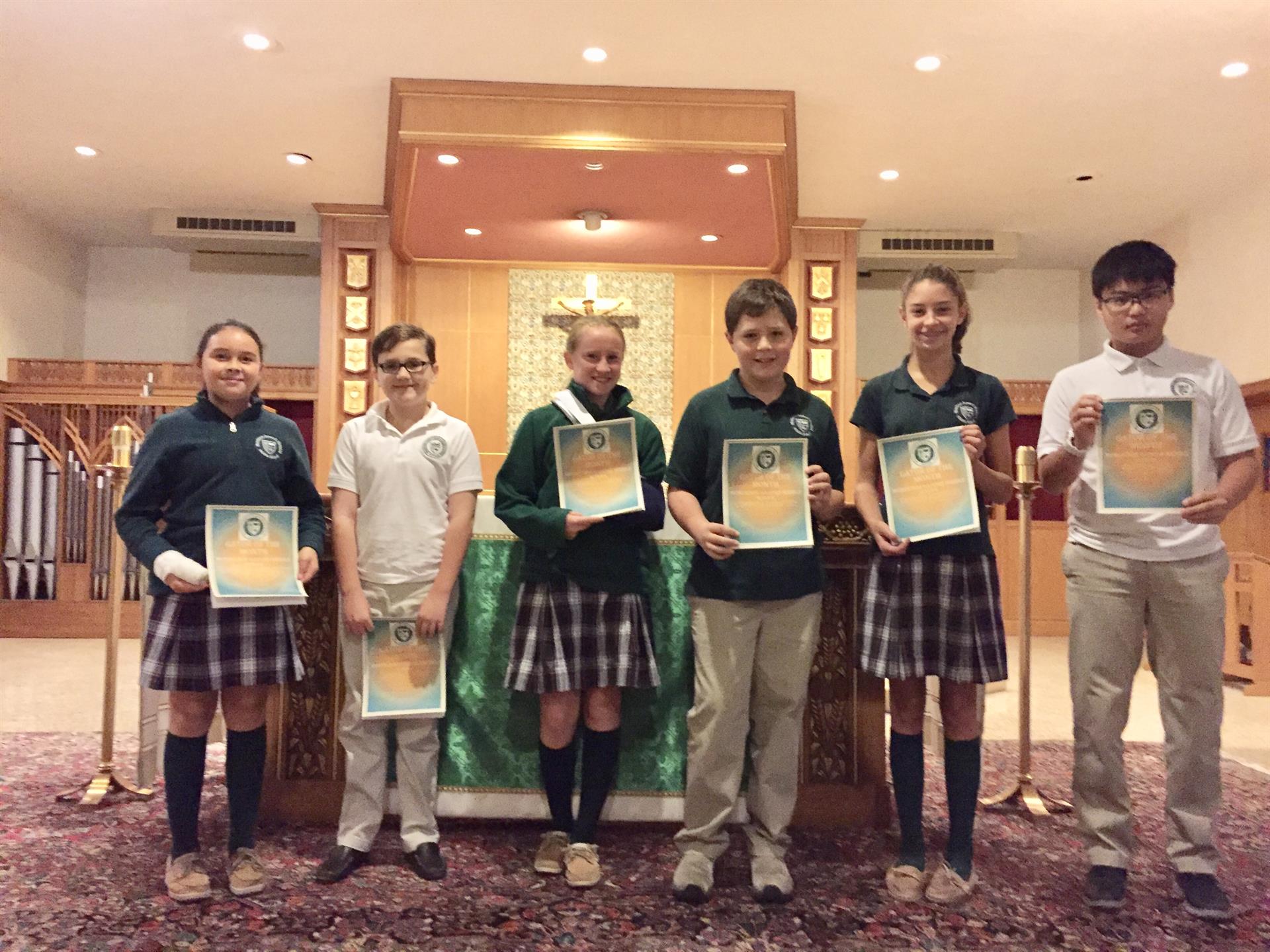 GATOR OF THE MONTH
Congratulations to our first winners of Gator of the Month- a Student Council initiative that recognizes a boy and girl from each grade who have gone above and beyond either academically, for a classmate, or the MHMS community. They exemplify our school theme of See the Light in Each Other, Be the Light for Each Other. Well done Payton Qin, Taylor Mourgis, Connor Dempsey, Grace Lynch, Daniel Young, and Isabella Linscott!
Nomination boxes for future winners may be found in each homeroom.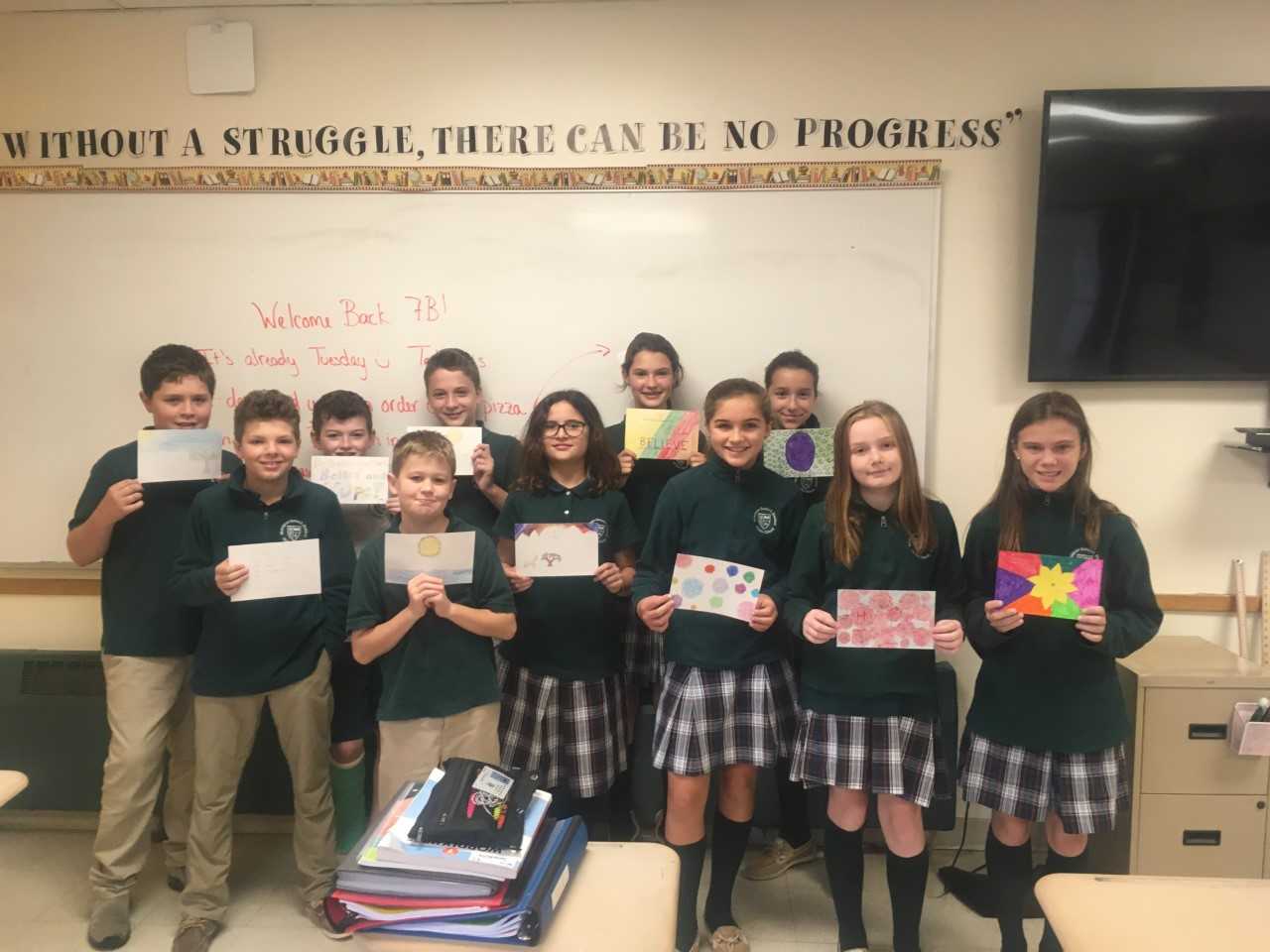 SEPTEMBER SERVICE PROJECT - 7B
For their homeroom service project, 7B chose to participate in a charity called Any Refugee. This organization allows students to send postcards to refugee children around the world. During an extended homeroom, all the students in 6-8th grade designed their own postcard and wrote a message of hope to be sent to a refugee child. 7B was inspired to choose this charity after reading the book Refugee over the summer. - Ms. Spence
FORENSICS CAPTAINS ANNOUNCED
Payton Quin and Brian Ladino have been elected by their fellow students to be the co-Captains of our Forensics, Speech and Debate Program. Congratulations to Payton and Brian for receiving this vote of confidence from their peers.

MHMS DIRECTORY AVAILABLE ON RENWEB
Our School directory is available now via our new school information system RenWeb. When you click on the Directory, you then choose a student and a tab will appear for both mom and dad. Choose either one, and more info will pop up including e-mail, home address, phone numbers, etc.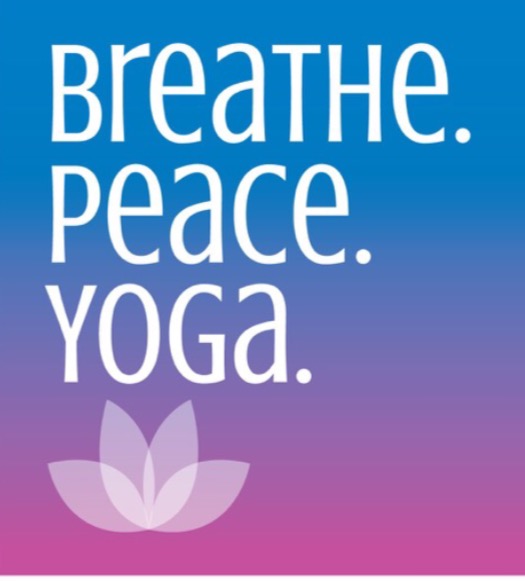 MHMS YOGA STARTS NOV. 6
Six week session focusing on mindfulness, breath, movement and stretching. No experience necessary! Boys and girls welcome!  Space is limited.

Dates: 11/6, 11/13, 11/27, 12/4, 12/11, 12/18
Time: 2:45-4:00 pm 
Location: MHMS Dining Room
Cost: $50 for six week session
MHMS BASKETBALL TRYOUTS
Join the fun! No experience necessary.
7th/ 8th Grade Boys- Tuesday, 11/13 2:45-3:45
6th Grade Boys- Tuesday, 11/13 3:45-4:45
7th/8th Grade Girls- Wednesday, 11/14 and Monday, 11/19 3:00-4:30
6th Grade Girls- Thursday, 11/15 2:45-4:00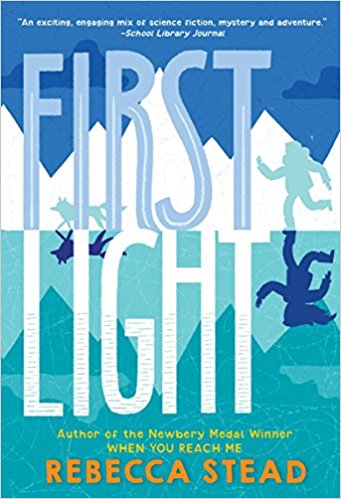 BREAKFAST 'n BOOKS - NOV. 15
Reminder - the first Breakfast 'N Books discussion meeting is November 15 at 7:40 am. The selection is Fist Light by Rebecca Stead.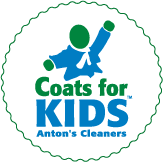 ANTON'S COAT DRIVE OCT. 15 - JAN. 6
Look for the bin in the dining room to donate your gently used coats for adults and children.  Please no coats with rips, tears, broken zippers, or stains. Over the last several years, St. Joe's and MHMS have donated approximately 1,000 coats. We are looking forward to another successful coat drive.
Thank you to Lori Ann Young, Elizabeth Murphy, and Caroline Maloney for spearheading this mission. Look for a collection bin soon in the MHMS Dining Room.
If you have any time available to help deliver the coats, we would greatly appreciate it. Please sign up below: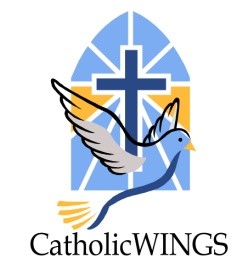 FALL WINGS PROGRAM
Please join us for our WINGS (Women IN God's Spirit) fall season, October 10 - November 14. Our theme for this year is The Greatest of These Is Love and our fall season is entitled The Richness of God's Love: Reflections on 1 Corinthians 13. WINGS is a faith enrichment group for women that meets Wednesday mornings 9:45 - 11:30 am in the Linse Room in the lower church at St. Joseph Parish. Please join us at any time, whether for one meeting or for the whole season. All women are welcome!
October 31, Jesus' Love for Us in the Eucharist --Stephen Kramer, SJ
"So faith, hope, love remain, these three; but the greatest of these is love." 1 Corinthians 13:13
Recently ordained to the diaconate and currently pursuing dual master's degrees in Divinity and Ignatian Spirituality, Deacon Stephen, who will be ordained to the priesthood this coming June, will speak about the deepest and most profound way in which Jesus shares his love for us – in the Eucharist.

November 7, Experiencing God's Love in Confession --Fr. Michael Zimmerman
"Love keeps no record of wrongs." 1 Corinthians 13:5
Fr. Michael Zimmerman, who grew up in St. Joseph Parish, was ordained to the priesthood in 2017 and now serves as Parochial Vicar at St. Agnes Parish in Arlington, will share with us the life-changing way that we can experience God's love in confession.
We recently participated in an ALICE drill with St, Joe's Elementary School. We appreciate how cooperative and serious our students and staff were for this important drill. As everyone's safety is always a top concern we will have another drill in the spring.
Reminder - all are welcome to pray the rosary on Thursdays at 2:15 pm in Mary's Garden.
The MHMS Mother/Daughter 6th grade Book Club will be discussing the book I Will Always Write Back, by Caitlin Alifirenka & Martin Ganda on November 1st at 6:30 p.m. in the St. Joseph's Elementary School STREAM Lab.If you are planning on coming, please email Cathy Lombardo at csichol@yahoo.com or by cell at 781-540-9814. 
Nashoba will be at MHMS on Friday, November 30 at 2:45 pm doing fittings for all students renting equipment from them for Ski Club.
Our 7th graders will be celebrating Mass on TV during Catholic Schools week at BCTV on Thursday, January 31.

MHMS IS FULLY CONNECTED
Please like us on Facebook, and follow us on Twitter @MHMSGators, Instagram, and LinkedIn to stay abreast of the latest news.

WILL DASHE '15 CM'19 JOINS DEDHAM HUMAN RIGHTS COMMISSION
MHMS graduate and Catholic Memoiral senior Will Dashe is the newest member of the Dedham Human Rights Commission. Dashe holds the seat reserved by town selectmen for a high school student and joins a committee of twelve other members. He will seve a one year term with one of first duties being to create and manage an Instagram account for the commission.
To learn more, please see this article on Dedham Wicked Local submitted by Catholic Memorial.
HAVE ALUMNI NEWS TO SHARE?
We are always excited to hear about what our Gator Graduates are up to since leaving MHMS. 
If you have alumni news to share, please email Jill Meyers jmeyers@saintjoes.com or use the link below: