November 26, 2018   •   Issue 15 
"Dear God, thank you so much for my gifts and talents. We should always be grateful for what we have and as my nana says, you don't know what you have until it's gone. Not just toys and a home but the people you love. God, remind me that I should always serve you and Jesus. You are my only God. Amen."
~ Laila R., Grade 4 ~
Dear Parents,
I hope you all had a wonderful Thanksgiving with your families and friends and that you had a chance to rest and relax as well. We were very fortunate to gather as a school community for a Thanksgiving Mass on Tuesday and thank God for our many blessings. As Father Michael told the students, it is important to have an "attitude of gratitude". It was nice to see our new Deacon, Bob Horne on the altar celebrating the Mass with us as well.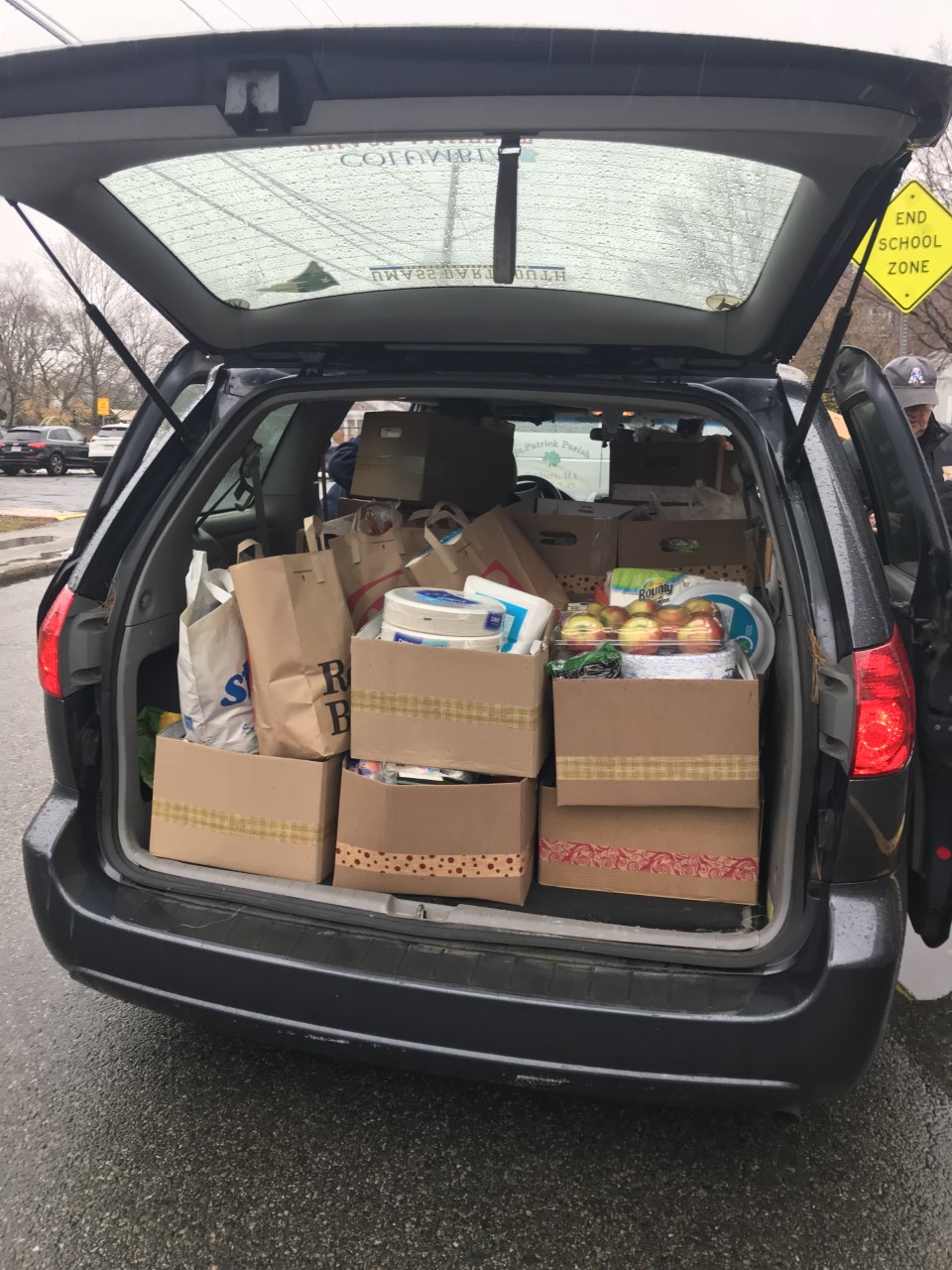 THANKSGIVING FOOD DRIVE
Thank you for all your contributions to our Thanksgiving food baskets. We were able to help over 200 people enjoy Thanksgiving dinner because of your generosity. A special thank you to Mrs. Bello for coordinating the food drive. Thanks to John Bello, Brian Solomon, and Brendan Kelly for assisting, by loading the food into the cars for the various parishes and food pantries.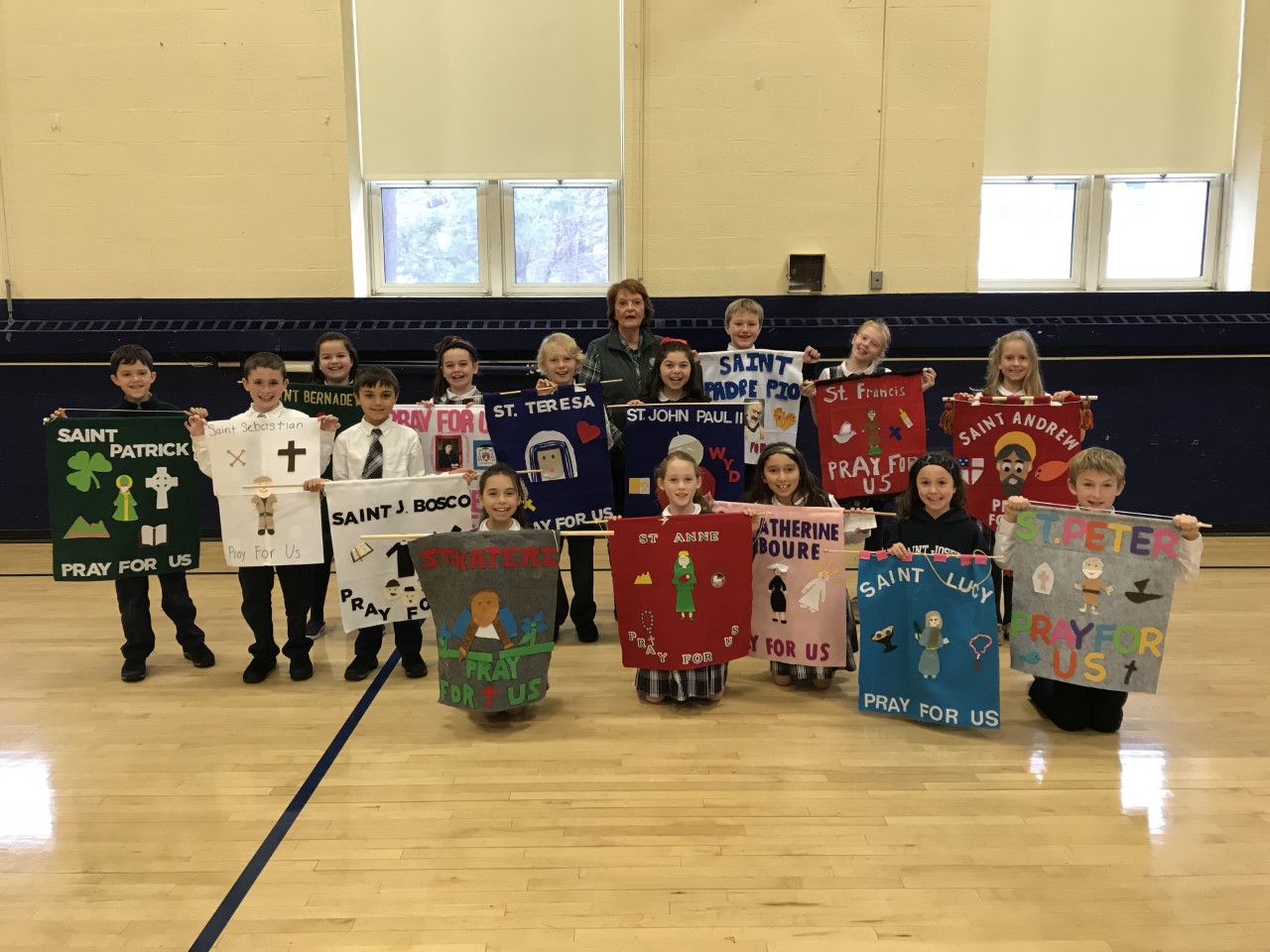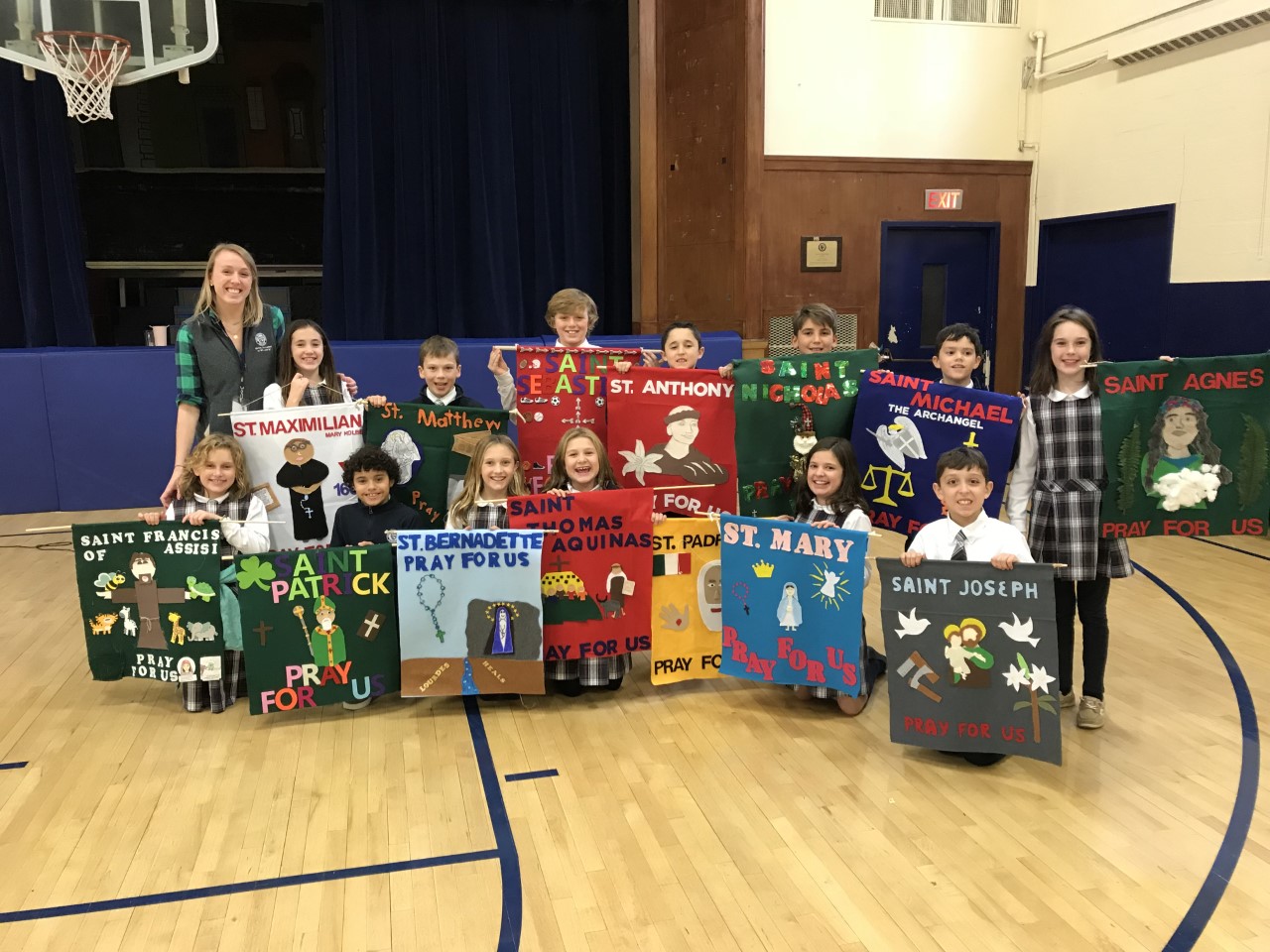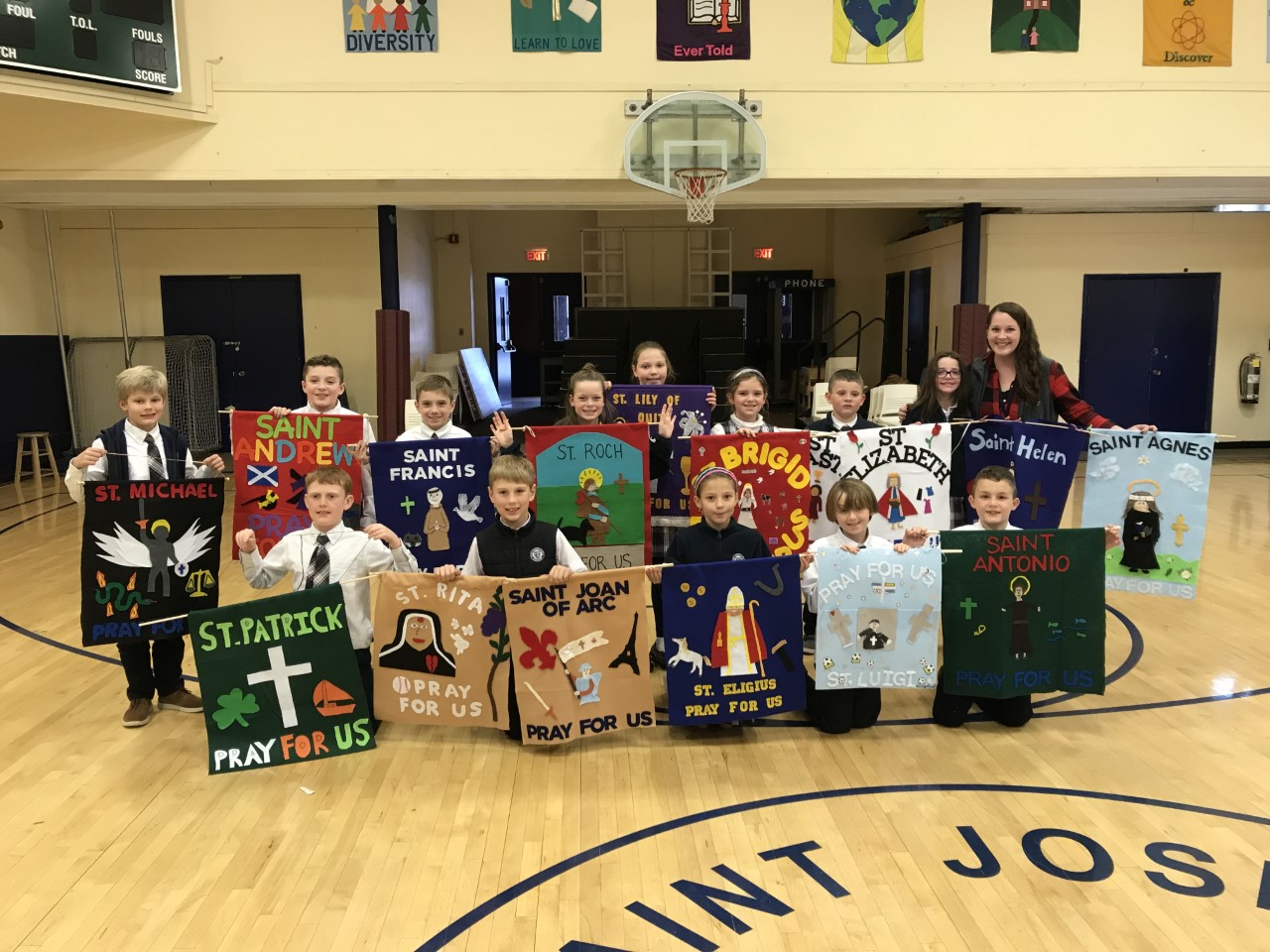 4TH GRADE SAINTS PROJECT
I want to congratulate the fourth-grade students for their fabulous presentations and banners that they shared with Father Michael and me last week. The students were truly impressive with their knowledge of the Saints and how well they presented the information. Thanks to Mrs. Topham, Miss Larson, and Miss Sullivan for the work they did with the students.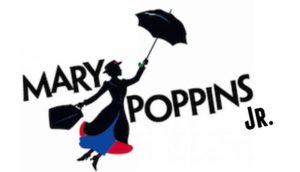 MARY POPPINS JR.
Tech Week is upon us, as the fifth-grade students get ready to perform Mary Poppins Jr. this Thursday and Friday night. The theater arts program and performances such as this musical are what really makes St. Joe's special. Please join us on either night at 7:00 p.m. Tickets may be purchased at the door.
EMERGENCY TEXT ALERTS
I heard from quite a few people that you really liked the new text emergency feature. I think we were all surprised that we had a two-hour delay last week. Please let me clarify that if we have a two-hour delay, the first bell will ring at 10:00 a.m. That said, we know many of you must get to work, so on the days we have a delay we will open before care for anyone that needs it at 9:00 a.m. Also, you may look at our Facebook page, the school website, and if Needham Public Schools calls a two-hour delay, we will have to follow them, because of the buses. You can follow that as well on the news.
WINTER BOOTS
A reminder that if students wear boots to school, they need to bring shoes to change into. Also, Uggs and Timberlands may not be worn during the school day.

REPORT CARDS
Report cards will be available through the Parent Portal of RenWeb next Monday, December 3rd. Fingers crossed, we seem to have everything ready to go with the new system. We realized a couple of weeks ago that the key for report grades was not included in the system. Mrs. Posada will send you a separate email with the key. We are now working with them to include a key, which should be all set with the second and third report cards. The final transcripts that will become part of your child's record at the end of the year will have the key included. I apologize for this inconvenience and appreciate your understanding.
SECURITY UPDATE

Thanks to your generosity at the Spring Soiree in March, we are in the process of adding some new security measures to both the elementary school and kindergarten buildings. One of the companies that we are using began work last Wednesday when we were not at school and will finish up the work over Christmas vacation.  We will be adding security cameras inside near the elementary school office, outside to view the new playground, and inside the vestibule near the front office. They will all have video recordings. We will also be adding additional monitors in the office and will have the capability to see the cameras on our phones. Additional cameras will also be located in the kindergarten vestibule, the pre-k/kindergarten playground, and near both of the pre-k doors. A great addition will be that Mrs. O'Brien will be able to see who is at the front door if she is not in the office and buzz you in if she recognizes you from her phone. We are also going to have new doors in the vestibule of the front door on Pickering Street so that visitors will have to get buzzed in when coming through the front door and then again to gain access to the lobby/offices/hallway. I want to thank Officer O'Leary from the Needham Police Department for doing a walk-through of the two buildings and for his safety suggestions as well as Mrs. Solomon for working with the companies that are doing the work. As you know, your children's safety is our first priority.
SUGGESTION BOX
A parent has suggested that we put Suggestion Boxes outside the offices in both buildings. I did tell her that our community is not usually shy with their suggestions😊 but she said sometimes people don't know who to go with to suggest something, so Ms. Harris made beautiful Suggestion Boxes that are now outside the offices. Honestly, I would prefer if you have something to offer, to let me know personally, but we will try these and see how they work.
NEEDHAM GIRLS YOUTH LACROSSE
Registration for Needham Girls Youth Lacrosse (NGYL) Spring 2018 season is now open through December 15th for girls in grades 1-8.  Programs vary by grade and include clinic, intramural and travel teams.  New players are welcome.  For more information and to register, please visit:
That's it for November! I will send you the first December newsletter this Friday.

Have a great week everyone!

Warm regards,
Charlotte Kelly
Principal