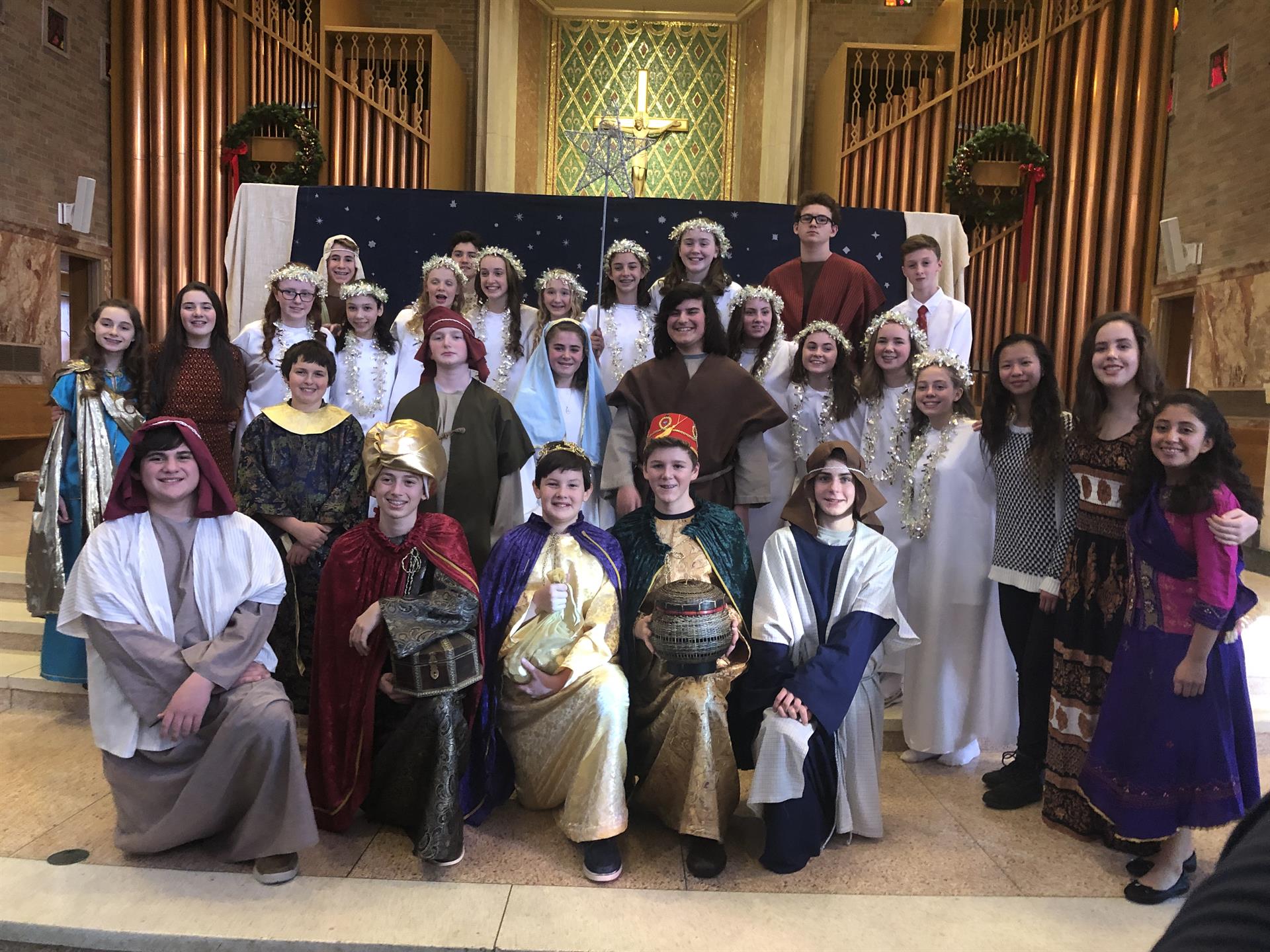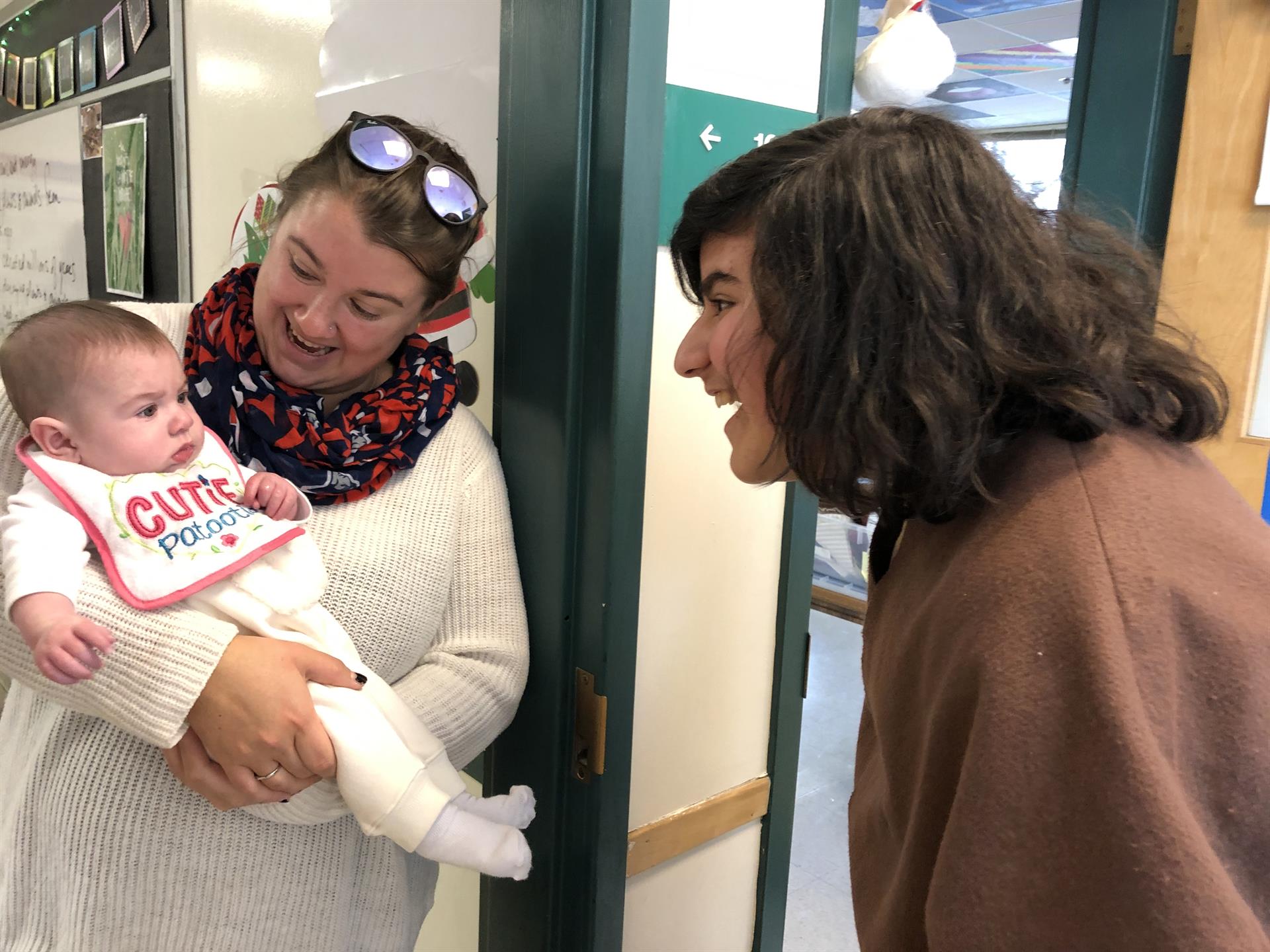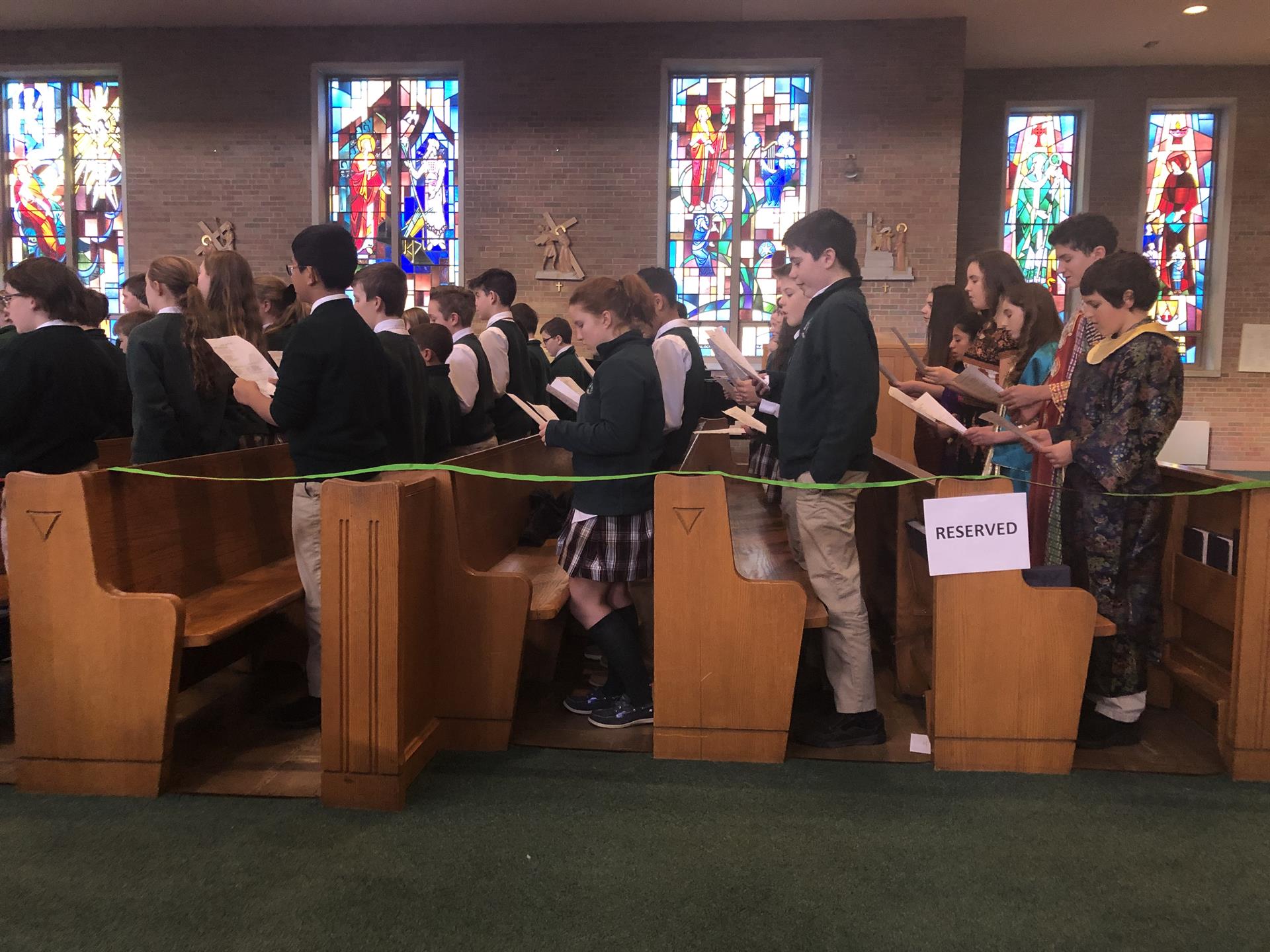 Thank you to our 8th Grade for their beautiful Live Nativity presentation!
Sixth and seventh graders, thank you for your lovely chorus!
Dear Families, Friends and Alums of MHMS,
As the hustle and bustle continued, we paused to enjoy the annual "Live Nativity" yesterday afternoon. It was a frenetic few days leading up to the performance, but Mrs. Coyle, Mrs. Corcoran, Ms. Spence, Ms. French, the students and parent volunteers all contributed to a moving reminder of what we celebrate and why at this time of year.
Earlier in the week we enjoyed the Annual Christmas Concert which set the stage for our anticipatory celebration of Christmas. Congratulations to Jen Zevos our Band Director, Jude Pratt, Choral Director and all the students who shared their gifts of time and talent with us.
With the conclusion of the Live Nativity, we began a long-awaited Christmas break!
To the students, parents and families, please accept my thanks on behalf of the faculty and staff for your thoughtfulness and kindness. The abundance of gifts, cards and goodies, as well as your generosity are gratefully appreciated. Many thanks to Mia Rizzo for coordinating the faculty and staff Christmas gift. 
Whether you are traveling, hosting family and friends, just relaxing or a combination of all, I hope and pray that the celebration of Christmas will provide you and yours what you most need.
I offer my prayers in thanksgiving to God for the blessings of the year drawing to a close, and I ask that the entire MHMS community will be blessed with health, happiness and love in the New Year.
Merry Christmas and Happy New Year,
Jay MacDonald
Pick A Time Meetings with Mr. MacDonald
Mr. MacDonald will continue the meetings with interested 6th grade parents in the new year. "Pick-A-Time" will be announced when we return from the Christmas Break.
Personnel Update
Esther Keeley
Mrs. Keeley sends her best to everyone for Christmas and wants to thank the students and teachers who sent her a beautiful bunch of letters last week. She also sends her thanks for the many prayers offered for her speedy recovery. I am happy to report that she is anticipating a return to school when we come back after the Christmas Break.
Joan Cahalane
Thanks to Joan Cahalane for substituting for Mrs. Keeley during her absence. Joan was a wonderful addition to the faculty and staff and will be a regular substitute.

REGISTRATION FOR 2019-2020 SCHOOL YEAR - SIGN UP NOW!
Registration is currently open for the 2019-2020 school year. We ask that you kindly reserve your spot as soon as possible to help facilitate our planning for next school year. As a reminder, all registration deposits received by February 1 will be eligible for a $150 tuition credit.
Also, please note the deadline to apply for financial support is March 15. All requests are reviewed annually and with complete discretion.  

January 2
School Resumes
Annie Rehearsals Begin
SJES Gym
2:45 - 4:30
January 4
Ski Club
January 5
6th Girls BBall
@South Boston Catholic Academy
3pm
January 9
Mother-Daughter Book Club
SJES STream Lab
6:30 pm
January 10
Forensics
2:50- 4:05 pm
6th Girls BBall vs. St. John's Wellesley
MHMS Gym
6:30 pm
PSA Mtg
The Hub
7 - 8 pm
January 11
Ski Club
January 16
Breakfast 'n Books
Library
7:40 am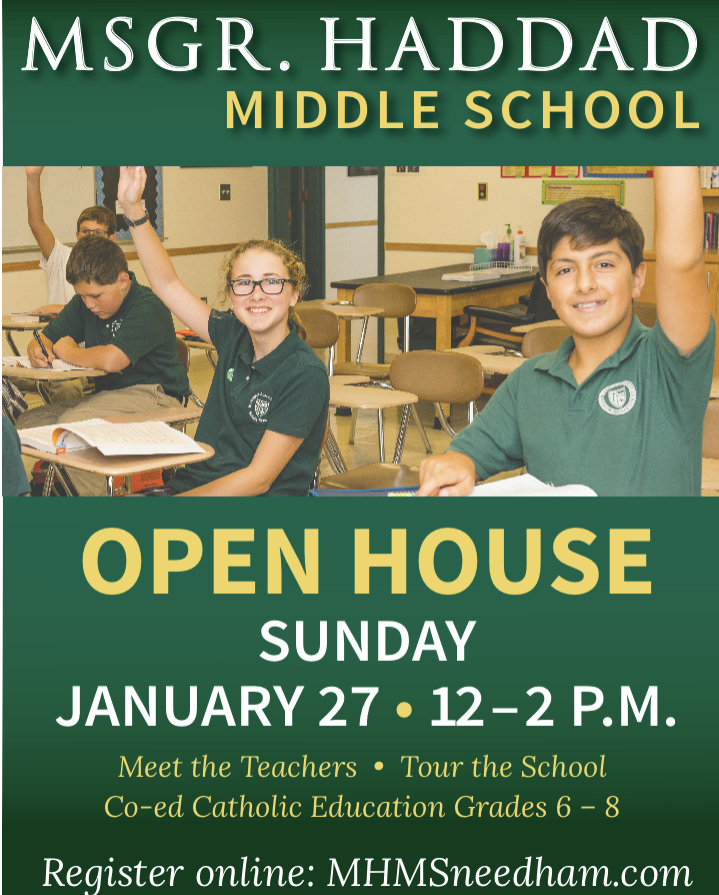 WINTER OPEN HOUSE JAN. 27, 12 - 2 PM
Our Winter Open House for prospective students will be Sunday, January 27,12 - 2 pm and marks the beginning of Catholic Schools Week..  Please help spread the word among your friends in the elementary school, work colleagues, neighbors, sports teams, and parish as personal referrals are our most powerful marketing tool. We are also happy to schedule personal tours another time if someone has a schedule conflict with the Open House date.
How can you help?
Save the photo above (on mobile devices hold your finger on it) and email it to a friend or share on your social media.
Share our social media promos and posts with others. Great things are happening here at MHMS and we want to get the word out! Give our posts a Like, a Share, or add a positive comment.
Know someone with children considering Preschool-Grade 5? Be sure to let them know about our outstanding elementary school right next door, St. Joe's.  St. Joseph Elementary offers regular tours on select Mondays each month at 9 am. Welcoming new families into either school is a win for Catholic education, and today's  St. Joe's Joeys are tomorrow's MHMS Gators.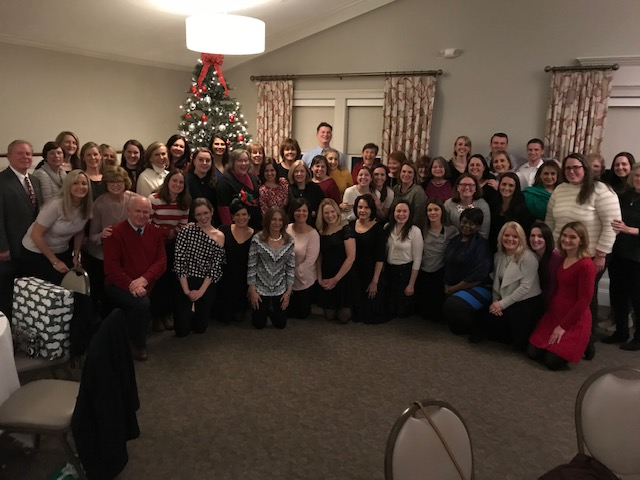 ST. JOSEPH PARISH AND SCHOOLS CHRISTMAS PARTY
Last week Fr. David Michael hosted an enjoyable gathering for the Rectory, Liturgical, St. Joseph Elementary, and Monsignor Haddad Middle School staff at the Needham Golf Club. It was wonderful to come together and share holiday cheer!
LIVE NATIVITY PROFESSIONAL PHOTOS
We are thankful to local Needham professional photographer, Alison Borrelli, for taking pictures before, during, and after the Nativity. After she edits them she will load them on her website and generously allow 8th grade families to download whatever they wish. We will share the access information with you as soon as it is available. 
GATORS SPEAK AT SJES 5TH GRADE LEADERSHIP
Mr. MacDonald., Maegan Horrigan, Brian Ladino, Will Cummings, and Anna Hvidsten were honored to speak last week with the SJES fifth grade on decision-making. The take aways include training your brain to make good decisions in small things so you make the right decision on the big things, how we are responsible for our choices, and to surround yourself with people that encourage you to make good decisions.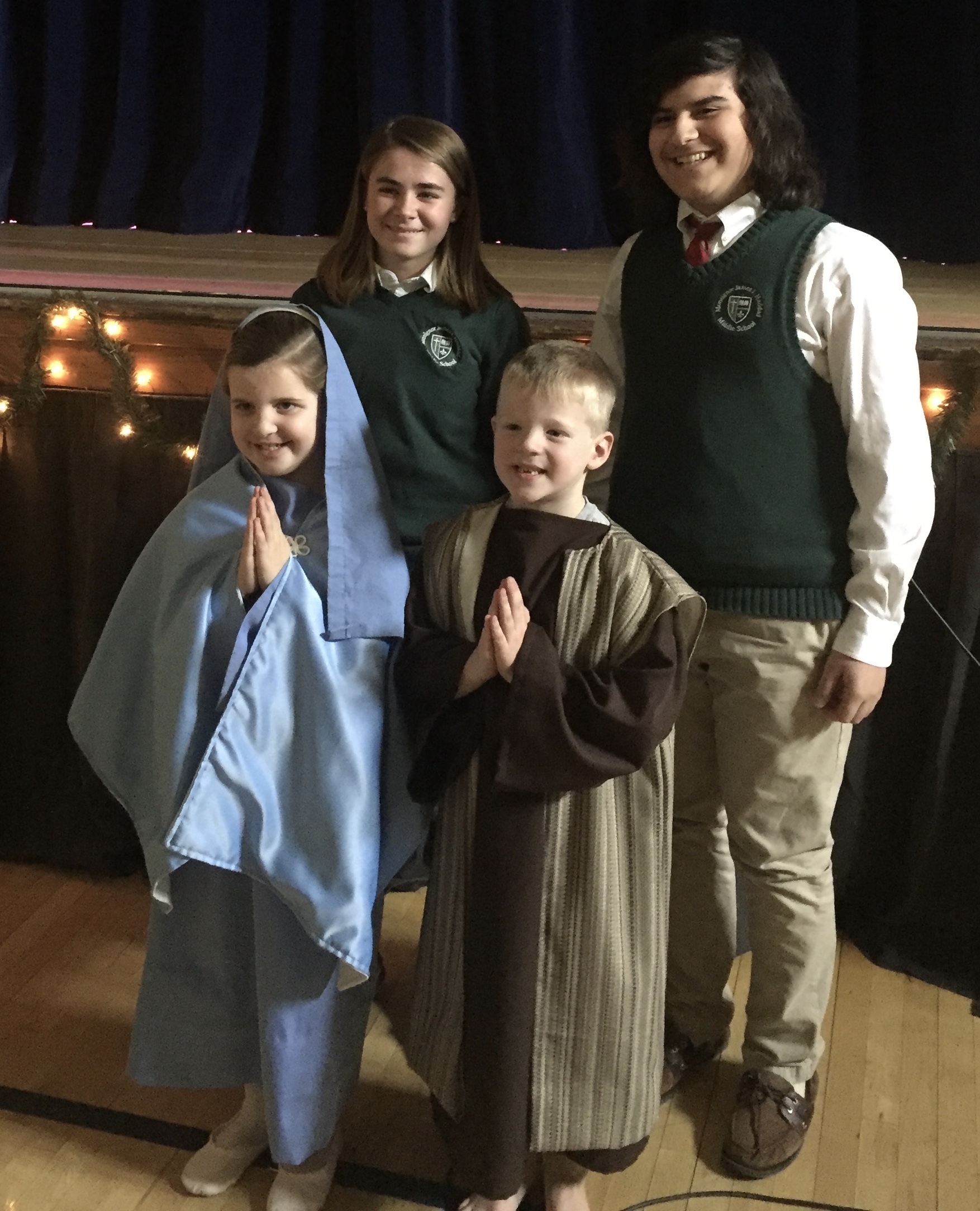 KINDERGARTEN NATIVITY
The MHMS 8th grade congratulates their kindergarten buddies on their wonderful Nativity performance, We are proud to share such an important SJES/MHMS tradition!.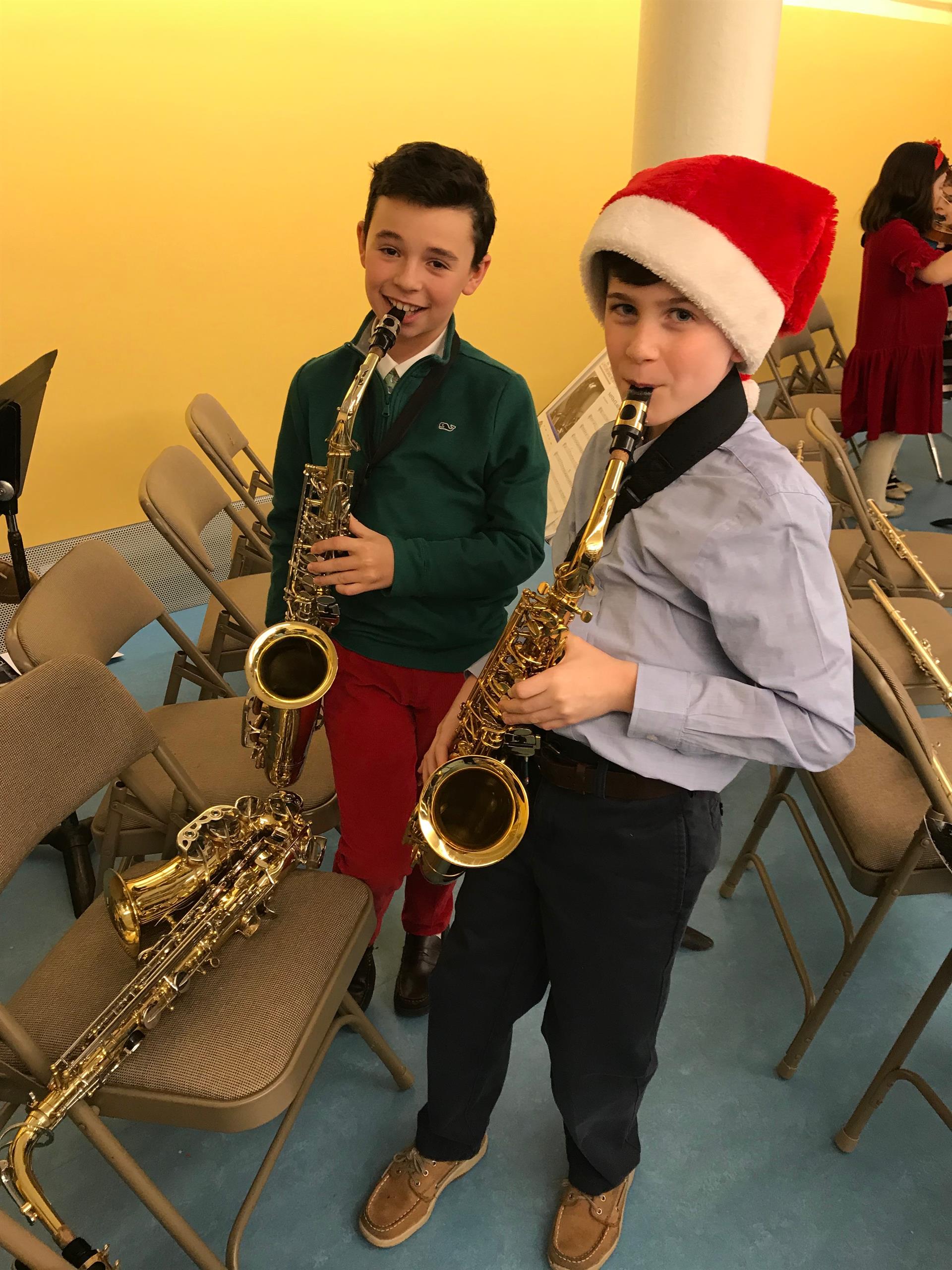 CHRISTMAS CONCERT
What beautiful sounds of the seaon were performed this week at the annual Christmas concert by the talented musicians and singers in the St. Joseph Parish Schools community!

GRADE 6 ADVISORY
Grade 6 Advisory classes have been working hard on our Emotions Unit! Throughout the unit, classes have discussed emotional awareness and emotional intelligence. We have also learned about identifying and understanding various emotions. Currently, each class is learning about how our emotions are connected to our thoughts and actions in various situations. Sometimes our initial thoughts about a situation are not always correct, so we are working on challenging those thoughts and seeing situations from a new perspective. After the break, the students will be creating some real-life scenarios where our thoughts, feelings, and actions influence each other. These will be turned into brief skits and performed for their classmates! If you'd like the class resources from our unit, visit Ms. Collins's webpage to access articles, handouts, and worksheets.
NEEDHAM HIGH CURRICULUM NIGHT 2019
Grade 8 Parent/Guardian Curriculum Night 2019
On Tuesday February 5, 2019 Needham High School will host a Curriculum Night for parents and guardians of all eighth grade students who are anticipating sending their children to Needham High School.  The meeting will begin at 6:30 P.M. in the Needham High School auditorium. The meeting should conclude at approximately 8:00 P.M.
   (Snow Date: Tuesday, February 12, 2018 in the NHS Auditorium)

Administrators and guidance counselors will give an overview of the ninth-grade curriculum with explanations of the various levels for each course offering and will provide an overview of Needham High School Graduation Requirements.  In addition, a representative from Minuteman Regional High School will be in attendance to give a brief presentation of their school and curriculum offerings. All parents of eighth graders should attend this informational meeting.
Grade 8 Special Education Information Meeting with Patricia Mullen
On Wednesday, February 6, 2019 Needham High School will host an Information Night for parents and guardians interested in learning more about Special Education programs and services at Needham High School.  The meeting will begin at 6:30 P.M. in the Needham High School Library.  The meeting should conclude at approximately 8:00 P.M.

    (Snow Date: Wednesday, February 13, 2018 in the NHS Library)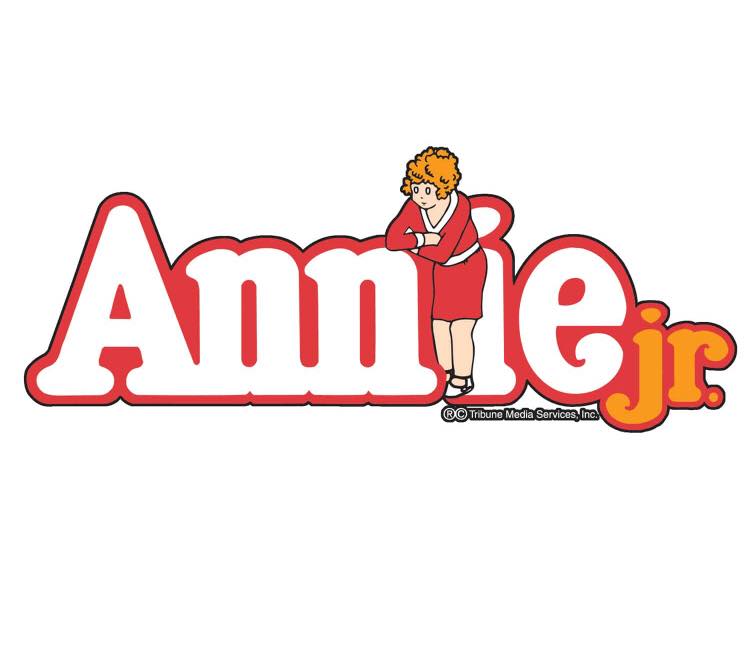 ANNIE REHEARSALS BEGIN JAN. 2
Thank you to all who auditioned for Annie, Jr! The level of talent was very impressive. The first rehearsal will be held Wednesday, January 2 from 2:45-4:30 in the elementary school gym. Students will receive rehearsal schedules and contracts.
Parent volunteers are also greatly needed to help chaperone rehearsals. Responsibilities include:
-checking students in and out to go to the bathroom
-taking attendance
-reminding students who are not rehearsing to maintain an appropriately quiet volume and to work quietly on homework.
If you are able to chaperone a few rehearsals, please contact Ms. Spence. Parent volunteers are integral to the success of the show.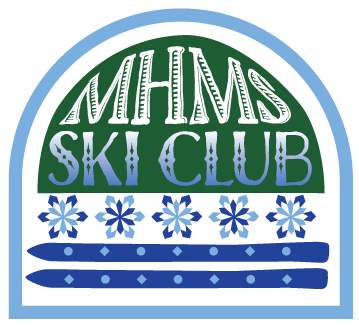 SKI CLUB BEGINS JAN. 4
The first Ski Club session will Friday, January 4. Parents interested in chaperoning this season should contact Ms. Collins at kcollins@saintjoes.com. Help is needed both on the slopes and in the lodge, so skiers and non skiers are both welcome!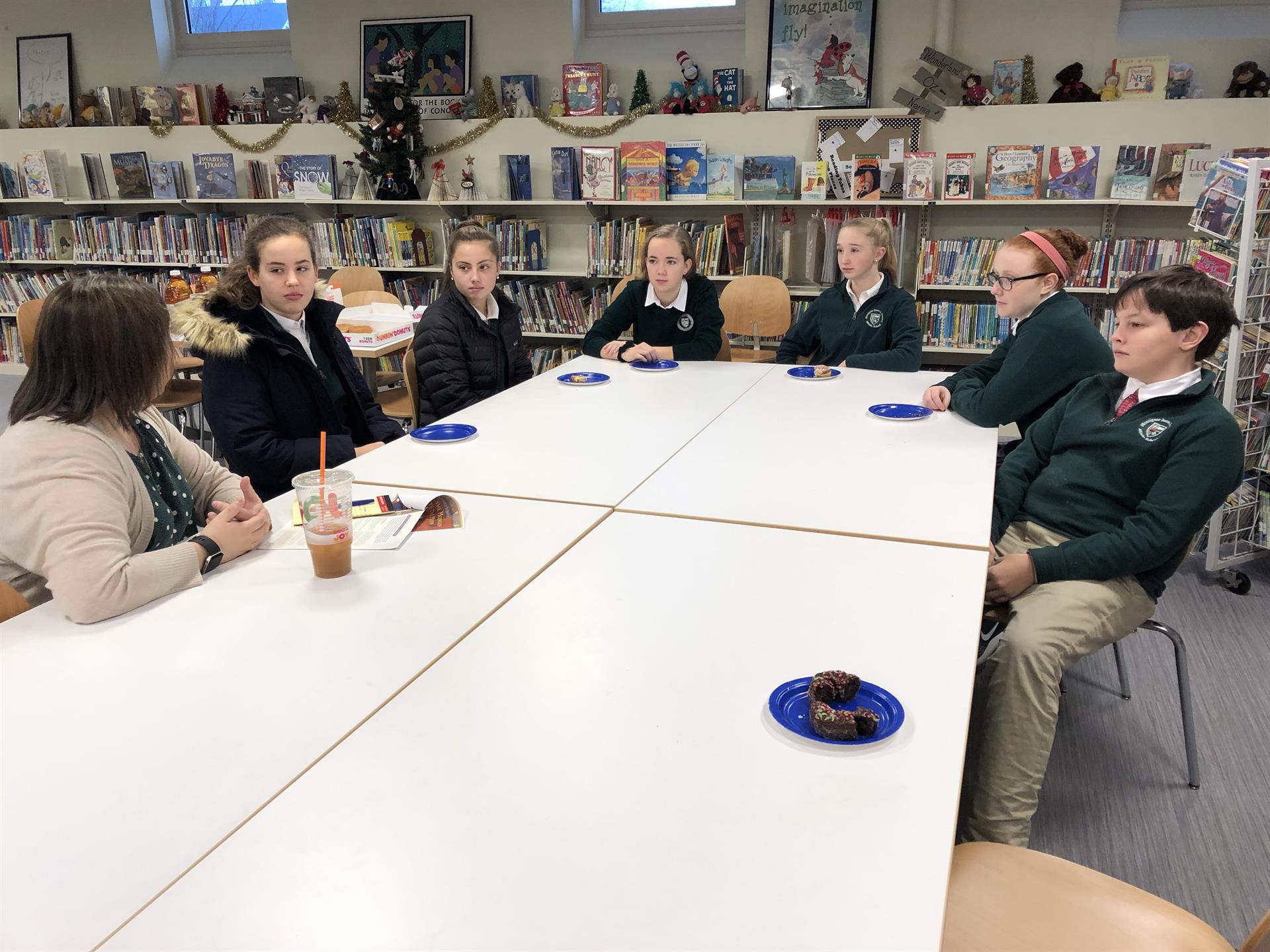 BREAKFAST 'N BOOKS - JAN. 16
The next Breakfast 'N Books will meet Jan.16 at 7:40 am. The selection is Children of Exile by Margaret Petersen Haddix.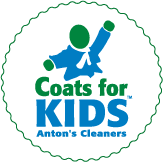 ANTON'S COATS FOR KIDS ENDS JAN. 6
January 6 is the last day to bring in coats for the Anton's Coats for Kids Drive. Over break please take a look in your closets to see if you have any gently used coats you can donate.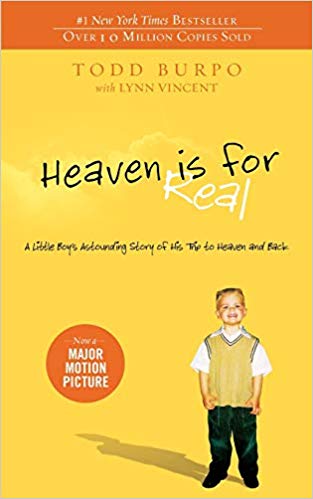 MHMS MOTHER-DAUGHTER BOOK CLUB
Please join us for the next meeting of the MHMS Mother-Daughter Book Club on January 9th, 2019 at 6:30 p.m. We will be discussing Heaven Is for Real by Todd Burpo.We know it's a busy time of year, but this is a short read and we always welcome everyone regardless of how far you get in the book (so long as you don't mind spoilers!). We will be meeting in the St. Joseph's Elementary School STREAM Lab. Looking forward to catching up in the new year, chatting about the book and enjoying a few snacks!If you are planning on coming, please email Cathy Lombardo at csichol@yahoo.com or by cell at 781-540-9814. Hope you can make it!


FEBRUARY FAST CASH CALENDARS AVAILABLE
Need  a last minute stocking stuffer? Print out a February Fast Cash calendar.  For only $10 you get 28 chances to win!
Thank you to Jen Engel, Nicola Dempsey, Theresa Gallagher, and Ellen Murphy for their efforts in putting together Santa's Workshop.
Thank you to Liz Nichols for organizing the Wreath Sale.
Our 7th graders will be celebrating Mass on TV during Catholic Schools week at BCTV on Thursday, January 31.
MHMS IS FULLY CONNECTED
Please like us on Facebook, and follow us on Twitter @MHMSGators, Instagram, and LinkedIn to stay abreast of the latest news.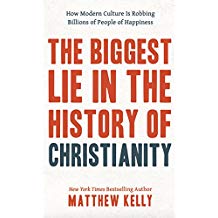 GIFT OF PARISH BOOK & DISCUSSION
This year after all Christmas Masses St. Joseph Parish will be giving families a copy of Matthew Kelly's book The Biggest Lie in the History of Christianity. Fr. Peter will be leading a discussion of the book on January 31 at 7 pm. All are invited!
For more information on the book please see https://dynamiccatholic.com/the-biggest-lie-in-the-history-of-christianity-hardcover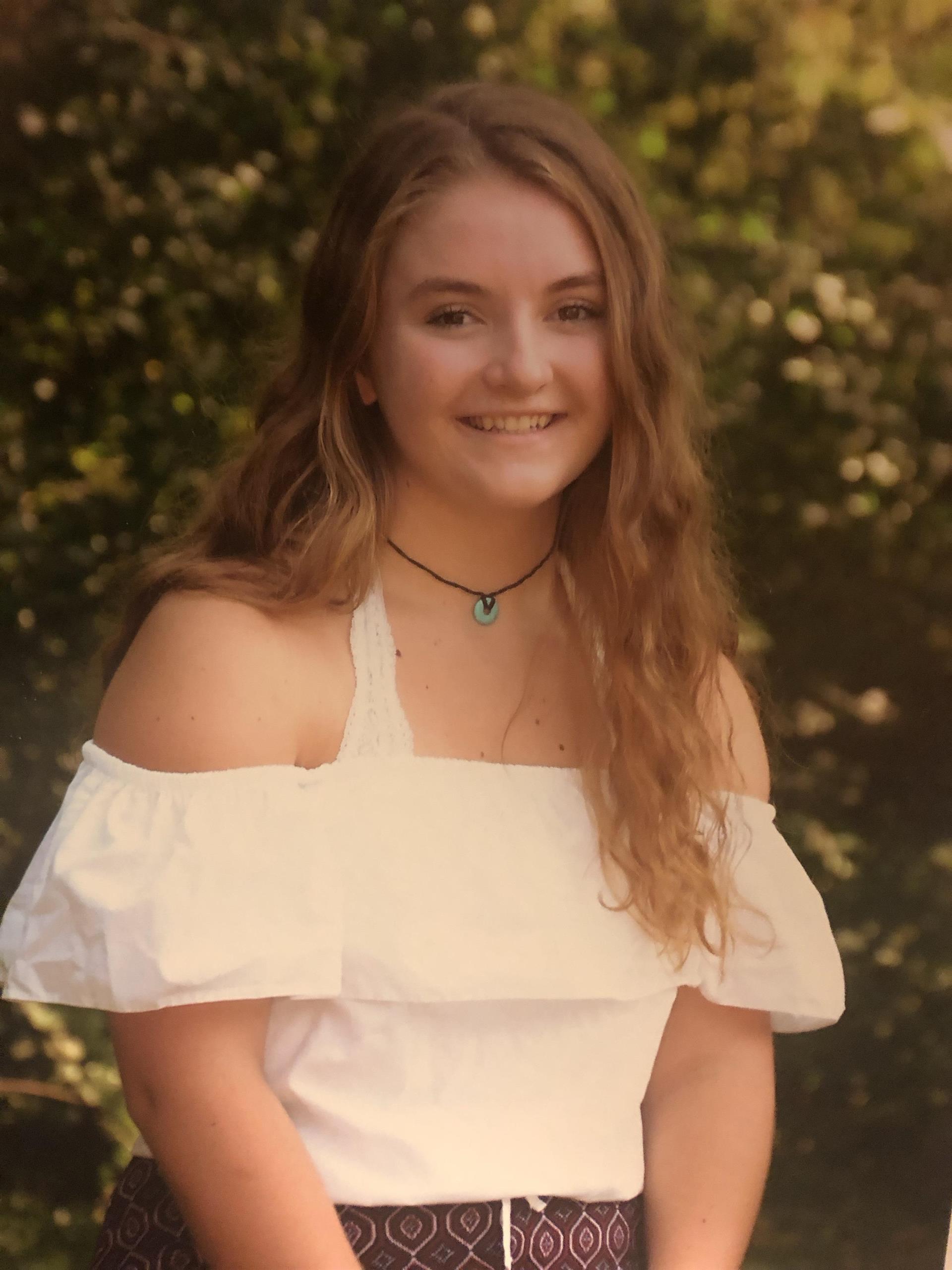 ALUMNI SPOTLIGHT: LAUREN BARICH MHMS'16 RIVERS'20
I am a junior at the Rivers School in Weston where I participate in Rivers Givers, a youth philanthropy club, I host and provide tours to prospective students, and tutor middle school students. I also currently teach CCD for fourth graders at  Saint Joseph's, do weekly community service at a Head Start program for Spanish speaking preschoolers, and take art classes at the MFA every Saturday. 

MHMS and Saint Joe's are the places that made me the person I am today! I have so many wonderful memories but my favorites include painting my ceiling tile, being an angel in the 8th grade nativity, traveling to D.C. and Philadelphia and making long-lasting friendships. 
MHMS gave me study skills, motivation, and strong academic preparation that I utilize to this day. I learned how to organize myself, manage my time, take notes from a lecture and other useful class skills. Most importantly though, I was taught a positive, faith-filled outlook. I was given the confidence to face any challenge and to remember my faith when I face challenges in high school and beyond.
HAVE ALUMNI NEWS TO SHARE?
We are always excited to hear about what our Gator Graduates are up to since leaving MHMS. 
If you have alumni news to share, please email Jill Meyers jmeyers@saintjoes.com or use the link below: