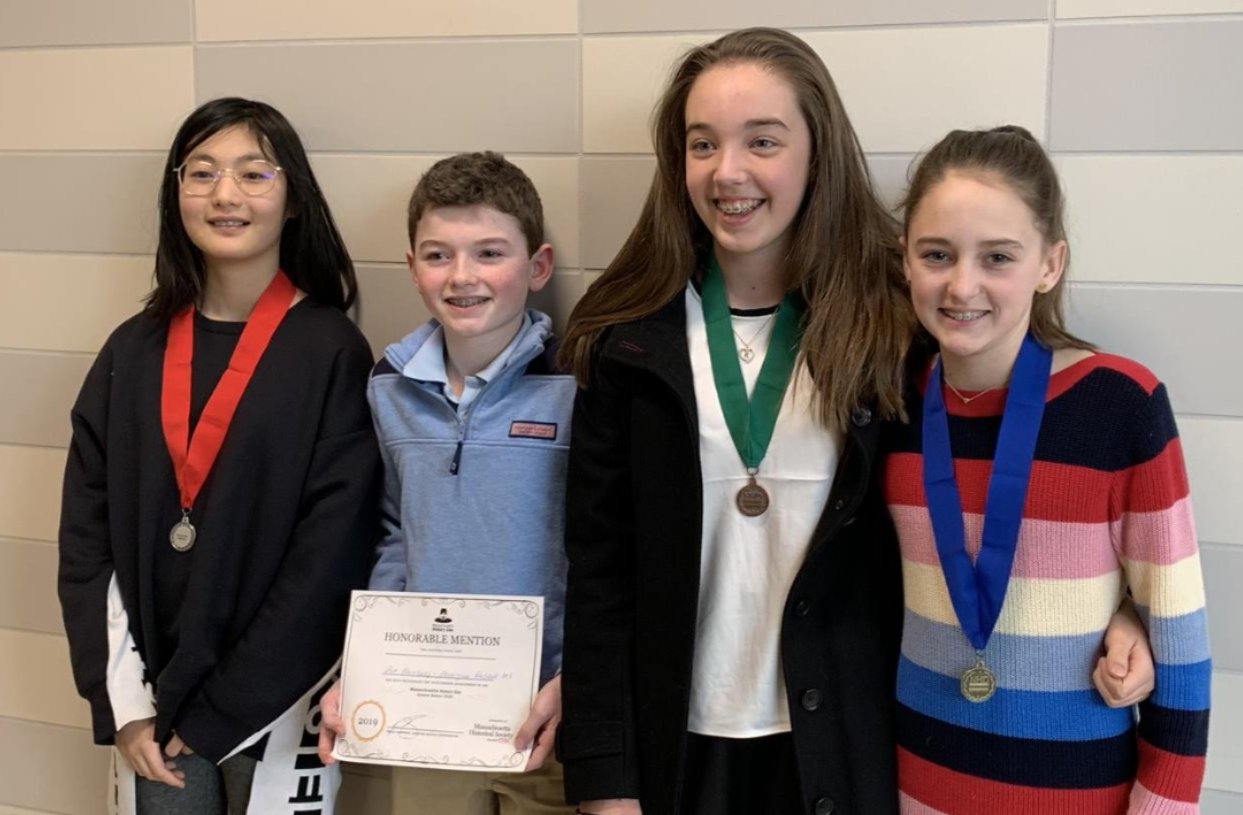 Congratulations to our 7th graders who excelled at the NHD District Compeition. Junior Individual Website category - Abby Coyle -  1st, Rosie Reale -  3rd. Junior Individual Exhibit - Angela Chai - 2nd, Pat Blomberg  - Honorable Mention.  Abby, Angela, and Rosie advanced to the State Competition on April 6.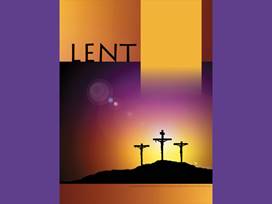 Dear Friends,
Hopefully, we had our first and last snow day this past week.  Even though we have had minimal snow, the temps have been keeping us indoors.
As usual, there has been so much to do and so much with which to be involved that the winter has been passing very quickly.
Our "official" ski season has come to an end as has our winter sports season. 
Our basketball teams had a good season, especially, the 8th grade or senior boys' and girls' teams advancing all the way to the second level of the post season playoffs .
The Annual NHD competition saw 4 students go on to the district competition with 3 moving onto states! And we had one student qualify for the Regional Spelling Bee  Congratulations to all the students and their families!
Today ends the second trimester, so the race is on to the end of the school year. Beginnings and ends help us to take stock of where we are and where we are going and resolve to do our best along the way. I hope the beginning of Lent gives us all the opportunity to embrace the disciplines of the season, the spiritual opportunities for reflection and introspection and give us the opportunity to become the people God invites us to become.
Prayers and best to all our MHMS families and friends as we move through Lent, the end of Winter and anticipate Spring and the celebration of the Resurrection.
Sincerely,
J. MacDonald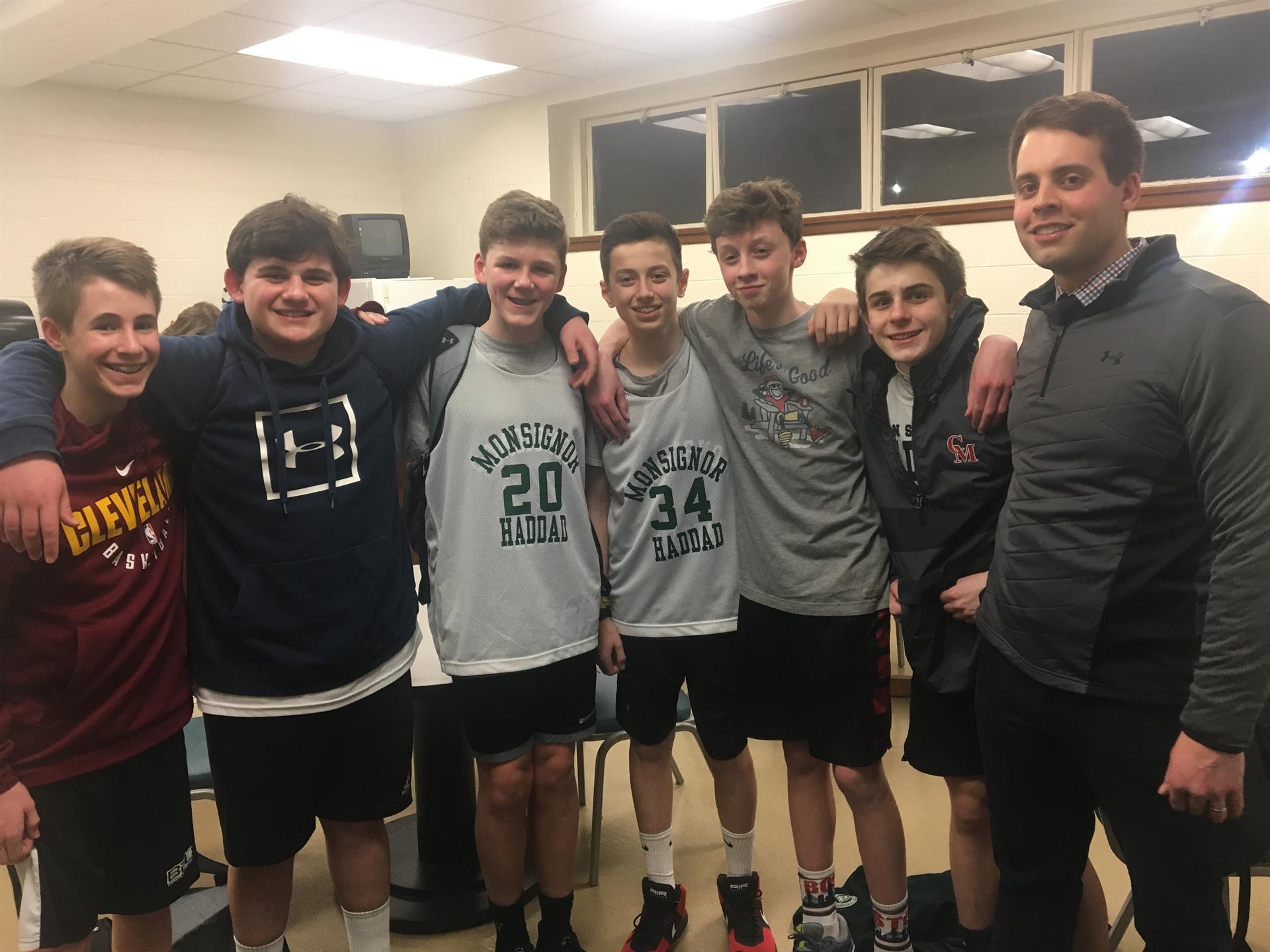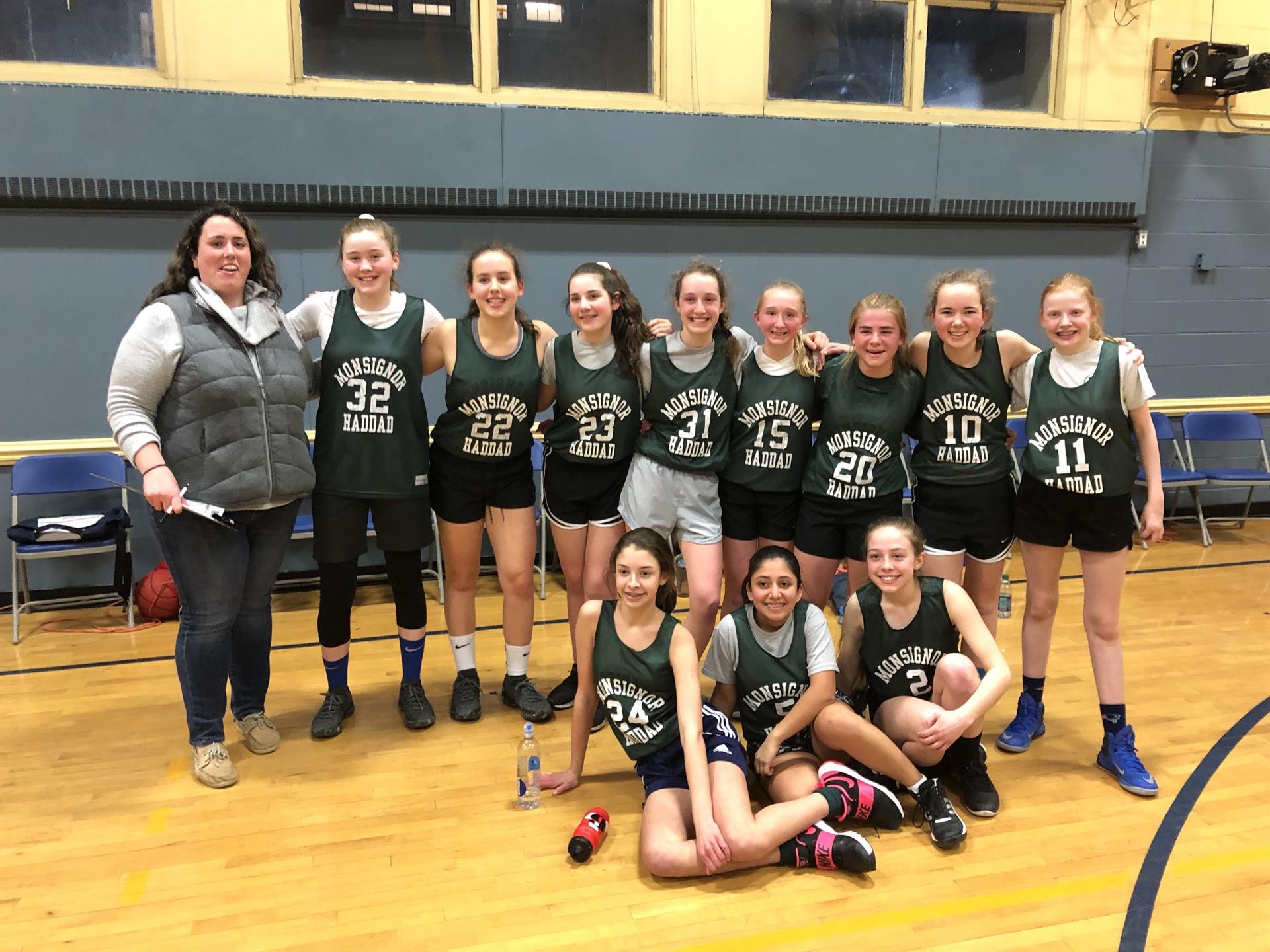 GREAT SEASONS FOR MHMS BASKETBALL
The six MHMS basketballl teams have finished their seasons. We are proud of your dedication and sportsmanship! Both senior teams advanced to the second round of the post season SSPSL tournament.
Thank you to all the parents, friends, and staff who came out to support the teams this season!
Congratulations as well to those Gators invited to the SSPSL All-Star Game on February 24 at South Boston Catholic Academy
6th Grade: Maya Desisto, Declan Haynes, and Nora Joyce, Andrew Mourgis
7th Grade: John Condakes, Abby Coyle, Matt Doherty, and Aine Flynn
8th Grade: Mia Daoust, Declan Gilmartin, Jack Heeney, Claire Kochenbach, Kirsten Meyers, and Christopher Scalia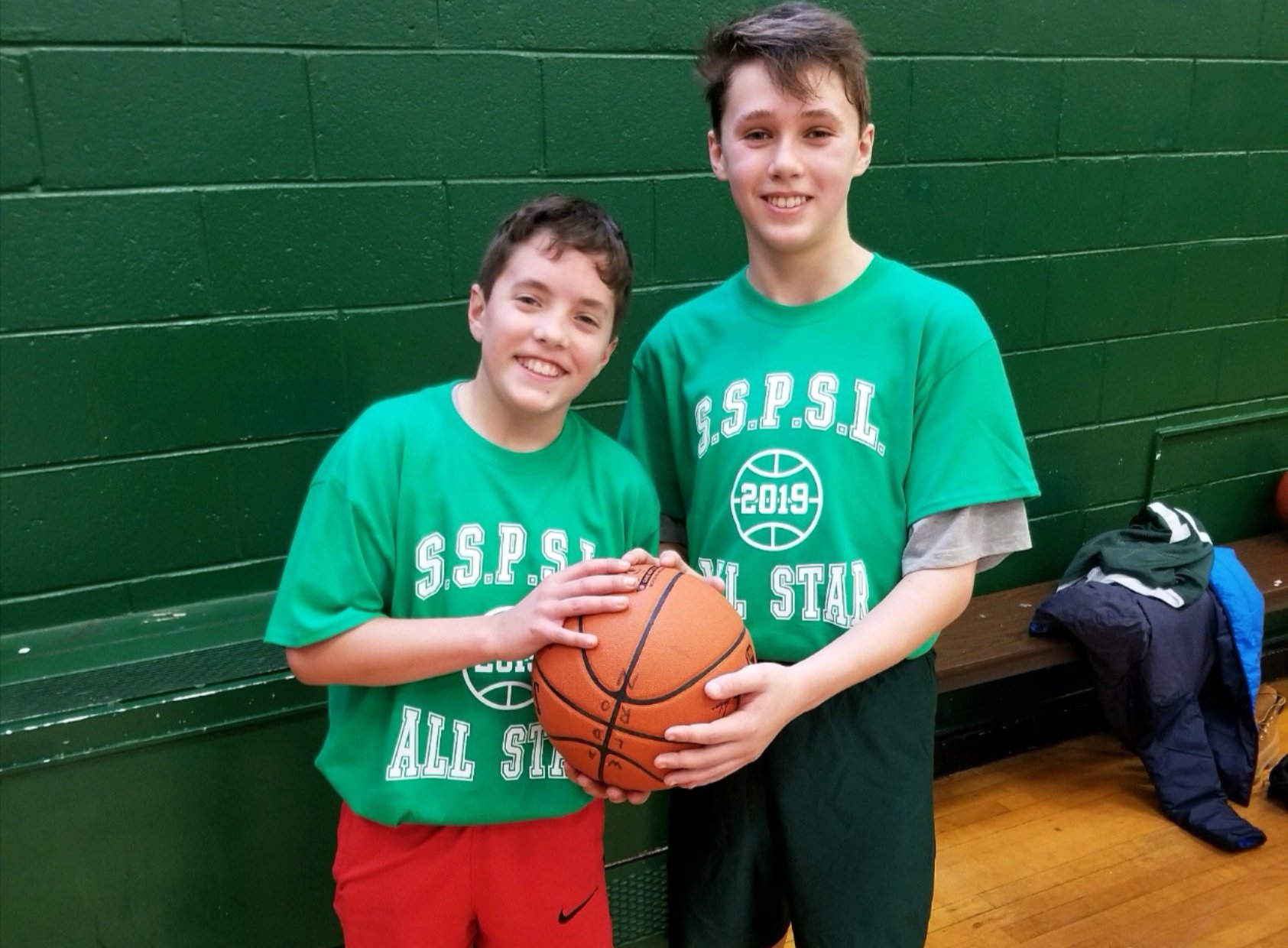 March 9
New Altar Server Training
2 - 3 pm
Upper Church
March 11
Drama
2:45 - 4: 30 pm
March 12
Drama
2:45 - 4:30 pm
March 13
Drama
2:45 - 4:30 pm
Art Club
2:45 - 4 pm
March 14
Breakfast 'n Books
7:40 am
Library
March 15
NO SCHOOL - Professional Development
March 18, 19, 20, 21 
Drama Tech Week
2:45 - 5:30 pm
 March 19
St. Joseph Feast Day Mass
9 am
Ice Cream Sundae Bar at Lunches
March 20
Art Club
2:45 - 4pm
March 21
Forensics
2:50 - 4:05 pm
Joint Board Meeting
7pm
March 22 
Tag Day for Selling 10 Fast Cash Calendars
Annie
7 pm
(Doors open 6:40 pm)
March 23
Annie
7 pm
(Doors open 6:40 pm)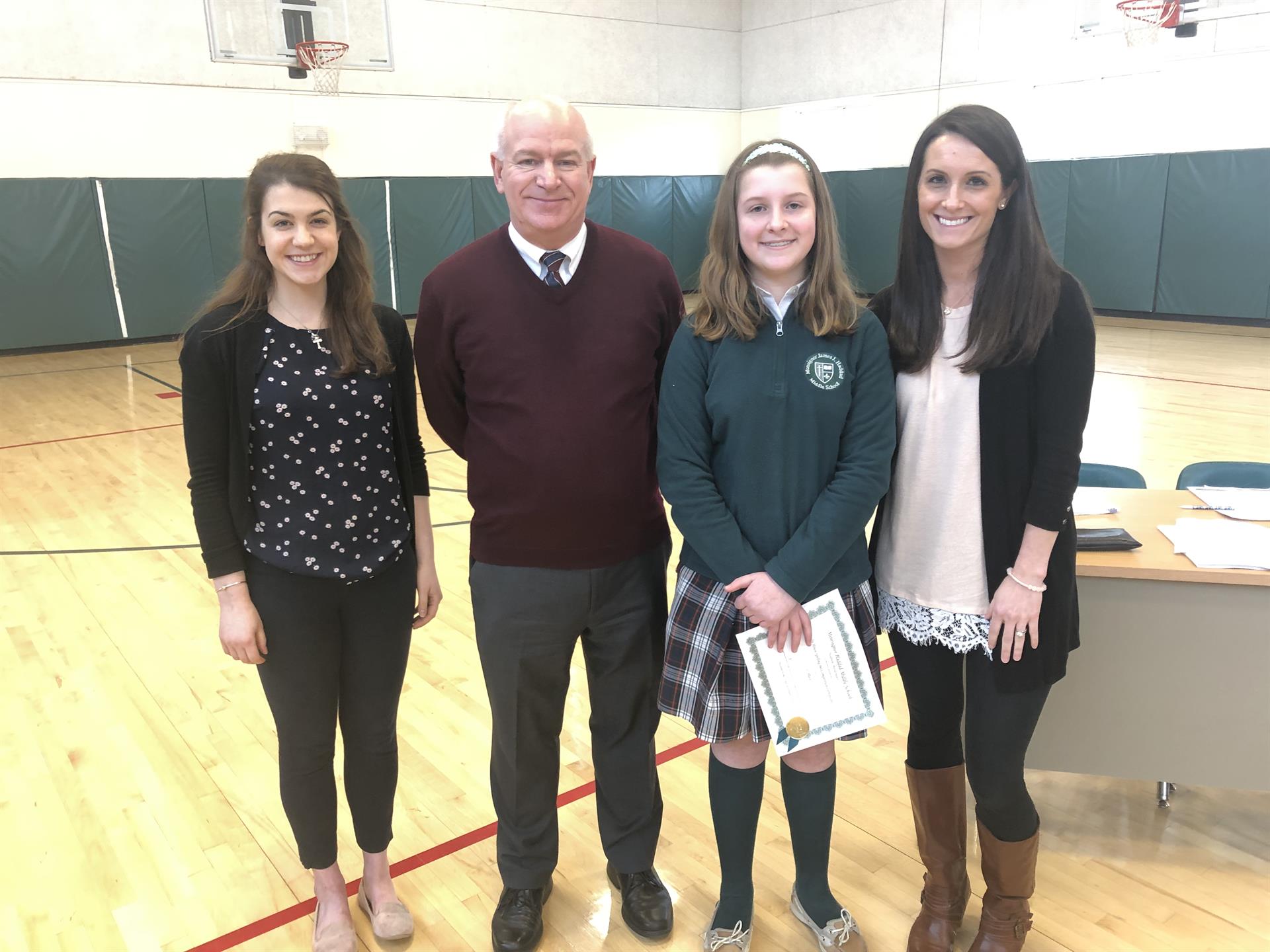 REGIONAL SPELLING BEE
Good luck to MHMS sixth grader and school spelling bee winner Maegan Horrigan at the Regional Bee on March 13. After winning the school bee, Maegan and other school winners were administered a special written spelling test by their ELA teacher. The top scorers were invited to the Regional Spelling Bee at Lynn Memorial Auditorium.

AUCTION GALA TICKETS AVAILABLE ONLINE NOW
Online ticket sales are open for the 2019 Spring Auction Gala. Don't miss out on what is sure to be a fantastic evening to support our schools and honoring Ms. Rosanne Timmerman, Parish Business Manger. The even is Saturday, April 6, 6 - 11 pm at the Dedham Hilton. Friends outside the parish and schools are most welcome!
We are also still in need of some Silent and Live Auction Items. 
A few advertising spaces are still available if you would like to advertise your business or share words of gratitude for our schools or honoree, Rosanne Timmerman.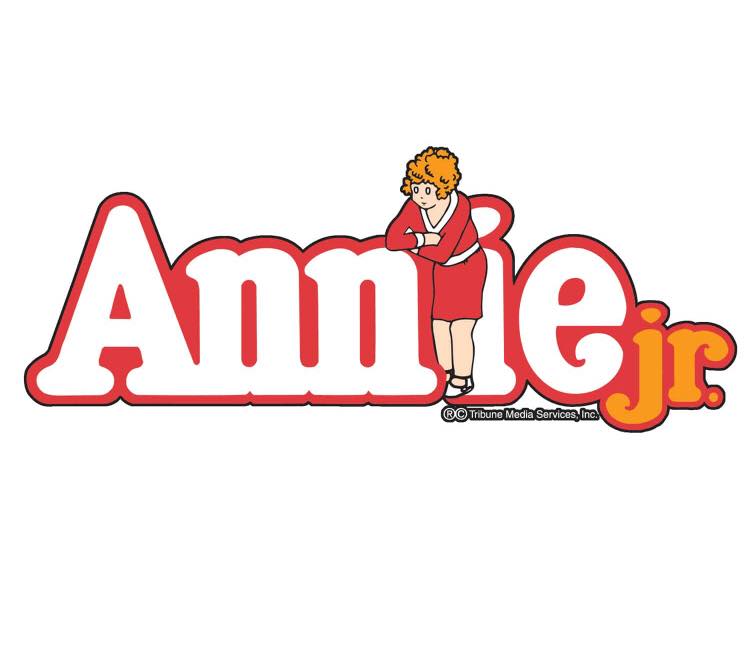 ANNIE, JR. MARCH 22 & 23, 7 PM
The cast and crew of Annie have been working hard and are excited to perform for you. Shows are Friday and Saturday, March 22 & 23 at 7 pm in the Kennedy Center. Doors open at 6:40 pm. Please enter through the Pickering St. doors
ANNIE SHOUT OUTS - SUPPORT YOUR CATS & CREW - ONLY $1 EACH
Write a note of congratulations and encouragement to your favorite cast or crew member. We will deliver it backstage during intermission. Fill out the order form and send it into school with your payment in an envelope marked Annie Shout outs. Be sure get some for both night!
7A SERVICE PROJECT: SUPPORTING CRUDEM WITH COLOR WARS AND DODGEBALL
Homeroom 7A will be raising money this month with the first ever MHMS Color Wars Week (3/25-3/29).  Each homeroom will be assigned a color and have the chance to earn (or lose!) points with different activities each day.  The winning homeroom will receive a prize.  The cost will be $5/student and includes a tag day on Friday.  The biggest activity that week will be the 6th annual MHMS Dodgeball tournament.    Starting Monday, a student and up to 7 teammates can sign-up to participate in the student 8v8 tournament which will be held on Wednesday, 3/27.  More details to follow.  Please see Ms. McCabe with any questions.   
These fundraising efforts will be supporting the St. Joseph Parish Lenten Service Project CRUDEM Foundation and hospital Sacre Couer in Milot, Haiti.  100% of donations to CRUDEM are used directly to improve the lives of the Haitian people. - Ms. McCabe
RIAN'S KID POWERED SMOOTHIE SUPPORTS MAKE A WISH
SJES fifth grader Rian Chudzinski has partnered with Stacy's Juice Bar on Highland Ave.  in Needham for the month of March with "Rian's Kid Powered Smoothie". Proceeds from the smoothie sales will benefit the Massachusetts and Rhode Island chapters of  Make a Wish Foundation. Rian's goal is to raise $10,000. Be sure to mention SJES/MHMS when you order your smoothie!
Check out this great Needham Times article to learn more.
CAMBRIDGE CLASSIC SPEECH TOURNAMENT - APRIL 6
Due to the weather the Cambridge Classic Speech Tournament for March 2 has been rescheduled for Apiil 6. MHMS is now proud to host this event on the new date. Volunteer judges (adults and high school students and older) are needed that day. No experience necessary. Please let the MHMS office know if you can help.
REGISTRATION FOR NEXT YEAR
If you have not already done so please register as soon as possible for the 2019-2020 school year. Knowing our enrollement is a critical piece for our budgeting and scheduling. Also, please note the deadline to apply for financial support is March 15. All requests are reviewed annually and with complete discretion.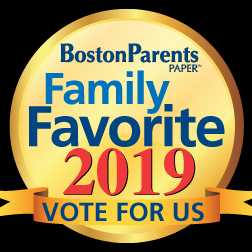 VOTE FOR MHMS AND SJES
Show your support for MHMS and SJES and voting for us in the faith based category for middle school, elementary school, and preschool in Boston Parents Paper 2019 Family Favorites. Voting is open until April 1.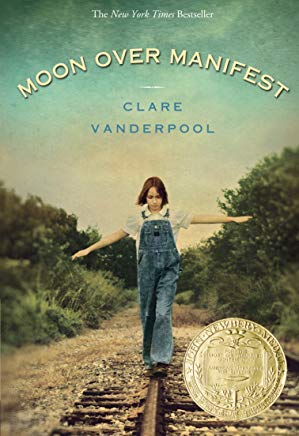 BREAKFAST 'N BOOKS - MARCH 14
Please join Ms. Warner for breakfast treats and to discuss 2011 Newberry Award Winner Moon Over Manifest by Clare Vanderpool. 
Book summary from Amazon: Abilene Tucker feels abandoned. Her father has put her on a train, sending her off to live with an old friend for the summer while he works a railroad job. Armed only with a few possessions and her list of universals, Abilene jumps off the train in Manifest, Kansas, aiming to learn about the boy her father once was.
Having heard stories about Manifest, Abilene is disappointed to find that it's just a dried-up, worn-out old town.
But her disappointment quickly turns to excitement when she discovers a hidden cigar box full of mementos, including some old letters that mention a spy known as the Rattler. These mysterious letters send Abilene and her new friends, Lettie and Ruthanne, on an honest-to-goodness spy hunt, even though they are warned to "Leave Well Enough Alone."
Abilene throws all caution aside when she heads down the mysterious Path to Perdition to pay a debt to the reclusive Miss Sadie, a diviner who only tells stories from the past. It seems that Manifest's history is full of colorful and shadowy characters—and long-held secrets. The more Abilene hears, the more determined she is to learn just what role her father played in that history. And as Manifest's secrets are laid bare one by one, Abilene begins to weave her own story into the fabric of the town.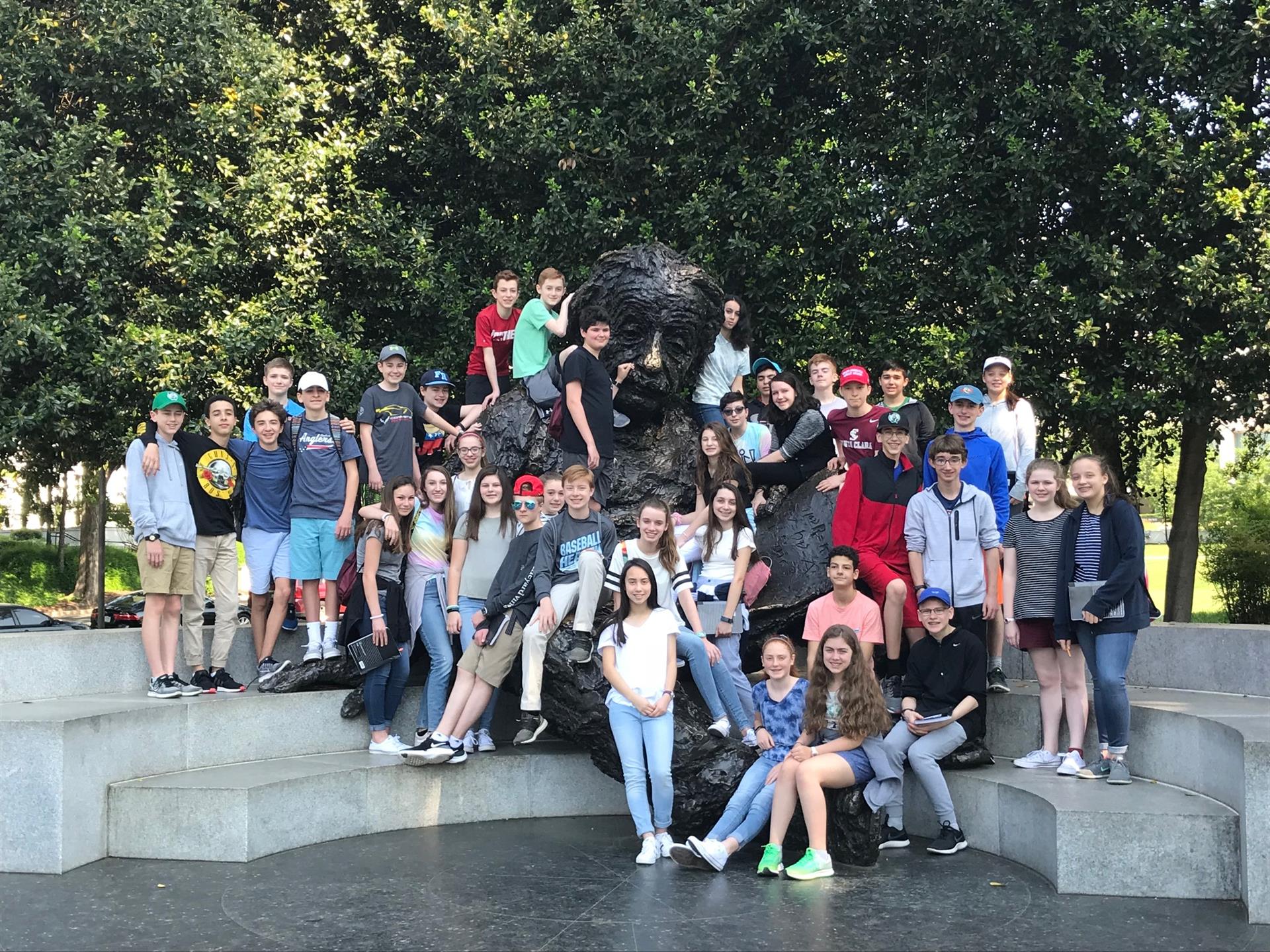 MANDATORY EXPLORATORY TRIP MEETINGS
Mark you calendars for the MANDATORY Exploratory Trip meetings on Thursday, April 25 in the MHMS Dining Room. All students going on the trip must attend with at least one parent or guardian.
7th grade Philadelphia Trip: 6:00 pm.
8th grade Washington, D.C.: 6:45 pm.
 - Mrs. Coyle.

ONE MISSION BUZZ OFF TEAM - SUNDAY JUNE 2
To sign up to participate or support the he Saint Joseph Parish Schools One Mission Buzz Off Team please use the link below.
Over the past two years we have raised over $60,000 and won the award for largest team both years with over 30 buzzees each year. Anyone from the St Joe's community is eligible to participate on our team (students, teachers, parents, siblings, relatives, and friends). 
If you would like more information regarding our participation in the event or details related to the event, feel free to contact our parent organizer Joanie Shea at obrienshea52@gmail.com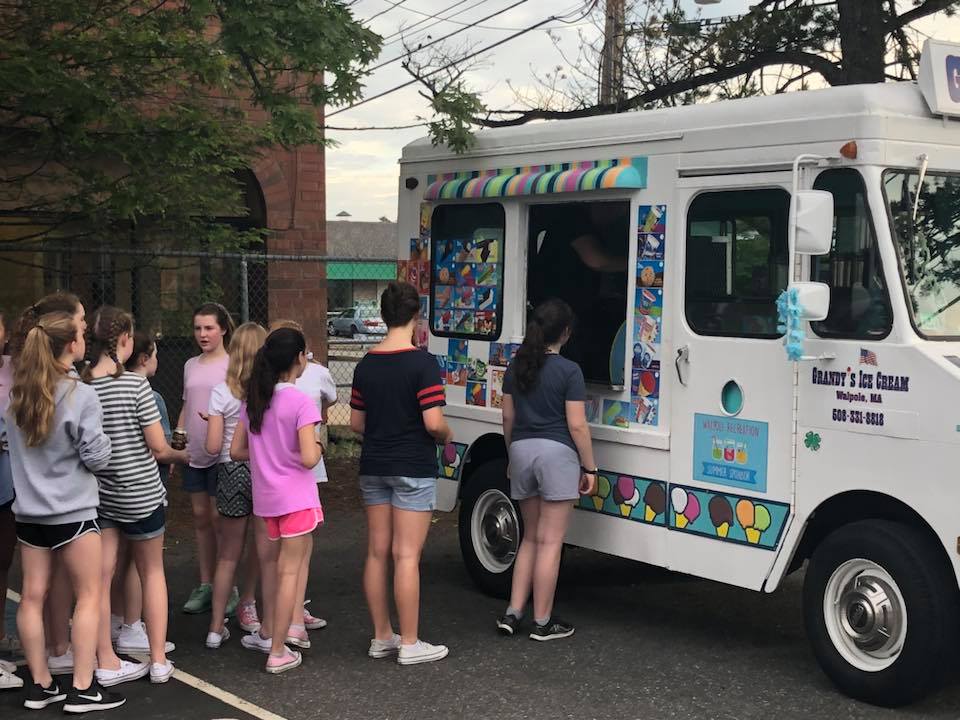 SAVE THE DATE: GATORPALOOZA
Mark your calendars now for everyone's favorite Gatorpalooza - the end of year bash for our SJES 5th graders and MHMS grades 6 - 8 -on May 31, 6 - 8 pm.
NEWTON AREA FLAG FOOTBALL REGISTRATION
Registration is now open for the new Newton Area Flag Football League (NAFFL). The season begins on April 7 and ends on June 16 at the recently renovated Daly Field on Nonantum Road. Games take less than one hour and are held on Sundays between 12 and 3 pm. All games are coached, professionally refereed and scored. Registration guarantees each player 8 games, including playoffs. Divisions are available for kids ages 5 - 14. 
 
Also, as an organization, the league is dedicated to giving back to the community, and so when players register with the coupon code SCHOOL, they will donate $10 to the school where players are enrolled, and they will receive $10 off their registration.
 
More information can be found on our website
 
https://www.newtonareaflagfootball.com/
WANTED: FIRST COMMUNION CLOTHING
If you have been holding on to your child's First Communion attire and now wondering what to do with it, please consider dropping it off at the Religious Education Office, 1382 Highland Avenue (via the May Street door).
  Our office is open Monday through Thursday, from 9 a.m. to 4 p.m.  The clothing and accessories for girls and boys will be donated to Needham families who may need a helping hand.  What is not needed in the Parish is then sent to Saint Patrick Parish in Roxbury.
LENT AT ST. JOSEPH PARISH
St. Joseph Parish has many opportunities to mark the Lenten season. Please see the link below for the list of offerings.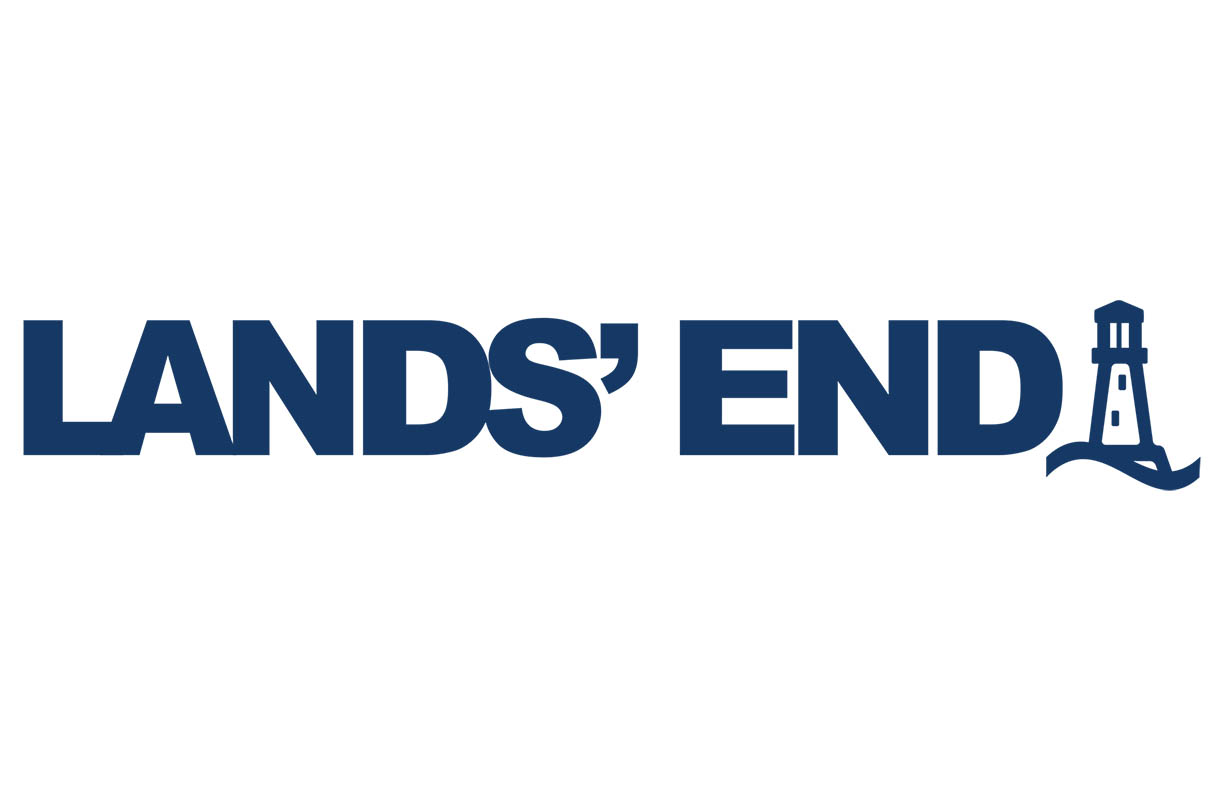 LANDS END POLO SALE
Lands' End is offering a terrific promotion until April 5th to freshen up polos for the Spring –when it finally arrives! Families who order using the promotion will receive a Free Logo + 20% off select polos. Promo Code:LOGO Pin: 8674
Students who sold 10 calendars have a tag day March 22.
Our next Game Night is Friday, March 29.
The next Living Legacies is April 10.
The 8th Grade Live Stations of the Cross will be Friday, April 12 at 1:30 pm in the Upper Church. Not to be missed!
Are you a Legacy Family? Did you go to SJES / MHMS and your children are here now. We will be celebrating you at our Legacy Breakfast to be held on May 22, 2019 to thank you for continuing the tradition of a SJES / MHMS Catholic Education.
Students interested in donating 8 or more inches of hair should mark their calendars for Wednesday, May 29. Pantene is no longer taking hair donations bur Avante has another program that they will use.
There is no school for current MHMS 6/7th graders on Wednesday, June 5 due to Baccalaureate Mass.
Important dates to note for the 2019-2020 school year: Orientation for all sixth grade students and grades 7 & 8 transfer students will be Tuesday, September 3, 9 am  - 12 pm. The first day for all students will be Wednesday, September 4, a full day.

MEMBERS OF MHMS CLASS OF 2015 RETURN FOR SENIOR SERVICE
We are excited to announce the following members of the MHMS Class of 2015 will be returning this spring to complete their Senior Service:
Beth Annese, Ursuline Academy
Tim Connolly - Xaverian
Chris Ducko - Xaverian
Caroline Moore - Ursuline Academy
Catherine Robinson - Newton South
MHMS IS FULLY CONNECTED
Please like us on Facebook, and follow us on Twitter @MHMSGators, Instagram, and LinkedIn to stay abreast of the latest news.