March 5, 2019   •   Issue 26 
"Dear God, I hope that our community is kind and thank you for our teachers and staff. Also, please pray for the St. Joseph families who may be sick or who have medical needs. Thank you for the playground and all of the wonderful things that our school provides for us. Let the world be kind and show empathy. I know that this community is made up of the kindest students and the best educators who seek, strive, share, and serve each day. Lord hear my prayer. Amen."
~ Madeline, Grade 3 ~
Dear Parents,
Well, it looks like Old Man Winter is not done with us yet! That said, Daylight Savings Time begins next Sunday!! I am sure that your children are delighted to have a snow day and to be playing in the snow today. To be honest, the kiddos really did need a good snowstorm to make snowmen and memories! A reminder that if you have a Pre-K or Kindergarten student, please send them with snow pants, boots, etc. this week, as they will certainly be out playing in the snow.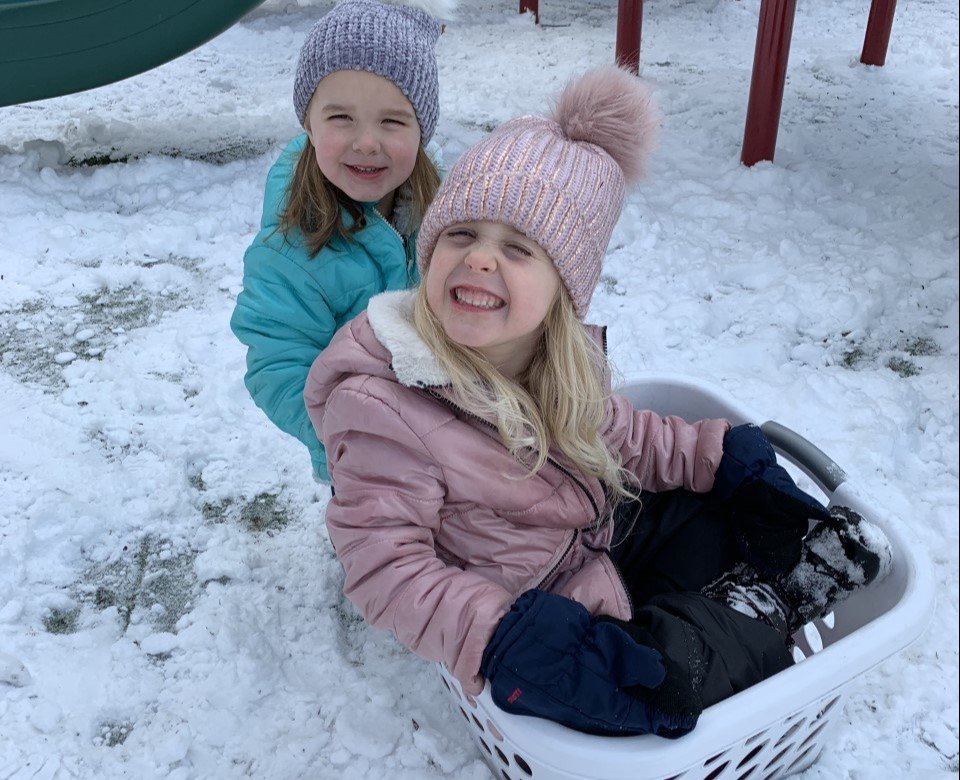 Lenten Season
A reminder that the Lenten season begins this Wednesday, March 6th with Ash Wednesday. All of the students will be attending the 9:00 a.m. Mass and will receive their ashes.
Entrepreneurs in the News
If your child has submitted a proposal to "pitch" an idea for our School Store, Pitch Day is this Friday, March 8th at 8:00 a.m. in the Art Room. We have 26 students who want to share their talents with us, so we are looking forward to seeing their handmade products. Thank you again to Lucy Donovan and Lila Jensen for their fantastic idea!
Rian Chudzinski in Grade 5 has also come up with a great idea and you should have received a flier in the Friday folders this past week. Rian has created his own kid's smoothie that will be sold at Stacy's Juice Bar here in Needham for the month of March. A portion of the sales from each smoothie will be donated to the Make a Wish Foundation (Rian met with them last week) and his parents will also make a donation to the Foundation for each smoothie sold. Please mention you are from St. Joe's if you go, as there might be a fun incentive for smoothies sold in the future as well.
Four of our fifth-grade girls: Anna, Lauren, Katie, and Grace have met with me several times and they want to create an award for a "Magnificent Teacher" before they graduate. After some discussions, here is the criteria that we have agreed upon: the teacher must be hardworking, humorous, religious, selfless, and unique which seems to describe all of our teachers. That said, the girls want to do this, and the teachers have agreed that we want to support their creativity and idea, so you will hear more in June.

Spanish Classes
Mrs. Dina Schlager will be taking over the second and third grade Spanish classes beginning March 13th and will continue teaching Pre-K through Grade 3 next school year. She really is a marvelous teacher and I am sure that your children are enjoying Spanish class and learning a lot. As you know, Senora Posada has been taking on more and more administrative duties in the office as well as coordinating everything with technology, so this is fabulous on many levels.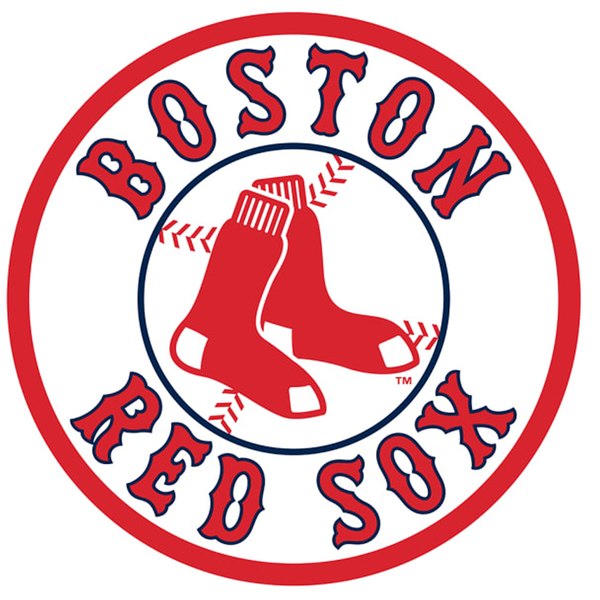 Red Sox Day - March 13th
Our students will be celebrating Red Sox Day next Wednesday, March 13th which is a sure sign of Spring, so have your children wear any Red Sox gear and/or red white and blue to school that day. This is their prize for earning 100 Joey cards, which is our community incentive for outstanding behavior! Our students in grade one earned the most Joey cards this time, so they will be treated to extra recess.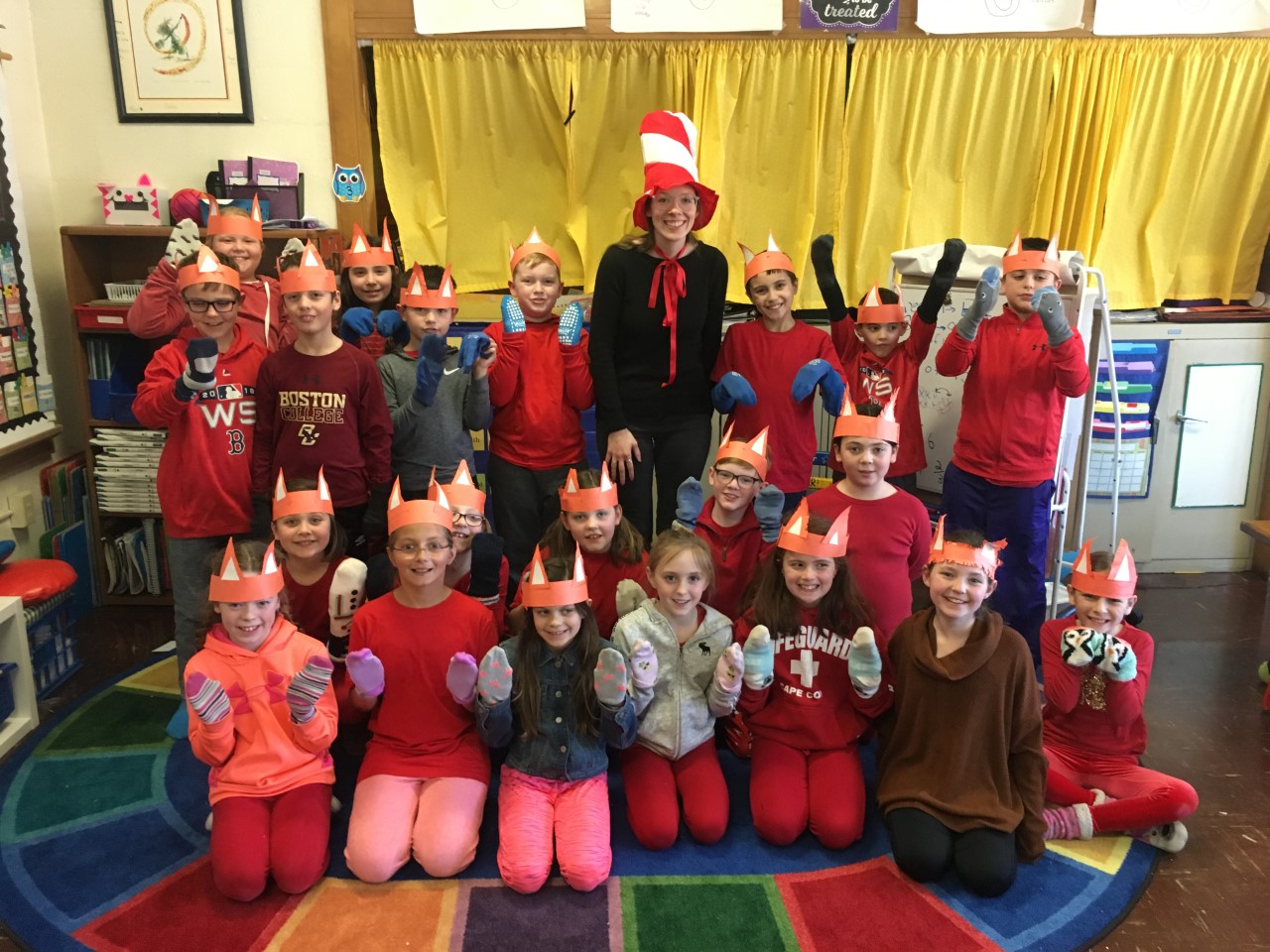 Dr. Seuss' Birthday
We had such a fun day on Friday celebrating Dr. Seuss' Birthday! The teachers and children did an outstanding job tying their books into their outfits. The kiddos were so excited when I went into the classrooms and asked them what book they were. Such a simple and fun way to get excited about reading! Thank you for your donations to Franciscan Children's Hospital!
Summer Clubs
Back by popular demand are the summer clubs! Before the renovations the past two summers, teachers used to run summer clubs the week after school closed, so we are offering the summer clubs again. You should have received information in your Friday folders this past week.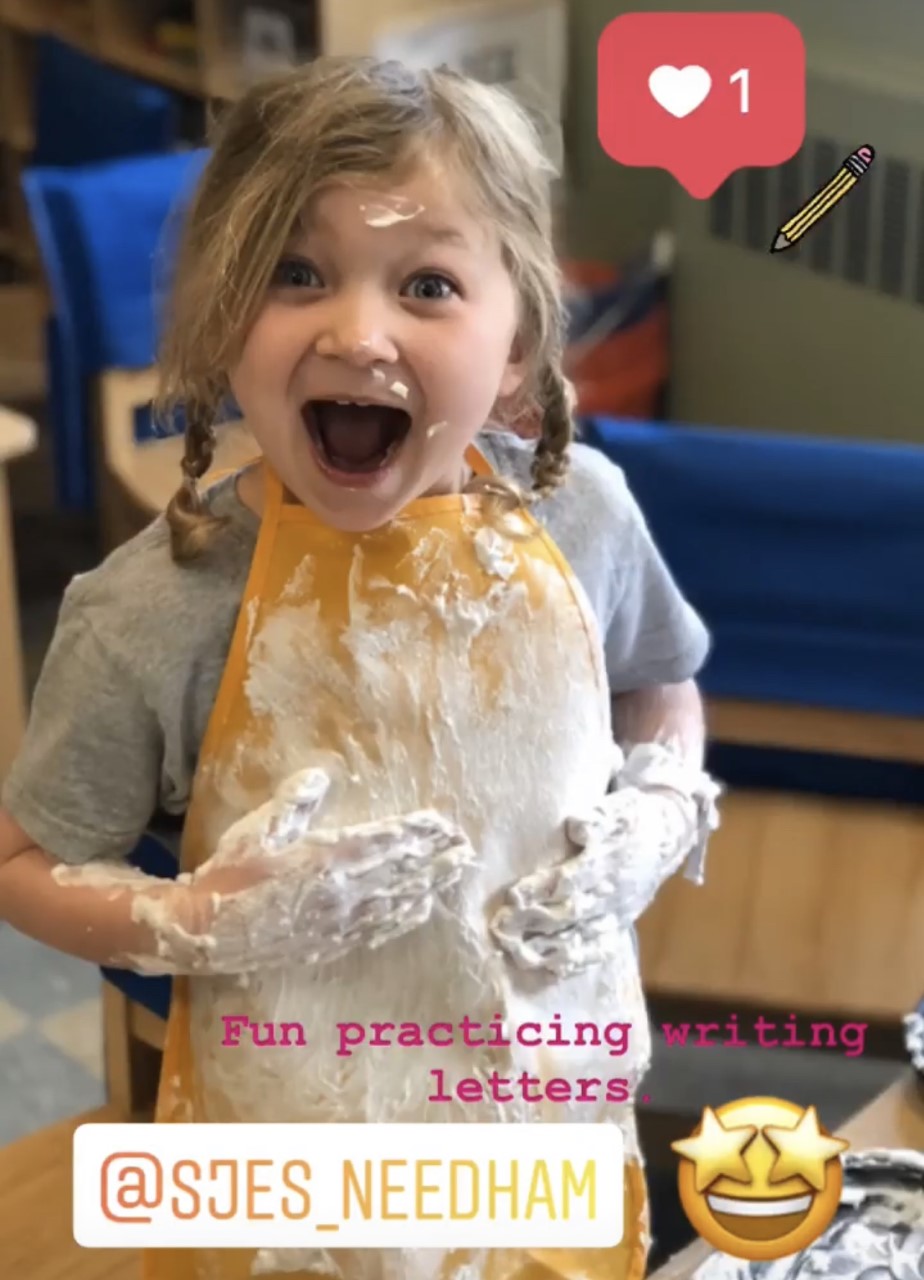 Social Media Posts
Beginning yesterday, we started to feature a grade level on Facebook and Instagram each week. We are featuring Pre-K this week, Kindergarten next week, and will continue all the way up to Grade 5. Please follow us on Facebook @saintjoes.needham and on Instagram @sjes_needham.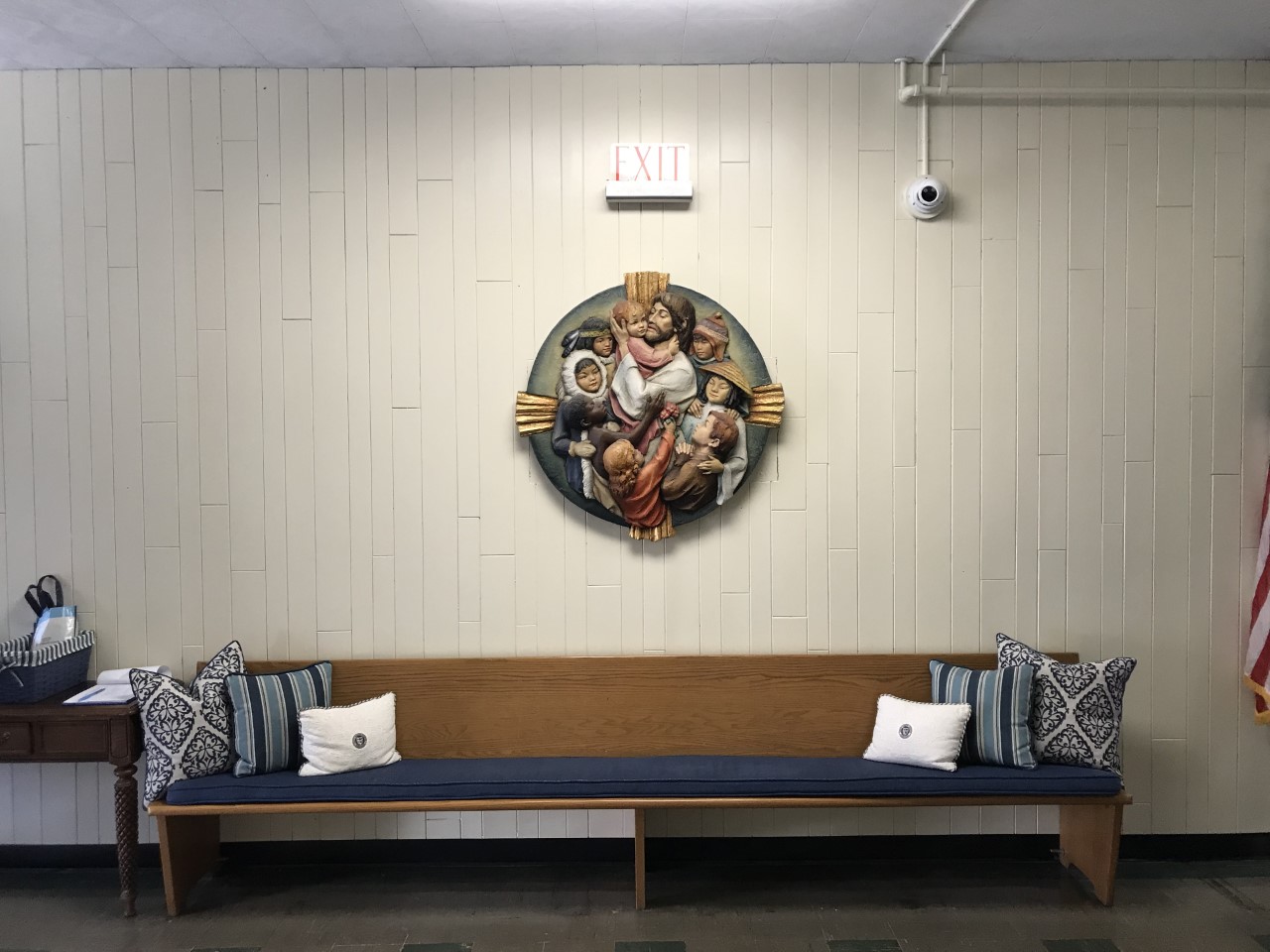 Front Hall Paint Job
We painted the front hall wall in the lobby, and it brightens up the space very well. The kiddos noticed instantly and one of the girls walking by told me she liked our new wallpaper! I love my job as the children are so funny! This was due to a generous gift that someone gave us.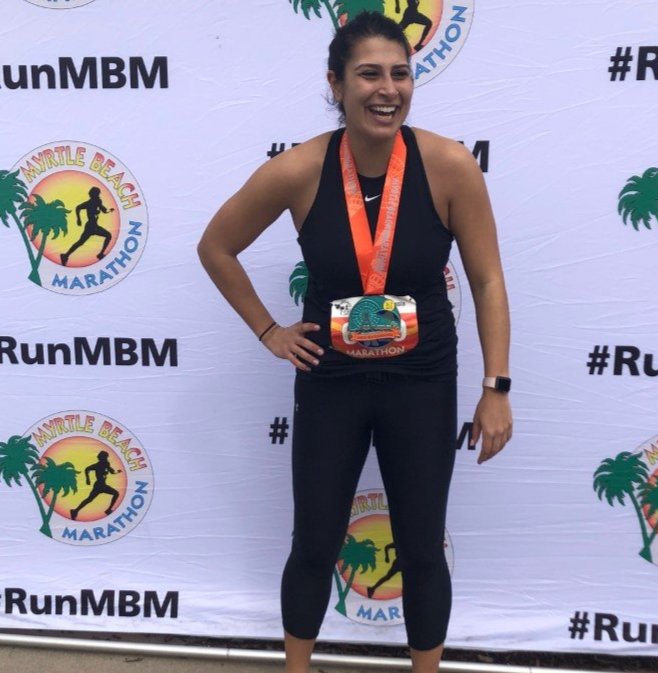 Congrats to Miss Viscomi
Congratulations to Miss Viscomi as she ran in and completed her first marathon in Myrtle Beach on Saturday!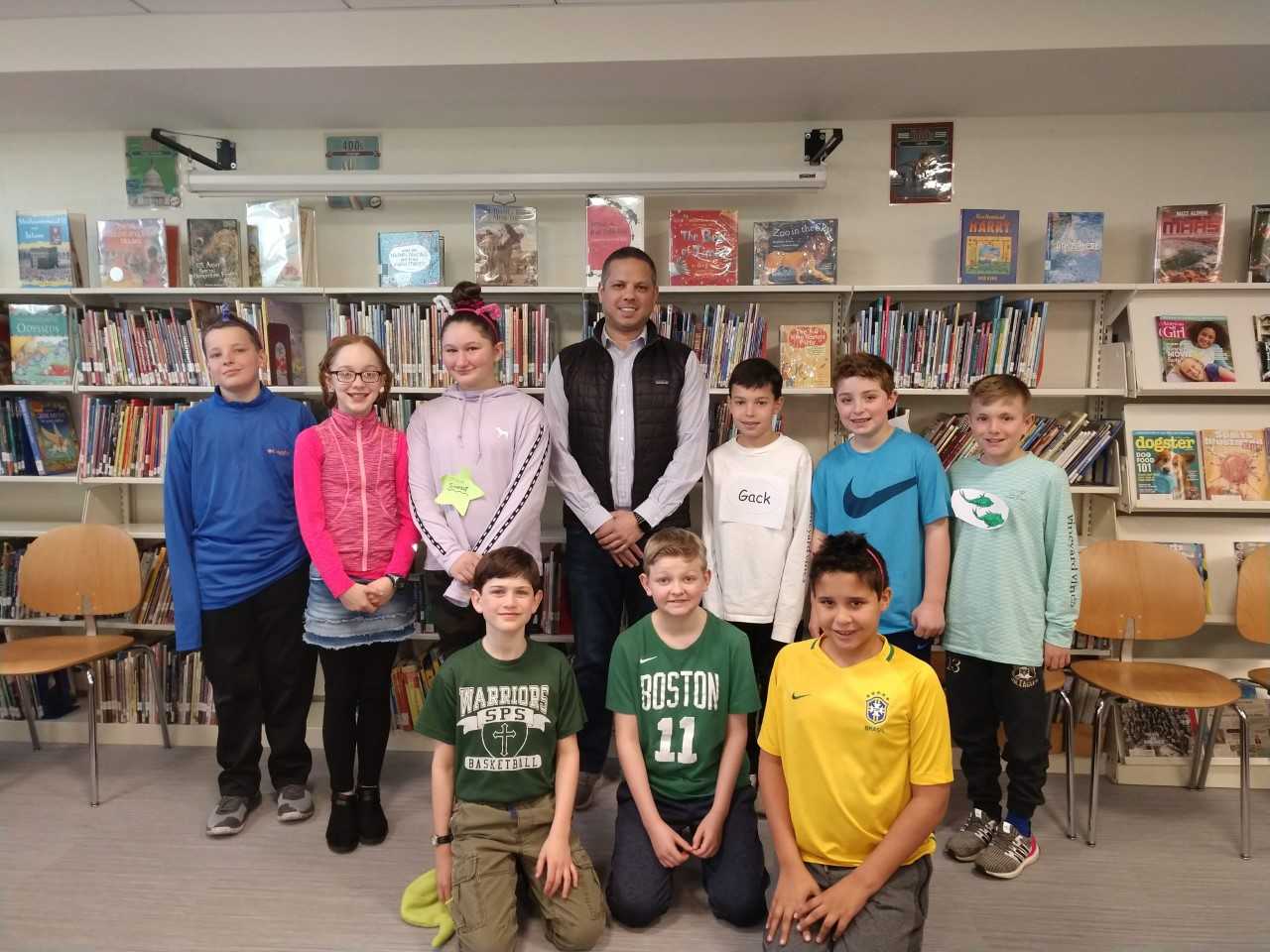 5th Grade Leadership Series: Teamwork
We began Friday with a talk from Mr. Tony Mohammed and his wife, Babson Women's Soccer Coach, Nellie Pineault, as part of our Leadership Speaker Series. He spoke about teamwork, how to be a good teammate, and mindset. Mr. Mohammad works for a soccer organization called Black Rock F.C. and works with not only talented athletes, but students who are willing to work at academics and be leaders in their community. They also must be able to show resilience. Mr. Mohammad imparted some important message to the students. View challenges as opportunities to grow, don't focus on winning, and focus on the quality of good work. He also explained the importance of working hard when it is not easy. I think this was something the students could all relate to. He ended his talk with a short video clip called "Pip" which students will love to tell you about. It really demonstrated what resilience is and how one should never let anyone tell you that you can't achieve your dreams. Thank you to Mr. Mohammad and his wife for their fantastic presentation.
April 4th Conferences: 
Pre-K, K, and Grade 1
Conferences for Pre-K, Kindergarten, and Grade 1 students will be held on Thursday, April 4th. Students in Pre-K and Kindergarten will not have school that day but students in grade one WILL have school that day. Mrs. Posada will be sending you a note about signing up for conferences on Pick A Time this week.
Financial Aid Reminder
A reminder that financial aid applications are due by Friday, March 15th.
Water Safety Presentation
Students in Pre-K and Kindergarten will have a presentation regarding water safety from Goldfish Swim School on March 14th. When we booked this, we thought that spring was almost here.😊.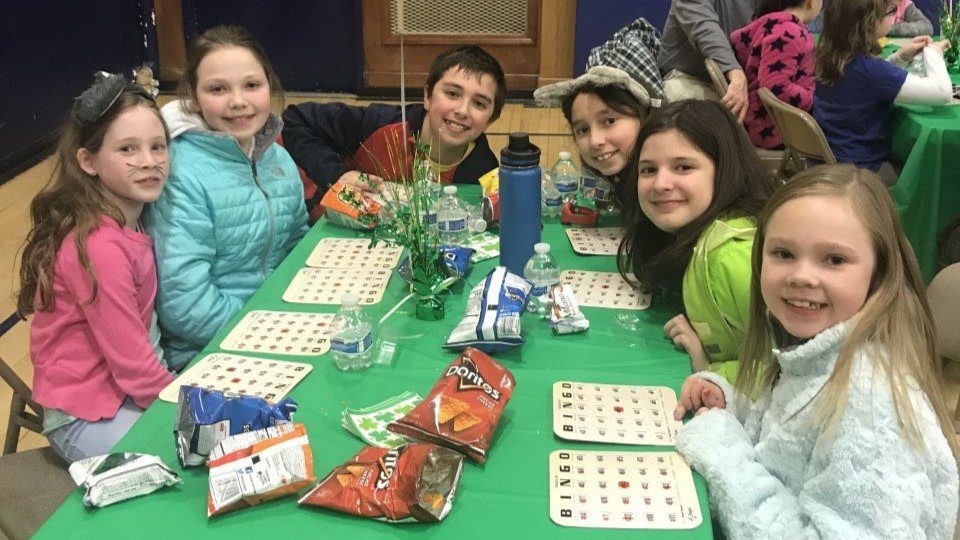 Family BINGO Night
BINGO was a huge success! Thank you to Anne Scola and Jacqueline Lovett for chairing this event for our school families.

St. Joseph Parish Schools Auction
The Auction is right around the corner and promises to be a lot of fun. I want to thank the faculty and staff for 100% participation in donating to the Auction. Sometimes the teacher experiences are the most popular items that night.

Before Care
We had 35 students take advantage of the early drop off last week at Before Care during the two-hour delay for school. We are always open at 9:00 a.m. for early drop off and we have heard from so many families how helpful it was, so we are happy to provide that service.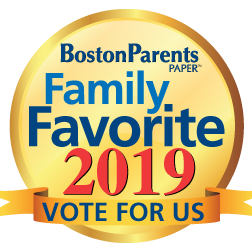 Boston Family Favorites - please vote for us! 
St. Joseph Elementary School and Monsignor Haddad Middle School BOTH have an opportunity to be considered to win Boston Parents Paper "Boston Family Favorites." St. Joe's for Faith-Based Elementary School and Monsignor Haddad for Faith-Based Middle School. We'd love your vote! THANK YOU. :) 
Just a reminder that the morning bell does not ring until 8:00 a.m., so please do not send your children in to school before that time, unless they are going to Before Care. We have had up to thirty children waiting in the vestibule near the gym recently. Teacher supervision goes along with the bell at 8:00 a.m. Thank you for your cooperation.
Have a great day everyone!
Warm regards,
Charlotte Kelly
Principal