March 11, 2019   •   Issue 27 
"Dear God, I hope that our community is kind and thank you for our teachers and staff. Also, please pray for the St. Joseph families who may be sick or who have medical needs. Thank you for the playground and all the wonderful things that our school provides for us. Let the world be kind and show empathy. I know that this community is made up of the kindest students and the best educators who seek, strive, share, and serve each day. Lord, hear my prayer. Amen."
~ Madeline, Grade 3 ~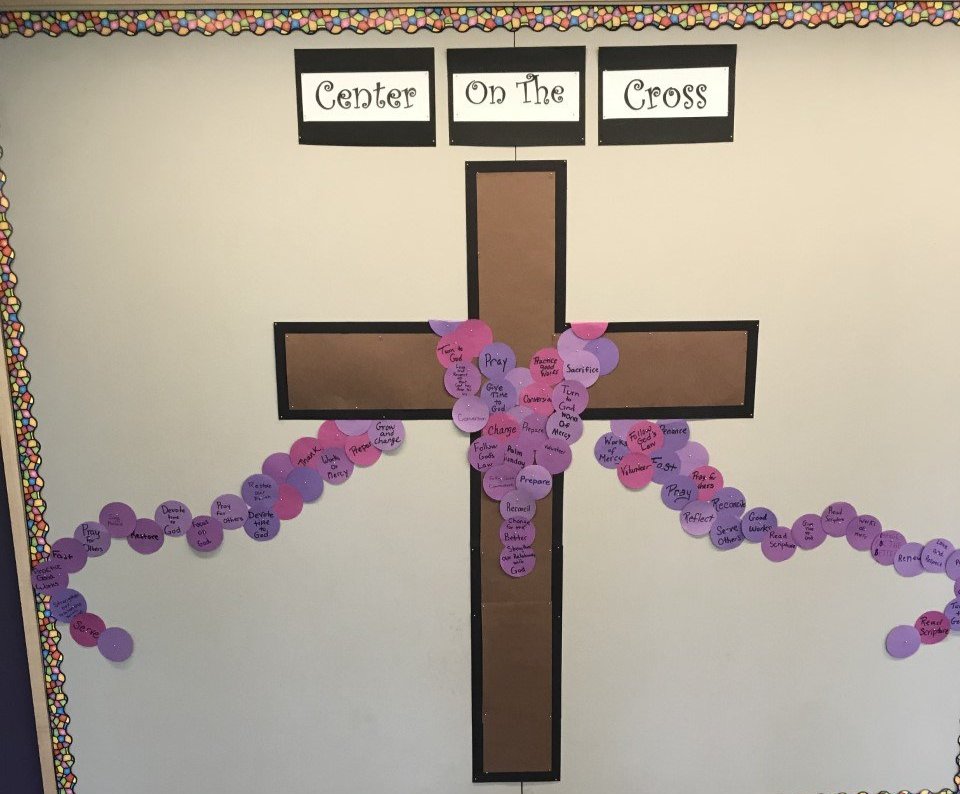 Dear Parents,
All the students did well at Mass on Ash Wednesday. As I told them, this is the longest Mass of the school year as we distribute ashes and then continue with the rest of the Mass. It is always wonderful to see the church full, as it was on Ash Wednesday. Father Michael explained the meaning of Lent and repentance very well to the students and as he said, it is a bit like turning direction and looking at what we can all do better. He spoke to the students about prayer, fasting, almsgiving, and sacrifice as well. As I mentioned earlier, students in grades 1-5 will be attending morning Mass at 9:00 a.m. in the lower church, so you are welcome to join us. Also, we will be gathering for Mass to celebrate St. Joseph Day on March 19th. The students in grades 2-5 will also have the Sacrament of Reconciliation on March 25th. I think the bulletin board that the fifth-grade students and teachers put together in the HUB sums up the Lenten Season, "Center on the Cross".
PIZZA DAY DURING LENT
During Lent, we do not offer chicken nuggets, only pizza. If your child usually orders five chicken nuggets, he/she will get one slice of pizza, ten nuggets equals two slices of pizza, and a combination meal will now be two slices of pizza.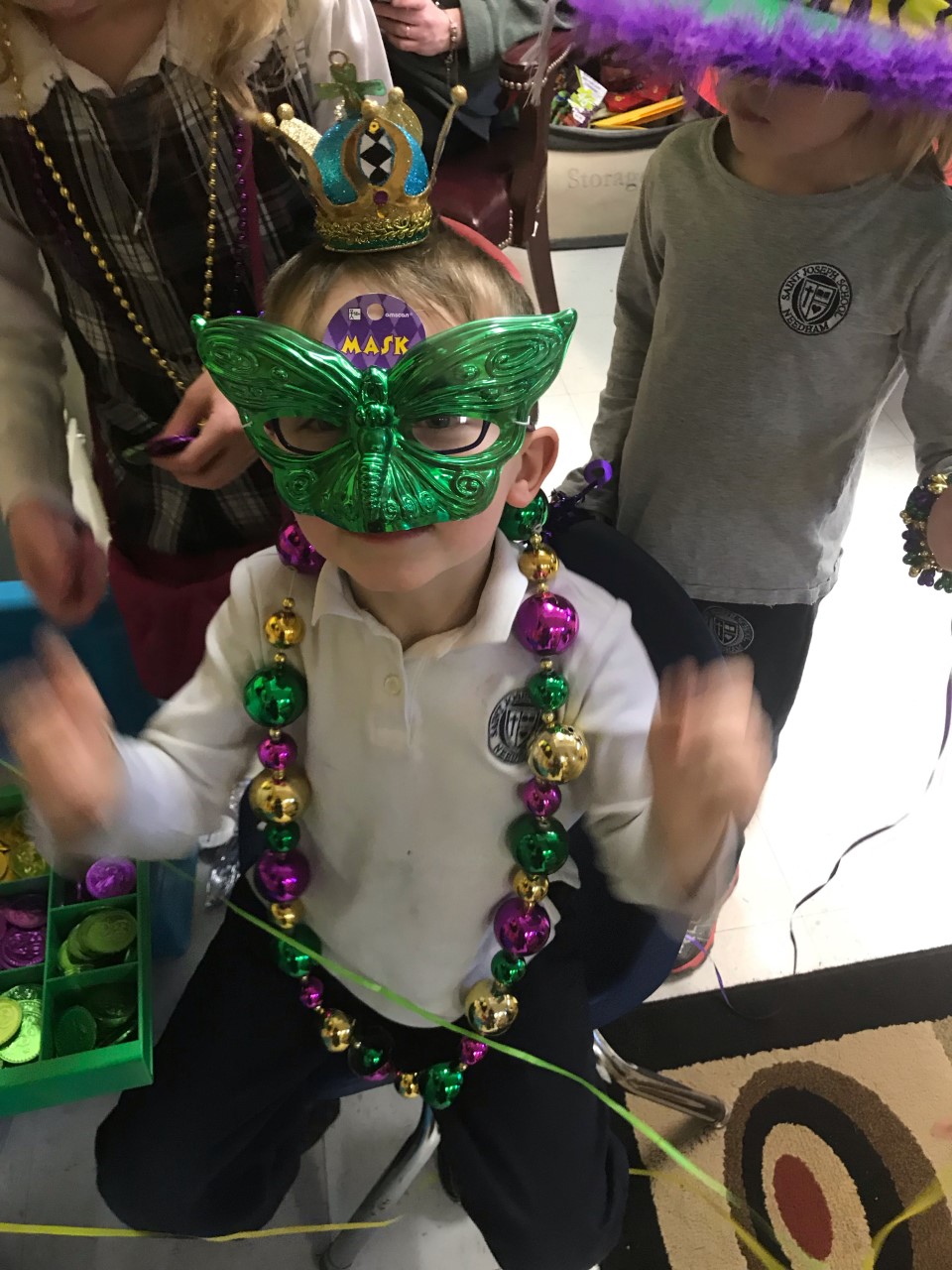 AFTERCARE MARDI GRAS CELEBRATION
On Fat Tuesday, the children in aftercare participated in a Mardi Gras celebration and I heard that the students had a lot of fun!
REPORT CARDS - THIS WEDNESDAY
Report cards will be available online through your Ren Web accounts this Wednesday, March 13th. They will be open for one week.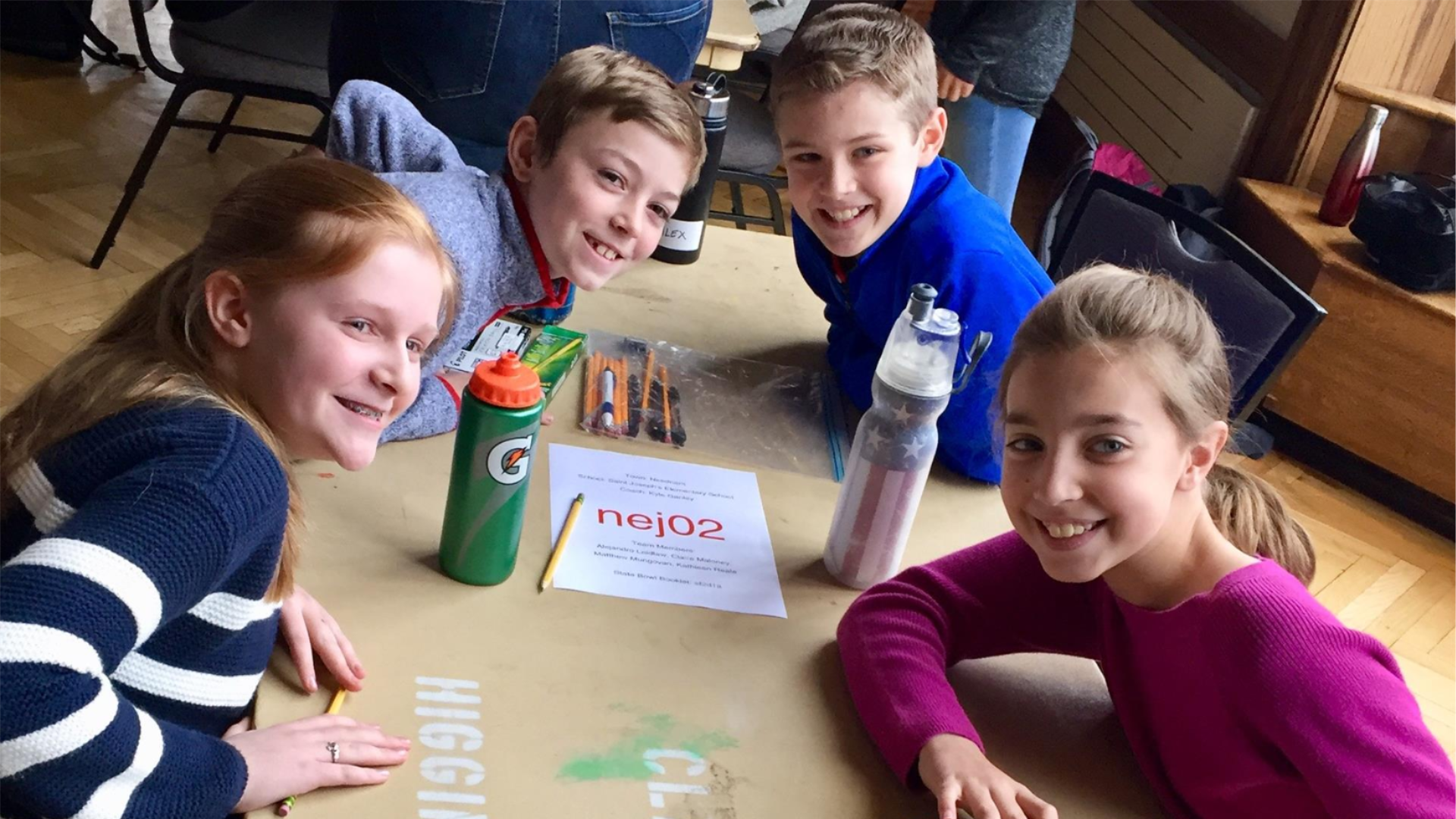 FUTURE PROBLEM SOLVERS
Congratulations to one of our Future Problem Solvers teams as they have made it to the state tournament. The members of the team moving forward are Katie, Reale, Matthew Mungovan, Claire Maloney, and Alex Laidlaw. Many thanks to Miss Larson and Miss Sullivan for coaching the teams.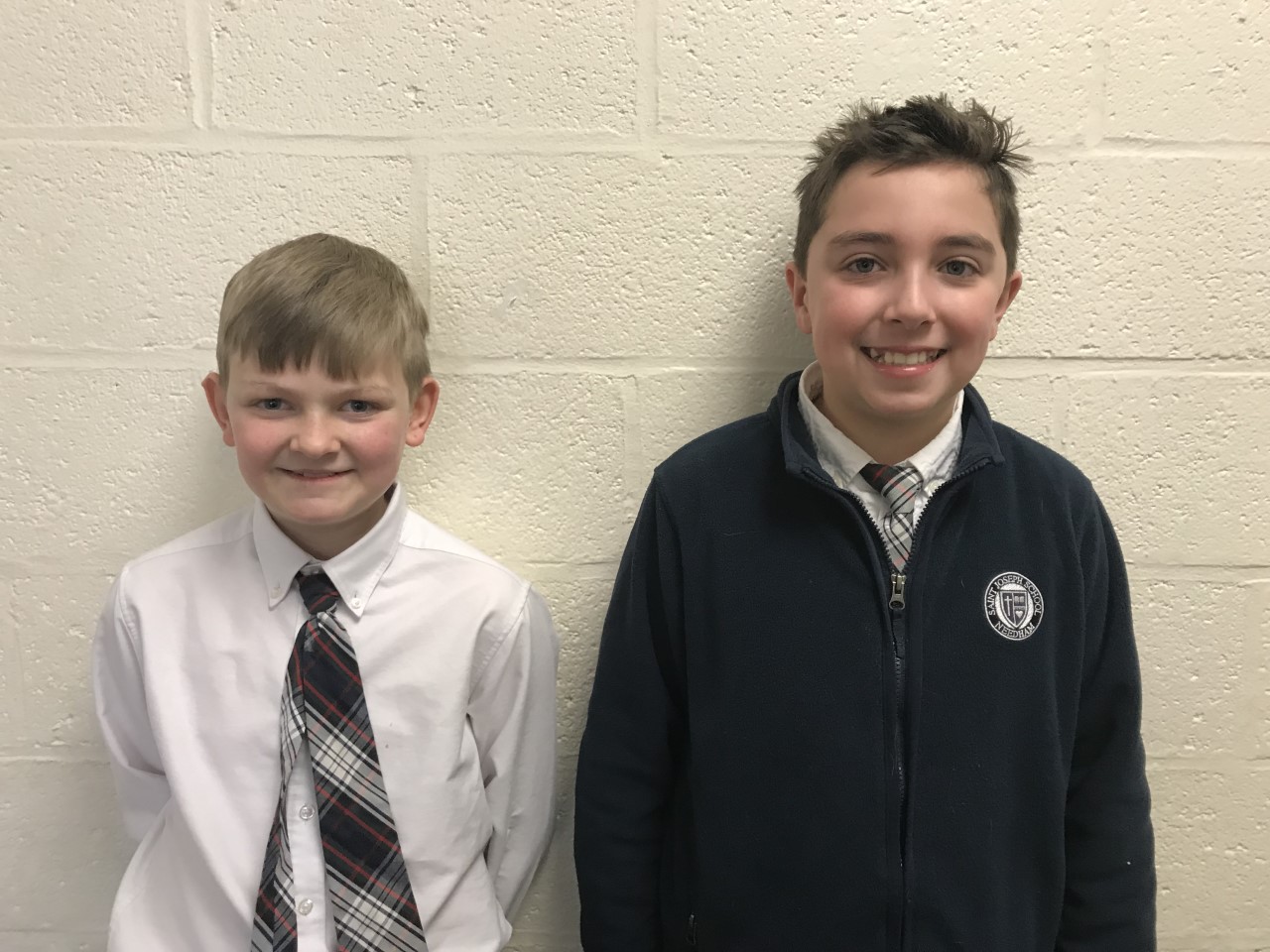 ST. JOSEPH SCHOOL HONOR BAND
Congratulations to Drew Kochenbach and James Marjani for being chosen to the St. Joseph School Honor Band. Drew and James were selected to participate in the 2019 Catholic School Honor Band Concert at Quincy Catholic Academy in Quincy on March 16th at 2:00 p.m. The boys represent the best of the best musicians from the area schools, so kudos to Drew and James!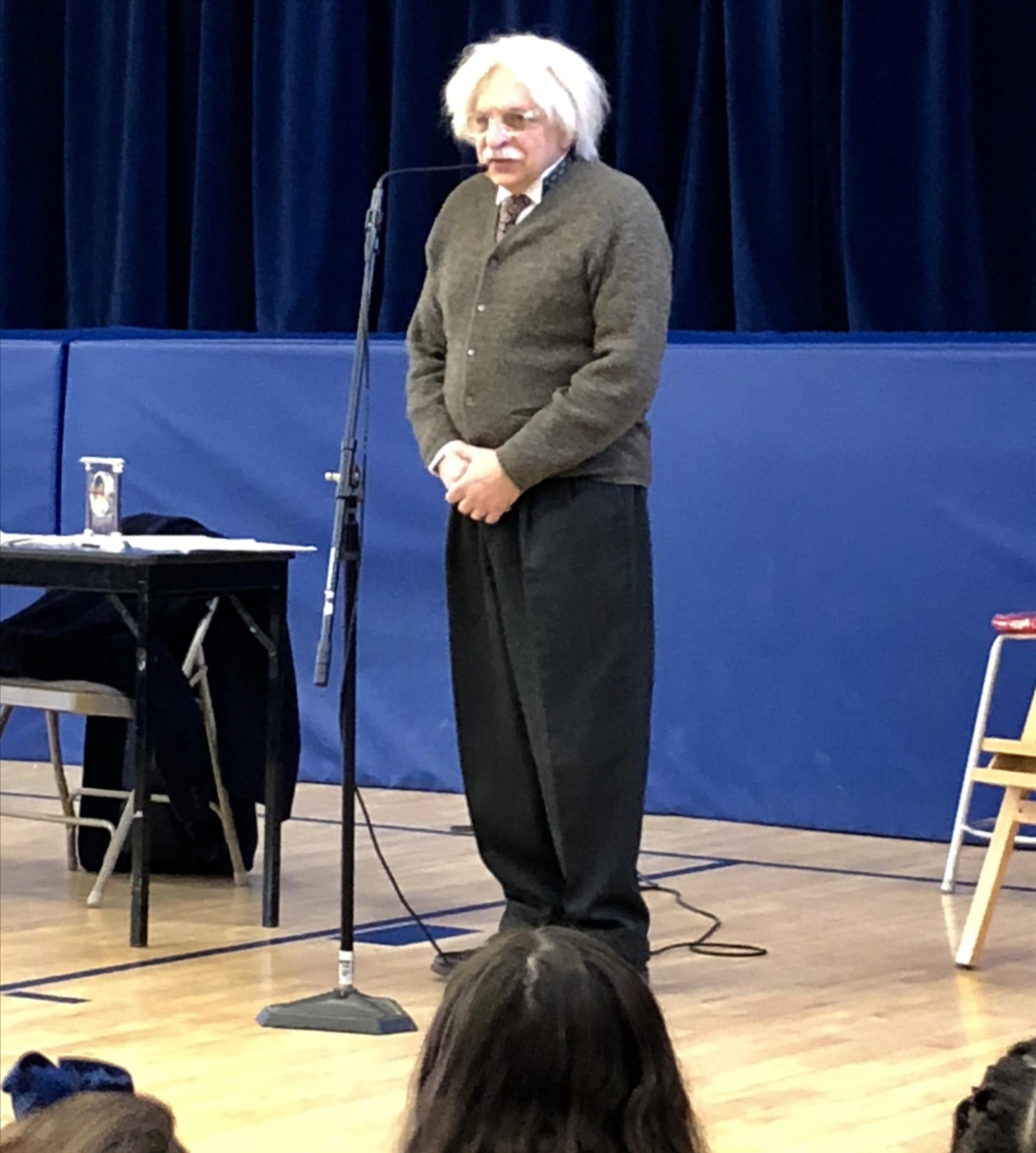 ALBERT EINSTEIN, RELATIVELY SPEAKING PRESENTATION
The fourth and fifth graders were treated to a presentation on Friday of Albert Einstein, Relatively Speaking and it drew raves reviews from students and teachers! We are so fortunate to be able to offer cultural programs such as this one to our students during the year.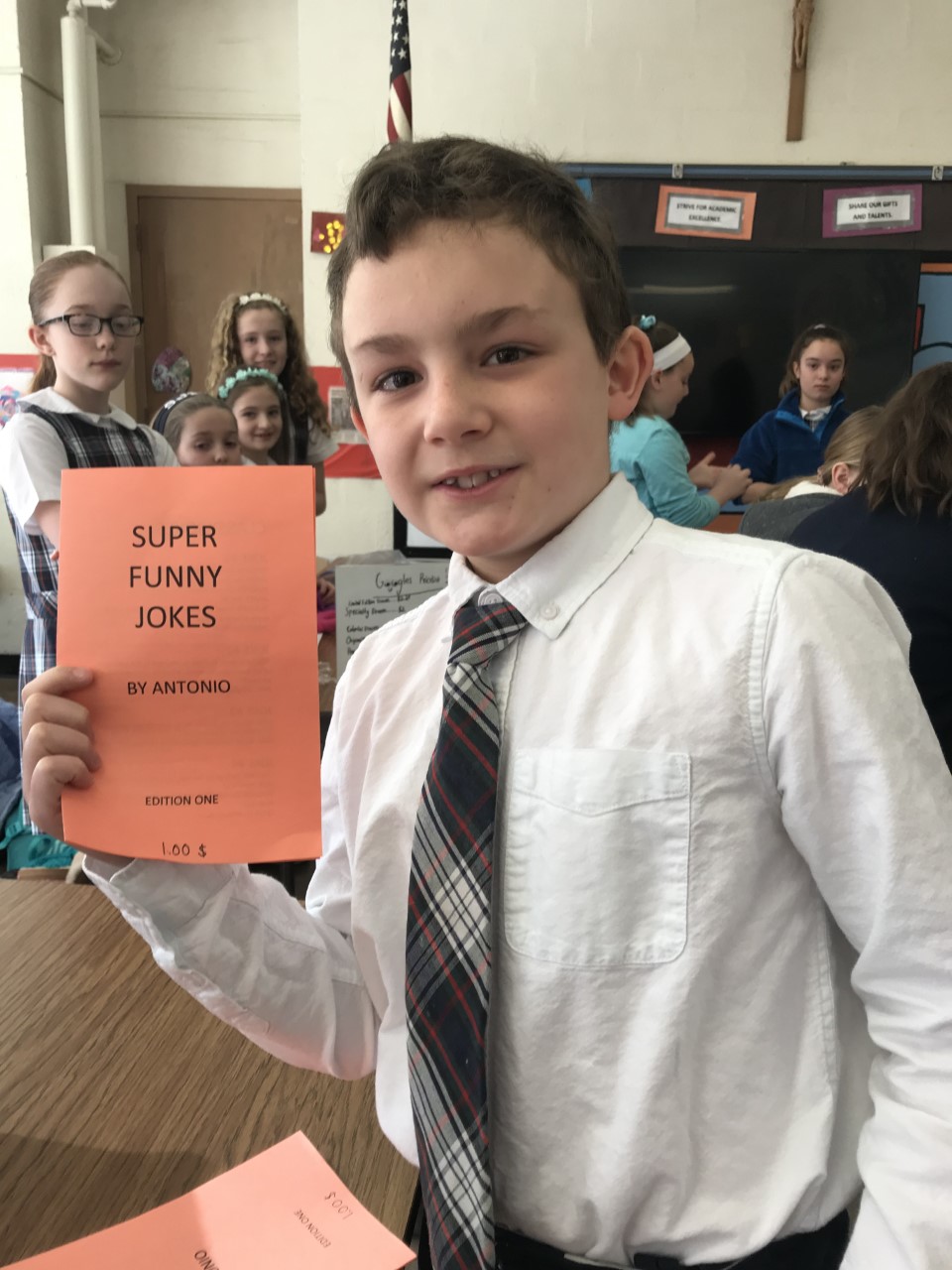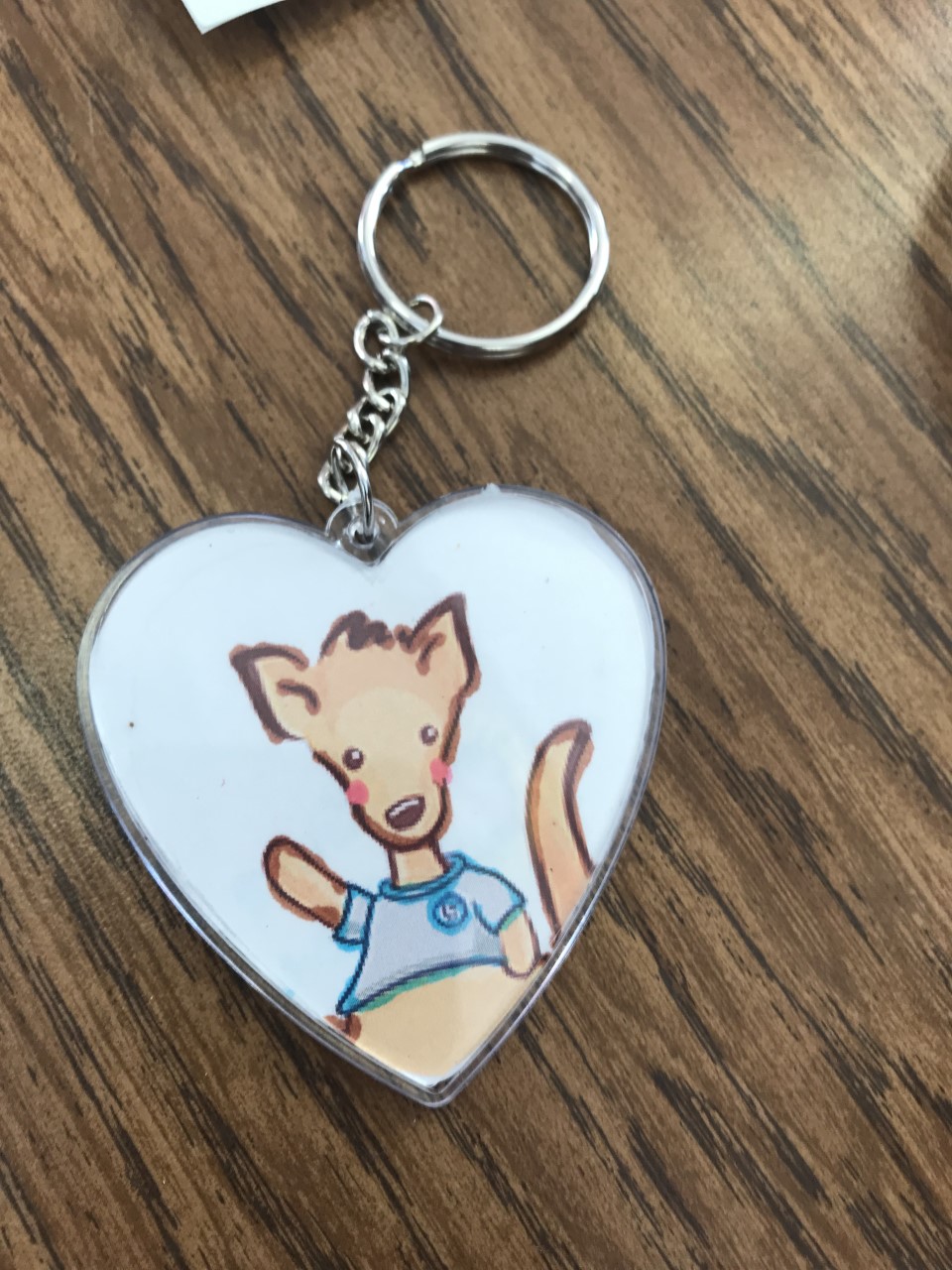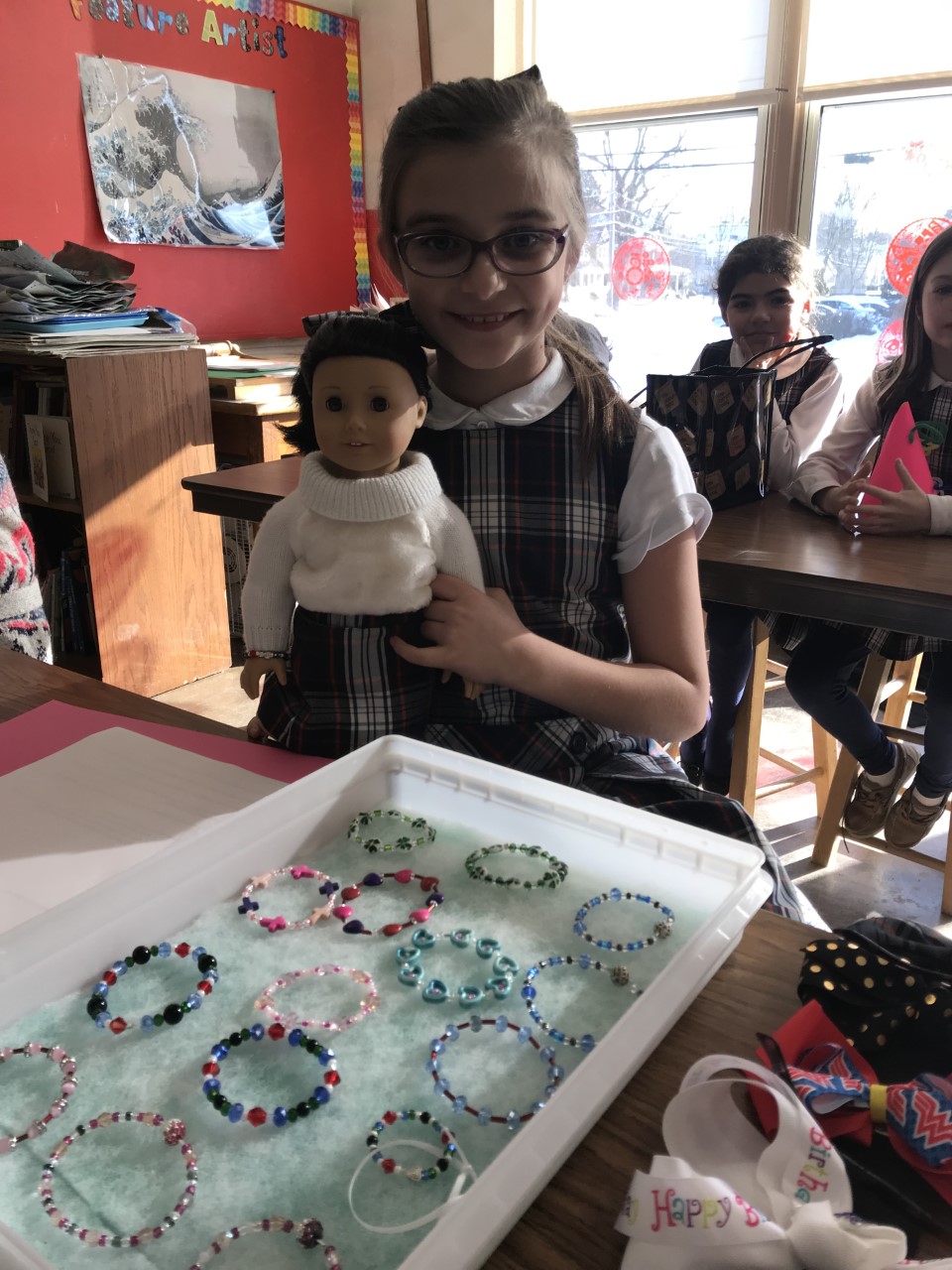 "CRAFTY KIDS ART SHOW" PITCH DAY
Pitch Day for our entrepreneurs was a HUGE success! Students came prepared with the name of their businesses, their products, and what they thought they should charge for their items. Ms. Harris, Lucy, Lila, and I were simply awed and amazed at how talented our kiddos are. For sale on March 22nd there will be bows, bracelets, slime, a joke book, bookmarks, pillows, and more! The sale will be held in the HUB that morning as there are 25 vendors😊. If your child is a vendor, Ms. Harris will follow up with you regarding specifics by the end of this week. As we said, this is really taking our Mission Statement to a new level by sharing their gifts and talents!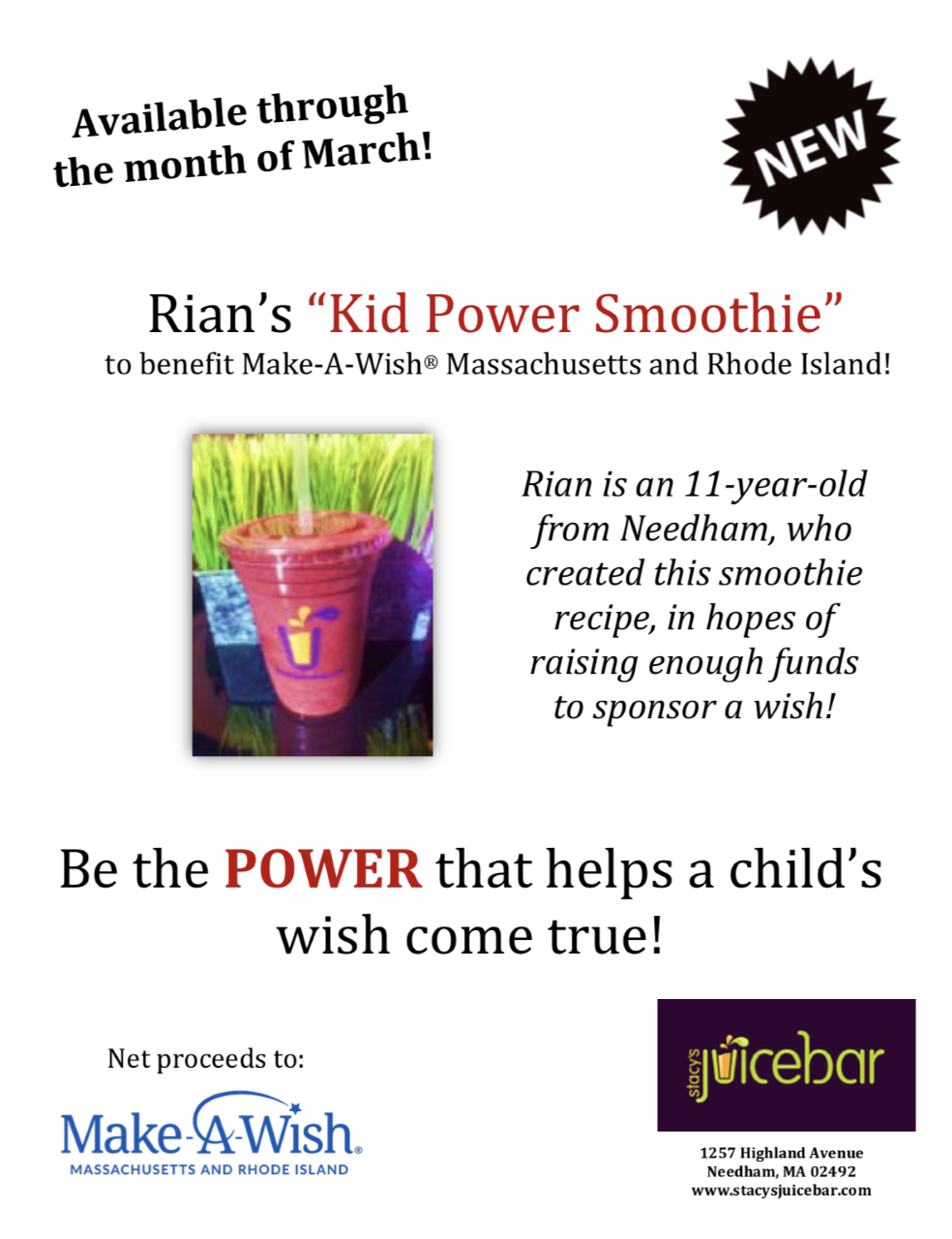 RIAN'S "KIDS POWER SMOOTHIE"
@ STACY'S JUICE BAR
Thank you for supporting Rian Chudzinski at Stac''s Juice Bar here in Needham as he raises money for the Make A Wish Foundation. Rian's parents have sweetened the incentive telling us if there are 450 smoothies sold in March, they will have Patriots quarterback Brian Hoyer come to speak to the students at both SJES and MHMS. Please make sure to tell the person at the counter that you are from St. Joe's!
WILL MCDONOUGH WRITING CONTEST
Mrs. Howard is in the process of entering essays for the Will McDonough Writing Contest sponsored by the Sports Museum. We will keep you posted if we hear any good news.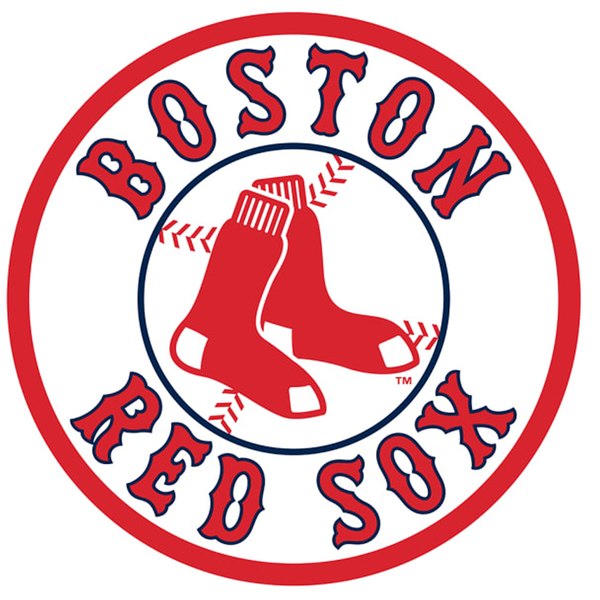 RED SOX TAG DAY - THIS WEDNESDAY
This Wednesday is Red Sox day in honor of the students reaching the top of the Joey meter! The children earned 100 Joey cards collectively and when that happens, we celebrate. Please have your children wear Red Sox or red, white, and blue gear. We will have a Pep Rally at 10:00 a.m.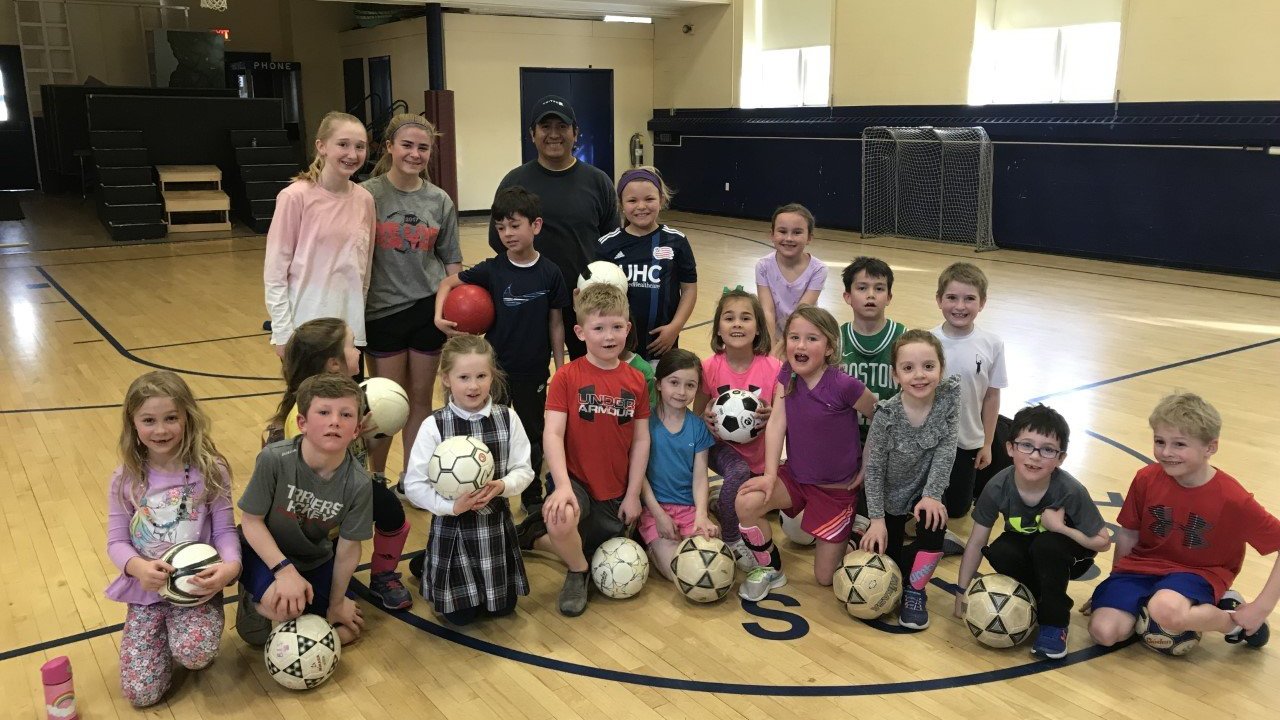 SOCCER CLUB
It seems like the soccer club run by Mr. Villafuerte (David's dad) is having a lot of fun on Friday afternoons. We want to thank the MHMS students who have kindly agreed to be counselors and assisting us on these days. On Friday, Mia Daoust and Kirsten Meyers were the counselors and I think they were having as much fun as the first and second graders.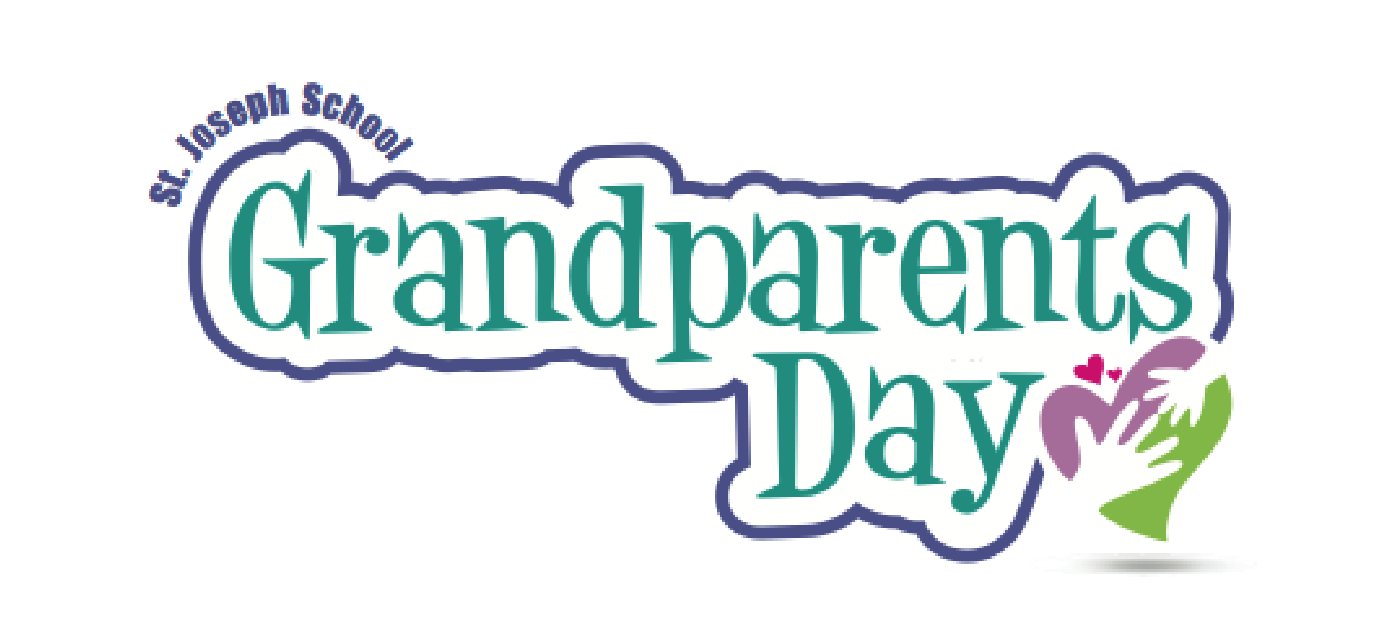 GRANDPARENT/ SPECIAL PEOPLE DAY
Believe it or not, you will be receiving forms regarding Grandparent/Special People Day this Thursday in your red folders. Please make sure to RSVP ASAP. Thank you to Meredith Giannotti and Rebecca Nauta for coordinating this wonderful day for our school community again.
A NOTE FROM THE RELIGIOUS EDUCATION OFFICE: 
If you have been holding on to your child's First Communion attire and now wondering what to do with it, please consider dropping it off at the Religious Education Office, 1382 Highland Avenue (via the May Street door).

Our office is open Monday through Thursday, from 9 a.m. to 4 p.m.  The clothing and accessories for girls and boys will be donated to Needham families who may need a helping hand.  What is not needed in the Parish is then sent to Saint Patrick Parish in Roxbury.

BUZZ OFF
A note about One Mission and the BUZZ OFF:

Now that March has arrived, we would like to start promoting the Buzz Off team. A meeting and pizza party will be held on Thursday, March 28th at 6:00 p.m. in the HUB (please enter through the May Street doors).  Each year we have raised over $30,000, so I think we can hit the 100k mark this year which would be great as One Mission is celebrating their 10th year with the Buzz Off.  Thanks for your ongoing support of this wonderful cause.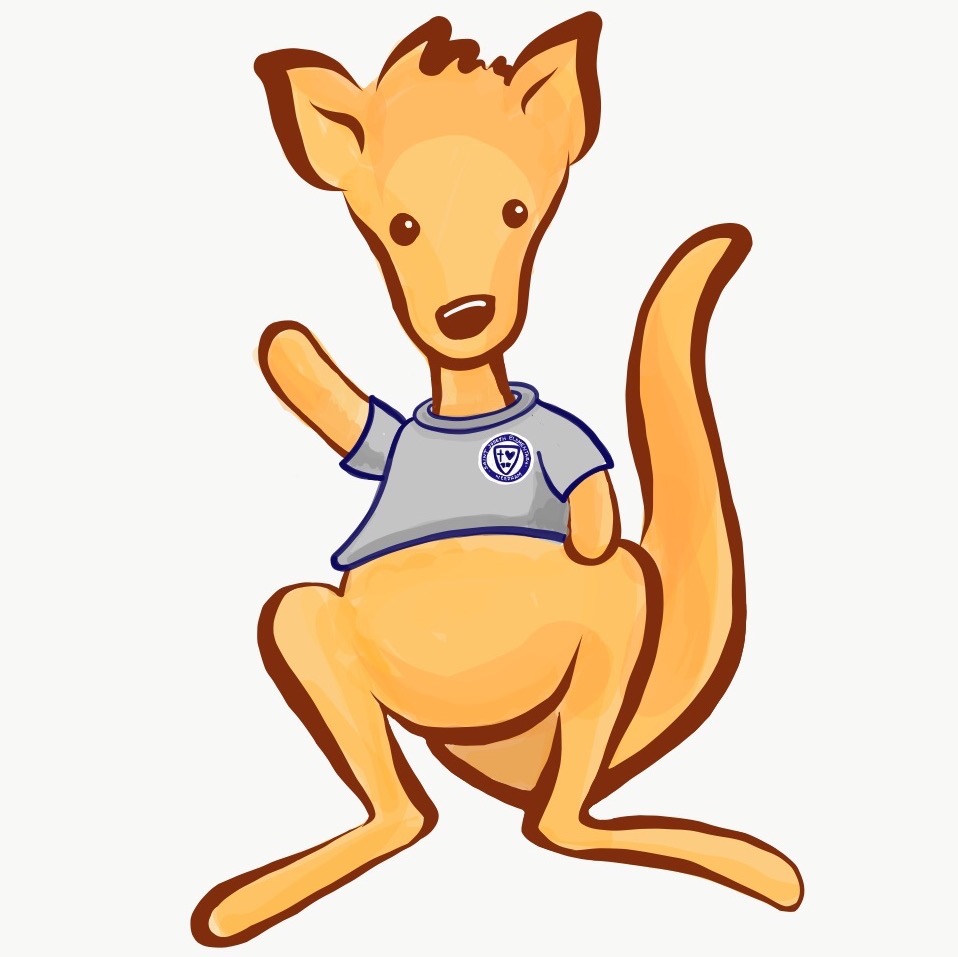 JOEY'S JOURNEYS
Finally, you should have received a flier on Friday about Joey's Journeys. We thought the students would enjoy taking home our school mascot and teaching him about our Mission Statement while he spends a few days in your home. We will keep you posted via social media as well as the newsletters, regarding Joey's journey.
It seems as if everyone grew over February vacation.  A reminder that we have a lot of gently used uniforms in the Uniform Closet.
SJES and MHMS will be having a joint meeting of our Consultative Boards on March 20th.
Summer camp forms are due in the office by this Thursday, March 14th.
We have a Professional Day on Friday, March 15th so no school for students.
Financial aid applications are due on Friday, March 15th. Please log on to FACTS to fill out the application. We want to make sure everyone can continue at St. Joe's and we will help you in any and all ways that we can.
Many of the teachers taught the students about Women's International Day which was this past Friday. When I went in to visit the students in 1B they told me that I "made the board" for women they admire. I was quite touched.
With so much going on, I seem to be in the habit of writing a newsletter every week!

Have a great day everyone!
Warm regards,
Charlotte Kelly
Principal