August 15, 2019 • Issue 1
"Dear Lord, fill their hearts with peace on this first day of school. Hold their hands today, help them feel secure and loved. Be with them when we pray and may they smile and make new friends, paint, learn and play. Bless the teaching staff who care for our little ones today. Lift my heart to trust that they will be overseen by you. Father, please watch over all of the children on their first day of school. Amen."
Dear Families,
Hello to you all! I hope that you have been enjoying your summer, and that you have had an opportunity to rest and relax. The weather has certainly been beautiful. This letter signifies the beginning of the end of our carefree summer days, as we look toward September and the start of school.
We have been busy at school preparing for a wonderful year ahead, and so I write to bring you up-to-date.
LETTERS TO STUDENTS
We welcome back and look forward to seeing all our amazing veteran teachers as well as our new hires. Letters to the students will all be mailed on August 15th, so tell your children to look for the mail carrier on Thursday or Friday. The teachers have been chomping at the bit to get into school, so I expect that the school will be busy in the days ahead, which is always a good sign. Everyone is looking forward to a wonderful year ahead!
PRESCHOOL
We are looking forward to welcoming our first preschool class this year. Mrs. Hamilton and Mrs. Banda have been working hard to get everything ready for the little munchkins.
BUILDING UPDATE
You will notice a change in the Early Childhood Building when you walk in the front door. Mrs.Solomon has moved into Mrs. O'Brien's office and Mrs. O'Brien has a new office right in the middle of the front lobby with a transaction window similar to the main office in the "big building". They are both thrilled with the change which was requested, and we agree that this new accessibility will benefit everyone.
You will also notice new rugs in the front lobby of both the elementary and kindergarten school buildings. Thanks to the fifth grade for their class gift of new rugs welcoming you and visitors to our school community.

We are excited to welcome Miss Marissa Balsamo as our new 4C teacher. A separate letter went out to the 4C parents.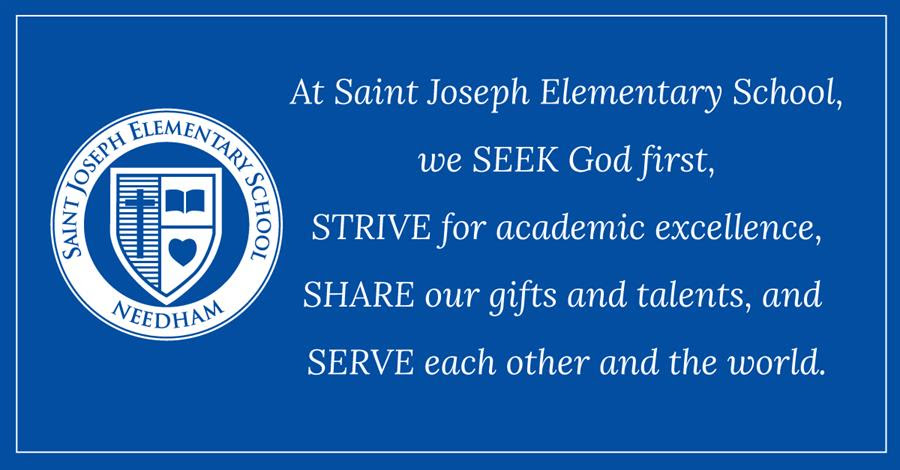 MISSION STATEMENT THEME
Every school year our St. Joe's community chooses a theme that we focus on, in and out of the classroom. At our June faculty meeting, we discussed how we continue to use our mission statement. The four words are seek-strive-share-serve. Our full mission statement says: At Saint Joseph Elementary School, we SEEK God first, STRIVE for academic excellence, SHARE our gifts and talents, and SERVE each other and the world. For the past three years we have used SEEK, SHARE, and SERVE so this year we will be using STRIVE as our theme for the year. We will strive to put God first, we will strive to do our best, we will strive to help others, and we will strive to share our gifts and talents. We will do this in our words, in our prayers, and in our actions. This theme of STRIVING will be carried out in both the classrooms and in the larger school community throughout the year.
Here is an outline of important dates ahead:
August 21st
Pre-k and kindergarten playdates at the kindergarten building
August 26th – 29th
Teacher's meetings, workshops, and training
August 27th
New Parent Reception in the HUB at 7:00 p.m.
August 28th and 29th
9:00 a.m. to noon – you may drop off supplies in the classrooms and the Health Office will be open to drop off medical supplies
August 28th
Ice Cream Social for students entering grade 1 in the HUB at 4:00 p.m. Students in 4C may come at that time to meet Miss Balsamo in 4C and enjoy an ice cream treat as well.
Orientation for transfer students in grades 1-5 in the HUB at 5:30 p.m.
September 3rd
First Day of School for preschool through grade five – FULL DAY
Welcome Back to School Prayer Service for students
September 4th
Before Care and Aftercare programs begin
September 9th
Auditions for the grade five play begin
September 11th
Music demonstration assembly for band
September 12th
PSA (Parent School Association) meeting at 8:15 a.m. in the HUB
Prayer and Pick-Up with 5A at 2:10 p.m. in Mary's Garden
September 13th
Opening School Mass at 9:00 a.m.
First day for Pizza Lunch
September 15th
CAP Training 7:00 p.m. in the library
September 17th
Early Release – 12:15 p.m. - Teacher's meeting
September 18th
School Pictures
September 19th
Back to School Night at 6:30 p.m.
Prayer and Pick-Up with 5B at 2:10 p.m. in Mary's Garden
September 25th
Student Council elections
CAP Training 7:00 p.m. in the library
September 26th
Prayer and Pick-Up with 5C at 2:10 p.m. in Mary's Garden
Joint Board Meeting at 7:00 p.m. in the library
Mother/Daughter Book Club at 6:30 p.m.
September 27th
Street Hockey Tournament PSA event

PRE-K & K PLAYDATES (AUGUST 21st)
We look forward to a great morning with our pre-k and kindergarten students at our popsicle playdates on Wednesday, August 21st at the Early Childhood building. It will be a wonderful opportunity to see some old friends and meet some new ones. Thank you to Meghan Sutherland and Megan LaPorte for coordinating this event! Please note that the pre- kindergarten playdates will start right at 10:00 a.m. and the kindergarten playdates will begin at 11:00 a.m.
NEW PARENT RECEPTION (AUGUST 27th)
All new parents are welcome to join us on Tuesday, August 27th at 7:00 p.m. in the HUB to find out what you need to know to get started at St. Joe's. Thank you to Lauren Fryberger and Karrin Plotner for coordinating this event.
ICE CREAM SOCIALS (AUGUST 28th)
We will have our ice cream party for the first-grade students on Wednesday, August 28th at 4:00 p.m. in the HUB. If you have a child in 4C, please bring him/her along to meet Miss Balsamo and enjoy an ice cream treat.
TRANSFER ORIENTATION (AUGUST 28th)
We will be hosting an informal orientation/pizza party for all transfer students entering grades 1-5 on Wednesday, August 28th at 5:30 p.m. in the HUB, if you are able to join us.
SCHOOL SUPPLY DROP OFF (AUGUST 28th & 29th)
You may drop off your children's supplies between 9:00 a.m. and noon on August 28th and 29th. We have offered this opportunity the past several years, and everyone seems to like that they do not have to bring in big bulky things the first day of school. Please label your items, as the teachers may not be there when you come in.
HEALTH OFFICE DROP OFF (AUGUST 28th & 29th)
The Health Office will also be open on August 28th and 29th from 9:00 a.m. until noon. PLEASE drop off all medications and paperwork to the Health Office on these dates. The good news is that we have received quite a bit of paperwork to date, but we absolutely cannot have a child seated at school if the necessary paperwork has not been submitted. You may reach Mrs. Brett at kbrett@saintjoes.com if you have any questions.
SEPTEMBER 3rd - FIRST DAY OF SCHOOL
All students, pre-k through grade five, should wear their regular school uniforms on the first day of school. Teachers will let you know your gym days, so that you will know what day to send the children in their gym uniforms.
Children entering preschool should use the side door closest to the playground and parents should bring their children up to their classroom. Children entering pre-k should line up at the second side door closest to the parking lot to enter the building. Mr. Giroux and Miss Healey will both be holding signs at the doors. The kindergarten students should find their teacher in the front playground, as they will be holding up signs K1, K2, and K3, and then they will proceed into the building.
Summer math packets and reading logs should be returned to school on the first day, September 3rd.
SCHOOL HOURS
The school hours are from 8:00 a.m. until 2:40 p.m. Students may be dropped off at 8:00 a.m., or they may sign up for Before Care that starts at 7:30 a.m. There are forms on the website if you are interested in this program. The doors of the school are locked at all times. Mrs. McInerney, Mrs. Walsh, and Mrs. Horrigan can remotely open the doors for your children at the back door and on Pickering Street. Mr. Cullinane will always be at the door on May Street from 8:00-8:15 a.m., Mr. Beranger, Ms. Harris, or Mr. Kent will be at the rear door. If your child is later than that, please make sure to have him/her dropped at the front door or at the rear door, and we will buzz them in. If they arrive after 8:15, they should also check in at the office to let us know that they have arrived. Prayers will begin at 8:15 a.m. and any child not seated for prayer will be marked tardy. The teachers have before school work that the children begin when they arrive, so please make every effort to have your child in school well before 8:15 a.m. For your planning purposes, try to have your children at school at 8:00 a.m. which then gives you a cushion of 10-15 minutes.


BEFORE CARE & AFTERCARE
Before Care and Aftercare start on Wednesday, September 4th. There is no Before Care or Aftercare on the first day of school. The Before Care program is drop in and/or you may sign up for a week or a month. For the Aftercare program, you must sign up in advance, before the school year begins, so that we may plan for adequate staffing. If you have not yet filled out your paperwork for the Aftercare program, please do that ASAP. These forms need to be downloaded and dropped off or mailed to the school. The Aftercare program does fill up on certain days, so if you need certain days for childcare coverage, you want to do this ASAP.
FORMS
Please make sure to access all other necessary 2019-2020 forms for your children online. You can access the forms at www.saintjoes.com. There is an easy link on the elementary school homepage under "School Life".
Online forms: (these will come directly to the office). Please be sure to fill in the School Office Main form before the first day of school, as it contains essential information regarding the dismissal process. We're happy to report that many forms have already been submitted.
Downloadable Forms: (fill out on the computer - download and print at home).
Before Care

Aftercare

Birthday Book
These forms (with checks made out to Saint Joseph School) may be dropped off at the Office or sent in on the first day of school.
Health Forms - Most of the forms listed here are explanations of health requirements from our Nurse, Mrs. Brett. The only form that needs to be downloaded is the "Health History" form for all new students.

All paperwork for preschool, pre-k, kindergarten and new students should have been sent to Mrs. Brett (our school nurse) by August 1, 2019. If you have not yet sent in your paperwork, please do so immediately, as no student can begin classes without all proper health records in place, according to the Department of Public Health. Students entering grade four should also have completed updated health forms and submitted them to Mrs. Brett.

If your child needs an epi-pen and is in the Early Childhood building, you need to bring two epi-pens to school. One is for the classroom and one for the Health Office. If your child goes to Aftercare, he/she needs a separate epi-pen for the Aftercare director. There seems to be angst around this every year, so I feel that if you know beforehand, you can prepare ahead of time. I saw on the news that there is a shortage of epi-pens, so you might want to take care of this
sooner rather than later.
Please make sure to access all necessary forms for your children online, as they are so very important to the health and safety of your children while they are in our care. We need all the forms, but the most important form to have before school starts is the School Office Main form. This contains emergency information as well as how your child will be going home each day. The teachers need to know this on the first day of school.
PROCEDURES FOR DROP OFF & PICK UP
When parents or visitors come into the school, they must enter through the front or back doors. We are asking that you report directly to the office to pick up a lanyard identifying you as a VISITOR, and sign in, so that we know you are here at school. In the Early Childhood building, we ask that you check in at the front office with Mrs. O'Brien and follow the same protocol. This is especially important if you are arriving late. Both school offices are equipped with cameras, so Mrs. McInerney, Mrs. Walsh, Mrs. Horrigan, and Mrs. O'Brien do know who is entering the school. If they do not see a familiar face, they greet the visitors.
RED FRIDAY FOLDERS ARE GOING ONLINE!
Our seasoned parents know to look for a red folder in their child's backpack on Fridays, chock full of notices and permission slips every week. This school year we are making it digital as well, and we will be calling it the "Electronic Backpack." You will still receive the red folder with hard copies as always, but we will be adding electronic copies of all notices. You may refer back or print a new copy if you lose something, by going to your ParentsWeb account and clicking on "Resource Documents".
LUNCH DUTY
After meeting with the PSA chairs, Kim O'Brien, Liz Sheehan, Robin Horrigan, and Lauren Solomon, we are excited to make changes to lunch duty; we hope to make it easier on parents and encourage more volunteerism. This is what the schedule looks like; you may sign up for one Recess or both, or HUB duty.
Monday-Thursday
Recess 1: 11:40-12:35
Recess 2: 12:20-1:15
HUB Duty: 11:45-1:15
(this is only 10 minutes longer than
the old "B wave" that combined inside and outside duty)
Fridays
Recess 1: 11:40-12:35
Recess 2: 12:20-1:15
HUB Duty:
(pizza teams who are already scheduled to be there
for the full lunch period)

Sign-ups will happen in two ways. We encourage parents to commit to a slot if they are able. Then we will open a sign up to all parents, so that they can choose occasional dates. We will send this sign up out monthly. We hope this will encourage parents who can't commit to a regular slot to pop in and help us out occasionally. This is similar to how parents sign up for duty in the Early Childhood building, and that will continue as well.
Lunch Boxes are going to be available beginning September 16th. The parent on HUB duty will take care of distributing the Lunch Boxes. Stay tuned for a training video on how this works and some helpful tips for Lunch Duty in general.
Speaking of Lunch Boxes...
Back in May, we ran a pilot month with Lunch Boxes delivering hot lunch Monday through Thursday. We received good feedback about the food and cost, and the volunteers who helped us agreed that it is easy to execute. We are planning to offer this service to our families beginning September 16. More information will come later this month about how to sign up and order lunches. You will only be able to order once a month during a window of time, and the charges will be sent to your FACTS accounts. The cost is $5 per day. We will be offering Lunch Boxes to all grade levels, but students with food allergies will not be able to participate.
The success of this program will depend entirely on Lunch Duty volunteers. We need to have all slots filled on all days in order to offer this service all year.
CORI FORMS & CAP TRAINING
All parent volunteers must fill out CORI forms each year. CORI forms are the Criminal Offender Record Information sheets that are required for every school in the Archdiocese. If you think you may be a parent volunteer at lunch, in the library, in the classroom, or if you want to go on a field trip with your child, you MUST complete a CORI form by October 1st. Please stop into the office, or plan on filling one out at the Back to School Night. All you need is your license or a passport, and in three minutes you will be all set. This is a laborious project for a school this size, but we really do appreciate you taking the time to keep our children safe and protected.
Parent volunteers must also take part in a CAP session. CAP stands for Child Abuse Prevention and it is the VIRTUS Training that is mandated by the Archdiocese of Boston. Protecting God's Children is a mandatory, one-time only workshop for all staff and volunteers who work with children. Sessions are available here at St. Joe's, in the school library, beginning at 7:00 p.m. on 9/15, 9/25, and 10/6. You may register at www.saintjoesparish.com or call the rectory at 781- 444-0245.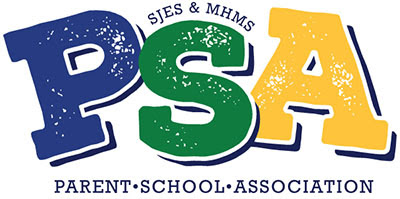 ONLINE VOLUNTEERING
I met with Meghan Sutherland and Megan LaPorte, the Parent School Association Chairs for the school year, and they were lovely AND organized! One of the most important parts of building our school community is to have active and engaged parents. Studies show that children whose parents volunteer at school do better academically, so I have no doubt that we will have 100% participation in the life of the school. Meghan and Megan will be sending out a PSA blast before school begins and I urge you to get involved. Our parent volunteers are truly one of the things that makes St. Joe's such a special place.
FACULTY PROFESSIONAL DEVELOPMENT/TRAINING
Ms. McShane attended the 4-day American School Counseling Association conference in July courtesy of a grant through the Needham Public Schools. Jeff Bauman was one of the keynote speakers and spoke about his story of being a regular guy who was able to "triumph over tragedy." She was able to attend many break out learning sessions on topics including: grief, students in crisis, solution focused collaboration, multi-tiered systems of support, advocacy for students with disabilities, emotional regulation, and empowering students to stand up to bullying. She was also able to connect with many organizations and gather many new resources to use in her individual, small group, and whole class work with students.
Our STREAM dream team of teachers will be busy next week working for two full days of professional development with WPI. We continue to work on our STREAM curriculum and to developing the program. Our team consists of Ms. Federico, Mrs. Wescott, Miss Boland, Miss Sullivan, Mrs. Fiumara, Miss Powers, Mrs. Solomon, and Miss Horne.
We are delighted that through our partnership, WPI will be meeting with the faculty and staff several times during the school year and meeting additionally with the dream team.
As you may also know, all our faculty and staff in the elementary school are trained in CPR, AED, and epi-pen, so we will also be participating in these training sessions the week before school starts.
As part of our work to join SJES and MHMS to offer a continued education from preschool through grade eight, the faculty and staff at both schools will join together for lunch on August 27th and the fifth grade team of teachers will meet with the MHMS faculty to discuss curriculum goals on August 28th.
MOTHER/DAUGHTER BOOK CLUB
Our fifth and seventh grade moms and daughters have a Mother/Daughter Book Club that meets about six times a year when we have Board meetings (usually on Thursday nights) and they both started in grade four. If there is a mom who is interested in coordinating this for the fourth grade girls, please let me know. Everyone really enjoys it!

PARKING
A reminder to please observe all the Parking and No Parking signs around the building and the neighborhood. No parking is permitted in the Needham Administrative Lot, front driveway, or in the Stephen Palmer lot. Another reminder is that only students who have siblings or are in a carpool with kindergarten students, may be dismissed from the side door.
SCHOOL LUNCH
Students should plan on bringing a lunch and snack every day beginning September 3rd. This happens every day except on Fridays, when students have the option of pizza or chicken nuggets. Pizza lunch will start on Friday, September 13th and there is a form online for you to complete, if you are interested. A reminder that we will be offering "white pizza" or pizza without sauce for the children that prefer that. Please make note to check the right box when filling out the form online.
SOS / LUNCH DUTY
At the beginning of the year we REALLY NEED parents to help us with lunch duty. We need parents all year long, but when the children get back to school it seems as if they need more hands opening the lunches and getting back into the routine. If you are available, we would really appreciate you signing up online.
MILK
The cost for milk will again be $17.00 per student for the entire year. If interested in milk for your child, please fill out the online form.
UNIFORM CLOSET
Please visit our Uniform Closet anytime beginning August 26th. The closet is full of gently used uniforms that are in excellent condition, so there is really no need to order multiple sets of uniforms. Parents will have the opportunity to "shop" all year long which will be perfect for when your child has a growth spurt. You can get the closet key at the main office.

AFTER SCHOOL ACTIVITIES
The teachers will be offering after school clubs/activities beginning mid- September. More information will follow.
CALENDAR
All of the school dates are currently available online, so please access the school calendar through the website. Many dates have been added over the summer, so please check out the changes. Please note that the Early Release Days are on various days this school year. If your child is signed up for Aftercare and it's an Early Release Day, he/she may go there on that day automatically.

I would like to thank Frank Kent, Sean Dempsey, and Matt Dempsey for working so hard all summer to make necessary repairs to the school, and to clean it so thoroughly. The school buildings look like they are ready for children!
I know that this letter is long, but I am trying to anticipate your questions, as we get ready for the first day of school. If something is not clear, please email me at ckelly@saintjoes.com or call me at 781-444-4459 extension 110. I have an open-door policy, and I am here to help you with anything at all.
I do these newsletters at least twice a month, but I promise the others will not be so lengthy. Believe it or not, I have more to tell you, but it will have to wait until the next newsletter.
Summer is great and goes by too fast, but that being said, I always look forward to the start of school and seeing all the students and parents. I truly feel blessed to be working here at Saint Joseph Elementary School and promise to always work hard on behalf of your children. I look forward to a terrific year working with all of you and I can't wait to see all of the children soon.
Enjoy these last few weeks of summer!
Warm regards,
Charlotte Kelly
Principal