September 3, 2019 • Issue 3
"Being nervous isn't bad, it just means something important is happening."
Dear Parents,
I like the quote above because it applies to all of us, the students, the faculty and staff, and all of you. When you go to school or work in a school, you get to celebrate a new year twice, once on January 1st and another on the first day of school. We are all excited and a tad bit nervous, but honestly, once the kiddos are back at school, all is right in the world.
Last week was a busy week, but it was fun to see so many familiar and new faces. The best part of my job for sure is being able to see the children, and between supply drop off, ice cream socials, and transfer orientation, I got to see a lot of them. I am looking forward to seeing everyone on the first day of school!
BACK TO SCHOOL ACTIVITIES
Thank you to Lauren Fryberger and Heather Friedman for organizing our New Parent Reception. It was a nice opportunity for the parents to meet other parents and to have some questions answered as they get their children ready for school.
Thank you to Meghan Sutherland and Megan LaPorte for organizing the Ice Cream Social for our first grade students as well as our 4C students. I heard that everyone felt much less anxious after having met their teachers.
Meghan and Megan also organized our Transfer Orientation for new students entering St. Joe's ingrades 1-5. Thank you too, to our student buddies who, through a scavenger hunt, showed the new students around the school.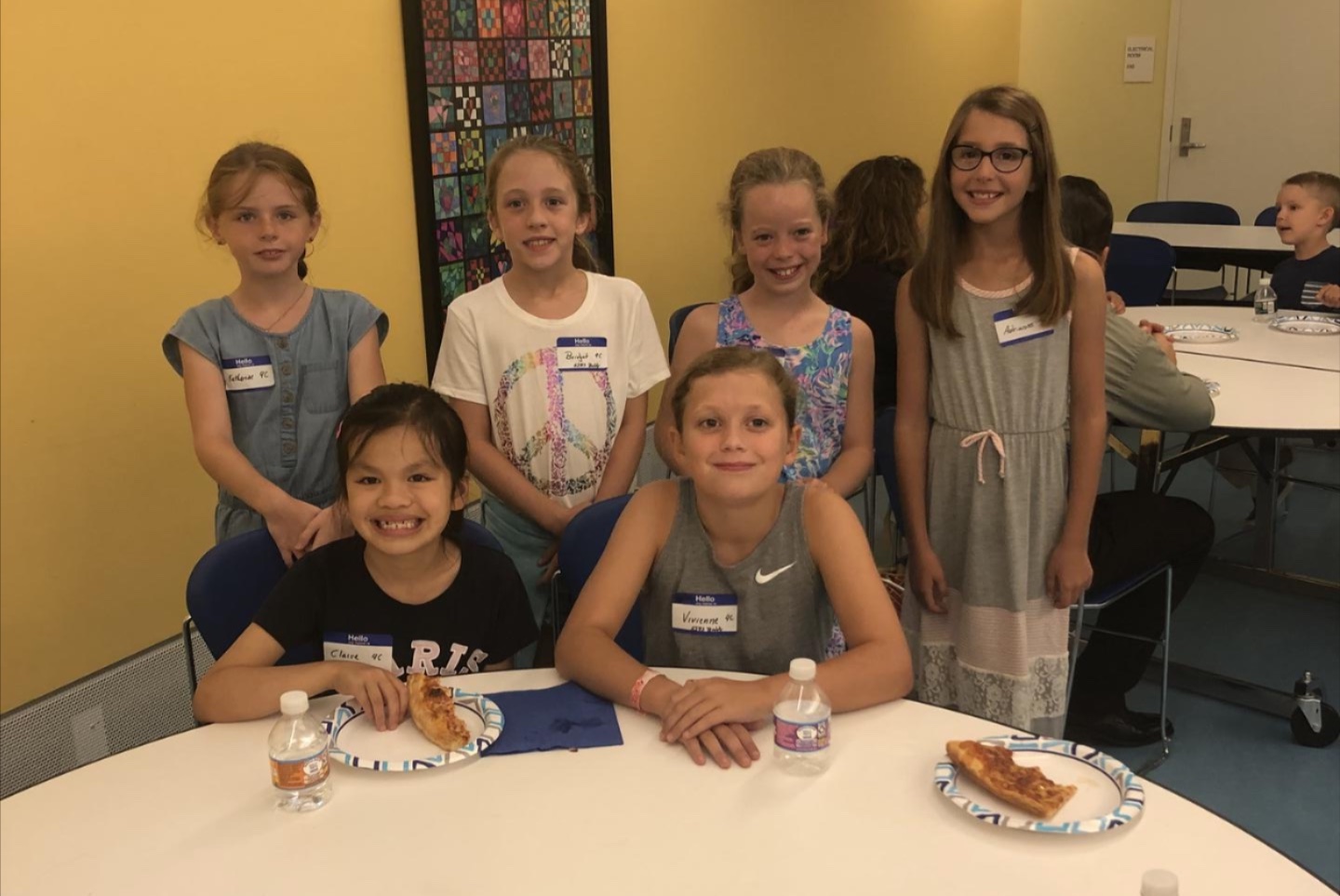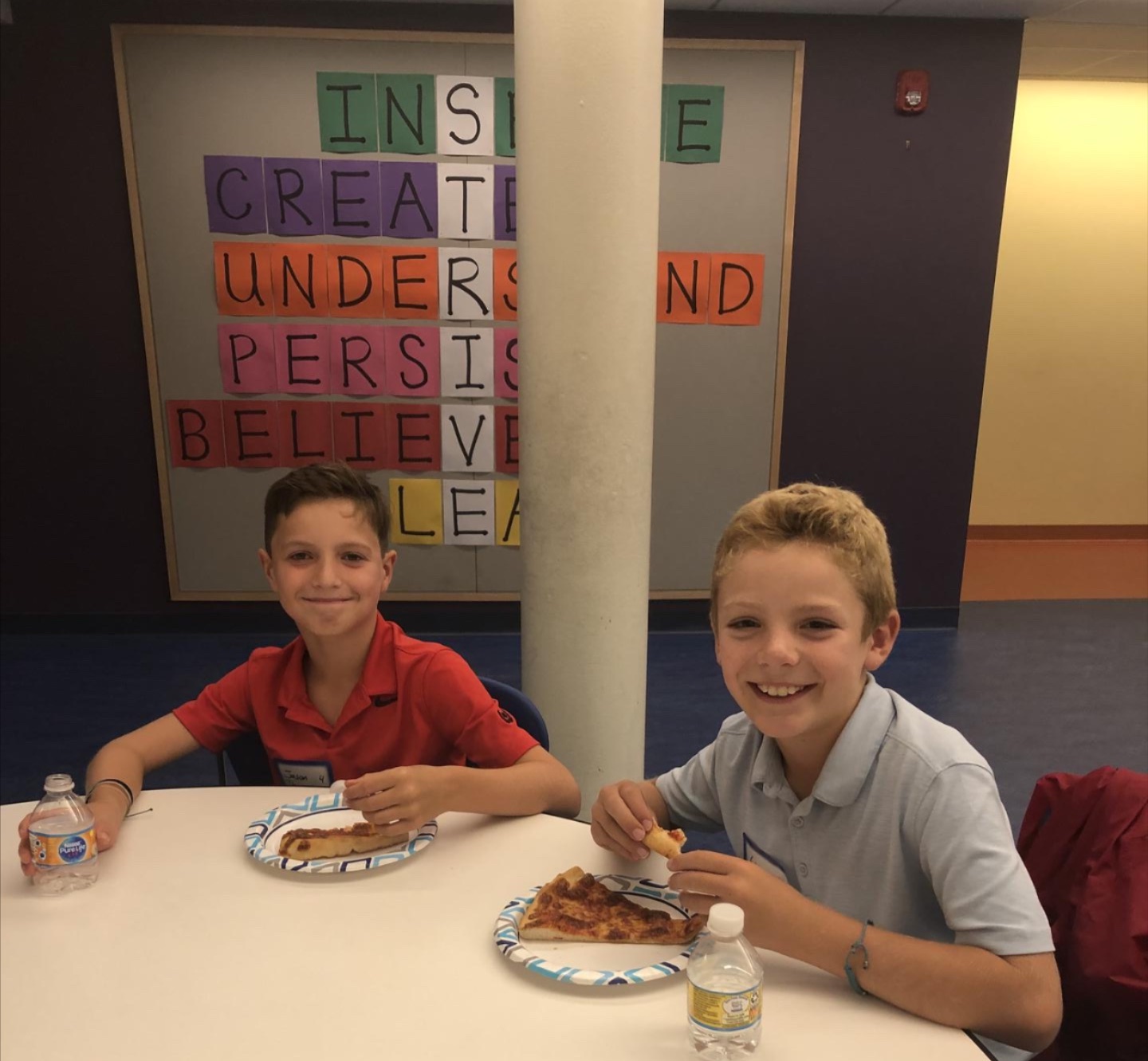 STAFF TRAINING
The faculty and staff were in full force this week for CPR/AED/EPI PEN training on Monday. We had a new teacher orientation for new faculty and staff on Monday afternoon and then a full day of meetings on Tuesday. The buzz in the air was contagious as everyone was getting their classrooms ready for the children. We also enjoyed a joint luncheon with the faculty and staff of MHMS.
CHURCH RENOVATIONS & PARKING
For anyone that is a parishioner you have probably noticed the work going on in the church with the renovations. Because of the church project we now have a dumpster in the Early Childhood Building parking lot which means we have lost about six parking spaces for faculty and staff at both schools. Rosanne Timmerman has been hard at work trying to find additional parking, which we know is already tight. Dan Gutekanst, the Superintendent of the Needham Public Schools, has kindly offered us spaces in the administrative lot, which is located next to our parking lot. I spoke to him on Friday and he said the offer is contingent upon all of us cooperating and not having parents pull in and/or park in that lot.
It is already dangerous for grown-ups with vans pulling in and out all day, so we cannot have children in that space. PLEASE, we are asking that you do not pull in and/or park in that area, so that we may be good neighbors and keep the spaces for our teachers until the renovations are complete.
ADMISSIONS UPDATE
We are excited to share the news that our preschool and kindergarten classes are at full capacity! Many thanks are due to Desiree Walsh and Katie Sullivan for their personal attention during the admissions process and for marketing the school so well. We are delighted that people recognize everything that is special about a St. Joseph Elementary School education.
BAND
A reminder that if you are interested in your child (grades 3-5) taking instrumental lessons, forms are due by 9/18 and the first band lessons are on October 3rd. Miss Murphy has kindly agreed to be the instrument liaison for students and parents once again. She will deliver the children to the pick-up line or aftercare and will oversee homework.
PLAYGROUND
Because of the work being done on the roof, the playground will be off limits until the work is complete. Luckily it is safe for the students to be able to play on the blacktop during recess.
BEFORE CARE AND AFTERCARE
A reminder that Before Care and Aftercare begins on Wednesday of this week. I know that an Aftercare Newsletter just went out, so please read that carefully if your child will be attending the program.
BACKPACK BLESSING
Join families at the 9:30 Mass on Sunday, September 8th for a Backpack Blessing. All students are invited to bring their backpacks to Mass and receive a blessing as they begin a new year of learning and journey towards becoming all that God created them to be.
FRONT OFFICE UPDATE
As you know, this year we will be having four people work in the office and they will all be part-time. Mrs. McInerney, Mrs. Walsh, Mrs. Posada, and Mrs. Horrigan will be joining together to make sure that everything runs smoothly for the school. Because of their schedules, Mrs. McInerney and Mrs. Walsh will be the constants in the office, meaning that one of them will be at school every day. We ask that you copy both on emails, so nothing gets lost.
LUNCH BOXES
You should have received an email regarding Lunch Boxes. The pilot program was very successful in May and we expect it to continue. Just a reminder that we MUST have parents volunteer every day for the program to continue in both buildings and once the deadline has passed, we cannot take any new orders.
STUDENT COUNCIL
We are excited that Miss Scott has offered to work with Mrs. Howard on Student Council this year. Student Council elections will be later this month for students in grades 2-5 and you will receive information in the September 13th Friday Folder.
EMERGENCY HEALTH FORMS
Mrs. Brett will be sending the lime green emergency forms home on Tuesday. She asks that you return them immediately, so that we have contact information for your child if we need it.
I like to say at this point, ready or not, here they come😊. No worries, we are ready and waiting with open arms to begin the school year.
Warm regards,
Charlotte Kelly
Principal