Service Opportunities
One Mission's Buzz Off - Team Saint Joseph School
The 2023 Saint Joe's Buzz Off Team is open for registration!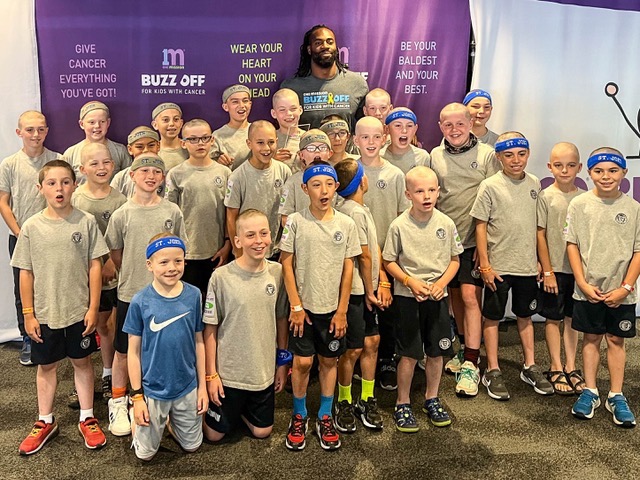 The One Mission Buzz Off will take place on Sunday June 18th at Gillette Stadium. This is the 7th year a team from Saint Joe's will be participating in the Buzz Off and the team has raised over $125k to support children with cancer.

One Mission is a pediatric cancer charity that provides an array of services to meet the immediate needs of pediatric cancer patients and families undergoing treatment. In 2021 the Saint Joe's Buzz Off Team was honored with the Buzz Off Heroes Award for their ongoing commitment to this wonderful charity.

Although there are some team fundraising activities, participants of The Saint Joe's Buzz Off team commit to individual fundraising efforts to support the overall team fundraising goal. There is a $35 registration fee and a $200 individual minimum fundraising requirement for children under 14.

Can't commit to shave, consider supporting the team by donating!
To join or donate to the 2023 Saint Joe's Buzz Off Team
If you would like additional information or have questions about the Buzz Off please contact Joanie Shea at obrienshea52@gmail.com or 617-513-7886.

---
In School Service Projects:
Grades 6-8 Blessing Bag collection and creation to benefit Boston's homeless
Grade 8 Cradles2Crayons The Giving Factory Visit

---
2022-2023 Service Projects
October
• Service Club (offered trimester I)
• Cradles2Crayons Collection Drive and Giving Factory Visit
• Halloween Candy Drive to benefit our Troops

November
• Annual Thanksgiving Cereal Drive to benefit the Needham Community Council

December
• Grades 5 & 6 blanket making to benefit our Veterans and Boston's children in need

January
• St. Francis House clothing drive and community project with St. Joseph Parish
• Catching Joy Book Drive

February
• Valentine's day Cards to benefit community members

March
• Saint Joseph Feast Day Table food drive to benefit the Needham Community Council

April
• Color Wars - monetary collection and select food items to benefit the CRUDEM Foundation
• Grades 5-8 Pack-a-thon participation with St. Joseph Parish to benefit the CRUDEM Foundation

May
• Grades 6-8 Blessing Bag collection and creation to benefit Boston's homeless
• Grade 8 Cradles2Crayons The Giving Factory Visit
• Pan Mass Children's Bike Ride

June
• One Mission's Buzz Off