Clubs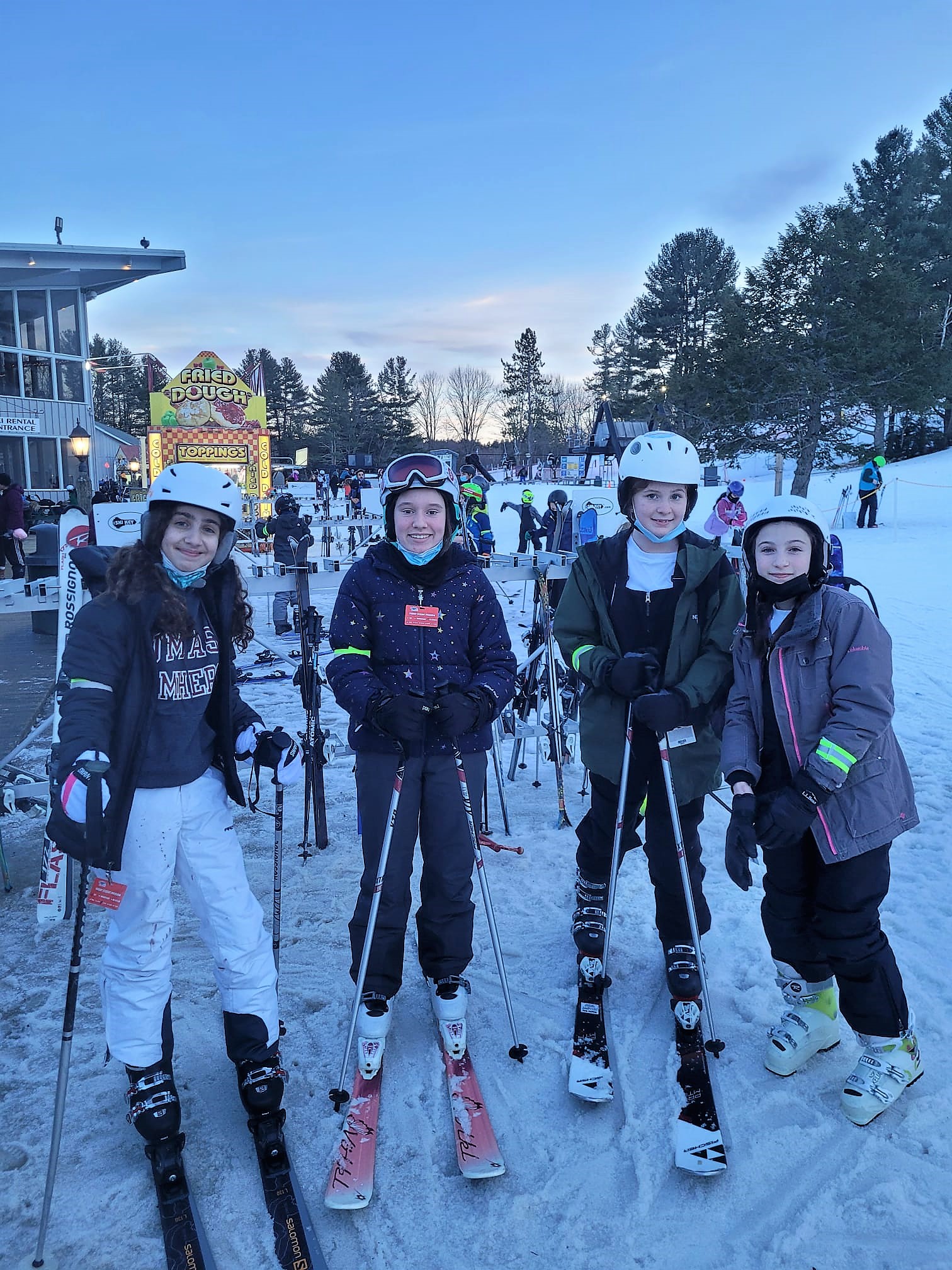 Our sixth graders, Kayla Hanna, Emma Strapps, Amelia Welsh, and Mia Bauman enjoying the Ski Club held at Nashoba Valley.
We are pleased to offer many after-school and lunchtime activities, clubs, and sports to help each student find and develop his or her own talents and skills at all grade levels. Clubs and sports support healthy socialization, leadership development, and community service. We encourage all students to try new things and get involved.
Student Council
Becoming a Student Council Representative (grades 2-8) is an important and serious obligation. The elected person serves as a direct representative for the entire class and, occasionally, the entire school in relationship with the school administration, particularly the principal.
The existence of a student council teaches our students many things, including such principles as: decisions should be made only after considering the input of many people, students need and deserve a voice, and that every honor also requires responsibility. Since the voice of the students is the elected student council representative, that student should be a leader and possess leadership qualities such as: honesty, integrity, enthusiasm, the ability to listen, perseverance, organizational skills, and above all, a desire to serve others. Student Council meetings are held after school once or twice per month.
Drama & Musical Theatre
The after-school drama program is designed to foster a love of the performing arts and give the students a positive theatrical experience in a supportive environment. Exposing students to the world of theatre is a positive experience that will enable them to "think on their feet" as well as creatively work in a supportive environment. Our hope is that this drama experience will not only improve the students' imagination and boost their self-confidence, it will also develop a life-long appreciation for the arts as they become more aware of the world around them. The program is directed by our school's music teachers.
Interested students in Grades 4-8 learn acting, singing and basic dance skills that are put together in rehearsal for an age-appropriate musical performance for all to enjoy! Each program is designed to expand the children's ability as they grow more and more comfortable on stage.
Choral Opportunities
The primary responsibility of the choir is to provide music for the monthly First Friday Liturgies. However, the choir also participates in many all-school functions both in and out of the building, providing music for prayer services, concerts, and assemblies.
The choir directed by our music faculty rehearses once a week on Wednesdays from 2:40-3:15 in the Music Room. In addition to singing at the monthly masses, the choir is featured in the school concerts in December and May and at other functions throughout the school year. Students in grades 3-8 are welcome to participate.
Concert Band
Paul Effman Music leads our band program. Students are grouped by instrument and level of performance. The band meets weekly for 30 minutes altogether, and then will additionally meet in small groups for lessons. The Saint Joseph School band will host two concerts throughout the year: the Christmas Performance and the Spring Concert.
Instrument Lessons
To support our band program, private lessons are offered at our school on the following instruments: flute, clarinet, saxophone, trumpet, trombone and percussion. Students in grades 4-8 are invited to take private, semi-private, or beginner group lessons. Instrument rentals can be arranged.
Sports intramural and athletics
We are pleased to offer a variety of competitive (athletics) and non-competitive (intramurals) programs at Saint Joes. Please visit the Intramurals and Athletics tab on the School Life menu for more information.
Ski Club
Ski Club is open to grades 5-8. This activity provides an opportunity for students to grow socially, emotionally, and physically. Students make new friends and have an opportunity to learn how to help each other. The program is open to all levels of skiers and snowboarders alike. The program takes place at Nashoba Valley Ski Area in Westford, MA and is run by faculty.
The Ski Club takes place on Fridays, beginning in early January and ending mid-February. Busses leave school at 3:45 pm and return at approximately 9:45 pm.
Running Club
Running club is open to students in grades 1-8 to introduce them to running and endurance games. It is a fun and active way for students to meet new schoolmates while engaging in fun games and races. Running club is open in the spring and will be held outside, weather permitting.
Golf club
Golf is a fun and challenging game that can be played throughout one's lifetime. Students in grades 5-8 are welcome to join. Students should bring their own clubs, balls will be provided. Golf will be held in the fall and spring.
The program is held Kohr Golf in Natick, from 2:45 to 4:15 pm. Transportation to the golf course must be provided by the parents.
Lunch Bunch and Breakfast & Books
The library sponsors book groups that meet during lunch on alternate months for third, fourth and fifth grade students. Middle school students enjoy Breakfast & Books in the morning before school begins. The groups meet informally to discuss a book selected either by the librarians or by the students themselves. All are welcome, and there is no charge for this activity. The school supports this effort to encourage reading by purchasing multiple copies of each book chosen.
Yearbook
Composing the Yearbook is a fun and memorable experience where students will get to see their creation from start to finish and is open to grades 6-8. Working together to incorporate student's individual strengths is the key to creating the best edition possible. If you are skilled and motivated at writing, art, photography, organization, or any other quality you think would help, please join the yearbook staff.
Christian Service
To build the virtue of social charity in the students, Saint Joseph School has a Christian Service hours requirement. If parents have an opportunity that students may wish to participate in, please contact Mr. Kiessling at
mkiessling@saintjoes.com
. All service opportunities for middle school students should go through Mr. Kiessling who will organize sign-ups. Students and parents should seek opportunities to serve in their surrounding communities.
Homework Strategies Club
This program is designed to assist students who are struggling to get organized and /or getting their homework done on time. To be eligible for this program, the student must have difficulty organizing assignments and be referred to the program by the teachers. The homework strategies moderator tries to help the student organize their daily homework assignments by being sure their assignment notebook is being properly used and the things they need for the day are being brought home. When a student has improved their performance in this area, it may be suggested to the parents that their child no longer needs to attend the program.