Save the Date: Screenagers Movie Night
We are pleased to host a movie night showing 'SCREENAGERS: Growing Up in the Digital Age' on Thursday, October 19th at 6:00pm. This is for students in grades 4-8 WITH a parent or guardian.

This is award-winning film that probes into the vulnerable corners of family life and depicts messy struggles over social media, video games and academics. The film offers solutions on how we can help our kids navigate the digital world. This event is being hosted by our SJS School Counselors.

RSVP Here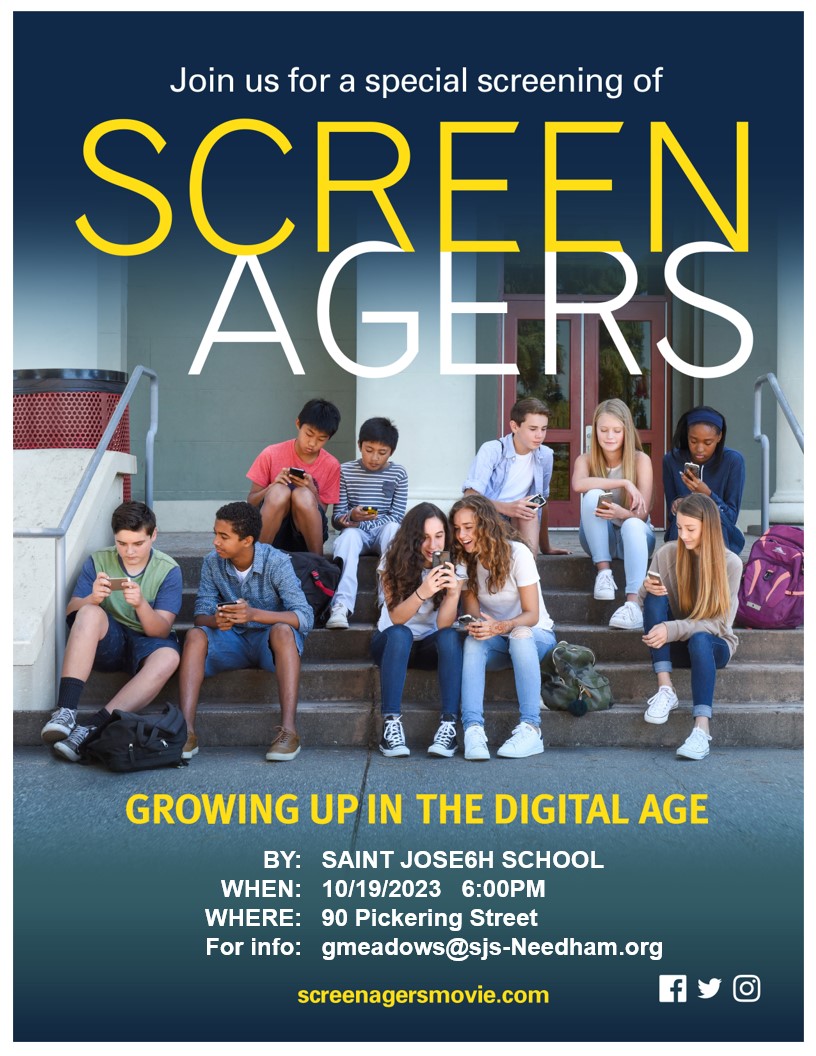 School Counseling Program
Saint Joseph School employs two licensed School Counselors who are responsible for implementing a comprehensive school counseling program based on the American School Counseling Association (ASCA) National Model.
The central role of the School Counselor is to promote student success by supporting all students with their academic, social, emotional, and behavioral needs. This is done by providing direct services: classroom curriculum, small group counseling, individual student planning, and short-term counseling. Additionally, indirect services such as outside referrals for long-term support, collaboration with parents, teachers, administration, and outside clinicians, and advocacy for students in meetings are provided.
Parents who are concerned about their child should reach out to one of our School Counselor, Erin Claflin, at: 781-896-2558 or by email: eclaflin@saintjoes.com, Glinda Meadows at: 781-896-2553 or by email: mailto:gmeadows@saintjoes.com
In Pre-K basic social skills are taught using the "We Thinkers" curriculum. Topics discussed include: Thinking Thoughts and Feeling Feelings, The Group Plan, Thinking with your Eyes, Expected and Unexpected Behavior, and Whole Body Listening.
Basic safety is introduced using Second Steps: Child Protection Unit to both Pre-K and Kindergarten with the help of Ms. Claflin.
Through individual checks-ins and snack groups, more individualized social, emotional, and behavioral interventions are provided.
Tier I programming includes classroom lessons. If teachers express their class is experiencing a challenge, or observations are being made in patterns of needs at certain grade levels, a whole class lesson will be implemented. Most lessons are developed through the Empowering Education SEL curriculum.
Basic Safety is continued in grade 1 using the Second Step: Child Protection Unit.
Grade 2 is a key time to intervene in the elementary year as social independence begins to grow, so classroom lessons focus on social skills and self-regulation. Using the Social Thinking curriculum: The Social Detective in the fall. In the winter, we transition into self-regulation using the curriculum Hunter and his Amazing Remote Control.
Grade 4 focuses on bullying prevention using the Boston vs. Bullies curriculum.
Grade 5 focuses on kindness and gratitude using the Erase Meanness challenge and gratitude journals. Throughout school, we participate in the Sandy Hook Promise: Start with Hello week.

Tier II programming includes small group counseling through weekly lunch groups led by Ms. Claflin for grades 1 - 5, each group lasts about 6-8 weeks to allow for rapport building. In a group, students play games, complete mindfulness exercises, crafts that promote self-esteem, understanding emotions, listening skills, and sometimes just simple conversation!
One on one check-ins with students are on a needed basis and on a child's ever-changing needs. There is consultation and collaboration with parents, teachers, and professionals on a child's team. Development of behavior plans can help support a child facing some challenges in the classroom.
Tier III interventions include one on one intervention with students based on that child's unique needs. Through developing relationships in the community, outside referrals may be made, working with a student's IEP team, consultation, and collaboration with outside clinicians.
The middle school years are very important to a child's personal development. Consequently, a focus of the counseling office is to support the social, emotional, and academic growth of the students. It is a goal of ours to advocate for all the students and their social, emotional, academic needs.
Individual counseling centers on specific issues of concern. Parents, teachers, and students may initiate referrals. The School Counselor will consult with parents if there is to be regular contact. Counseling topics include:
Academic transitioning (coordinating a high school fair for eighth grade students here at Saint Joe's), working with all transcript requests, collaborating with admission representatives from area high schools to visit eighth graders during lunch block, and writing recommendations
One-on-one meetings for new students to help with transition to middle school
Transition/middle school expectations of school workload and behavior
Self-image, self-esteem, and self-worth
Academic achievement and effort, goal setting, learning issues, study skills, stress management
Bereavement, loss, and grief
Anxiety, phobias, self-destructive behavior, and substance abuse
Conflict resolution- helping students solve problems through small group interaction and one-on-one role playing
Problem solving- helping students work collaboratively to come up with solutions to a shared problem